Four times more than the
average rainfall for the whole
month of June falls in one
morning in the Brisbane
area.
Flooding has inundated cars and affected more than 30 roads, including the Bruce Highway, in Queensland's south-east as an extreme weather system intensifies and moves south through the state.
The Bruce Highway has since reopened but many roads remain closed across Brisbane, the Gold Coast and the Sunshine Coast.
The Bureau of Meteorology (BoM) said a dangerous trough had "largely cleared" the Brisbane region by midday and moved to the Gold Coast, where it had the potential to dump heavy rain until around 3:00pm.
BoM said 267 millimetres of rain had fallen at upper Springbrook and Mount Tamborine in the Gold Coast hinterland since Friday morning which is four times above the average rainfall for the whole month of June.
The State Emergency Service (SES) has been swamped with more than 750 calls for help from across the south east, mainly with minor flood damage and leaky roofs.
The downpours quickly inundated dozens of roads in Brisbane this morning, including some in the CBD and West End, and cars were submerged at Toombul on the city's north side.
A man and a woman died in a crash between a mini-van and truck on the Warrego Highway near Ipswich as the downpours made roads slippery and dangerous.
A woman was rescued from the roof of her car last night after it was swept off the Capricorn Highway as the dangerous weather system moved over central and southern Queensland.
Truck drivers and local farmers managed to retrieve the driver, 21, after her utility was caught in flash flooding near Pine Hill Creek at Alpha, in the state's central west.
The woman was swept away just before 10:00pm on Friday, and had to be treated for shock and exposure when she was rescued about an hour later.
The weather bureau said the central and southern interior and the central and south-east coasts were the first areas to be affected by the extreme system on Friday.
The system dumped more heavy falls as it tracked south, hitting Hervey Bay and then the Sunshine Coast on Saturday morning, where up to 170mm fell in the hinterland.
Queensland Fire and Emergency Services deputy commissioner Mark Roche said swiftwater rescue crews had been called to many flooded vehicles in car parks and on roadways, but in most cases people had made it safely out of their
car
.

"Some people are still at this moment driving through floodwaters and we are saying don't do that," he said.

"Have a plan B if you see water over the roadway."

BoM senior forecaster Michael Paeche said winds gusts could reach up to 90 kilometres an hour on the Gold Coast and on "higher ground" around the Scenic Rim and the southern border ranges.

"On top of all that with those gale force winds pushing on shore, we've got a king tide for the south east coast tonight, around about nine o'clock," he said.
"We are expecting some beach erosion and inundation with that high tide so just another hazard that we need to be aware of."

Mr Paeche said both the Gold and Sunshine Coasts "were in the firing line" for the king tide but the Gold Coast was expected to be most affected.

"The winds last a bit longer there as the trough moves further south so that's an area of particular concern," he said.

"Because we have quite a decent north-easterly swell that's going to be lasting for a day or two following this system, those impacts on the beach can last into Sunday on both the Sunshine and Gold Coasts."

The BoM said the surface trough causing the extreme conditions delivered 75 millimetres of rain to Emerald yesterday while up to 68 millimetres fell in Clermont and Dysart.

It said the system intensified as it moved further east across the Capricornia last night with Yeppoon receiving around 80 millimetres just after midnight.

A number of centres from Bundaberg to Rockhampton had received more than 100mm of rain. "Mount Watalgan halfway between Bundaberg and Gladstone actually picked up 93 millimetres in one hour," Mr Paeche said.
At least 30 people dead as deadly floods hit Pakistan: Winds strong enough to break windows
At least 30 people, including women and children, died and scores of others wounded on Wednesday when heavy rainfall and thunderstorm hit upper parts of Pakistan, Geo News reported.
In Islamabad 11 people died and 69 were injured a torrential rains lashed the city, rescue services said.
At twin city Rawalpindi 19 people died and 122 were injured, rescue services said.
According to police, a mother and two of her little daughters died when roof of their house caved in at Sector F-7. Two people were also killed in Bhara Kahu area due to incidents relating to the harsh weather.
Five people were injured in a wall collapse incident in Islamabad's adjacent city Rawalpindi.
40 injured were taken to Polyclinic and 10 to PIMS hospital, rescue officials told Geo News. Power supply to several areas in Islamabad was cut off. Affected areas include I-8, I-9, Korangi Town, and Shehzad Town.
"The IESCO operation was affected due to the rains and thunderstorm," an IESCO spokesperson said. A fire broke out at a vegetable market when power cables fell on them due to thunderstorm.
Fire brigade however reached the scene and launched efforts to extinguish the blaze in Islamabad. According to aviation sources, flight operation was also suspended at the Benazir International Airport due to the storm in the federal capital.
In addition, Metro bus service was also halted in Islamabad after strong winds broke windows of metro stations.
The Inspector General (IG) Islamabad Police said police have been alerted in the wake of heavy rains and thunderstorm.
San Diego has the first American heat wave of the year as the mercury tops 102F, (around 40C) breaking the old June record of 99F
Earthwindmap...Click to enlarge
The first major heat wave of this year's warm months hit the San Diego area Friday, sending temperatures soaring well above seasonal norms and setting several record thermometer readings. The onset of the hot spell prompted the National Weather Service to issue an excessive-heat warning for the deserts, effective until 8 p.m. Sunday.
A less severe heat advisory for local valleys and mountain locales lower than 6,000 feet will run concurrently.
In Ramona, the summery swelter pushed the mercury to an afternoon peak of 102 degrees, beating the old June 3 record of 99, set in 2006, the NWS reported. Milestone high-minimum marks for the date, meanwhile, were logged in Alpine, where it never dropped below 65 degrees; Palomar Mountain, with a reading of 67; and Borrego, 78. Similar conditions are expected to prevail Saturday, forecasters advised.
The weather service urged people to protect themselves and their loved ones against dehydration, heat stroke and other heat-related illnesses during the sultry period by remaining well-hydrated, avoiding working in the sun, checking on neighbors and relatives, especially the elderly, and providing plenty of water to pets and livestock.
Authorities also reminded the public to never leave a child, elderly person or pet in a vehicle parked in the heat, as interior temperatures can quickly reach lethal levels.
A mild cooling trend will begin Sunday, but high temperatures will remain above average, meteorologists said.
A record-breaking day in Phoenix. The high temperature of 115° set a new record for the day. This is earliest in the Phoenix climatological record that 115° has been reached. Daily high temperature records were also tied at Deer Valley Airport (112°) and broken in Scottsdale (113°), Yuma (116°), Imperial (117°) and Blythe (118°).
Floods around the world: USA, Mexico, Russia, China, France, Germany, Belgium, Ukraine, Romania
Fri, 03 Jun 2016 08:07 UTC
Roads in the town of Simbach in Southern Germany have turned to rivers, with cars covered by the rising water......devastating scenes which are being observed all around the world.
The current flooding mayhem isn't just happening in Europe - it's also hitting countries worldwide. Here's a compilation of the worst floodings from around the world: the US, Mexico, Russia, China, France, Germany, Belgium, Ukraine, and Romania.
Just think, the worst is probably yet to come!
Let's start with the 'biblical' floods currently sweeping across western and eastern Europe. Days of downpours have caused ten deaths in Germany, two in France and Romania and one in Belgium. The River Seine in Paris is six meters higher than normal.
Germany
In Germany, 10 people have been killed, including four in Baden-Wuerttemberg in flooding that hit Sunday and Monday.
The German Insurance Association estimated that this week's flooding has caused some $500m in damage in the state of Baden-Wuerttemberg alone.
Here some terrifying videos of the flooding.
France
Thousands have been evacuated as floods continue to threaten homes and businesses across the Paris region.
Floodwaters in Paris continue to rise with the River Seine due to hit a peak of up to 6.5m (21ft) later on Friday.
The world-famous Louvre and Orsay museums have been closed so staff can move priceless artworks to safety.
Le Château de Chambord is flooded, like in the old days.
Belgium
Belgium endured a fourth day of heavy rain, with flooding reported in several areas across the country. After widespread flooding hit northern Antwerp and the west of Flanders early in the week, waters kept rising in eastern areas around Limburg and Liege.
Several neighborhoods have had to be evacuated as cellars flooded and streets were submerged in overflowing creeks and rivers.
Forecast for the next few days is really bad: Météo: le déluge attendu sur l'est du pays
Romania
Two people were killed in floods in the Romanian counties of Vrancea and Bacau.
Several hundreds of families have been evacuated. Red alert! Firefighters and police officers conduct rescue operation.
Several rural areas are cut from the outside world.
As a result of heavy rain in Odessa, all major highways were flooded with sometimes more than half a meter of water on the roads.
Traffic chaos in the city!
Russia
The monthly precipitation - 82mm of rain - fell within 3 hours in Krasnodar, Russia on June 3, 2016.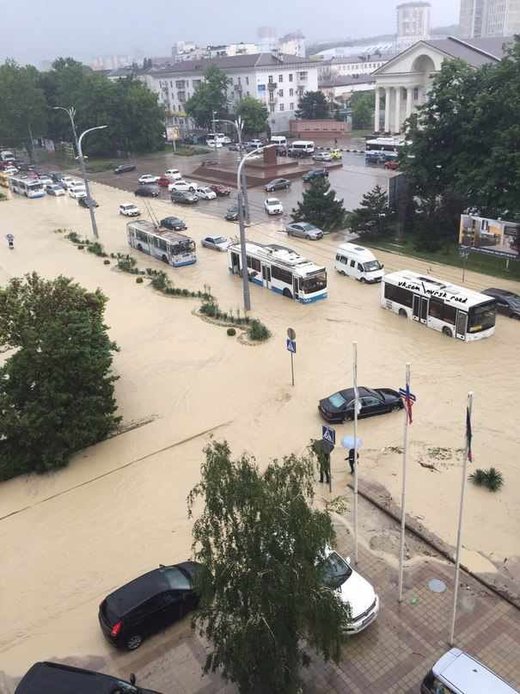 This resulted in high level of water in streets blocking transport in the city.
Many houses have been evacuated.
Huge bow echo reported near Moscow, Russia this afternoon
Two more soldiers were found and confirmed deceased at Fort Hood after their military vehicle overturned.
This brings the total deceased to five soldiers.
The search continues for the remaining four missing soldiers.
Mexico
More than 500 residential houses in the Iztapalapa neighborhood of Mexico City have been flooded by heavy rains.
According to official, everything is under control.
Iztapalapa is home to nearly 2 million people and is considered as one of the most densely populated areas of Mexico.
China
The east and central provinces of China are currently experiencing apocalyptical floods. More than five thousands people have been evacuated, hundreds of thousands are suffering material damage.
26 thousands hectares of land have been flooded.
Yes it's flooding all over the world:
Almost two months rain in two hours brings Taiwan to a standstill

Photo focustaiwan.tw

Almost two months rain in two hours brings Taiwan to a standstill

More than 200 flights were canceled or delayed as Taipei's Taoyuan Airport
flooded on Thursday. Precipitation of 160 mm in two hours (87mm is the average for June) submerged roads leading to the airport, the airport's underground food street and parking lots.

Power was lost at some facilities.

Workers were mobilized to pump out floodwater.

Roads to the airport reopened to traffic on Thursday evening.

Electricity had been partially restored.

A total of 30,000 passengers were affected.

All flights are expected to return to normal by Friday.


A freak shift in weather patterns will send thermometers rocketing to 30C (86F) in early June with THREE MONTHS of blazing sunshine to follow.
And the latest weather models suggest the highest ever UK temperature of 38.5C (101F) could be beaten in just weeks kicking off the "Great Summer" of 2016.