Pound Slump Deepens Amid Brexit Turmoil as Gold Gains With Yen
U.K., U.S. equity index futures slide as Japanese shares rise

Norwegian krone drops with ringgit as crude oil falls
The aftershocks of the U.K.'s vote to leave the European Union continued to reverberate across financial markets, with the pound extending its selloff near a 31-year low and Asian stocks outside Japan slipping with oil.
Sterling added to Friday's record drop and U.K. stock index futures tumbled more than 3 percent, weighed down by the prospect of months of uncertainty amid turmoil within Britain's two major political parties and Scotland agitating anew for independence. The Norwegian krone led losses among the currencies of oil-exporting nations as crude slid toward $47 a barrel. Demand for haven assets boosted gold and U.S. Treasuries, while Japanese equities rebounded from their worst day in five years on prospects the government will take steps to stabilize financial markets.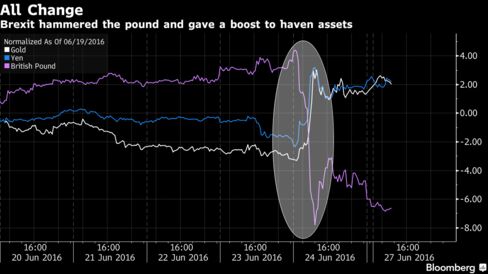 The victory for Brexit tore through world markets on Friday, pummeling the pound and high-yielding assets as more than $2.5 trillion was wiped from global equity values. Prime Minister David Cameron resigned without spelling out when the U.K. intends to leave the EU and eight members of Labour Party leader Jeremy Corbyn's team quit amid calls for his ouster. U.S. Secretary of State John Kerry travels to Brussels and then London Monday as Nicola Sturgeon, the first minister of Scotland -- whose people voted to stay in the EU -- teases the possibility of a second referendum on independence from the U.K.
"
It's going to be a very tough week," said James Audiss, senior investment adviser at Shaw and Partners in Sydney, which manages about $7.4 billion. "Unless an investor has a really strong view one way or the other, you'd be brave to buy in. It will be a really volatile week and people are scared to position into things."
The next days and weeks will likely be key for central banks as they seek to limit volatility in financial markets. The European Central Bank is hosting a three-day meeting in Sintra, Portugal that will include speeches from its president, Mario Draghi, and Federal Reserve Chair Janet Yellen. German Chancellor Angela Merkel will host EU President Donald Tusk in Berlin on Monday to talk about the U.K.'s plan to exit the bloc.
Currencies
The pound slipped another 2 percent to $1.3403 as of 12:58 p.m. Tokyo time, extending Friday's 8.1 percent plunge. The euro weakened 0.8 percent versus the greenback, after sliding 2.4 percent in the last session.
With protesters angry at the result taking to the streets at the weekend and circulating petitions calling for a fresh vote, the EU's founding members bolstered pressure on the U.K. to leave the group as soon as possible. Cameron has said he is in no hurry to make the move, indicating he will wait as long as three months before making way for a new leader who will be tasked with negotiating the exit.
"
People are finding it difficult to comprehend what Brexit implies for the future -- we don't know yet what the magnitude of the shock will be," said Steven Barrow, head of Group-of-10 strategy at Standard Bank Group Ltd. in London. "So far, in terms of sterling-dollar, we've seen half the decline we're likely to see this year."
The krone sank 2.8 percent, bringing its two-day drop to about 5 percent, while Malaysia's ringgit slid 0.5 percent as the retreat in crude prices dimmed prospects for oil-exporting nations. The Canadian dollar dropped 0.4 percent as the currencies of Australia and New Zealand, which are also heavily exposed to commodity markets, weakened at least 0.7 percent.
The yen strengthened 0.3 percent to 101.89 per dollar. It jumped 3.9 percent in the last session and climbed as high as 99.02, the strongest since 2013. Finance Minister Taro Aso told reporters Monday that Prime Minister Shinzo Abe has asked for various measures to stabilize Japanese markets. The comments came after a meeting between officials including Aso, Abe and Bank of Japan Deputy Governor Hiroshi Nakaso.
The yuan fell 0.2 percent after China's central bank weakened the currency's reference rate by 0.9 percent, the most since the aftermath of August's devaluation. The move came after the Bloomberg Dollar Spot Index surged on Friday by the most since 2011 following the U.K.'s referendum.
Stocks
The MSCI Asia Pacific excluding Japan Index fell 0.6 percent as benchmarks retreated in Hong Kong, Singapore and South Korea. Japan's Topix advanced 1.3 percent, after plunging 7.3 percent on Friday.
Futures on the FTSE 100 Index tumbled 3.2 percent, while contracts on the S&P 500 lost 0.4 percent.
Britain's decision to ditch the EU will unleash as much as $300 billion of selling by automated quant programs in the already-battered U.S. stock market, Marko Kolanovic, the JPMorgan Chase & Co. derivatives strategist, wrote in a note late on Friday. Equity investors in the U.S. would be wise to stay away until quant managers finish the rebalancing that was forced on them by the day's volatility, he said.
The MSCI All-Country World Index slid 4.8 percent on Friday, its steepest selloff since 2011. The CBOE Volatility Index, a gauge of expected swings in U.S. shares, rocketed up 49 percent that day, the most since 2011.
"
Markets will likely be in a febrile state for weeks to come," said Ray Attrill, global co-head of foreign exchange strategy at National Australia Bank Ltd. in Sydney. "I'm not sure that changes even when the political leadership vacuum in the U.K. is filled."
Commoditiвes
Traders flocked to haven assets Friday, with gold jumping almost 5 percent to its highest price in almost two years, while 10-year U.S. Treasury yields tumbled 19 basis points, their biggest one-day decline since 2009. Gold for immediate delivery gained another 0.7 percent on Monday, set for its highest close since July 2014.
West Texas Intermediate crude fell 0.6 percent to $47.37 a barrel, after a 4.9 percent slide on Friday that marked its biggest loss since February.
"
Everything is caught up in Brexit," said Evan Lucas, a market strategist at IG Ltd. in Melbourne. "The oil fundamentals for the moment will be put to one side as markets try to figure out exactly how this will all work."
Bonds
U.S. Treasuries led gains among government debt, with 10-year yields extending Friday's retreat by falling another six basis points to 1.50 percent. Japanese debt due in a decade also climbed, sending their yield one basis point lower to minus 0.205 percent. Taiwan's 10-year bond yield fell to a record 0.75 percent.
"
What we know is that there will be a lot of uncertainty, and uncertainty is not welcomed by the market," supporting haven assets such as Treasuries, said Tomohisa Fujiki, chief rate strategist at BNP Paribas SA in Tokyo. "Our call for no rate hike this year or next is looking more and more likely."
The vote for Brexit has spurred traders to price in a 10 percent chance of the Fed changing tack and cutting U.S. interest rates next month, futures show. The odds of a rate hike this year have dropped to 15 percent, having been 50 percent before the referendum's outcome was known.
Spanish government bonds may see more volatility on Monday after Acting Prime Minister Mariano Rajoy defied opinion polls to consolidate his position in a general election held Sunday. His People's Party nonetheless fell short of a majority, requiring Rajoy to seek talks with competing parties in order to form a government. The yield on the nation's 10-year debt jumped 17 basis points on Friday to 1.63 percent, widening the gap with the rate on similar-maturity German bonds to the most since 2014
Dow Futures Down 900 Points From Pre-Brexit Highs, Plunge Below Friday's Crash Lows
US equity futures are tumbling at the open following Cable and USDJPY's dive. Dow futures dropped 100 points
(down 900 points from pre-Brexit highs)
and
broke below Friday's early crash lows...
From Friday's 18,025 highs to 17,128 lows... but the fundamentals?
Do not worry though, The IMF is on it...
*IMF'S LAGARDE SAYS MARKETS HAD VASTLY UNDERESTIMATED BREXIT

*LAGARDE SAYS NO PANIC DESPITE MARKETS UNDERESTIMATING BREXIT

*LAGARDE: UK, EUROPE OFFICIALS HOLDING UNCERTAINTY IN THEIR HAND
Managing Director of the International Monetary Fund (IMF) Christine Lagrde
Financial markets had 'vastly underestimated' outcome of vote to leave the EU
"But there was panic"
Says not wise to rush to conclusions
Markets had mis-priced the U.K. vote outcome, triggering the volatility, Lagarde said. "Despite that, there was no panic. There was a violent, brutal, immediate massive move. The pound went down by 10 percent," she noted. "But there was no panic, and the central bankers did the job that they were prepared to do just in case," she said.
Chancellor to make morning statement to reassure markets as survey reveals negative business impact of EU vote
British businesses have warned that Brexit will trigger investment cuts, hiring freezes and redundancies as the consequences of leaving the European Union threaten to destabilise markets further this week.
The survey by the Institute of Directors (IoD), which found that the majority of businesses believed Brexit was bad for them, comes amid fears that investors will wipe billions more pounds off share values on Monday morning, and signs that the pound, which hit a 30-year low on Friday, was coming under further pressure from trading in Asia. Sterling was down more than 1% as the Asian markets opened late on Sunday.
George Osborne will make a statement on Monday morning ‎to provide reassurance about financial and economic stability in light of the referendum result and the actions that he and the rest of the government will be taking to protect the national interest over the coming period
Bank of England governor may cancel Portugal visit as City expects further stock market battering on Monday over Brexit