Ireland bracing for the hottest day in recorded history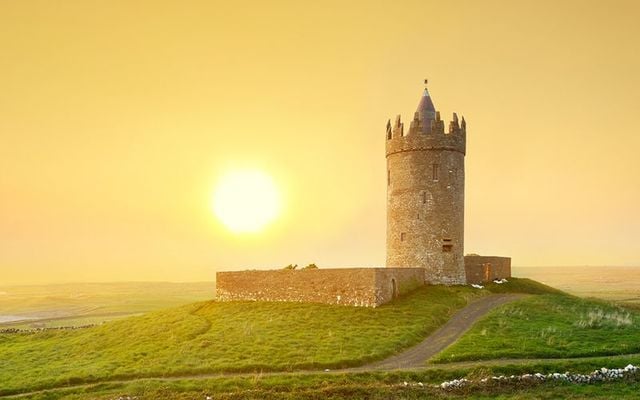 It's so hot in Ireland right now that you can no longer place bets on the weather.
As Ireland continued to sizzle in the heatwave yesterday on what was the hottest day of the year to date, bookies suspended betting on the 131-year-old record being broken for the highest temperature ever recorded in Ireland.
Mercury levels hit their highest ever point on June 26, 1887, when temperatures soared to 92F (33.3 C) within the grounds of Kilkenny Castle.
BREAKING: Glasgow and Renfrewshire have their hottest day on record with a high of 31.8C! This well exceeds the previous record set at Glasgow Weather Centre back in 1975, & Bishopton record of 28.6C in 2014. This is an extraordinary hot spell for June!
#
ScotScorchio




Meteorologists have confirmed that Glasgow has had its warmest ever day as the temperature in the city topped 31.9C.
The city beat Wednesday's high of 31.3C (88.3F) in Aviemore in the Highlands, and came close to matching the hottest June day ever recorded in Scotland - 32.2C (89.9F) at Ochtertyre in Perth and Kinross in 1893.
At 31C (87.8F), Strathallan in Perthshire enjoyed the second highest temperature on Thursday, followed by Tyndrum which saw the mercury hit 30.7C (87.2F) The Met Office said Thursday saw Glasgow beat a previous high of 31.1C (87.9F) recorded in 1950.
CAPE ALERT FOR JUNE 30, 2018
Sam Carana, via Facebook
Severe storm & hail warning. Convective Available Potential Energy (CAPE) is forecast to be as high as 6122 J/kg on June 30, 2018, at the location in the United States marked by the green circle.
The huge amounts of additional energy in the atmosphere are in line with high temperatures over land and high sea surface temperatures.
For June 29, 2018, 'feels like' temperatures as high as 44°C or 111.1°F (Misery Index, i.e. perceived air temperature as a combination of air temperature, relative humidity and wind chill) are forecast for 29, 2018 (at green circle).
Meanwhile, more recent forecasts show CAPE as high as 6488 J/kg on June 29, 2018. For the following days, forecasts show CAPE as high as 6499 J/kg on June 30, 2018, and as high as 5613 J/kg on July 1, 2018.
More recent forecasts also show the Misery Index go up as high as 44.7°C or 112.5°F 'feels like' temperatures on July 29, 2018, and as high as 44.6°C or 112.2°F 'feels like' temperatures on July 30, 2018.
NY Excessive Heat Watch


ISSUED BY: NEW YORK CITY - NY, US, NATIONAL WEATHER SERVICE
...HEAT ADVISORY NOW IN EFFECT FROM NOON SATURDAY TO NOON EDT SUNDAY...
...EXCESSIVE HEAT WATCH IN EFFECT FROM SUNDAY AFTERNOON THROUGH MONDAY EVENING...
THE NATIONAL WEATHER SERVICE IN UPTON HAS ISSUED AN EXCESSIVE HEAT WATCH, WHICH IS IN EFFECT FROM SUNDAY AFTERNOON THROUGH MONDAY EVENING. *
HEAT INDEX VALUES...IN THE UPPER 90S ON SATURDAY AFTERNOON AND EARLY EVENING.
UP TO 107 IN THE AFTERNOON AND EARLY EVENING SUNDAY
AND MONDAY. *....
According to Utah Fire Info, 27 human-caused fires have been started in Utah over the past two days.
Crews on Friday were mopping up wildfires that had mostly been contained in Northern California, and no structures were being threatened