Where Israel is involved expect trouble
UN peacekeeper, 2 IDF soldiers killed: Israel, Hezbollah exchange fire
An anti-tank missile hit an IDF vehicle in the Golan Heights, prompting an exchange of fire between the Israeli army and Hezbollah, which claimed responsibility for the attack. A UN peacekeeper and two IDF soldiers have been killed.
The Israeli Defense Forces vehicle was struck by an anti-tank missile in Har Dov (also known as Shebaa Farms), an area under Israeli control that borders on Lebanon and Syria, the IDF said.
In a statement claiming responsibility for the attack, Hezbollah said it resulted in casualties among "enemy ranks."
Two Israeli soldiers were killed as a result of the attack by the militant group, according to a statement released by the Israeli military. The statement also said that seven soldiers were wounded.
The official announcement of the casualties was delayed for several hours so that the families of the victims could be notified.
The Hezbollah statement says the attack was carried out by a group calling itself the "heroic martyrs of Quneitra." Quneitra is a district in the Golan Heights. The name of the group suggests the attack was in retaliation for the January 18 airstrike by Israel on the Golan Heights, which killed six Lebanese Hezbollah fighters along with a senior Iranian general.
No soldiers were kidnapped in the Lebanon incident, the IDF said.
"The rumor of abduction has been ruled out," Reuters cited Lieutenant-Colonel Peter Lerner, an Israeli military spokesman, who was commenting on Lebanese media reports of a soldier having been kidnapped.
Israel responded to the attack on the IDF vehicle by firing 25 artillery shells into Lebanon, according to Lebanese security officials cited by Naharnet.
Mortar bombs launched from Lebanon then hit an Israeli military position in the Golan Heights, Reuters reported citing the IDF
"One peacekeeper was killed," Reuters cited Andrea Tenenti, spokesman for UNIFIL, as saying. "We are looking into the circumstances of this tragic incident."
The Spanish Foreign Minister Jose Manuel Garcia Margallo received a call from Israel's ambassador expressing his condolences and apologies for the death of the solider, Sputnik reports. 36-year-old Corporal Francisco Javier Soria Toledo was killed this morning during the clashes, according Spain's Defense Department.
El Pais, however, cites military sources saying that Soria was killed by Israeli mortar fired in retaliation for a prior attack by Hezbollah.
Residents in the Israel-controlled area have been instructed to stay indoors.
"
All residents are asked to return to their homes and to close all doors and windows until further notice," the IDF's Home Front Command said in a text message, cited by the Times of Israel.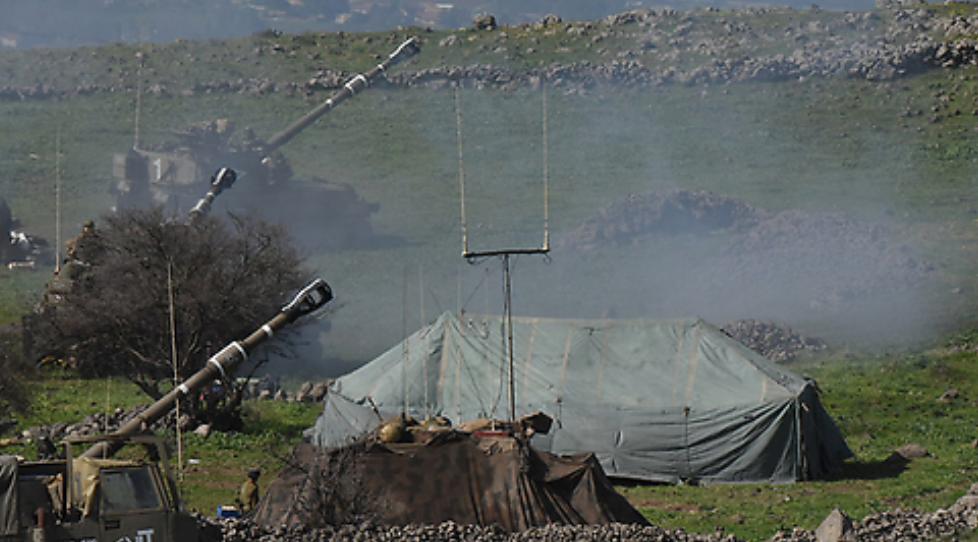 Airports in Chaifa and Rosh Pina have been closed, as well as roads along the borders with Lebanon and Syria. The IDF is holding an emergency meeting on the incident, Israeli media report.
Lebanese schools in the villages near the border with Israel are being evacuated, according to Al-Arabiya.
Meanwhile, Lebanon's Prime Minister Tammam Salam has reiterated his commitment to the UN Security Council resolution that ended the 2006 Israel-Hezbollah War.
Several hours earlier, Israeli jets struck several targets in Syria in response to Hezbollah rocket fire into the Israeli-occupied Golan Heights.
Israel blames Hezbollah for Spanish peacekeeper's death on Lebanese border
Israeli Foreign Minister Avigdor Lieberman has blamed Hezbollah for the death of a Spanish UN peacekeeper killed in retaliatory Israeli mortar fire in southern Lebanon on Wednesday.
After a series of cross-border strikes that left two IDF soldiers and a Spanish peacekeeper from the UN Interim Force in Lebanon (UNIFIL) dead on Wednesday, Lieberman called Spanish Foreign Minister Jose Manuel Garcia Margallo to express his condolences.
He also claimed that the Lebanese government was responsible for any attacks that come from its territory.
Lieberman called on Israel to respond to the attack in a "forceful and disproportionate manner."
Earlier in the day, Prime Minister Benjamin Netanyahu also warned that Israel could retaliate harshly.
"
To those who are challenging us in the north, I suggest you look at what happened in the Gaza Strip," he said.
Netanyahu said that those "behind the attack today will pay the full price," as he began talks with security chiefs about a possible response to the assault.
According to a UN spokesperson, the UNIFIL solider, Corporal Francisco Javier Soria Toledo, one of more than 10,000 UN soldiers stationed in Lebanon, was killed during an Israeli counterattack on Hezbollah. His death is currently under investigation.
The 36-year-old soldier from Malaga was near the village of Ghayar along the UN Blue Line border area between Israel and Lebanon when he was hit by Israeli mortar responding to prior attacks by Hezbollah, reports El Pais.
On Wednesday morning IDF troops were struck by an anti-tank missile in Shebaa Farms, an area in southern Lebanon under Israeli control. Hezbollah released a statement taking responsibility for the attacks.
The Israeli ambassador to Spain, Alon Bar, also called Garcia to express his condolences and apologies for the death of Soria, Sputnik news agency reported.
Israel told the UN that it was prepared to take all necessary measures to defend itself.
"Israel will not stand by as Hezbollah targets Israelis," Israeli UN Ambassador Ron Prosor said in a letter to the Security Council and Secretary-General Ban Ki-moon. "Israel will not accept any attacks on its territory and it will exercise its right to self-defense and take all necessary measures to protect its population."
"I urge the Security Council to unequivocally and publicly condemn Hezbollah," Prosor said. "The terrorist organization must be disarmed and the government of Lebanon must abide by its international commitments and fully implement Security Council resolution 1701."
Meanwhile, Lebanese Foreign Minister Tammam Salam tried to distance the Lebanese government from the attack, reiterating Lebanon's commitment to the UN resolution, which put an end to the 2006 Israel-Lebanon War.
Jordan Denies Reports on Release of Iraqi Suicide Bomber Requested by IS
BEIRUT, January 28 (Sputnik) – Jordan's foreign minister dismissed Wednesday's reports that a failed Iraqi suicide bomber, Sajida Rishawi, whose release was demanded by the Islamic State (IS) jihadist group, had been already discharged from custody.
"Who said that Sajida has been released and left Jordan? These claims are not true… As we said earlier, she will be released only following the release of our son Muath," Nasser Judeh tweeted, denying media reports that Rishawi had already arrived in Iraq.
On Tuesday, IS published a video where a man, claiming to be Japanese captive Kenji Goto, said Jordan had 24 hours to free the Iraqi prisoner, otherwise both he and the Jordanian pilot would die.
Rishawi is believed to have been involved in the November 2005 terrorist attack in Amman, Jordan, in which at least 60 people were killed.
Islamic State operative confesses to receiving funding through US - report
A man believed to be a Pakistani commander of Islamic State or Daish, Yousaf al Salafi, has confessed to law enforcement agencies in Pakistan to getting funds via the United States, according to a leading Pakistani newspaper siting its sources.
Al Salafi and two companions were arrested in Lahore, Pakistan on January 22, according to AFP.
"
During investigations, Yousaf al Salafi revealed that he was getting funding – routed through America – to run the organization in Pakistan and recruit young people to fight in Syria," a source close to the investigations revealed toUrdu-language Daily Express on condition of anonymity, according to its sister English newspaper The Express Tribune. The newspaper also claimed that Al Salafi was in fact arrested last year sometime in December.
Al Salafi also allegedly confessed to recruiting jihadists to send them to Syria and was receiving about $600 per person. He also admitted that he had been working with a Pakistani accomplice, who was reportedly the Imam of a mosque.
"
The US has been condemning the IS activities but unfortunately has not been able to stop funding of these organizations, which is being routed through the US. The US had to dispel the impression that it is financing the group for its own interests and that is why it launched offensive against the organization in Iraq but not in Syria," a source said.
However, it was not made clear where exactly the funds came from within the US.
"
Yes that is true as this issue was raised several times in the local media and even in the diplomatic corridors between US and Pakistan and there was media reporters here suggesting that hundreds of recruits have been exported to strain from Pakistan," a security source in Pakistan told Sputnik news agency.
The sources who spoke to the Express Tribune also revealed that the awkward revelations had been revealed to US Secretary of State John Kerry on his recent trip to Islamabad.
"
The matter was also taken up with CENTCOM [US Central Command] chief, General Lloyd Austin, during his visit to Islamabad earlier this month," a source said.
A source told Reuters last week that Al-Salafi is a Pakistani-Syrian who came to Pakistan via Turkey five months ago and that he had established an ISIS group in Pakistan.
In recent months, Pakistani media has been discussing the amount of influence Islamic State has in Pakistan, and have cited several incidents in the cities of Lahore and Multan where Islamic State flags and graffiti have been seen. However Pakistani authorities have indicated that local militants would oppose Islamic State, according to IHS Jane's defense review.
In response to large-scale advances made by ISIS militants in June 2014 in both Iraq and Syria, the US and other coalition countries began a large-scale air campaign over the region. The US and the UK have sent non-operation soldiers to Iraq, as well as special forces.
According to Pentagon documents seen by the Associated Press on Tuesday, President Obama will ask for a $38 billion increase for the core budget of the Defense Department. Of this $5.3 billion will go towards training and equipping the Iraqi armed forces and the moderate opposition in Syria in the ongoing fight against Islamic State.
Homeless Palestinians destroy UN office after funding for refugees cut in Gaza
Desperate Gaza residents attack UN Relief and Works Agency building after decision to cut funds for 96 000 refugees left homeless due to recent Gaza-Israel conflict.
PACE Deprives Russia of Voting Rights Until April, Russia Quits for 1 Year
STRASBOURG, January 28 (Sputnik) — The Parliamentary Assembly of the Council of Europe (PACE) adopted on Wednesday a resolution depriving the Russian delegation of its voting rights in the organization until at least the April session.
The resolution stresses that the revision of the decision and other sanctions against Russia could be held during opening meetings of the April session if Moscow demonstrates substantial progress in meeting the PACE demands over Russia's alleged role in the Ukrainian crisis, including the protection of rights of the Crimean Tartars.
In response to the PACE's decision, the head of the Russian delegation Alexei Pushkov said that Russia is suspending its work in PACE until the end of the year.
Raul Castro Urges US to Return Guantanamo Bay for Restoration of Relations
MEXICO CITY, January 28 (Sputnik) – Cuban President Raul Castro has urged the United States Wednesday to return the territories of the Guantanamo Bay that belong to Cuba and lift the trade embargo in order to improve the bilateral relations between the two countries.
"The restoration of bilateral relations will not be possible, as long as the embargo exists and the Cuban territories in Guantanamo Bay have not been returned," Castro was quoted as saying by the Venezuelan network TeleSur.
The Guantanamo Bay detention camp in Cuba was established in 2002, following the September 11, 2001, terrorist attacks on the United States.
In December 2014, US President Barack Obama announced that he was intending to normalize relations with Cuba by easing travel and trade restrictions and reopening a US embassy in Havana.
On Tuesday, former Cuban leader Fidel Castro expressed his distrust toward the United States in relation to the US initiative to normalize relations.
Since 1961, the United States has held an embargo against Cuba, which was originally put in place as a result of the 20th century Cold War antagonism between Washington and the Communist government in Havana.