Greece won't cooperate with 'troika,' rejects aid extension
The new left-wing Greek government has said that it will not cooperate with the 'troika' of international lenders, and does not plan to seek an extension for its aid package which is set to expire at the end of February.
Without the aid, Greek banks could face being shut off from European Central Bank funding.
Rejecting cooperation with the 'troika' from the EU and IMF, Greek Finance Minister Yanis Varoufakis said he would rather negotiate the debt in direct talks with eurozone leaders.
"
This position enabled us to win the trust of the Greek people
," Varoufakis said Friday during a joint press conference with Jeroen Dijsselbloem, head of the eurozone finance ministers' group.
"
Our first action as a government will not be to reject the rationale of questioning this program through a request to extend it,
" Varoufakis said.
"
We respect institutions but we don't plan to cooperate with that committee."
The meeting between Varoufakis and Dijsselbloem is to lay the groundwork for visits by newly-elected Prime Minister Alexis Tsipras and the finance minister to London, Paris, and Rome next week. The new Greek leadership has voiced its intention to attempt to loosen the terms of the massive €240 billion (US$271 billion) bailout.
The new government has fueled panic among creditors and investors by promising to freeze privatizations and re-hire state workers, in addition to rolling back other reforms that were mandated by the bailout.
Varoufakis said he had told Dijsselbloem that although Athens plans to make the economy more competitive and balance its budgets, the country refuses to accept deflation and non-viable debt.
Dijsselbloem, meanwhile, warned Greece against taking unilateral measures and cautioned the new finance minister against rolling back progress.
Germany, Greece's biggest lender, has said it will not consider writing off the country's debt. Berlin expects Greece to implement structural reform in exchange for support.
German Finance Minister Wolfgang Schauble said Berlin is not willing to radically renegotiate current agreements.
"
We're prepared for any discussions at any time but the basis can't be changed,"
he said.
"
Beyond that, it is hard to blackmail us."
Yanis Varoufakis does not allow the BBC to get away with distorting his words
See Yanis Varoufakis' proposal of 2013 HERE
SOME "EUROPEAN BANKS" ABOUT TO "GO BROKE"!
Finance Minister Yanis Varoufakis said Greece won't seek an extension of its bailout agreement, setting the government on course to enter March without a financial backstop for the first time in 5 years..
Greece won't engage with officials from the troika of official creditors who have been policing the conditions of its rescue since 2010. It's five-day-old government wants a new deal with the European Union that allows for more spending, Varoufakis said at a joint press conference with Eurogroup Chief Jeroen Dijsselbloem in Athens, Friday..
"
We don't plan to cooperate with that committee," Varoufakis said..
"
The Greek state has a future, but what we won't accept has a future is the self-perpetuating crisis of deflation and unsustainable debt"..
The standoff could see Greek banks effectively excluded from European Central Bank liquidity operations and the government with no source of funding, having rejected EU aid while still shut out of international markets..
"
These people are not bluffing," Theodore Pelagidis, a senior fellow at the Brookings Institution, said by phone. "There is no way that Greece will make it through February. The situation will be get worse every day, and at the forefront of the drama will be the country's banks"..
Greek bonds tumbled, with the yield on three-year government debt rising 148 basis points to 18.76 percent at 5:43 p.m. in Athens. The stock market reversed earlier gains to close 1.6 percent lower..
Prime Minister Alexis Tsipras briefed Dijsselbloem for about half an hour before the Dutch minister met Varoufakis. The Greek government wants a new plan to focus on combating corruption and boosting public investment instead of cutting the deficit..
While Varoufakis said he intends to balance the budget, the proposal hinges on the euro area and the European Central Bank agreeing to write down Greece's public debt, a suggestion that has been met with skepticism by officials across the rest of Europe..
"
The program has an extension which runs out at the end of February and we will decide before that time what happens next," Dijsselbloem said. Euro area governments are "committed to providing support for Greece during the life of the program and beyond until it has regained market access, provided Greece fully complies with the requirements and the objectives of the program," he dded..
A German official earlier on Friday said Tsipras is making unrealistic demands and will end up without a financial backstop unless he honors his country's commitments to its official credдtors..
German Finance Ministry Spokesman Martin Jaeger said Greece's demand for a writedown is "outside reality" and the financial lifeline that has kept the country afloat since 2010 will expire next month unless Tsipras shows a "clear willingness" to meet the country's existing agreements..
"
The announcements from Athens are so far going in the opposite direction," Jaeger told reporters in Berlin...
Russia might bailout Greece – finance minister
Greece hasn't outright asked Russia for a loan, but Russian Finance Minister Anton Siluanov said Moscow wouldn't rule it out. His statement comes days after Greece openly opposed further economic sanctions against Russia.
Greece hasn't outright asked Russia for a loan, but Russian Finance Minister Anton Siluanov said Moscow wouldn't rule it out. His statement comes days after Greece openly opposed further economic sanctions against Russia.
"Well, we can imagine any situation, so if such [a] petition is submitted to the Russian government, we will definitely consider it, but we will take into account all the factors of our bilateral relationships between Russia and Greece, so that is all I can say. If it is submitted we will consider it,"
Siluanov told CNBC in an
interview
in Moscow on Thursday.
The new left-wing Syriza government in Greece won a majority at last Sunday's election on the promise to renegotiate the country's
€317 billion debt
and end austerity.
Greece needs to negotiate with EU policymakers by February 28 in order to receive the next tranche of bailout funds. If Athens doesn't get the money it will have difficulty servicing its debt. Two bailouts were paid in 2010 and 2014 totaling €240 billion.
The new government was quick to show support for Moscow, and has openly called for an end to Russian sanctions, and may veto any future sanctions.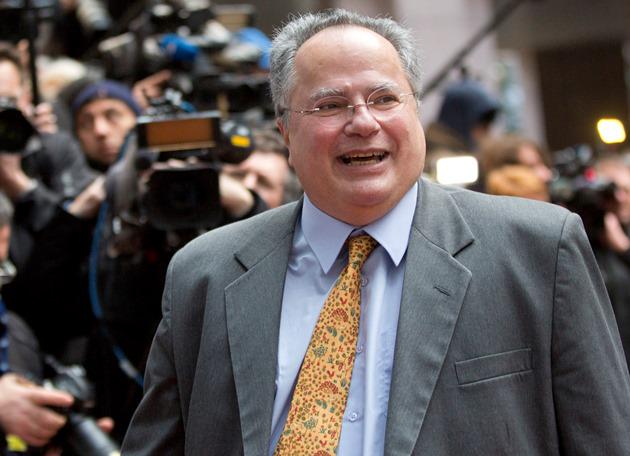 Siluanov applauded Greece's stance on sanctions as
"
pragmatic"
and
"
economically justified."
On Thursday the European Commission decided to extend sanctions against Russia through September 2015, but did not add any broader economic measures. A spokesperson for the new PM Alexis Tsipras said Greece didn't approve of any further restrictive measures.


Between announcing it doesn't intend to pay off its €317 billion debt in full and blocking Russia sanctions, Greece has emerged as a wild card among the 29 countries of the EU.
Russia-Greece deals
Russia gave Greece a very valuable card to play in the EU when it
announced
its South Stream pipeline will be re-routed through Turkey, with a gas hub expected to be built on the border between Turkey and Greece.
Russian investors have been watching Greece closely since the economy went bust in the 2008 credit crisis, which sent it looking for financial assistance from the EU to pay its creditors.
The crisis, as well as the EU bailout policy, has sent the economy into a six-year recession, forcing the government to dismantle and privatize state assets to meet austerity targets under its EU bailout plan.
State-owned Russian Railways and Gazprom have been eyeing stakes in Greek assets. Russian Railways has held talks with TrainOSE, Greece's state-owned passenger and cargo rail operator. In 2013, Gazprom made a €900 million bid for Greece's state gas company DEPA, but backed out of negotiations at the last minute, citing concerns over the company's financial stability.
Russian investment in Greek railways is estimated at up to $3 billion per year.
Traditionally, the two countries have very strong tourist ties, with more than 1 million Russians visiting Greece each year. This number has been trimmed since the ruble crisis and slowed growth have forced many Russian to forgo foreign travel.
Greece is home to a robust Russian diaspora - nearly 300,000 Russian nationals live 1,400 miles south of Moscow, largely a result of emigration
This is from the Guardian representing the western liberal press (not in the headlines).
Of Siluanov's proposal to bail out Greece, not a sign in the western media
Yanis Varoufakis says new government will refuse to engage with auditors from the EU, the European Central Bank and the International Monetary Fund
Greek Bond Yields Surge Above 19% After EU Talks
Following finance minister Varoufakis' insistence that Greece will not accept more debt (or what EU calls a "bailout") and talks with the Eurogroup chief end, Greek bond yields have surged (and prices dropped) with
3Y GGBs back over 19%
- the highest since the crisis. Greek bank stocks - after yesterday's exuberant penny stock squeeze - are falling once again.
Greek bonds are plunging...
Greek bank stocks have faded fast post-Troika meeting...