EU Times is not known as a reliable source but in this case they are credible. There is confirmation from other sources
Kremlin War Erupts over release of Top Secret Hillary Clinton Emails
An intriguing Security Council (
SC
) report circulating in the Kremlin today suggests that a "war of words" has broken out between the Director of the Federal Security Service (
FSB
)
Alexander Bortnikov
and Chairwoman of the Council of Federation
Valentina Matviyenk o
over the issue of releasing to the Western media tens-of-thousands of top secret and classified emails obtained by the Foreign Intelligence Service (
SVR
) from the private, but unsecured, computer (email server) belonging to former US Secretary of State, and present American presidential candidate, Hillary Clinton. [Note: Words appearing in quotes are English language approximations of Russian words/phrases having no exact counterpart.]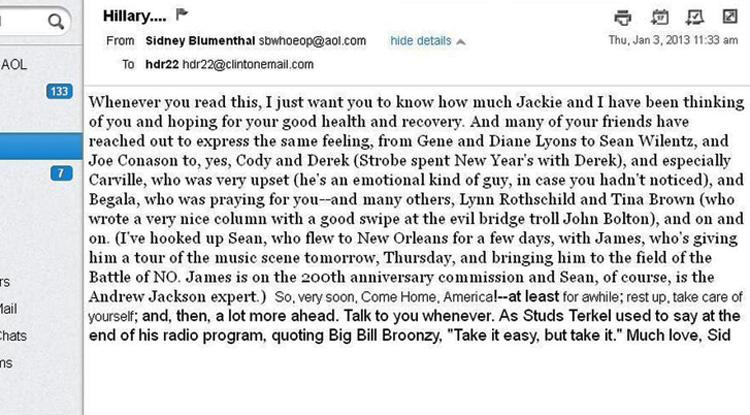 According to this report, beginning in 2011, SVR intelligence analysts began "serious/concerning" monitoring of a Romanian computer hacker named Marcel Lazăr Lehel (aka
Guccifer
) after he attempted, unsuccessfully, to break into the computer system of the Federation funded
RT
television network.
Following SVR procedures for the monitoring of international computer hackers, this report continues, Guccifer's activities were followed and recorded (both physically and electronically) allowing these intelligence analysts, in 2013, to not only detect his breaking into the private computer of Secretary Clinton, but allowing the SVR to copy all of its contents too.
Shortly after the SVR obtained these tens-of-thousands of top secret and classified emails from Secretary Clinton's private computer, this report notes, Chairwoman Matviyenko personally authorized a "partial/limited" release of them to RT—who then, on 20 March 2013, published an article about them titled
Hillary Clinton's 'hacked' Benghazi emails: FULL RELEASE
—but which barely no Western mainstream media sources reported on at the time.
FSB director Bortnikov was "highly furious" by Chairwoman Matviyenko's authorizing the release of Secretary Clinton's emails, this report continues, due to his fears that the American's would soon discover the original source of the hacking—which the US exactly did by aiding the Romanian government in their investigation of him causing the arrest of Guccifer, in Romania, on 22 January 2014, that was followed by the US indicting him too in June of that same year.
After Guccifer's arrest, this report says, he was convicted of his computer hacking crimes in Romania and sentenced to 7 years in prison.
Within days of Chairwoman Matviyenko making her thoughts known to the Security Council regarding Secretary Clinton's emails, this report notes, the Obama regime,
on 31 March
, rushed Guccifer from his Romanian prison cell to the United States where he remains imprisoned, awaiting either a trial or deal to tell what he knows—the facts of which were
concealed from the American people by NBC News
.
Following the Obama regime's taking Guccifer from Romania, this report says, the US then launched a disinformation counterattack against the Federation by their releasing,
on 15 April
, of
CIA intelligence doctored documents
, referred to as the
Panama Papers
, casting unfounded, and undocumented, allegations against many Federation business people and politicians that the FSB describes as an "overt/notice now" warning to the Kremlin that should Secretary Clinton's top secret and classified emails be released more damage to Russian peoples could be done.
Though this Security Council report doesn't conclusively show which side will win in this tug-of-war about releasing Secretary Clinton's top secret and classified emails, it does bear our wondering about the affect they could have (if released) not only on the American presidential race, but US-Russian relations too.
Putting her own needs before national security
Thousands of e-mails from Hillary Clinton's private, unsecured server, created while she served as Secretary of State, are reportedly in the possession of Russia's Foreign Intelligence Service (SVR). The SVR is said to have gained access to the e-mails, of which it made copies, through its monitoring of a Romanian computer hacker named Marcel Lazăr Lehel (aka Guccifer). Guccifer had learned about the existence of Hillary Clinton's private e-mail account after accessing the e-mails of her close confidante and informal adviser, Sidney Blumenthal, with whom Hillary had extensive correspondence during her term as Secretary of State.
A report attributed to Russia's Security Council indicates that an internal battle has broken out over whether to publicly release the e-mails between the Director of the FSB, Alexander Bortnikov, and Chairwoman of the Council of Federation, Valentina Matviyenko. The latter had authorized a release of some of the e-mails to Russia Today (RT) back on March 20, 2013. Russia's Foreign Intelligence Service director expressed alarm at the release, primarily because of concerns that the release would reveal to U.S. intelligence services how Russia used its monitoring of Guccifer to obtain Clinton's e-mails. He had good reason to be concerned. U.S. authorities worked with their Romanian counterparts to follow the trail that led to Guccifer's arrest in Romania.
From RT in 2013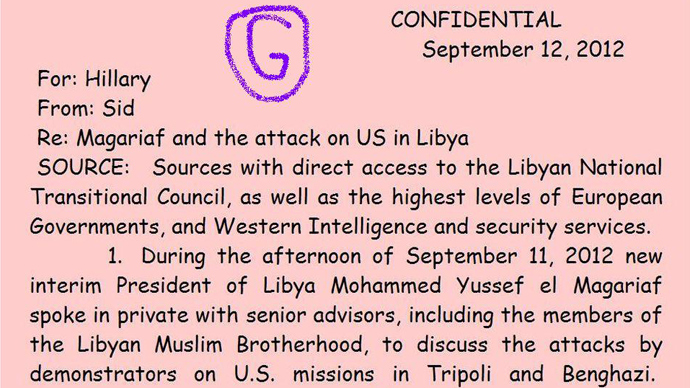 On the back of widespread public interest RT has decided to publish in their entirety a series of memos which were allegedly sent from a one-time White House aide to former Secretary of State Hillary Clinton.
The emails, which were
allegedly sent
by former political adviser Sidney Blumenthal to Secretary of State Hillary Clinton, were forwarded to RT by a hacker using the alias "Guccifer."
Guccifer was credited with hacking the AOL email account of Blumenthal last week, though the authenticity of the emails has not been verified.

The purported memos appear to contain sensitive information regarding the September 11, 2012 attacks on the US diplomatic mission in Benghazi, Libya, as well the January 2013 hostage crisis in In Amenas, Algeria.