Dakota Access Pipeline: Police fire on media drones, mass arrests, treaty rights declared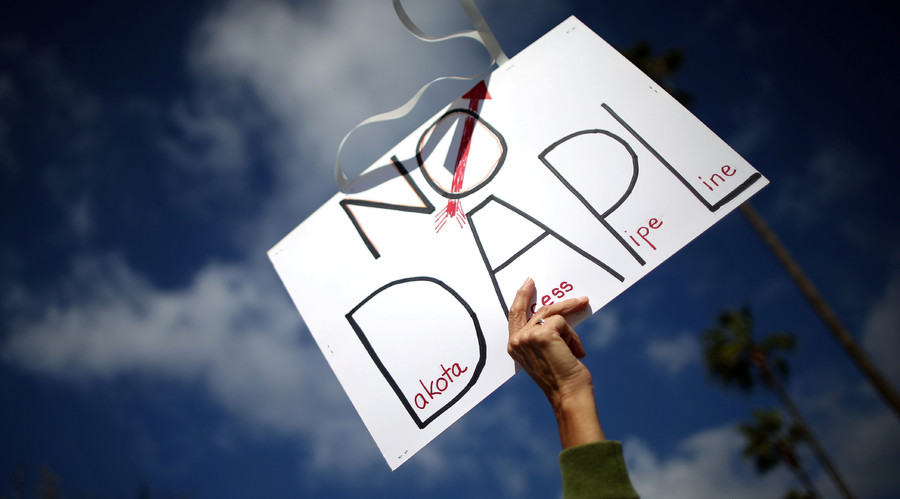 24 October, 2016
Protests over development of the Dakota Access Pipeline (DAPL) in North Dakota led to more than 125 arrests and a highway blockade over the weekend, as pipeline opponents claimed "unceded territory" in the direct path of construction.
Meanwhile, local law enforcement fired on two unmanned media drones, claiming that "protesters attacked a helicopter with a drone," and that the helicopter pilot and passengers were "in fear of their lives."
The weekend developments marked a distinct heightening of tensions between self-proclaimed water protectors and law enforcement. Roadblocks went up on State Highway 1806 on Sunday, as water protectors declared eminent domain and set up a new winter camp on private land known as Cannonball Ranch. The property was recently purchased by Dakota Access pipeline company, a subsidiary of Energy Transfer Partners, developer of the pipeline.
The Oceti Sakowin (Seven Council Fires) camp coordinator Mekasi Camp-Horinek said Oceti Sakowin's new frontline camp — just east of State Highway 1806 and 2.5 miles north of the Cannonball River, along the proposed path of the pipeline — is part of an occupation that is planned to persist "until the pipeline is permanently stopped."
"Today, the Oceti Sakowin has enacted eminent domain on DAPL lands, claiming 1851 treaty rights. This is unceded land," Camp-Horinek said Sunday in a news release, adding, "We need bodies and we need people who are trained in non-violent direct action. We are still staying non-violent and we are still staying peaceful."
Three blockades in all were established on Sunday "to ensure the protection of this new camp from overtly militarized law enforcement," the release says. The Highway 1806 blockade was lifted around 5:00pm CDT, according to videographer Unicorn Riot.
"We have never ceded this land," said Joye Braun, organizer with the Indigenous Environmental Network. "If DAPL can go through and claim eminent domain on landowners and Native peoples on their own land, then we as sovereign nations can then declare eminent domain on our own aboriginal homeland. We are here to protect the burial sites here. Highway 1806 has become the no surrender line."
Morton County Sheriff Kyle Kirchmeier called encampment "intentional, planned, coordinated and outright unlawful."
"Individuals trespassing on private property can't claim eminent domain to justify their criminal actions," he said in a statement.
The $3.78 billon, 1,172-mile Dakota Access Pipeline has been the subject of heated protests for months. The protests have been led by the Standing Rock Sioux tribe, which has alleged the project would destroy several cultural sites and burial grounds, and claimed it would taint their water supply. DAPL is planned to come within a half mile of the Standing Rock Sioux reservation.
If completed, the pipeline would travel across four states and is expected to carry nearly half-million barrels of crude oil daily from the Bakken oil fields in North Dakota. The pipeline would travel through North and South Dakota, under the Missouri River, through Iowa to an existing pipeline in Illinois.
On Saturday, 127 people — including journalists — were arrested during a "prayer walk near ancient burial sites and close to DAPL construction,"according to independent media collective Unicorn Riot, members of which have been arrested in the process of documenting the ongoing DAPL protests. Law enforcement used abusive tactics, including the spraying of mace, to arrest protesters on suspicion of criminal trespassing on private property, Unicorn Riot said.
The Morton County Sheriff's Department called the scene "a riot."
"Today's situation clearly illustrates what we have been saying for weeks, that this protest is not peaceful or lawful,"saidSheriff Kyle Kirchmeier. "It was obvious to our officers who responded that the protesters engaged in escalated unlawful tactics and behavior during this event. This protest was intentionally coordinated and planned by agitators with the specific intent to engage in illegal activities."
The Standing Rock Sioux have called on the US Department of Justice (DOJ) to address escalating tensions at the protest sites, tribe chairman Dave Archambault II said Sunday.
"Thousands of water protectors have joined the Tribe in solidarity against DAPL, without incident or serious injury," he said in a statement. "Yet, North Dakota law enforcement have proceeded with a disproportionate response to their nonviolent exercise of their First Amendment rights, even going as far as labeling them rioters and calling their every action illegal."
Archambault told NBC News that the Department of Justice "should be enlisted and expected to investigate the overwhelming reports and videos demonstrating clear strong-arm tactics, abuses and unlawful arrests by law enforcement."
Early Sunday, law enforcement shot projectiles at unmanned aircraft that were recording protest events from above in violation of US Federal Aviation Administration rules, according to the Morton County Sheriff's Office. The shots were fired because the drones flew at a surveillance helicopter "in a threatening manner," the sheriff's office said, adding that a deputy aboard the helicopter reported that the pilot and passengers were "in fear of their lives."
"The drones being operated near the local protests and the camps south of Mandan generally are not being operated within the regulations," Sheriff Kirchmeier said. "Reports of drones not being operated within the FAA guidelines or in a reckless and unsafe manner are being investigated and forwarded to the Morton County States Attorney's office."
The sheriff's office also condemned the Sunday blockade, which triggered a closure of the highway. In a Facebook message to "protesters who illegally blocked 1806," the sheriff's office said, "If something happens, you will be liable. I'm worried about the people in Standing Rock needing emergency services."
A total of 269 arrests related to the DAPL construction have occurred since August 10, according to the sheriff's offi