Sometimes anecdote and a few comments speaks louder than news stories, to wit these words from Facebook friends:
"Ummmm - The next american civil war seems like its coming to a head....Cops are getting shot now...Stay away from large cities...if you can"
Things are melting down very quickly - EVERYWHERE.
Thanks Ryan, Bradley and Josh

Here is a collection of recent stories and videos illustrating the situation
Charles Kondek, Killed On Duty, Remembered at Funeral
The Florida police officer fatally shot by a fugitive while on duty was mourned by family, friends and fellow officers at an emotional funeral service Saturday. The community in Tarpon Springs, just west of Tampa, lined the sidewalks as the procession for Officer Charles Kondek traveled from Idlewild Baptist Church to Grace Memorial Cemetery.
One of Kondek's six children spoke lovingly of her father, a 17-year veteran of the Tarpon Springs police force. "My mom lost her best friend and the love of her life," his daughter said, according to NBC affiliate WFLA. "We love you daddy and we will always have you in our hearts."
Kondek, 45, was killed while responding to a complaint about noise coming from the car of fugitive Marco Antonio Parilla Jr., who police say admitted to shooting the officer and then fleeing the scene because he didn't want to go back to prison. He also ran over Kondek's body with his car, authorities said. Parilla, 23, who was wanted on a parole violation, was charged Monday with first-degree murder and denied bail.
Kondek's colleagues remembered him for being helpful and supportive of his fellow officers. "He was good-natured, loved to joke around, a lot of laughter," Tarpon Springs Sgt. Michael Trill said through tears, WFLA reported. While the funeral took place, Officer Kondek's car was parked outside of the church, tied in a large black ribbon and with his badge number — 285 — displayed prominently on the front.
More details released about Flagstaff officer killed in shooting
Family, friends and community members in Flagstaff and Anthem will gather for vigils to remember slain Flagstaff Officer Tyler Stewart tonight.
Tyler, 24, who had less than one year on the job, was shot several times by rapid gunfire and killed Saturday afternoon by a 28-year-old man who then turned the gun on himself, police said. Tyler is the son of Department of Public Safety Sgt. Frank Stewart.
According to police, Stewart was killed during an interview with a domestic violence suspect.
Robert William Smith, 28, of Prescott, had been involved in an earlier domestic-violence call in Flagstaff with his girlfriend, spokeswoman Sgt. Margaret Bentzen said. Stewart met with Smith and had a conversation regarding earlier events.
Stewart, who was outside his patrol car, had been asking Smith questions about what had happened and asked to pat down Smith for any weapons, Bentzen said. At this time, Smith reached for a gun he had in his pocket and fired several shots at Stewart.
Bentzen said Stewart had no time to return fire, as the shots were immediate and rapidly fired. Stewart fell to the ground and Smith continued to fire, she said.
Officers were dispatched after several residents in the area reported Stewart lying on the ground and when dispatchers could no longer get a verbal reply from him, Bentzen said.
He was rushed to Flagstaff Medical Center, where he was pronounced dead.
Bentzen said Smith had been arrested in 2009 involving domestic violence.
"This is an enormous tragedy for our department and the family of our officer," Flagstaff Police Chief Kevin Treadway said in a statement. "We are a very close-knit organization, and know that all members of the Flagstaff Police Department are grieving at this time. With that being said, all of the men and women of the Flagstaff Police Department extend our prayers and condolences to the family of our Officer Tyler Stewart."
The police department will sponsor a candlelight vigil at 5:30 p.m. today at the Officer Down Memorial Statue, located in front of the Flagstaff Police Department headquarters, 911 E. Sawmill Road. A coinciding candlelight vigil will also be held at 5:30 p.m. at the Anthem Community Park, located at 41703 N. Gavilan Peak Parkway.
Stewart in 2008 graduated from Boulder Creek High School in Anthem.
Stewart's family is expected to attend the Flagstaff vigil, Bentzen said. Cards, flowers and candles left by well-wishers began piling up at the memorial Saturday evening

Whereas, on the other side of the racial divide its all tolerance
Two men who shot up Idaho Walmart with BB gun taken into custody by police
Two Idaho men were taken into custody without incident after shooting up a Walmart with a BB gun and threatening to harm other customers, the Coeur d'Alene Press reports.
The arrest of the two men — who were not identified — stands in stark contrast to an incident at a Ohio Walmart in August involving an African-American man, John Crawford, that left him dead after police shot him while he stood in an aisle casually holding a BB gun after he had removed it from a shelf.
According to Idaho police, the two intoxicated men walked into the Post Falls Walmart and proceeded to remove BB guns from boxes, before loading one and firing it four times while in the store.
In a report to police, Walmart store security contacted them saying the two men "started shooting the gun in the store and made comments that they were going to shoot the store up."
According to one Walmart loss prevention employee, the men approached him and asked if he wanted to join them.
The two men exited the store before police arrived, but officers and sheriff's deputies were able to set up a perimeter and take them into custody without incident.
According to police, the two men were charged with aggravated assault, discharging a firearm in city limits, and malicious damage to property.
The shooting of John Crawford at the Ohio Walmart drew national attention, when surveillance video showed Crawford facing away from officers, talking on his cell phone, and leaning on the BB gun like a cane when officer came around a display and shot him on sight.
Police had been called to the store by a panicky Walmart customer, Robert Ritchie, who claimed that Crawford had been "threatening" customers with the children's gun. Ritchie later changed his story, saying, "At no point did he shoulder the rifle and point it at somebody," although he continued to insist Crawford was "waving it around," despite video not backing up his assertion.
An Ohio grand jury refused to hand down an indictment of the police officers involved in Crawford's death.
Special Prosecutor Mark Piepmeier, appointed by Ohio Attorney General Mike DeWine called Crawford's death a tragedy for his family and the officers who, he said, will live the rest of their lives knowing "they took the life of someone who didn't need to die."
The discrepancy in how the different men were treated by police was noted on Twitter by RightWingWatch Fan: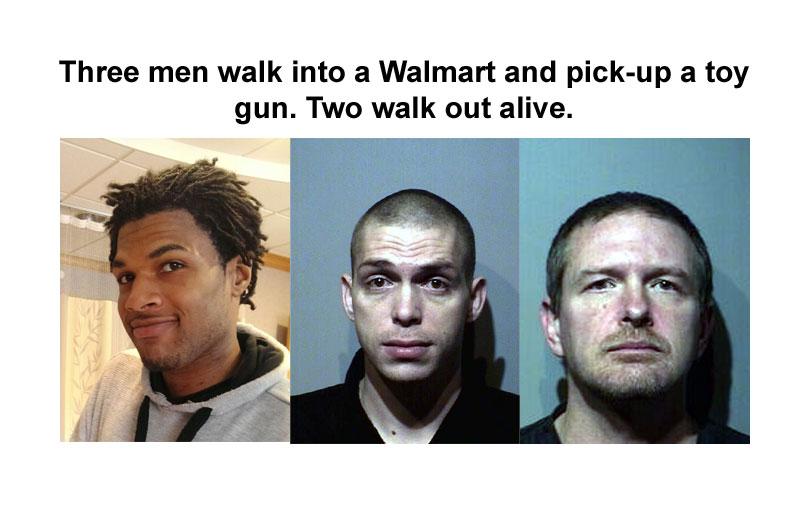 NYPD double murder drives rift between protesters, politicians and police
Anti-police brutality protesters are vowing to continue demonstrating, despite New York City Mayor Bill De Blasio urging them to refrain and be 'respectful' of police officers. Two city police department officers were killed execution style on Saturday, and multiple groups are blaming the weeks of protests for the tragedy. RT's Alexey Yarosjevsky is in New York with more details


8 white cops, 1 black homeless man, 46 bullets
NYPD Was Sued Average Of 10 Times A Day In 2013, Inspiring 'ClaimStat' Online App To Track Claims
Data released by NYC's Comptroller office is showing some disturbing trends in claims and payouts against the NYPD. According to the City of NY Office of the Comptroller Claims Report for FY 2012, the city paid $186.3 million in tort claims involving the NYPD in 2011, $152 million in 2012, $137 million in 2013 with an average of 10 lawsuits per day according to RT, with $674 million allotted for 2015 to cover costs of more suits, which averages out to about $80 per NYC resident.
To help rein in costs, City Comptroller, Scott M. Stringer, newly inaugurated in 2014, has shaken up the establishment a bit by launching a real-time claim mapping application called ClaimStat, an online app that provides some shocking transparency by using map location and detail data of claims filed against some of the most costly and worst offending departments under his financial control, NYPD being at the top of the list.
Stringer states ClaimStat can be used as an "early warning system" to help identify where police behavior is costing the city in lawsuits and settlements.
Stringer was quoted telling MSNBC:
"

We do not need to accept the premise that claims and settlements have to go up year after year. We don't have to accept that violent confrontations between police and the community are an inevitable part of policing."
After all of the grand juries, trials, protests and complaints, seems they don't start really paying attention until it hits them where it really hurts…the pocketbook.
In RT's description for the video above, it states, "According to data released from the NYC's Comptroller office, the NYPD was sued an average of ten times per day in 2013. What's more, the claims cost the city about $137 million. The comptroller has set aside a whopping $674 million for 2015 to cover costs of more suits against the city." In a story from 2012, RT also shares a staggering statistic, that between 2000 – 2010, NYC paid out almost $6 billion dollars in settlements.
Those massive claims and unsustainable budget numbers inspired Stringer to use data intelligence to pinpoint problem areas which were costing the city precious reяources.
Cops Threaten a Blue Coup in
New York City
"The police union chief instructed his members to impose a martial law-type policing regime on the city."
When Police Benevolent Association chief Patrick Lynch said New York Mayor Bill de Blasio has the blood of two dead cops
on his hands
, he was issuing a physical threat to both the person of the mayor and the civil authority to which the police are subordinate and sworn to protect. In a nation under the rule of law, such a statement by a representative of an armed and enflamed constabulary – 35,000-strong, the equivalent of three light infantry divisions – would trigger an immediate defensive response from the State, to guard against mutiny. But, of course, no such thing happened.
When Lynch's PBA declared, in a
prepared statement
, that "we have, for the first time in a number of years, become a 'wartime' police department" and "will act accordingly," that constituted an instruction to union members to impose a martial law-type policing regime on the city – with no authorization other than the weapons they carry. Sounds very much like a coup.
On Internet message boards, police union activists instructed the rank and file to refuse to respond to incidents unless two units were dispatched to the scene, and to double up even if given orders to the contrary. Under this "wartime" footing, the police would simply seize the power to deploy and assign themselves, as they liked – and to hell with the chain of command and civilian authorities.
To hell, especially, with Mayor de Blasio, who now travels nowhere except under the protective custody of police commissioner Bill Bratton, a "cop's cop" and architect of the "Broken Windows" policing strategy that begat stop-and-frisk. Bratton translates de Blasio's words into cop-speak, and has forged a tense truce between the uniformed legions and the man who
won 95 percent of the Black vote
on the promise to put a leash on the gendarmes.
There is no doubt the cops feel betrayed – a rage that has been building in synch with the growth of a nationwide movement that challenges the legitimacy of the Mass Black Incarceration State, of which they are the frontline troops, the "heroes" in the war to criminalize and contain an entire people. The chants and placards are an insult and an indictment of THEM, and of their centrality to the racist project that has been an organizing principle of the nation for more than two generations. How is it that cops can be compelled to "protect and serve" marchers whose purpose is anathema to the American policing mission: to beat down, lock up, and extrajudicially execute dissident, disorderly, uppity or merely inconvenient Black people?
The cops understand the law, and that the law is conditional, based on place, race and wealth, and that in the end there is only force, the use of which is their sacred monopoly. It's what gives them a status that union paychecks cannot buy; what makes blue collar guys and gals "somebody" in society. Most of all, they know who is nobody: the beatable, friskable, disposable, killable folks who would be prey on any other day, but have lately been allowed to repeatedly parade down the most protected streets of the richest island in the country, screaming defamations.
"
The cops' rage has been building in synch with the growth of a nationwide movement that challenges the legitimacy of the Mass Black Incarceration State, of which they are the frontline troops."
The cops are understandably angry and confused. As primary enforcers of the social order, they have an intimate knowledge of actual class and race relationships in America. Their perspectives are molded by the geographic and social boundaries they patrol; they are shaped and informed by the inequalities of the system they protect on behalf of the powerful people they serve. (Yes, they really do "serve and protect" somebody.) The cop's worldview is also firmly anchored in the history of the United States. He may not be aware of his profession's antecedents in the slave patrols, or even that the U.S. Supreme Court once ruled that Black people have no rights that the white man is bound to respect, but cops are the reigning experts on the borders that delineate rights and privileges in their localities. They know that public housing residents have virtually no rights that cops – as agents of the rulers – are bound to respect. They know that whole sections of their cities, encompassing most of the Black and brown populations, are designated as drug zones where everyone is suspect and probable cause is a given, or as high-crime zones where every shooting is pre-qualified as a good one.
These are the Constitution-free zones, full of people who get and deserve no protection by or from the police. The very existence of Constitution-free zones means that the Bill of Rights is not the law of the land, but a Potemkin façade, a con game, a chimera – and no one knows this better than the cops, whose job is to ensure, as best they can, that everyone stays within their designated space.
For about a million Black people, the assigned "space" is prison. The Mass Black Incarceration State is the edifice that defines the American system of justice, setting it apart from the rest of the world in size, racial selectivity, draconian sentencing and institutionalized torture (80,000 inmates in solitary confinement on any given day). The police are the drones that feed the infernal prison machine, and keep Black America in a state of rightlessness. As Shakespeare's mercenary warrior Othello would put it: We "have done the state some service, and they know it."
"
New York City's police force is especially prone to mutiny and coup-plotting."
The cops threaten mutiny if the State does not stick up for the men and women who do its dirty work. PBA honcho Patrick Lynch denounced "those that incited violence on the street under the guise of protests that tried to tear down what New York City police officers did everyday. We tried to warn, 'It must not go on. It cannot be tolerated.'"
To which the protesters answer: the police killings and the criminalization of a whole people must not go on and cannot be tolerated.
The movement has come to a critical juncture, a moment that would have arrived even if Ismaaiyl Brinsley had not made his own fatal decision. It was always inevitable that the cops would at some point demand that the State dispense with civil liberties pretenses and allow them to crush the nascent movement. New York City's police force – by far the nation's largest army of domestic occupation – is especially prone to mutiny and coup-plotting. Thousands of cops, many of them drunk,
stormed City Hall in 1992
to express their utter contempt for Black mayor David Dinkins. But, the current crisis is far different, because it is the movement's show, not the cops'. The people are exposing the most acute contradictions of American life through direct confrontation with the armed enforcers of the State.
The cops are supposed to be upset. As Dr. Martin Luther King Jr. explained, "the purpose of direct action is to create a situation so crisis-packed that it will inevitably open the door to negotiation." The crisis is here, and will grow deeper, but freedom is non-negotiable. The movement must win or be crushed.
Glen Ford is a distinguished radio-show host and commentator. In 1977, Ford co-launched, produced and hosted America's Black Forum, the first nationally syndicated Black news interview program on commercial television. In 1987, Ford launched Rap It Up, the first nationally syndicated Hip Hop music show, broadcast on 65 radio stations. Ford co-founded the Black Commentator in 2002 and in 2006 he launched the Black Agenda Report. Ford is also the author of The Big Lie: An Analysis of U.S. Media Coverage of the Grenada Invasion.