Hundreds Of NYPD Officers Turn Their Back On de Blasio Again
Amid the heartbreak and sorry of the funeral of Rafael Ramos (one of the two assassinated NYPD cops last week),
hundreds of police officers turned their backs away from the large screen outside the church as New York mayor Bill De Blasio began to speak
...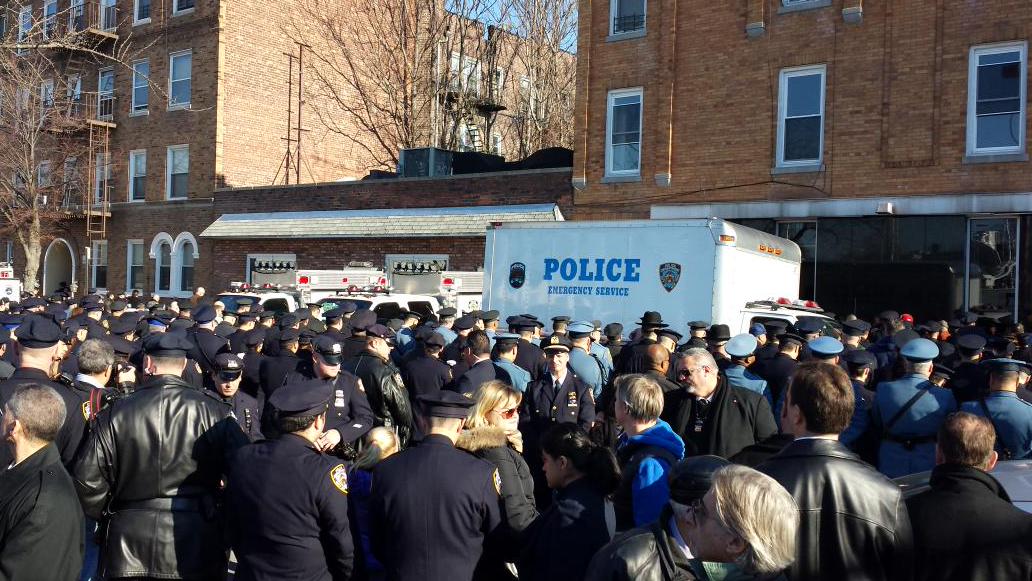 Some police union officials have said de Blasio contributed to a climate of mistrust toward police amid protests over the deaths of Brown and Garner. At a hospital after the shooting, the police union's president, Patrick Lynch, and others turned their backs on the mayor in a sign of disrespect. Lynch blamed the mayor then for the officers' deaths and said he had blood on his hands.
Weeks before the shooting, Lynch suggested that officers sign a petition requesting that the mayor not attend their funerals were they to die in the line of duty.

Cardinal Timothy Dolan and others have since called for such officials to temper the rhetoric.
De Blasio has stood by the police since the shooting, calling on demonstrators to temporarily halt protests and praising officers after the NYPD announced the arrest of a seventh person since the shooting for making threats against police.
On Thursday, the mayor briefly attend Ramos' wake but made no comments. There was no noticeable reaction from the officers upon his arrival, and Ramos' family has said they welcome the mayor's presence at the funeral.
On Friday, an anonymous person paid for a an aerial sign to be flown over New York City.

It read: "de Blasio, our backs have turned to you."