Australian Prime Minister Says Repealing The Carbon Tax Was Best Thing He Did For Women This Year
CREDIT: SHUTTERSTOCK
Australian Prime Minister Tony Abbott has made no secret of his disdain for taking action against climate change. Before buckling to international pressure earlier this month and contributing to the Green Climate Fund, a global mechanism to fund clean energy development, he'd done nothing but rollback regulations and diminish incentives. On Monday he said his main anti-climate success this year, repealing Australia's carbon tax, was also the best thing he did for women.
"
As many of us know, women are particularly focused on the household budget and the repeal of the carbon tax means a $550 a year benefit for the average family," he explained
Abbott has had problems with women — female voters — before. So much so that last year he named himself Minister for Women just to show he cares. His statement about the carbon tax repeal was in response to a television host askingwhat his biggest achievement as Minister for Women was this year.
In February 2010, Abbott elicited similar ire when saying of the emissions trading scheme that "what the housewives of Australia need to understand as they do the ironing is that … their own power bills when they switch the iron on are going to go up."
Women took to social media to react to Abbott's proudest accomplishment as Minister of Women.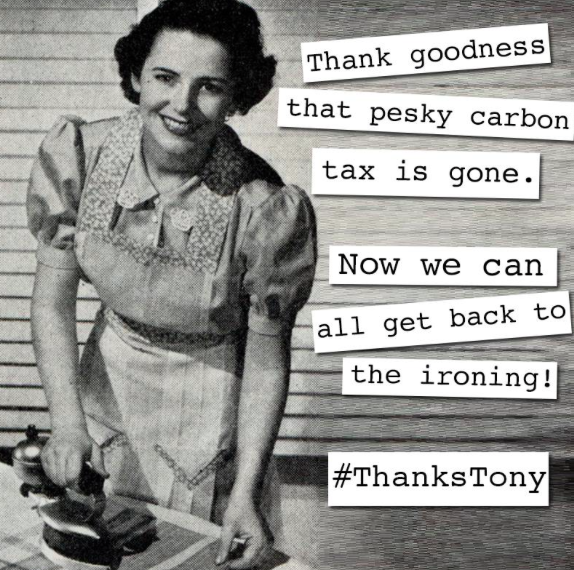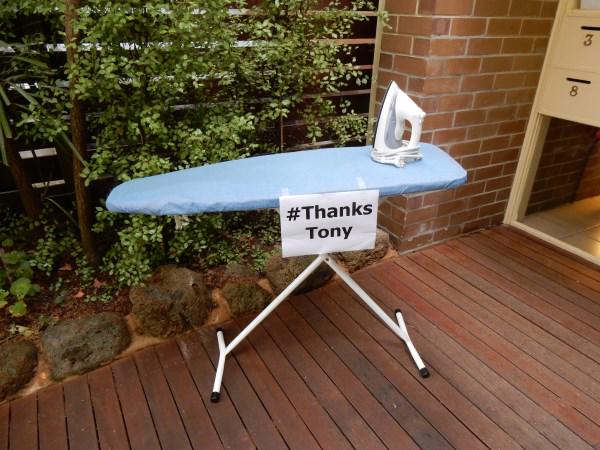 With the money saved from repealing the #CarbonTax, I bought an iron and @tigervsshark bought a pregnant! #ThanksTonypic.twitter.com/LoZd1lQLc9

Kate McLennan (@katemclennan1) December 21, 2014

Some men got in on the action too.
And even some dogs and cats.
Australian foreign minister Julie Bishop, one of the few women on Abbott's frontbench, defended his remarks, saying "women's policy is everyone's policy" and "what's good for women is good for the community generally."
Bishop was the only woman in the Australian cabinet until Abbott reshuffled it this week. Abbott's coalition is the first in nearly 40 years to fail to appoint a dedicated minister for the status of women or women's affairs.
Christine Milne, leader of The Greens party, said Abbott had been "a disaster" as minister for women" and that "it's almost as if he's in that portfolio to make sure there are no strides ahead for women in Australia."
"
He might as well have said that by abolishing the carbon price he's been able to give women more money to buy a new iron and stay at home and do the ironing more often," Milne said.
Another female opposition minister, Michelle Rowland, said Abbott's answer demonstrated he had "no vision whatsoever" on women's issues. She said he should be talking about pursuing pay equity, helping women increase participation in educational institutions, or improving their roles in the private sector, for example.