Moon Jae-in & Kim Jong Un arrive at border village for historic summit
N.K. leader makes historic crossing of inter-Korean border for summit
GOYANG, South Korea, April 27 (Yonhap) -- North Korean leader Kim Jong-un emerged from a veil of secrecy Friday as he made a rare appearance at the tense inter-Korean border for a historic inter-Korean summit.
In a black Mao-style suit, the reclusive state's leader came out of a border liaison office building in the North at the truce village of Panmunjom, flanked by his key aides, according to live TV footage.
Kim walked toward a four-meter-wide pathway between two blue conference buildings -- called T2 and T3 -- straddling the border in the Joint Security Area (JSA) of the truce village.
With a smile on his face, President Moon Jae-in was waiting to greet the young North Korean leader at concrete curbs that serve as the Military Demarcation Line (MDL).
The two leaders had a historic handshake right across the border at around 9:30 a.m. followed by Kim's border crossing amid intense media coverage to capture the historic moment of the two leaders' encounter.
Then, holding hands, the two leaders briefly crossed the border together back to the northern side.
Kim has become the first North Korean leader to set foot on South Korean soil since the end of the 1950-53 Korean War.
Panmunjom, 50 kilometers north of Seoul, has a symbolic meaning as the venue for inter-Korean talks as it is the place where the Armistice Agreement was signed at the end of the war.
The two Koreas remain technically at war as the conflict ended in a truce, not a peace treaty.
Kim Jong-un made his international debut last month when he made a surprise visit to China for a summit with Chinese President Xi Jinping. But his trip was an "unofficial" visit and not broadcast live.
Frenemies at the table: Kim & Moon to foster goodwill at historic meeting – but Trump's shadow looms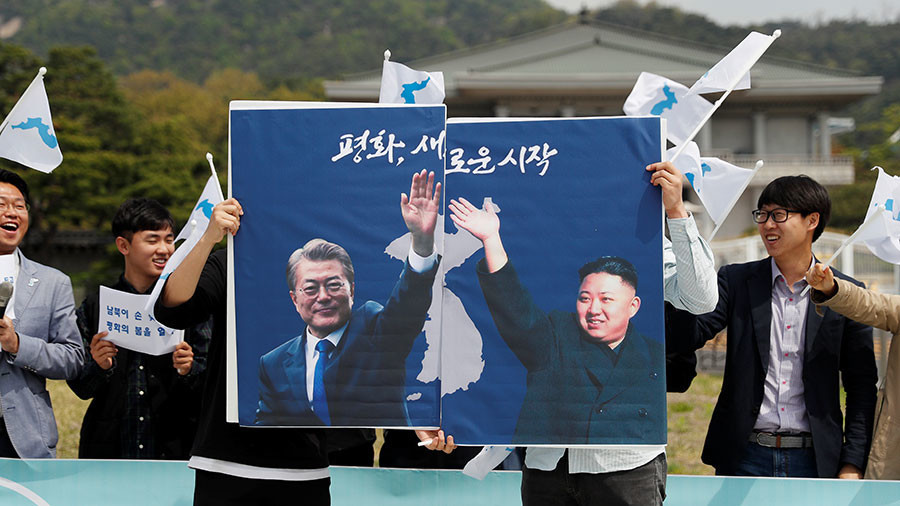 Students hold posters with pictures of South Korea's President Moon Jae-in and North Korea's leader Kim Jong Un during a pro-unification rally ahead of the upcoming summit between North and South Korea in Seoul, South Korea April 26, 2018 © Jorge Silva / Reuters
After a decade-long pause, the two Koreas are holding a top-level summit this week. Seoul may score some domestic political points, but it's in no real position to negotiate essential changes with Pyongyang.
This Friday, North Korean leader Kim Jong-un and South Korean President Moon Jae-in will meet face to face, marking the first such summit in over a decade. The previous intra-Korean event of this level happened in 2007, when Kim's father, Kim Il-sung, met South Korea's then leader, Roh Moo-hyun. A year later, the South had a new conservative government, ending a decade of détente with the North and heralding a new era of confrontation.
Coming to power against the backdrop of the impeachment of his conservative predecessor, the disgraced Park Geun-hye, Moon promised voters he would renew attempts at reengaging Pyongyang. North Korea in the past 10 years has made strides in nuclear and rocket technologies, creating what many observers believe to be a credible threat to the South's patron, the United States. With Donald Trump sending hostile signals from the White House, last year the region seemed to be at risk of a real large-scale war. However, the tension has since eased somewhat, as Kim and Moon took a number of symbolic steps to signal willingness to negotiate.
Symbolic gestures
The upcoming summit is likely to proceed along the same symbolic lines. There will likely be exchanges of gifts alluding to Korea's rich common history and personal tastes. Kim's father brought with him a stockpile of rare mushrooms as a gift – then reportedly worth up to $2.6 million – and was given a collection of South Korean movies in return. There will probably be declarations of friendship and mutual hope for the eventual reunification of the two Koreas. The delegations may bring members of families torn apart by the Korean War, whose ability to keep in contact has always been held hostage by the perils of politics. Seoul and Pyongyang may sign a document declaring an intention for a formal peace treaty sometime in the future – a gesture that would not require either side to change its claim to be the sole lawful government of the entire Korean Peninsula.
There may also be small practical steps – small because there is very little that Moon can offer that Kim would want without crossing certain lines. Renewal of tourist tours could work. Restarting business at the Kaesong Industrial Region, a project where the South's technology and the North's labor used to work to benefit both sides and build trust, is probably too much. After all, the US insists that Pyongyang should receive no economic relief before surrendering at least part of its nuclear arsenal. But the two parties may agree to withdraw some troops from the demilitarized zone as part of a de-escalation effort.
The fact is, however, that Moon is not the person Kim should be talking to about the core issues of the standoff. He cannot give safety guarantees that would convince the North Koreans that they don't need nuclear weapons anymore. He cannot have a resolution lifting the sanctions passed through the UN Security Council. Those things will presumably be negotiated with Trump sometime in May or June.
Image facelift
At the same time, the importance of symbolic gestures should not be underestimated. North Korea's problem has long been its image. Pyongyang has done some fairly bizarre things in the past, such as kidnapping Japanese citizens presumably for training spies or a prominent film director from the South to give a boost to its movie industry. Its human rights record – abysmal in itself – and isolationism spawned a host of activists who would tell horror stories to tabloids, which were never challenged even if their stories sounded ridiculous to the impartial observer. Incidents like the nerve agent assassination of Kim Jong-un's elder brother, Kim Jong-nam, don't exactly instill confidence either. Many hawks on North Korea say Pyongyang cannot be negotiated with.
Much of the North Korean Olympic charm offensive, which helped pave the way for the upcoming summit, was aimed at disproving such attitudes. Whatever backchannel agreements Kim and Moon had about not spoiling the games, the North Korean leader seems to have delivered on them. For his part, the South's president managed to address some of Pyongyang's concerns, agreeing with the US some changes to the recent joint military exercise that made them less aggressive towards the North.
When viewed as preparation work for a Kim-Trump meeting, the summit will help quell the voices calling for renewed hostilities, and make it somewhat harder to justify a no-compromise position for both sides. If everything goes smoothly, Moon would rightfully score extra points for his policies – something which would be handy for the June elections for local offices and for the seven recently vacated seats in the national parliament. The other players don't have much at stake in this week's meeting. Japan may complain about the summit dessert menu hurting the nationalist feelings in Tokyo, but it is Moon's show to run.
High Expectations for the Kim/Moon Meeting Low Expectations for the Xi/Modi Meeting
Adam Garrie
The world is now hours away from a day of two meetings that both carry the potential of being highly important. Realistically however, one meeting can already be called a success just because it is happening, while the other meeting will be something of a disappointment for anyone hoping for a substantive outcome.
Great Marshall Kim Jong-un of the DPRK (North Korea) will shortly cross the border to meet with Persident Moon Jae-in of the Republic of Korea (South Korea). In their first ever face-to-face meeting, the two will discuss further means of escalating the rapidly developing detente between the two Korean states, while many have suggested that the talks could pave the way for the signing of a treaty that will formally end the Korean war which in 1953 was paused by an armistice, but which has never officially ended.
There remains a possibility that a treaty could be signed on the 27th of April to this effect. While such an historic event would likely require more than one face to face meeting, at the rate at which Pyongyang-Seoul relations are thawing, anything is now conceivable.
The meeting will also set the tone for Kim Jong-un's forthcoming meeting with Donald Trump. The more positive steps that Kim and Moon can make to ensure stability and two-way de-militarisation of the peninsula, the harder it will be for the US to make unrealistic demands during the forthcoming US-DPRK summit.
While the meeting will be filled with symbolism, it will certainly also accompany concrete steps towards a Korea which will becoming increasingly integrated in terms of culture, trade and possibly even geopolitical cooperation. Those who underestimate the ability of Kim and Moon to thrash out something tangible beyond that which is symbolic have consistently been proved wrong ever since the beginning of 2018 when the DPRK's outreach to Seoul led to dramatic improvements relations that have already set in motion history making endeavours for cooperation.
There is now, no reason to believe that the face to face meeting should produce anything less than something history making and perhaps even something surprising in the most positive sense possible.
Xi Jinping meets Narendra Modi
If many pundits have been guilty of underestimating the potential for tangible results in respect of the Kim/Moon summit, many are equally guilty of expecting even a minor breakthrough in Sino-Indian relations during the forthcoming meeting between President Xi Jinping and Premier Narendra Modi in China.
The Chinese hosts have described the meeting as "informal" which is clearly indicative of the fact that China does not want to get its own hopes up nor the world's hopes up when it comes to any possible reconciliation between the two countries.
China will predictably state that Beijing welcomes further dialogue with India on a range of issues including border disputes, bilateral trade and even possible Indian participation in the One Belt–One Road trading and logistics initiative. For China, such statements are nothing new. While Beijing has never and likely will never capitulate to Indian agitations and provocations over border disputes, China remains happy to engage in dialogue over the matter. India's withdrawal of troops from Donglang/Doklam during last summer's dispute, is a further sign that when it comes to border disputes, India is willing to provoke but ultimately it is China that holds the upper hand.
When it comes to trade, China has never sought a game of tit-for-tat with India, but instead has encouraged India to harness a post-colonial pan-Asian mindset rather than a zero-sum mentality that China has rightly associated with India's former colonial rulers. In spite of this, it does not appear the Indian mindset has changed and nor is it likely to do so while Premier Modi's radical Hindutva BJP remains in power.
It is certainly true that some in New Delhi are beginning to realise that warm words and the sale of expensive weapons from the US does not guarantee shelter from Donald Trump's trade war, a war in which the US has put up tariff walls against both old friends like Japan, South Korea and the EU, as well as new rivals like China. If the US disappoints India in this respect, China is a clear alternative to the US and objectively, it is a preferable one due to the needs of India as a large developing Asian economy. Russia would be all too happy to help China and India reconcile their differences, just as Moscow is happy to play this role in respect of Vietnam and China. Still though, India's reticence to use its position in the Shanghai Cooperation Organisation to pursue peace with both China and fellow member Pakistan, is a sign that reconciliation is a long way off.
So while the fact that Modi is travelling to China means that he is clearly hedging his bets, many have underestimate the systemic Sinophobia that has become part of the political culture in India under the BJP. Hindutva radicals on the street, shrieking voices on Indian media and many government ministers now view an artificial rivalry with China as a kind of religion. To this end, China is now discussed in high levels of Indian media and government as though it is some sort of devil that can only be resisted.
The combination of this reactionary attitude towards China combined with sustained pressure from the US to resist doing any deals with Beijing means that Modi has essentially backed himself into a corner. Unless the situation in India gets a lot more economic desperate in short order (which remains a distinct possibility), it is doubtful that Modi will take the plunge and admit he was wrong to antagonise a wealthy neighbour that under the right conditions could be a healthy partner for India.
Conclusion
The stark contrast between the forthcoming Xi/Modi and Kim/Moon summits can be summed up by the expression 'it takes two to tango'. In spite of a deeply hostile recent history between the two states of a divided Korea, Kim Jong-un and Moon Jae-in have both shown the utmost maturity, pragmatism, fraternal good will and forward thinking when it comes to mending old wounds. Had even one of the leaders taken a different attitude, none of the progress currently being made in Korea would be happening.
By contrast, while China has never shut the door on India, the Modi government's attitude towards China continues to be one of hostility, ill will, suspicion which borders on conspiratorial hysteria and one which is led from behind by the US – something China is all too aware of. Thirty years ago it would be hard for people to image that South Korea would be capable of leading rather than following the US when it comes to a pursuing an independent policy for peace and cooperation in Korea, while it would have been equally unimaginable to image an India so besotted with the United States that it is essentially cutting off its nose to spite its face in respect of trade with its largest and most wealthy neighbour, all the while disregarding decades of good will from Moscow. But this is the new reality.
While Kim and Moon look set to see eye to eye more so than any previous leaders of the DPRK and RoK, when it comes to Modi and Xi, the handshakes and diplomatic statements may well be there, but Modi's attitude means that he has made his own mission to China something of a lost cause, even if in the medium term India ends up given into logic and reaching a reasonable accord with China.