Why is 'Philip Cross' editing Wikipedia entries every day? - George Galloway
Someone going by the name 'Philip Cross' has been editing a number of Wikipedia entries, including George Galloways. Who is this person? What we do know about them and their motives? George speaks to journalist Neil Clark
The "Philip Cross" MSM Promotion Operation Part 3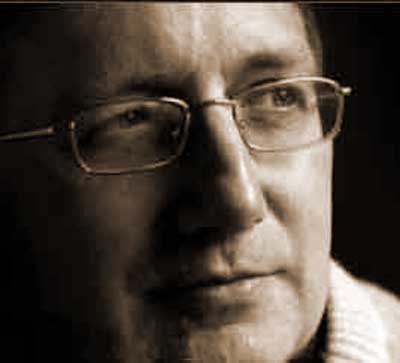 "
Philip Cross" has just 200 Twitter followers, but has more MSM journalists following him than are to be found among my 42,300 twitter followers. Despite the fact a large majority of "Philip Cross's" tweets are mere retweets, with Oliver Kamm and Nick Cohen most frequently retweeted. "Philip Cross" has never broken a news story and the few tweets which are not retweets contain no gems of expression or shrewd observation. In short, his twitter feed is extremely banal; there is literally nothing in it that might interest a journalist in particular. Do not take my word for it,
judge for yourself
.
Why then does James LeMesurier, founder of the "White Helmets", follow Philip Cross on twitter? Why does ex-minister Tristram Hunt follow Philip Cross on Twitter? Why does Sarah Brown, wife of Gordon, follow Philip Cross on twitter?
Why then do so the following corporate and state journalists follow "Philip Cross" on twitter?
Oliver Kamm, Leader Writer The Times
Nick Cohen, Columnist The Guardian/Observer
Joan Smith, Columnist The Independent
Leslie Felperin, Film Columnist The Guardian
Kate Connolly, Foreign Correspondent The Guardian/Observer
Lisa O'Carroll, Brexit Correspondent The Guardian
James Bloodorth, Columnist The Independent
Cristina Criddle, BBC Radio 4 Today Programme
Sarah Baxter, Deputy Editor, The Sunday Times
Iain Watson, Political Correspondent, The BBC
Caroline Wheeler, Deputy Political Editor, the Sunday Times
Jennifer Chevalier, CBC ex-BBC
Dani Garavelli, Scotland on Sunday
Bonnie Greer (frequently in The Guardian)
Mason Boycott-Owen (The Guardian, New Statesman)
Marko Attilla Hoare (The Guardian)
Kirsty Hughes
Guy Walters (BBC)
Paul Canning
Let me recap, The official story is that "Philip Cross" is an obscure and dedicated Wikipedia editor who edits every single day for five years. His twitter feed has never contained any "news". Yet among the 160 followers he had last week before the media spotlight was turned upon him, were all these MSM journalists, many more than follow anyone but the most prominent individuals, more than follow an activist like me. Plus big figures like Sarah Brown, Tristram Hunt and James Le Mesurier. What does this tell us about who Philip Cross is.
The largest single category of Philip Cross's historic 160 followers is anti-left and anti-Corbyn twitter accounts, especially those that specialise in making accusations of anti-semitism against left wing or anti-war figures. These include:
UK Media Watch "promoting accurate coverage of Israel"; ALT Putin's Capitalist Wealth "@medialenswipe"; Antinat; Jeremy Corbin Prime Minister; Jewish News; Anti-Nazis Utd [which thinks I am a Nazi]; Labour Against Anti-Semitism; Jews Aganst Jeremy Corbyn. A very much larger number of individual followers of "Philip Cross" have twitter streams which predominantly consist of attacks on Jeremy Corbyn or the anti-war left in general, and of vociferous support for Israel. Of personal interest to me, there are at least seventeen of Philip Cross's supporters who have made utterly unprovoked attacks on me on social media over the last twelve months.
So let us recap what we know. "Philip Cross" spends a quite astonishing amount of time on Wikipedia making malicious edits to the entries of anti-war or anti-corporate media figures, while at the same time polishing and protecting the Wikipedia profiles of corporate and state media figures. "Philip Cross" had done this obsessively for 13 years and not had a single day off, even at Christmas, for five years.
"
Philip Cross" is not very active on twitter, mostly just retweeting, and as you would expect has therefore not had many followers. But an extraordinary percentage of that very limited number of followers are MSM journalists or senior Establishment figures. There is absolutely no reason on the face of his Twtter stream why Philip Cross would attract this particular type of following. His retweets are mostly of Nick Cohen and Oliver Kamm, and his followership is concentrated in the Guardian and Times, which nowadays have very similar neo-con agendas.
"
Philip Cross"'s own twitter stream makes no effort at all to hide the fact that he has the strongest of neo-conservative biases, hates the Left and anti-war movement, and strongly supports Israel. "He" is part of an active social media network trolling these views. The purpose of "his" continual Wikipedia editing could not be clearer. I suspect strongly that this particular Philip Cross twitter follower gives us a clue: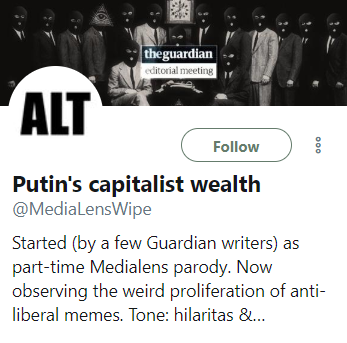 That is a twitter account founded by a collective of Guardian writers to attack MediaLens, whose Wikipedia entry "Philip Cross" has edited over 800 times. I suspect "Philip Cross" is a similar collective effort, which may hide behind the persona of a real life individual called Philip Cross. The intention of this effort to denigrate and demean alternative media and anti-war figures through their Wikipedia entries, and at the same time to burnish the Wikipedia entries of mainstream media figures, is proven without doubt, as is the continued complicity of Wikipedia in enabling and defending the long-term operation.
Analysis of "Philip Cross" tweets.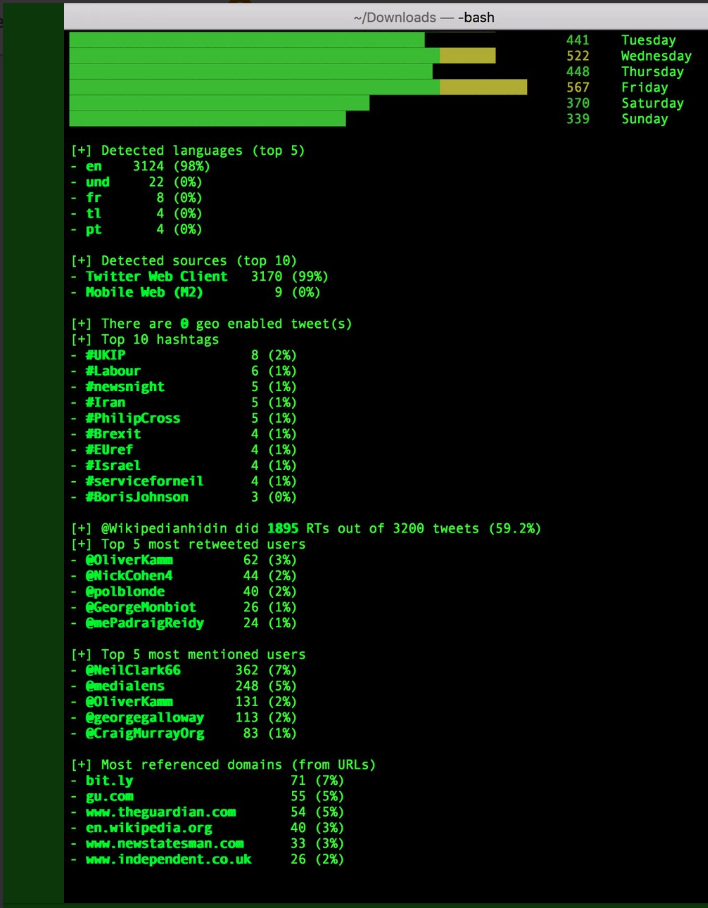 FOOTNOTE Since Philip Cross's activity was brought into prominence throughout social media a few days ago, his Twitter followers have increased, mostly by people who dislike his activity wishing to keep an eye on him. I have disregarded these new followers, and it in no way diminishes my argument for trolls to point out that he now has left wing followers as well.
High Tory, ex Daily Telegraph and Murdoch, expensive private school, Emma Barnett is BBC Politics' rising star and stood in as host of the BBC flagship Marr programme on Sunday. She was there rude and aggressive to Labour's Barry Gardiner. The "highlight" of her career so far was during the general election when on Radio 4 Women's Hour she demanded instant top of the head recall of complicated figures from Jeremy Corbyn, a ploy the BBC never turns on the Tories.
The most interesting fact about Emma Barnett is that her exclusive private education was funded by her parents who were pimps and brothel keepers on a large scale, for which
both were convicted
.
I know of no compelling evidence as to whether Barnett was, or was not, complicit in her parents' activities, which financed her education into adulthood. But that this background is interesting and unusual is not in doubt. However the MSM's image protector, "Philip Cross",
has been assiduous
in, again and again, deleting the information about Barnett's parents from Wikipedia. Not only has Cross deleted the referenced information of her parents being brothel-keepers, he has repeatedly inserted the ludicrous euphemisms that her father was a "businessman" and her mother a "housewife".
Cross has also deleted references to Barnett – who wrote for the Telegraph and then for Murdoch's Times, being "right wing". He has instead inserted claims that criticisms of Emma Barnett following her aggressive Corbyn interview were "anti-semitic", in a classic Cross move to undermine any left-wing point. Naturally he had
references
from the Times and the Guardian – evidence free articles – to back up these claims – and naturally from journalists whose Wikipedia pages Cross curates. You get the circle?
On 21 June 2017 editor Alfonz-kiki complained that Cross's continual whitewashing of Barnett's entry was by "paid PR". He pointed out that he had references on her parents' brothels from the BBC and the Daily Telegraph. Alfonz-kiki is one of scores to have separately noticed and complained of Cross's activities over years, but Cross has been defended by Wikipedia again and again and again.
Barnett is demonstrably right wing from her Murdoch and Telegraph columns. Her expensive private education – which got her where she is – was undeniably paid for by the proceeds of prostitution and by the trafficking in persons that led to the operation being closed down. But Philip Cross makes sure you can see none of that on Wikipedia.
In case you are saying that Cross is justified, Barnett's parents activities were not her fault and ought not be on her Wikipedia page, let me remind you of one thing. The same "Philip Cross" edited my own Wikipedia page to state that my wife Nadira used to be a stripper, sourced to the Mail. Cross abuses family information, as all other information, to defame dissidents or to burnish Establishment defenders, not according to a moral code.