US-led strike hits government targets in Syria – state media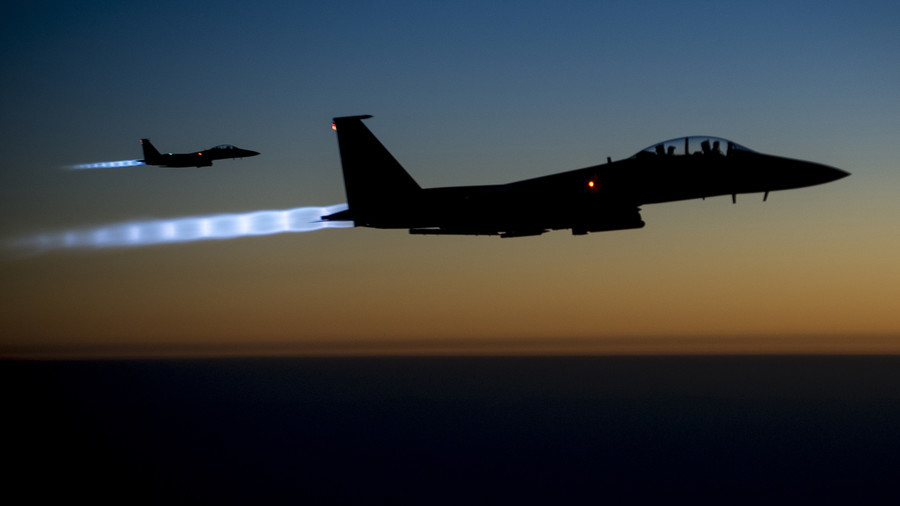 US-led coalition warplanes have bombed several Syrian army positions in the eastern Syrian province of Deir ez-Zor, state media outlet SANA reports, citing a military source.
The attack took place shortly after midnight on Thursday. SANA reported that the US-led coalition aircraft inflicted limited material damage and no casualties. The airstrikes, which hit near the city of Al-Bukamal, were reportedly coordinated with anti-government militants.
Earlier, Lebanon's Hezbollah group, an ally of the Syrian forces in the fight with Islamic State (IS, former ISIS/ISIL) said the coalition jets targeted two Syrian army outposts, including an energy installation near the Iraqi border.
The area has seen rapid advances by the US-backed Syrian Democratic Forces (SDF) pushing against IS militants near Al-Bukamal and moving towards the eastern bank of the Euphrates River.
Last week, the SDF announced they took control over a former IS base on the Euphrates River near the Syrian-Iraqi border, moving closer to territory controlled by the Syrian government.
Syria has recently been subjected to massive bombardment campaigns by another US ally, Israel, which in early May sent 28 fighter jets that fired some 60 air-to-surface missiles into Syrian territory against what Tel-Aviv claimed were targets belonging to the Iranian Revolutionary Guard. Israel said that its largest attack in years was a response to Iran's launching an attack on the Israeli-controlled part of the occupied Golan Heights from Syria. The Syrian air defenses retaliated, allegedly firing some 100 missiles at Israeli warplanes.
A senior Israeli Air Force officer has said that his country's military aircraft will continue to operate in Syrian airspace for as long as is deemed necessary.
"We're not doing this because we're aggressive, but because we constantly have to be actively defending the state of Israel," the senior officer said, speaking to reporters on condition of anonymity on Wednesday.
"This is the only thing preventing offensive measures by Iran," he added.
The officer also warned Syria not to use its air defenses against Israeli warplanes. "All batteries that fire on Israeli aircraft will be destroyed. All batteries that do not fire on us will not be destroyed," he said, noting that "this policy will continue."
Two Israeli air force F-15s of the Knights of the twin tail 133 squadron fly over Ovda airbase near Eilat, southern Israel, during the 2017 Blue Flag exercise
On Tuesday, the commander of the Israeli Air Force declared that Israel had become the first country in the world to use its US-made F-35 fifth-gen stealth fighter in combat. "We are flying the F-35 all over the Middle East and have already attacked twice on two different fronts," Maj. Gen. Amikam Norkin was quoted as saying by Israeli media.
Syrian-Israeli relations were brought to a boiling point earlier this month after the Israeli Air Force hit what it said were Iranian targets in Syria, following an alleged rocket attack against Israeli military positions in the occupied Golan Heights. Earlier this year, Israeli jets repeatedly struck Syria's T-4 air base, which Tel Aviv claimed contained "Iranian bases in Syria."
On Wednesday, Syrian Deputy Foreign Minister Faisal Mikdad told Sputnik that the possibility of withdrawing Iranian military advisers and Hezbollah militia was "not even on the agenda of discussion, since it concerns the sovereignty of Syria."
The Israeli Air Force has regularly violated Syrian airspace throughout the course of the Syrian civil war. Damascus has called these incursions acts of aggression and vowed to continue to "repel any aggression against Syria, regardless where it will take place."