Israel Attacks Damascus on Christmas, SAA Air Defenses Intercept 'Hostile Targets' Over Capital
Reports are still preliminary, but it does appear that Israel is once again in violation of international law, as it violates both Lebanese airspace and Syria's sovereignty by launching another belligerent attack against Syria's capital city of Damascus.
According to multiple reports including Syrian state media SANA, the Syrian Arab Army's ground-to-air missile defense systems around Damascus were deployed against incoming targets.
Thus far, reports of any casualties in Syria are still unknown.
According to
Israeli military sources
, Israeli air defenses were then "activated" against anti-aircraft missiles coming from Syria to target Israeli jets. Israel claims no damage was done, nor any injuries to IDF personnel.
Missiles in the air ! Israel Attacking Syria -- Syrians RETURNING FIRE
Hal Turner,
25 December, 2018
Syrian Air Defenses were launched within this hour against unknown targets near Damascus. Massive explosions heard over Damascus.
Israeli war planes are presently airborne over Lebanon; not certain if they fired toward Syria or not.
UPDATE 3:45 PM EST --
At least 20 missiles fired towards targets in Syria by Israeli air force . . . SEE UPDATE BELOW
Developing fast . . .
UPDATE 3:35 PM EST --
Reports of several Syrian S-200 missiles launched at targets over the Syrian-Lebanese border.
S
everal eyewitness told me that they'v seen aerial objects been hit by Syrian surface to air missiles. However, the situation is not clear yet.
Syrian Air Defense Missiles Launching, Christmas Day
UPDATE 3:42 PM EST --
Air defense missile exploded over Beirut, Lebanon

Unidentified object was downed over Haramon mount




UPDATE 3:45 PM EST --
At least 20 missiles fired towards targets in Syria by Israeli air force!
Still a lack of detail on whether any locations in Damascus were hit, but Israel clearly trying to bomb the Syrian Capital on Christmas day ..... And Israeli's wonder why so many people around the world hate them?
What kind of deviant, mentally-twisted minds do these people have that they would launch missiles on Christmas Day?
UPDATE 3:48 PM EST --
**** Anti-air missile fire
in central Israel
right now ****

Revenge BY SYRIA for airstrikes on Damascus?
UPDATE 3:52 PM EST --
Israel intercepted a missile from Syria: army
UPDATE 3:58 PM EST --
Syrian Arab News Agency (SANA) is saying that Israeli warplanes launch several missiles from Lebanese airspace at positions in Syria. The missiles were intercepted by the Syrian Air Defense Forces.
UPDATE 4:02 PM EST --
There are reports indicating a second wave of Israeli airstrikes against Syria right now . . .
UPDATE 4:20 PM EST --
First Israeli attack wave against Syria and its people tonight, has been a massive failure. Many Delilah cruise missiles have been intercepted by Syrian air defense.

A second Israeli attack wave is ongoing right now.
Syrian "Pantzir" Air Defenses Firing against inbound Israeli missiles on Christmas Day. Syrian Pantsir-S2 SAM system launching eight 57E6-E surface to air missiles at Delilah cruise missiles launched by Israeli F-16s flying from Hatzerim AB in Israel
UPDATE 4:39 PM EST --
Israel has now saying that it intercepted missiles fired from Syria amidst reports of an airstrike near Damascus.
UPDATE 4:48 PM EST --
Israeli warplanes are targeting missile depots belonging to the 10th Division of the Assad Army in Qatna area south-west of the Syrian capital Damascus.
Israeli warplanes also targeting Iranian Revolutionary Guard missile depots in the Saboura area.
NOTE:
This is the largest and most intense strike Israel has
attempted
on targets in Syria since the downing of the Russian jet.
UPDATE 5:13 PM EST --
Syria air defenses repelled hostile missiles fired by Israel from Lebanese airspace and shot down most of them before reaching their targets.
An ammunition depot inside Syria was hit and three soldiers were wounded.
UPDATE 5:28 PM EST --
According to reports, an arms depot of Iranian militias were destroyed. Hezbollah positions were attacked while Iranian cargo planes were landing at Damascus Airport.
The plane which was allegedly a target of the attack was NOT hit and is not back in the air from south of Damascus heading back to Iran.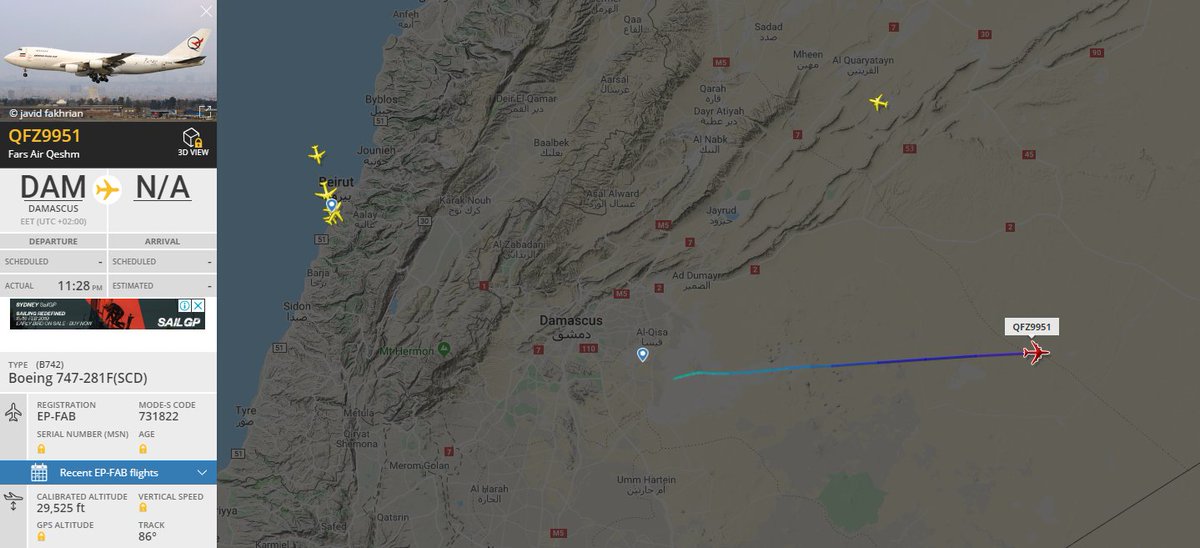 *** BULLETIN ***
UPDATED 5:32 PM EST --
UNCONFIRMED REPORTS THAT QASSEM SULEIMANI (COMMANDER OF THE IRANIANS QUDS FORCE) WAS KILLED IN TODAYS ISRAELI STRIKES AGAINST

#DAMASCUS

.
If true, it is not yet known what Iran will do.
Also during the Israeli aggression on Damascus, an Israeli Gulfstream G550 Special Electronic Mission Aircraft made a flight Southbound - now returning to base.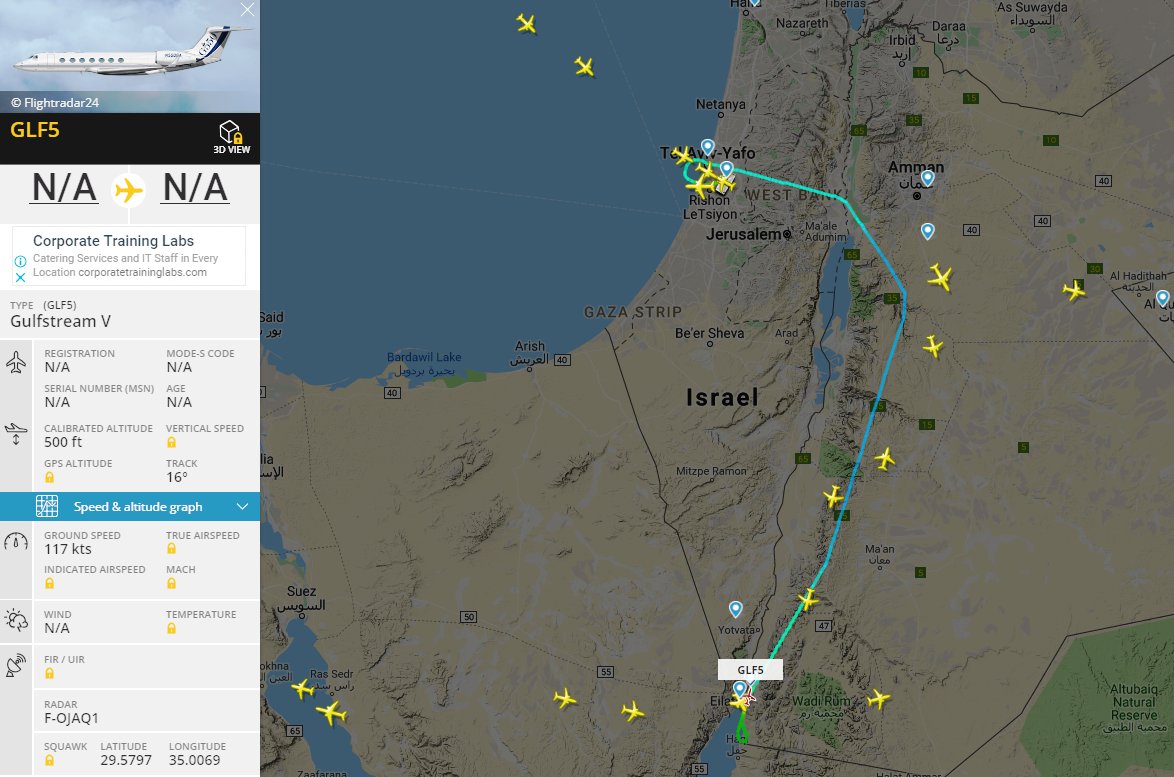 UPDATE 6:44 PM EST –
The information below is
COVERT INTELLIGENCE
derived from my former colleagues in the Intelligence Community with whom I worked during my years as a National Security Intelligence Asset with the FBI Joint Terrorism Task Force (JTTF).
BATTLE DAMAGE ASSESSMENT
Israel launched over 55 munitions today
Surface to surface missiles (short range-medium range)
Suicide drones
Small diameter bombs
Cruise missiles

Launched in 4 waves in 35 mins

And only managed to hit 7 times in 2 different locations in Syria.
The attack, for all intents and purposes, was a dismal failure.