Coverage so far is pretty one-sided (ie. from the zionist point-of-view) for now.
Pretty full coverage from Hal Turner where no one else is doing it. Just don't expect any interpretation worth anything.
Links to RT coverage is below.
BREAKING NEWS: ISRAELI DEFENSES GO ON "EMERGENCY PREPAREDNESS" -HAMAS EVACUATING - ATTACK ON ISRAEL DEEMED "IMMINENT"
** BULLETIN **
Rocket Salvos Launched from Gaza into Israel
MAJOR ATTACK IN PROGRESS
Very serious developments in the Gaza Strip minutes ago. At 9:15 AM eastern US time today (Wednesday August 8) the Israeli Defense Forces (IDF) went on EMERGENCY PREPAREDNESS. This means a CLOSED MILITARY ZONE has been established around the borders of Gaza. Roads in Israel are being closed and certain areas near Gaza are presently being EVACUATED of citizens!
IDF has verified Intel that HAMAS inside Gaza, is evacuating their offices, outposts, social/cultural centers and other facilities in advance of HAMAS launching major attacks against Israel.
IDF STATEMENT --
In light of Hamas statements and the evacuation of Hamas outposts, the Southern Command decided to reinforce the Gaza Division and close several Israeli roads in the area surrounding the Gaza Strip for security reasons.
This is a developing story with very serious implications for the world. Check back for updates.
UPDATE 10:10 AM EDT -
Further IDF reinforcements are being moved to the Gaza border zones, RIGHT NOW.
UPDATE 10:20 AM EDT --
IDF SAYS HAMAS PLANNED ATTACK IS LIKELY OF A SCALE THAT WILL CREATE A SIGNIFICANT IDF RESPONSE
UPDATE 11:00 AM EDT --
I am in DIRECT contact with people in the Israel military who are saying this is the real deal and serious.

Just hoping the precautions the IDF is visibly taking causes HAMAS to cancel the attack.
Hamas are leaving their positions and bunkering down in droves; they are hiding from reprisals they KNOW will come for an attack.
UPDATE 11:20 AM EDT --
After Sniper and other shots fired at Israeli troops, IDF tanks return fire.
UPDATE 11:35 AM EDT --
A vehicle driven by a civilian that was employed by the IDF to work in the anti tunnel project WAS FIRED UPON from inside Gaza. The driver was wounded. Emergency responders are on their way. The incident is escalating the Gaza situation.
UPDATE 11:50 AM EDT --
IDF forces telling businesses near the Gaza border to evacuate immediately.
Palestinian reports : IDF artillery struck a Hamas border outpost east of Gaza city. IDF confirms.
11 burning kite fires since the morning - firefighting service
UPDATE 12:30 PM EDT --
the IDF have put censorship on all military ops and events

Say events are ongoing
** BULLETIN **
ROCKET SALVOS BEING LAUNCHED INTO ISRAEL FROM GAZA
Rocket sirens in Southern Israel now
Numerous rocket attacks now....
FURTHER SIRENS AND POSSIBLE INTERCEPTIONS REPORTED
Code red sirens going like crazy in Southern Israel. Rockets launched from Gaza into Israel. Injury reported in Sderot. Iron Dome activated.
UPDATE 12:45 PM EDT --
ISLAMIC JIHAD CONFIRM REJECTION OF TRUCE PROPOSALS WITH ISRAEL
UPDATE 1:00 PM EDT --
DIRECT HIT BY ROCKET ON A HOUSE IN SDEROT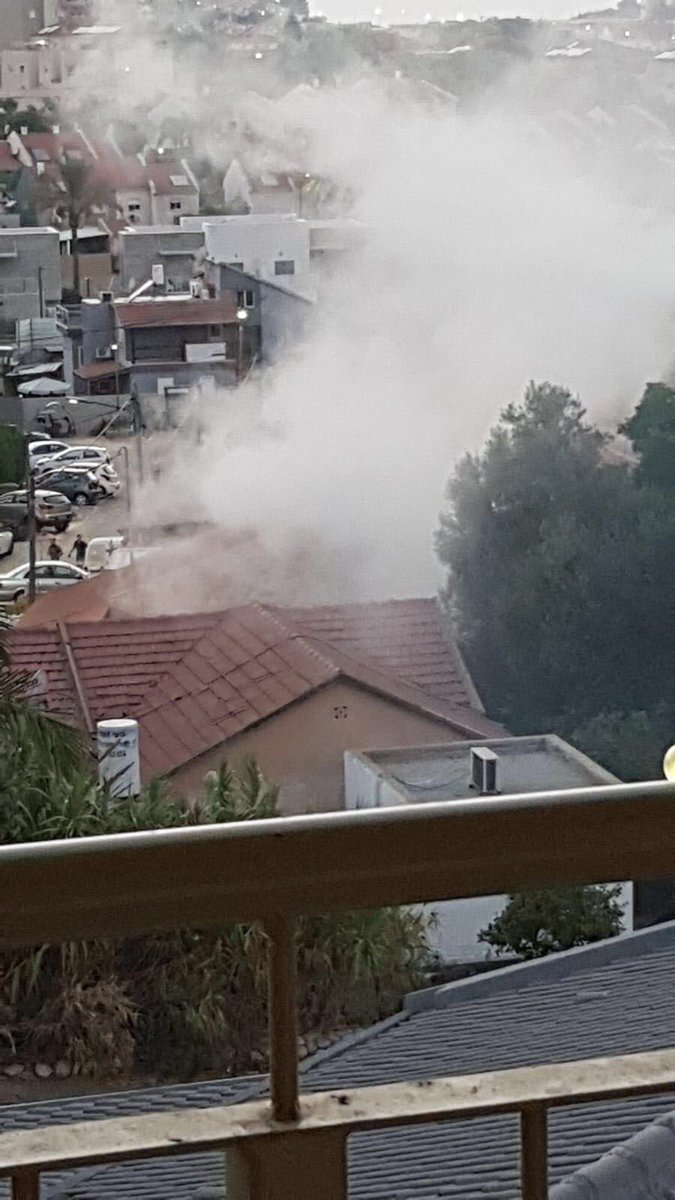 IDF drone strike west of Beit Lahia in the northern Gaza Strip. #Israel #Gaza
IDF NOW RETURNING FIRE TO LAUNCH LOCATIONS
Other homes and cars damaged by rockets: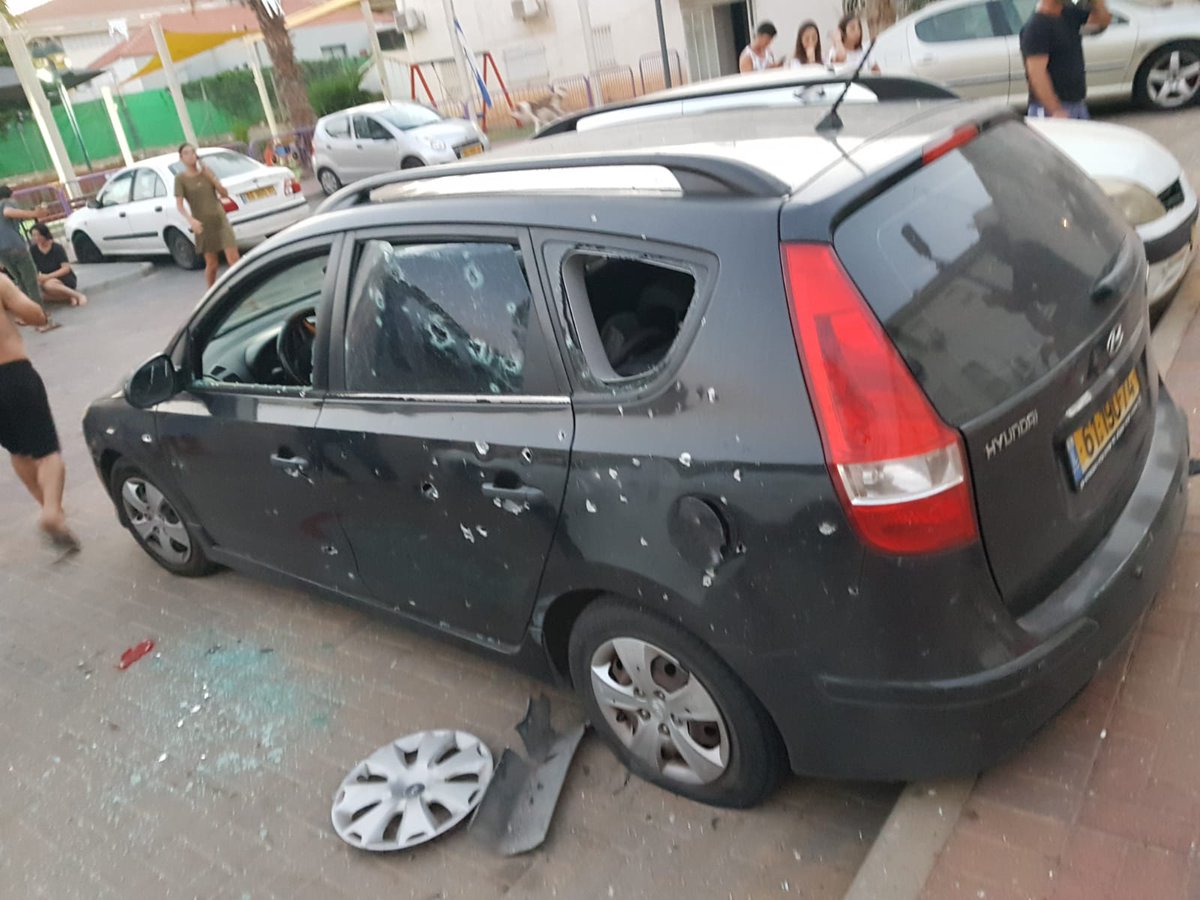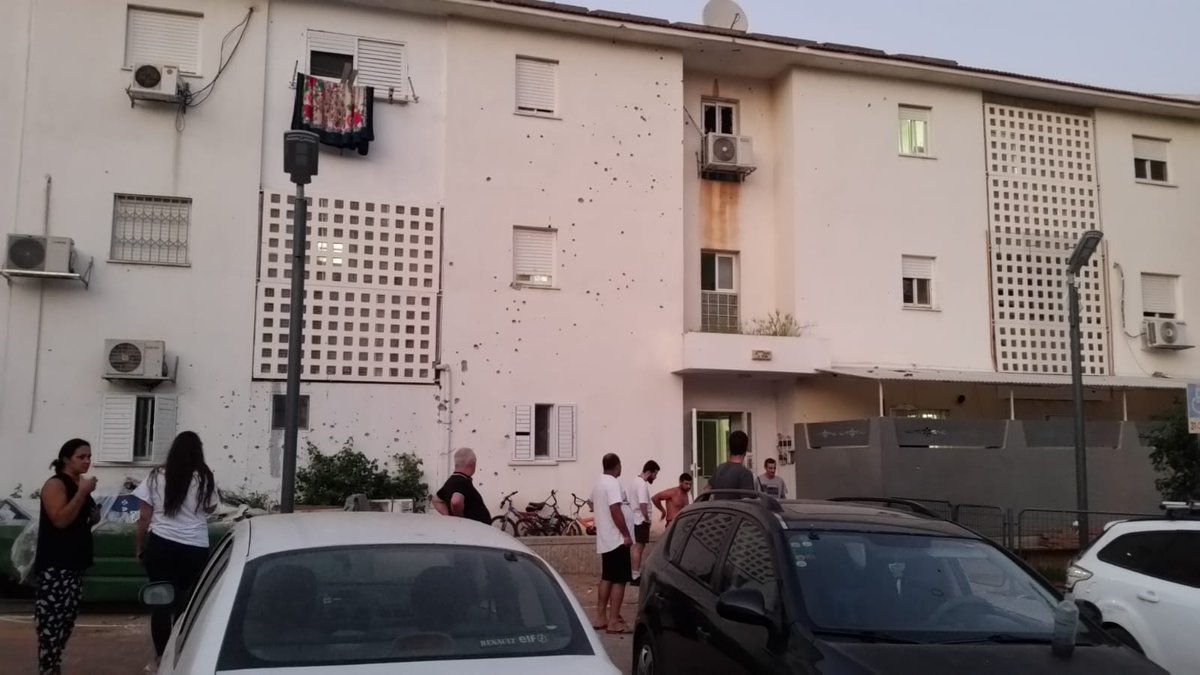 Rockets launched from Gaza appear to have been using blast fragmentation warheads.
UPDATE 1:14 PM EDT --
VIDEO OF ROCKET IMPACTING CIVILIAN AREA IN ISRAEL
Footage from Sderot shows terrifying moment when a rocket from Gaza had impacted near a playground with dozens of children. There was no room for everyone in the bomb shelter as you can see below:
Palestinian reports of mortar shells now being fired towards southern Israel from Rafiah
UPDATE 1:30 PM EDT --
Israeli cabinet now convening for an emergency meeting after rocket attacks on southern Israel and shooting at workers on Gaza border
Hamas official: We demand complete freedom of movement in Gaza in return for ceasefire, "If not there will be an escalation"
Israeli forces are expected to respond heavily tonight.
UPDATE 1:40 PM EDT --
Israeli fighter jets now over Gaza
UPDATE 2:00 PM EDT--
All Israeli media reporting that the IDF has been given the green light for a significant attack via air, land, and sea in response to the rocket attack in Sderot, and the shooting attacks earlier.
(HT: It's going to be a long night . . .)
UPDATE 2:20 PM EDT--
IDF commences large scale attacks all across Gaza
IAF conducting simultaneous large scale air strikes all across Gaza
MAJOR ISRAELI COUNTER-STRIKE IN PROGRESS
Arabic news and analytics says Israel will strike back with limited strikes as both Israel and Hamas does not want an all out war. They give reasons like Hamas can't count on any backup from Iran or the pro Trump gulf nations.

And Israel does not want a war so Hizbollah or beaten Jihadists in Syria finds a new cause to fight for.

This from Arabic news analytics
UPDATE 2:40 PM EDT --
Palestinians reporting heavy strikes in Gaza City, loud explosions being heard all across the strip.
MORE ROCKET ALERTS IN ISRAEL. NEW ROCKET SALVOS LAUNCHED BY PALESTINIANS IN GAZA
BARRAGE OF ROCKETS INBOUND IN TO ISRAEL
UPDATE 2:45 PM EDT --
F-16 strikes on Rafah now, more heavy aircraft joining the drones in strikes.

Unconfirmed reports of Israeli tanks firing at Gaza
IAF warplanes now striking Rafah City in southern Gaza
A number of rockets fired from the northern Gaza Strip exploded in open areas outside kibbutzim in the Sha'ar Hanegev Regional Council and the Ashkelon coast. There are no casualties.
Multiple red alerts sounded across southern Israel as the escalation widens.
OFFICIAL NOTIFICATION FOR ISRAELI RESIDENTS TO STAY IN OR VERY NEAR SHELTERS
Report of a strike on the border of Egypt. Heavy smoke seen from the strike.
Sirens in Reim in southern Israel
Shehab news Agency: BREAKING RIGHT NOW a large explosion shaking Gaza City.
UPDATE 2:45 PM EDT --
10 mortar shells fired at southern Israel during sirens just now, 10 explosions heard
CNN Reporting over 200 rocket attacks against israel in the last 24 hours
IDF currently striking Gaza City and the Hamas Naval position west of it
UPDATE 2:55 PM EDT --
Hamas is evacuating all of its assets from public spaces in Gaza.
Now a fifth launch -- barrage of rockets from central Gaza
Estimates of about 30 IDF airstrikes, after 5 rocket barrages in to Israel
UPDATE 3:17 PM EDT --
Palestinan media reports that in the last barrage, 20 rockets were launched towards Israel.
IDF instructing people who live along the Gaza border to stay in shelters until further notice.
A total of 15 Israelis wounded from Gaza rocket attacks: 6 physical injuries, 9 treated for shock.
IDF raises level of alert after Hamas evacuates positions
*********************************
TEMPORARY BREAK IN COVERAGE
*********************************
----- Resumption of coverage ------
UPDATE 3:30 PM EDT --
Reports say Hamas has notified Egypt it will not agree to the peace deal. Palestinian media.
Hamas now specifically targeting IDF assets
SIRENS: Nirim, Ein Hashlosha
al-Quds Brigades places all of its members on high alert in the Gaza Strip.
Additional sirens sounded in the Sha'ar HaNegev and Sdot Negev Regional Councils.
NOW AROUND 50 ROCKETS/MORTARS IN TO ISRAEL IN 90 MINUTES
. . . . .rumors that Israel about to officially announce a major operation
UPDATE 4:00 PM EDT --
IDF SAYS IT HAS HIT 12 SITES IN GAZA IN MULTIPLE SORTIES SO FAR
Violent riots reported in Kafr Qaddas near Qalqilya.
IDF confirms 36 rockets launched from Gaza, Iron Dome missile defense system intercepted fourrockets
Another alert and yet another rocket barrage from Gaza
A huge explosion has just rocked western Gaza
Iron dome interceptions in multiple locations
Northern Gaza being heavily bombed
One Israeli airstrike caused a huge fire in an "oil" factory.
and more Rockets; This seems the biggest round of rocket fire in a long time if this rate continues. Will beat the 100 or so a couple of weeks ago at this rate.
Heavy F-16 raids now going in.
5 huge explosions in less than 60 seconds. Gaza right now.
4 separate simultaneous barrages just now to different targets in Israel
ROCKETS NOW REACHING ASHKELON

ROUGHLY A BARRAGE COMING OUT OF GAZA EVERY 60 SECONDS
its getting ridiculous, over 30 launches in 3 minutes
REPORTS: 4 IDF TROOPS HIT BY MORTAR FIRE WITH SERIOUS INJURIES
SIMULTANEOUS ROCKET ATTACKS AGAINST 14 LOCATIONS IN ISRAEL RIGHT NOW!!
(WE ARE NOW OVER 100 ROCKETS IN 2 HOURS OR SO)
UPDATE 4:15 PM EDT --
Rocket range expanding, new areas now under fir

e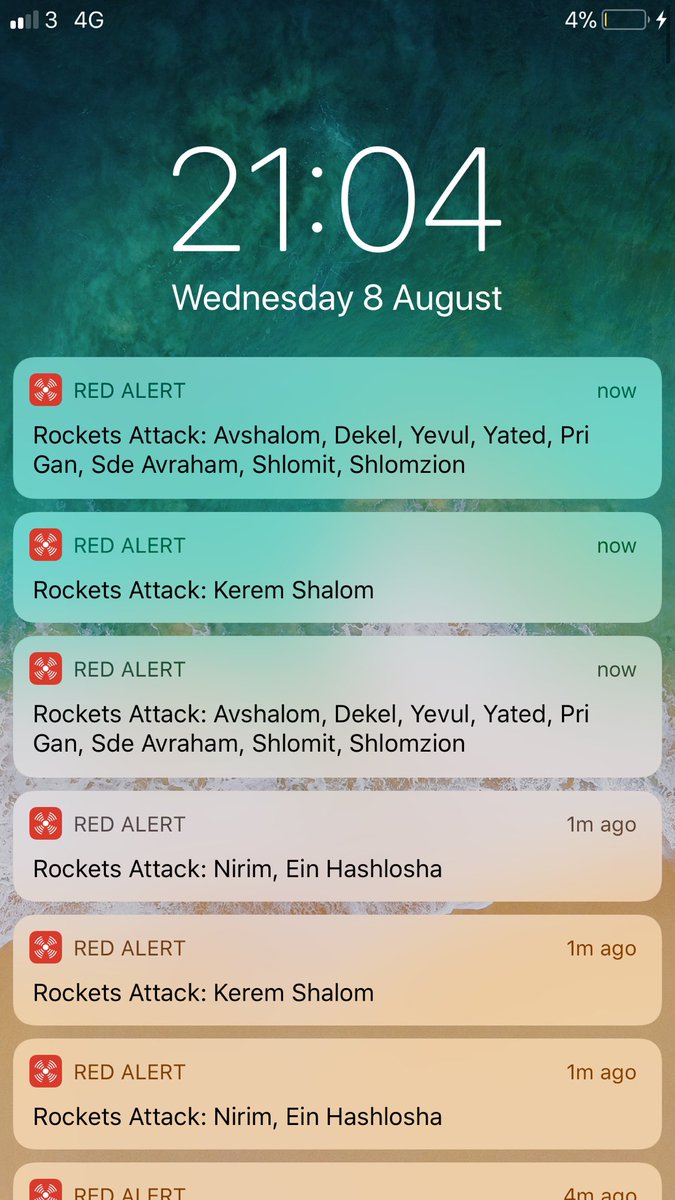 Gaza firing non stop now! Trying to overwhelm Iron Dome
IDF STEPPING UP AIRSTRIKE INTENSITY
Continuous rocket sirens sound in Israel as a large scale missile attack is underway from forces in Gaza.
DEFENSE MINISTER LIBERMAN SAYING ISRAEL WILL BRING THE CURRENT PING PONG SITUATION TO AN END
VIDEO: Israeli counter-strikes hitting Gaza:
IDF SOLDIER HIT BY SNIPER
Israels Defense Minister currently meeting with top IDF brass at Defense ministry for decisions on Gaza. Informed security officials say the upcoming response is going to be significant: "We are not going to play ping-pong with Hamas."
WE ARE GOING TO END THIS ONCE AND FOR ALL - IDF SENIOR STAFF
UPDATE 5:00 PM EDT --
Reports from Egypt that Hamas refuses to back down and an

escalation

is forthcoming.
IDF targeting a building in Khan Yunis tonight.
Heavy IDF bombardment north of Gaza at the site of Mabhouh east of Jabalia.
IDF bombing of the Civil Administration site with 4 BOMBS in the northern Gaza Strip.
Hamas issues statement, says the militant groups in Gaza are going to turn the balance of the battle with Israel

.
PRIME MINISTER Netanyahu will convene an urgent meeting in the IDF HQ with Defense Minister Lieberman, IDF and Shabak senior officials in order to discuss the developments on the Gaza border and how to respond to them

. They are compiling evidence to present to the Knesset for a formal declaration of war.
All factions conveyed rejection of a ceasefire now to both U.N. and Egypt.

Talking all out war

!
More major Israeli strikes across Gaza with very heavy ordnance. Hitting major Hamas sites
IDF fighter jets spotted airborne just moments ago above the city of Jerusalem; likely headed to targets in Gaza.
Diplomatic official says UN envoy Mladenov is in contact w/ Egypt & other parties to de-escalate situation in Gaza but says "Things are looking bad & we are running out of time."
UPDATE 6:00 PM EDT --
Israeli media reports that the security cabinet had approved a wide range attack against Gaza factions but wants to refrain from full blown war
UPDATE 7:00 PM EDT --
UN's Mladenov on the situation in Gaza: "Deeply alarmed by the recent escalation of violence... the situation can rapidly deteriorate with devastating consequences for all people"
INITIAL REPORTS IN ISRAELI MEDIA : A HAMAS SENIOR OFFICIAL IN THE ROCKETS REGIMENT WAS KILLED IN THE IDF STRIKE ON A VEHICLE IN NORTHERN GAZA
MAJOR rocket barrage now outgoing from Gaza. Multiple rocket alerts within the past minute.
Red alert warning at Kerem Shalom, Ibim, Gevim, Sapir College, Nir Am, Sapirim Industrial Park, Sderot, Poet Negev, Dorot, Havat Shikmim, Kibbutz Ruhama, Mefalsim South Gaza region
Huge barrage of rocket fire into Southern Israel approximately 4-5 minutes ago. Reports of structures hit in southern Israel
BREAKING: Rocket explodes in Netivot -The distance of rocket launches are slowly increasing - Netivot is approximately 20 km from the Gaza border.
MAP OF ATTACKS
Israel has been attacked TODAY by rockets which hit the following locations: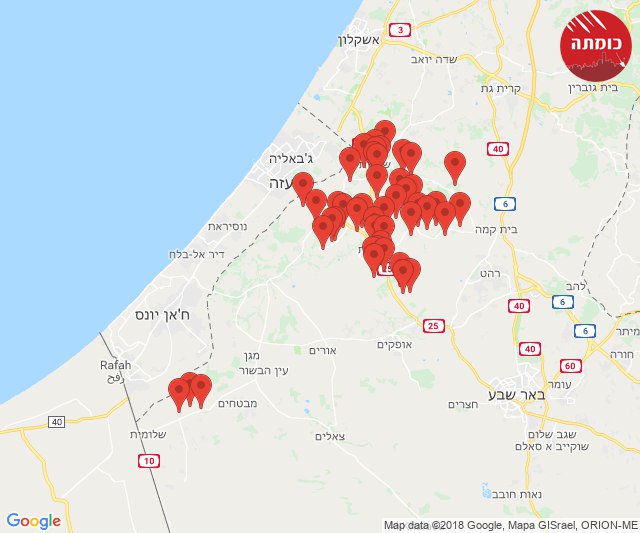 Tanks heading toward Gaza border as serious escalations occur tonight. Rocket launches now going on for over 6 hours. Barrage occurring now. Gaza being hit hard.
One would think he Arabs there would STOP firing rockets and mortars into Israel so these types of air strikes against them would stop. Apparently the Arabs are stuck on stupid.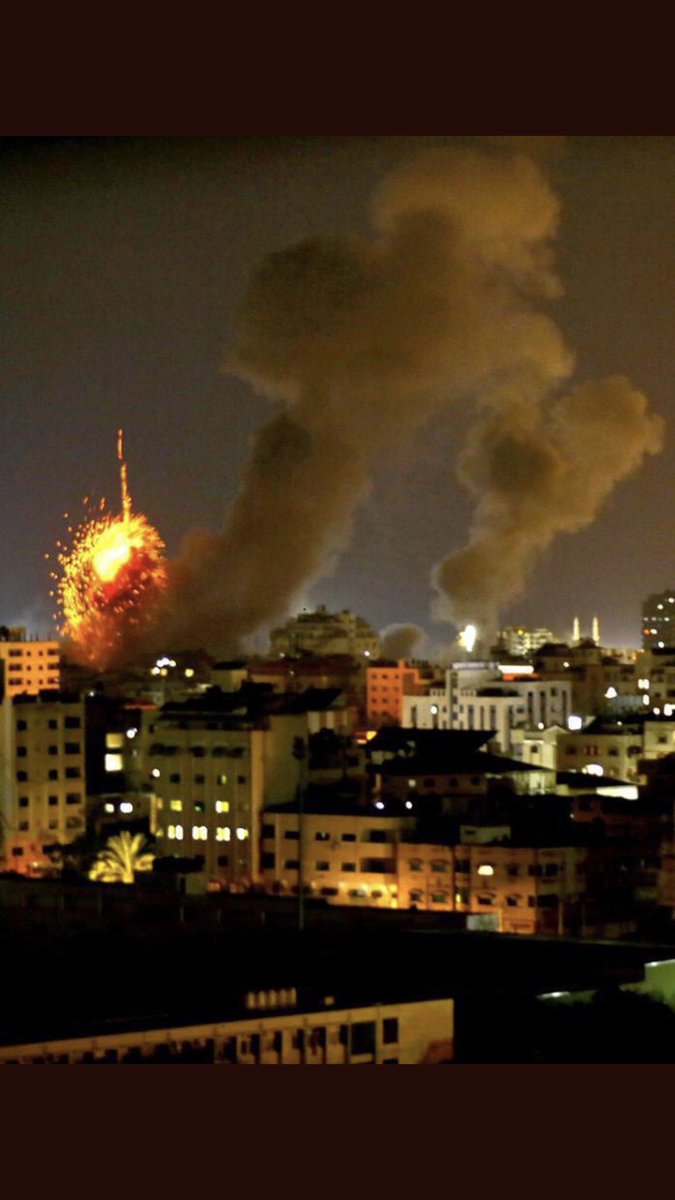 In
stead, another heavy rocket barrage is being fired into Israel right now.
UPDATE 11:43 PM EDT --
I am back from New York City where I went to do my radio show on WBCQ and WRMI. Updates will resume shortly, below
The items immediately below are "Catch-up" from the time my show was airing. So the time stamps may be earlier than the 11:43 PM time above - but now you know why.
UN Envoy Mladenov informs Palestinian President Abbas that the Israel has informed him of their refusal to calm down. Rocket barrages and mortar launches from Gaza are still taking place in heavy numbers. Israeli citizens have been seriously injured and reports say that IDF troops have been killed. Israel has had enough.
Up until now :
•110+ rockets since the evening hours
•Intense IDF strikes continue inthe #Gaza Strip and intense rocket fire in southern #Israel
• numerous of Palestinians killed,wounded from ongoing IDaf strikes
• 10+ of Israelis wounded
IDF aircraft targeted the Qadisiya site belonging to a Palestinian militant group in Beit Lahia in the northern Gaza Strip with several missiles.
MULTIPLE CODE RED SOUTHERN ISRAEL
3 Palestinians dead and 12 injured so far in IDF strikes on Gaza
New, heavy rocket barrage just launched into southern Israel
Israeli military correspondents: The intensity of the rockets launched tonight is unprecedented, as the sirens reverberating once every four minutes.
IAF strikes ongoing in both western and northern Gaza
More than 150 projectiles have been fired from #Gaza so far this evening with #IDF striking several areas in Gaza as retaliation. Fire from both sides is slowing as dawn approaches and should cease altogether as soon as the sun is up.
Israeli Defense Force striking Qassam naval site in Gaza currently
We thought this battle would be slowing down by now but this is the largest salvo of projectiles launched by #Gaza tonight, more than 8 Red Alerts have just been issued for parts of #Israel. Take cover now if you are in these areas.
10:10 PM EDT -- The IDF has not yet responded to the latest large rocket barrage 25 minutes ago
ISRAEL - GAZA TENSION:
- Over 150 rockets fired from Gaza
- 2 Rockets strike Sderot homes
- 1 injured
- 25 Rockets intercepted
- Long range missiles being used
- Thousands of Israeli families sleeping in shelters
- IAF bombs over 100 Gaza targets
- At least 3 dead
- 20 injured
Confirmation of 1 woman seriously wounded and 1 man lightly wounded in a direct rocket impact on a packing facility in a business in Talmei Elyahu, Eshkol Regional Council in Southern Israel
Factions in Gaza have geared up for a confrontation with Israel since 2014. Some say they have about 100,000+ of rockets they can utilize.
UPDATE 11:25 PM EDT --
New instructions from Israeli Homefront Command for areas near Gaza:

1. No unauthorized agricultural works.

2. No studies

3. Beach is closed to the public.

4. All convergence in the area of the Gaza Strip (0-7 is limited to 300 people.

5. No public meetings will be allowed in open areas.

6. Services to the civilians will operate in a limited manner.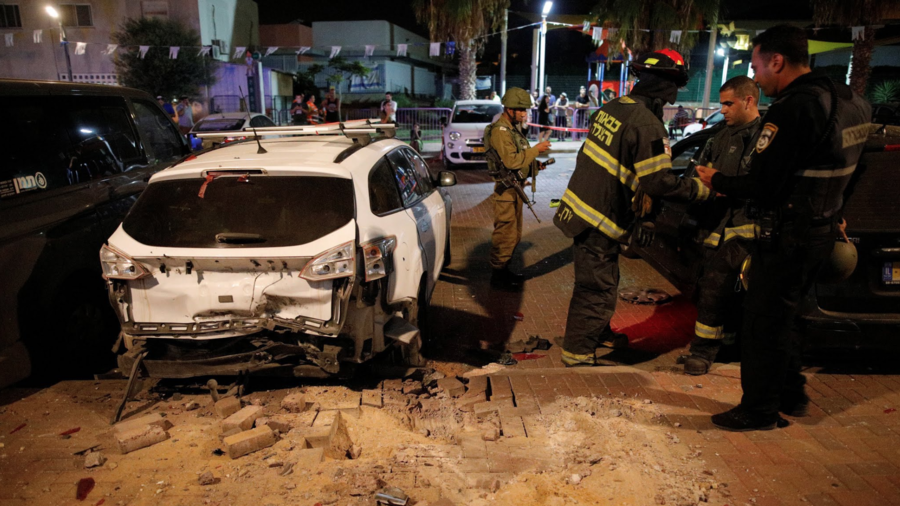 Over 150 rockets were fired towards Israel from Gaza on Wednesday, 25 of which were intercepted by the Iron Dome missile defense system, the Israeli military said, announcing retaliatory strikes against Hamas targets.
On Wednesday night IDF fighter jets attacked 12 Hamas targets along the Gaza Strip. One of the jets struck a factory that was being used to produce components intended for the construction of terrorist tunnels leading into Israel, the army said. Israeli fighters also struck a tunnel on the Mediterranean coast and targeted weapons and rocket manufacturing sites, as well as a military complex serving as a central logistic warehouse, the IDF noted.
The strikes come in retaliation for a barrage of rockets which forced thousands of Israelis to seek shelter along Gaza border towns. Approximately 150 rockets were launched from the Gaza Strip at Israel, the IDF said, adding that the Iron Dome aerial defense system intercepted 25 launches, with the majority of the projectiles striking open areas.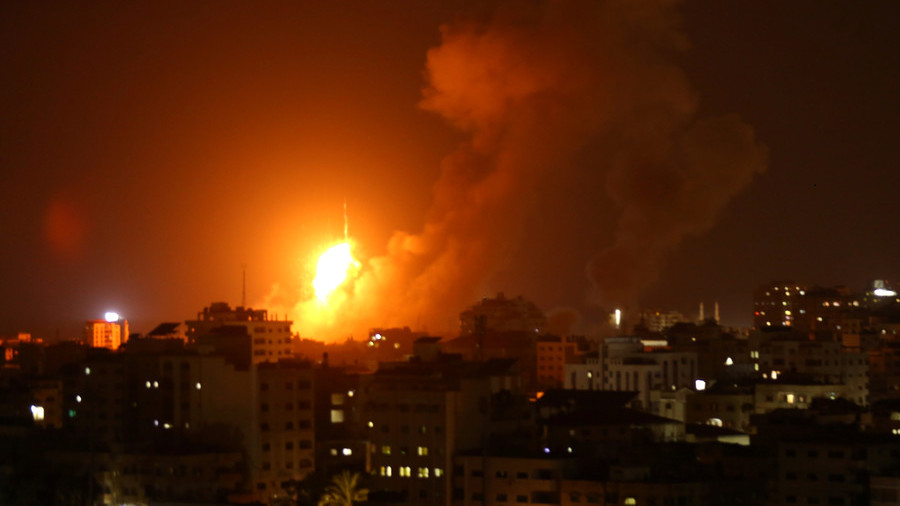 The IDF has conducted another series of air strikes against at least 20 alleged Hamas targets in the Gaza Strip, after the militant group fired over 150 projectiles into southern Israel.
"

IDF fighter jets targeted over 20 terror sites in military compounds and in a Hamas training camp. Among the sites targeted were a weapons manufacturing and storage facility, a complex used for the Hamas naval force and a military compound used for rocket-launching experiments," the IDF said Thursday morning.
At least three people were killed and over a dozen injured in the Israeli raids, according to Wafa News.
The Israeli military said it was forced to respond to an ongoing barrage of missile fire coming from the Gaza strip. Throughout the course of Wednesday and early hours of Thursday morning, Hamas fired over 150 projectiles into southern Israel, forcing the IDF to initially conduct 12 raids on the Palestinian enclave. More raids were then ordered after Hamas failed to stop their belligerent activity.