Russian Battleships, Cargo Ships Arrive In Syria's Tartous Prior To Idlib Offensive
Russian battleships were sent to the Syrian port of Tartous, equipped with Kalbir missiles, in addition to several cargo ships carrying Russian equipment and weapons, as the Syrian Army mobilizing for its wide-scale offensive.
Activists on social media monitored five Russian naval vessels within the past 48 hours passing the Turkish Bosphorus strait towards Syria, including cargo ships carrying weapons and military equipment for the Syrian army, and other Russian frigates armed with Kalbir missiles.
In the meantime, The Syrian army continues to mobilize its forces to start the battle of Idlib. Recently, large forces belonging to the 4th division have arrived in areas in the Latakia countryside bordering the south-western countryside of Idlib.
On Tuesday, the United States, France and Britain issued a joint statement stressing their "concern at the potential for further, and illegal, use of chemical weapons."
Read also: Syrian Army deploys troops to front-line with Idlib (VIDEO)
Russia Sends Warships to Syrian Shores as US Suspected of Preparing Strike
The Russian Defense Ministry warned that militants in Idlib may be preparing to stage a chemical weapons attack against the local civilian population and thus create a pretext for a US strike.
The Admiral Grigorovich and the Admiral Essen, two frigates of the Russian Black Sea Fleet, are heading to the Mediterranean Sea in order to bolster Russia's military presence in the region, according to a statement issued by the Russian Defense Ministry's press service.
While en route to their final destination, the two vessels reportedly conducted a series of naval exercises, including the detection and tracking of a simulated enemy submersible target.
This development occurred as the Russian Defense Ministry accused the United States, the United Kingdom and France of preparing to carry out new strikes against Syria under the pretext of the Syrian government forces using chemical weapons.
As ministry spokesman Maj. Gen. Igor Konashenkov explained, militants in Idlib province are preparing to stage a false flag chemical weapon attack against civilians in order to blame Damascus, while the United States stands ready to launch a punitive strike against Syria as soon as the necessary pretext becomes available.
"This provocation with the active participation of the British special services will serve as another pretext for the US, UK and France to conduct a missile strike on the Syrian government and infrastructure," Konashenkov claimed.
Earlier, US National Security Adviser John Bolton also reportedly warned Russian Secretary of the Security Council Nikolai Patrushev that Washington is prepared to take forceful military action against Syria if Damascus uses chemical weapons, stressing that America is prepared to respond with greater force than before.
The US, UK, and France coordinated a massive airstrike on Syria in April 2018 after the alleged use of chemical weapons in Douma had been reported by the controversial NGO "White Helmets", which has repeatedly been caught staging false flag attacks.
In July, however, OPCW experts announced that they had found traces of organic substances containing chlorine, reportedly used in the attack in Douma. Yet there was no evidence that nerve agents had been used in the attack.
Russian lawmaker suggests deploying nuclear weapons in Syria to respond to US sanctions
"I believe that now Russia has to draw its own 'red lines,'" Vladimir Gutenev said
MOSCOW, August 24. /TASS/. The US policy of putting pressure on Russia has crossed the "red line," and Moscow should think about an asymmetric response, such as the deployment of its tactical nuclear weapons abroad, a senior Russian lawmaker told TASS on Friday.
"I believe that now Russia has to draw its own 'red lines.' The time has come to ponder on variants of asymmetric response to the US, which are now being suggested by experts and are intended not only to offset their sanctions but also to do some retaliatory damage," said Vladimir Gutenev, the first deputy head of the economic policy committee of the State Duma, the lower chamber of the Russian parliament.
Among such measures, the official named the deployment of Russian tactical nuclear weapons in other countries, such as Syria, the use of gold-linked cryptocurrencies for Russian arms exports and the suspension of a number of treaties with the United States, including on non-proliferation of missile technologies.
"It's no secret that serious pressure is being put on Russia, and it will only get worse. It is intended to deal a blow to defense cooperation, including defense exports. We see that the Americans now speak about the possibility of sanctions against the countries that purchase Russian weaponry… We should follow the advice of certain experts, who say that Russia should possibly suspend the implementation of treaties on non-proliferation of missile technologies, and also follow the US example and start deploying our tactical nuclear weapons in foreign countries. It is possible that Syria, where we have a well-protected airbase, may become one of those countries," Gutenev said.
The lawmaker added that in order to respond to possible "US attempts to thwart deals on Russian weaponry and civilian goods," Russia should "consider the possibility of conducting transactions in cryptocurrencies that are linked to the value of gold."
"And I'm sure that this will be a very interesting option for China, India, and other states as well," he said.
According to Gutenev, the whole package of those measures "could become a very serious argument" in Russia's favor.
"In boxing, one cannot just dodge blows, but has to strike in response, too. Especially when all the rules have been violated and the referees - such as the WTO and other international institutions - prefer to stay silent," he said.
Commenting on sanctions that are already in place, Gutenev said they are unlikely to do serious damage to Russia's defense industry.
"The import substitution program has produced very good results, alternative suppliers have been found," he said. "However, we are concerned about the fact that the sanctions are still gaining momentum and have become somewhat imminent," he said.
Skripal case and US sanctions
On Wednesday, August 22, Washington hit Russia with more sanctions over its alleged involvement in the March 4 poisoning of former GRU Colonel Sergei Skripal and his daughter Yulia in Salisbury, near London. The Department of State claims that Russia acts in breach of the Chemical and Biological Weapons Control and Warfare Elimination Act of 1991.
As the US Department of State said on August 8, the first package of sanctions applies to dual use products, the export to Russia of all sensitive goods and know-how related with US national security and also electronics, components and technologies for the oil and gas industry.
Alongside this, the act envisages the possibility of far harsher sanctions to be taken in three months' time. The second package of restrictions envisages a downgrade of bilateral diplomatic relations or their complete suspension, an overall ban on the export of US goods to Russia except for foods and on the United States' import of Russian goods, including oil and oil products, refusal of permission to any planes of Russian government-controlled air carriers to land in the United States and Washington's veto on all loans to Moscow from international financial organizations.
The US authorities said however they would not like to resort to the second phase of restrictions. For that Russia must present convincing arguments it will not violate international chemical weapons legislation and also permit onsite inspections by the United Nations and independent foreign observers in order to guarantee the government does not use chemical weapons in violation of international law.
Sergei Skripal, 66, who had been convicted in Russia for spying for the UK but later swapped for Russian intelligence officers, and his daughter Yulia, 33, were found unconscious on a bench near the Maltings shopping center in Salisbury, England on March 4. Police said they were exposed to a nerve agent. Later on, London claimed that the Novichok-class toxin had been allegedly developed in Russia. The UK rushed to accuse Russia of being involved, while failing to furnish any evidence. Moscow refuted the accusations stating that neither the Soviet Union nor Russia had ever done research on that toxic chemical. Specialists from Britain's army laboratory said later they were unable to identify the origin of the substance used to poison the Skripals.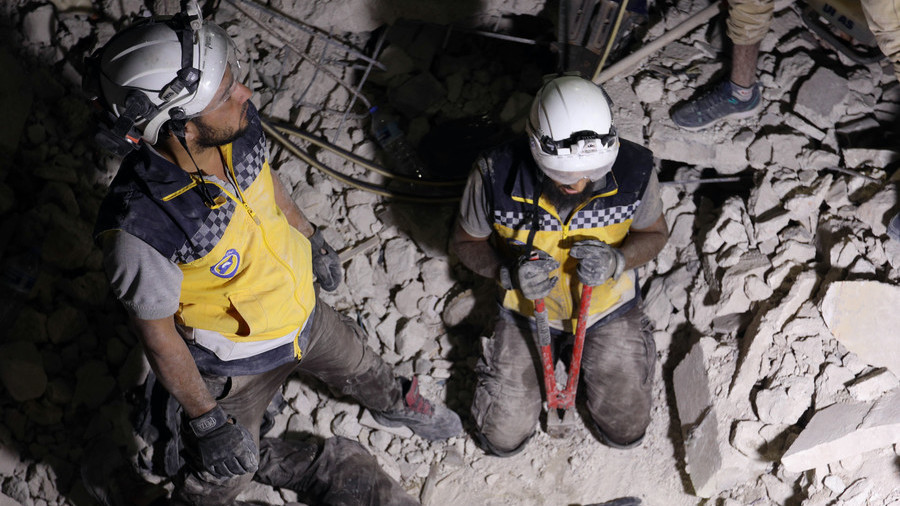 "

Foreign specialists" have arrived in Syria and may stage a chemical attack using chlorine in "the next two days," the Russian Defense Ministry said. This will be filmed for international media to frame Damascus forces.
Defense Ministry Spokesman Major General Igor Konashenkov said the operation is planned to unfold in the village of Kafr Zita in Syria's northwestern Hama Province in
"the next two days."
Konashenkov said that
"English-speaking specialists"
are already in place to use
"poisonous agents."
While a group of residents from the north has been transported to Kafr Zita and is currently being prepared
"to take part in the staging of the attack"
and be filmed suffering from supposed
"'chemical munitions' and 'barrel bombs' launched by the Syrian government forces."
The groups of residents will be used to assist
"fake rescuers from the White Helmets."
They will be filmed apparently suffering from the effects of chemical weapons and then be shown in
"the Middle Eastern and English-language media."
The defense ministry earlier warned that the US, UK, and France are preparing to use the planned attack as a pretext for airstrikes against Syria. The USS The Sullivans, an Arleigh Burke-class Aegis guided missile destroyer, was already deployed to the Persian Gulf a couple of days ago.
On August 22, US National Security Adviser John Bolton stated that
"if the Syrian regime uses chemical weapons, we will respond very strongly and they really ought to think about this a long time."
Russian Deputy Foreign Minister Sergey Ryabkov earlier warned that the US is not finished looking for pretexts for regime change in Damascus.
In April, the US, UK, and France unleashed a bombing campaign on Syria in response to an alleged gas attack in Douma, which the West blamed on Bashar Assad's government. The operation started hours before a team from the Organization for the Prohibition of Chemical Weapons (OPCW) was due to reach the city.