I am still a bit divided about Hal Turner. I dislike his race-based politics obnoxious but I have to admit that his intelligence (if not his interpretation) is often first-rate, as it is here.
He is no Alex Jones.
So here is the bulk of his latest show which you should ignore at your peril.
The only way that we are going to avoid war is if one side (hopefully the United States and their allies) backs down.
It looks as if Russian means business this time and Turner explains why this may be the case.
Part one
Part two
24 Hours Max: Syria/Russia to Begin Final Take-down of Idlib "Rebels" - Watch for FALSE FLAG CHEMICAL ATTACK
Hal Turner,
29 August, 2018
The situation inside Syria is coming to its end as the Syrian Arab Army and its Russia ally prepare to launch the battle for Idlib.
If the US/UK/France are going to launch a FALSE FLAG "Chemical attack" so as to interfere with the final battle for Syria, expect such a FALSE FLAG within the next 24-36 Hours.
IF THE WEST DOES THIS IN SYRIA, RUSSIA HAS MOVED TROOPS AND TANKS TO THEIR WESTERN BORDER WITH EUROPE, ALLEGEDLY FOR A "DRILL." MORE OMINOUS, RUSSIA HAS BEGUN MOVING RESERVES FROM THE EAST TO THE WEST MILITARY DISTRICT AND ALSO BEGUN MOVING RESERVES TO THEIR SOUTHERN MILITARY DISTRICT!
My former colleagues in the Intelligence Community tell me the Operation in Syria will open with a massive artillery barrage on rebel positions, along with major aid from Russian air strikes and missile barrages from ships at sea.
Here is a map showing the present situation inside Syria and where Idlib Province is located.
It is Idlib where the final battle to end the troubles in Syria will take place.
If foreign actors (who started, armed, and financed all the troubles inside Syria) want any chance at all of keeping Syria in a state of chaos, they will HAVE TO take military action within hours . . . . which to some folks, indicates the west will use a FALSE FLAG chemical attack so as to justify a massive military strike upon Syria by the US/UK/France.
OMINOUS: Russia War Games in the East - But Moving Reserve Troops and Tanks WEST!
Hal Turner,
29 August, 2018
Russia is mobilizing for its biggest military exercise since the height of the Cold War, the Kremlin says, citing a tense international climate that is "frequently aggressive and unfriendly toward us."
The exercises, which are set to involve nearly 300,000 Russian troops, 1,000 aircraft and 900 tanks, will also include units from China for the first time. They will start on Sept. 11.
But while Russia is talking about its "war games" in the east, they are moving THOUSANDS of Reserve Troops and TANKS to their western and southern military districts which border EUROPE!
First as a frame of reference, here is a map showing the location of Russia's "Military Districts:"
Beginning September 11 and continuing through September 15 Russia will undertake the largest war games drill since 1981, named Vostok2018. Some 300,000 Russian troops, 1,000 aircraft, and over 900 Main Battle Tanks (MBT) are taking part.
The war games are scheduled to take place in

eastern

Russia, at a training ground located in the Trans-Baikal Region shown on the map below:
For the first time in history, Russia has invited China to participate, and China has now sent trainloads of People's Liberation Army (PLA) Tanks across the border into Russia.
The photo below shows one trainload of PLA tanks crossing into Russia via Mongolia:
This additional photo shows those tanks having arrived in Russia:
Here's the problem . . . While this "war game" is supposed to take place in the Eastern Russia Military District. RESERVES and TANKS from that same Eastern district are being quietly moved to the WESTERN AND SOUTHERN Military Districts!
The photos below shows older model Russian T-62 MBT on a train in the eastern District:
But instead of being moved to the "war game" location, they have been moved to the SOUTHERN Military District to a rail head in Volgograd!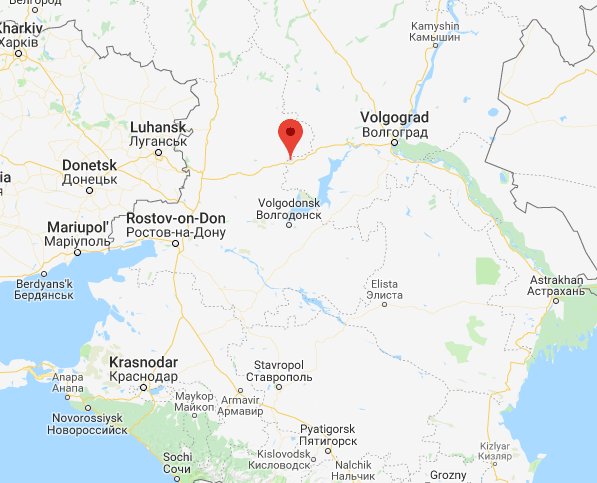 Here's a photo of the tanks having arrived in Volgograd:
This puts things in perspective:
Russia CAN, HAS, and DOES use major military exercises like this to mask significant military movements to theaters who really need them.

Examples? See Georgia 2008 and Ukraine 2014.
Two issues - Syria, and movement of tanks and troops toward Russia's border with Europe - appear to be linked. Syria and Russia will begin the final battle to end the Syrian war situation within 24 hours. That major battle will take place in a province called Idlib.
Russia has said elements from western governments have already brought 8 tankers of Chlorine gas into the Idlib area to perpetrate a FALSE FLAG chemical weapons attack so as to justify the west attacking Syria once again. An attack by the west now would do severe harm to ending the Syria war situation.
Is Russia warning the west that further interference with them in Syria will result in an attack against Europe? Possibly a full invasion of Ukraine?
Is China warning the west that they now stand with Russia and a "Battle Royale" is in the making?
We are just days away from the answer to many, many questions. And the answer to most of them is very bad for all of us. Russia moving troops to the west is obviously for some purpose other than the Vostok2018 Drill; a purpose potentially far more serious.