The Empire may have to declare sanctions against itself!


US may leave WTO if they don't 'shape up' – Trump to Bloomberg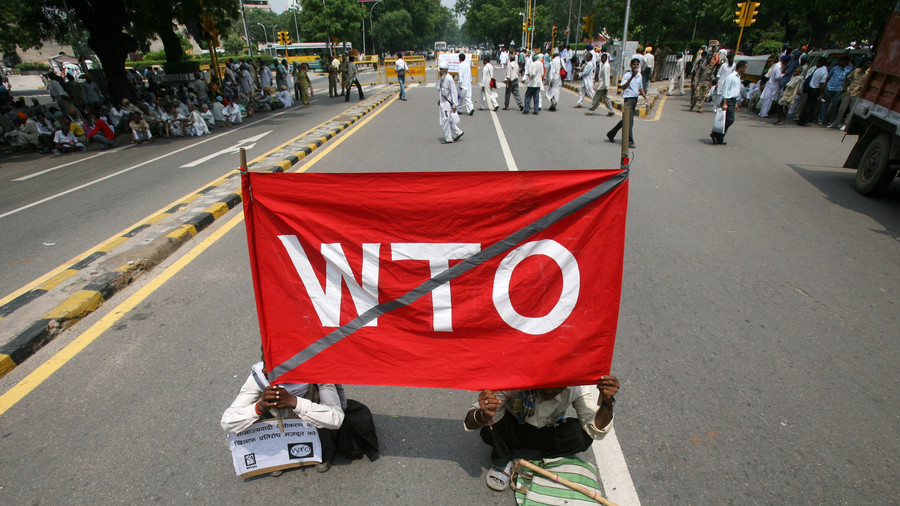 US President Donald Trump would consider pulling out of the World Trade Organization if "they don't shape up," he told Bloomberg in an interview.
"If they don't shape up, I would withdraw from the WTO," Trump said on Thursday at the White House, before departing for a rally in Indiana.
Last month, the US president told reporters that the WTO has treated the US "very badly" for many years, and that the Geneva-based body will need to "change their ways."
US Trade Representative Robert Lighthizer has called allowing China into the WTO a mistake and accused the trade body's dispute settlement system of interfering with US sovereignty. The Trump administration has recently blocked the appointment of judges to the WTO's appeals body.
On Wednesday, Washington filed a complaint with the WTO against Russia's retaliatory tariffs, which were a response to Trump's steel and aluminum duties imposed earlier this year.
In the wide-ranging interview, Trump also said he likes and respects Federal Reserve chairman Jerome Powell, despite publicly disagreeing with the Fed's recent interest rate increases. The Fed has raised rates five times since Trump's inauguration, and there is talk of two more increases this year.
Trump said the Fed should be helping the government in trade disputes with China, the EU and others, just as their central banks are helping their governments.
"
We are not being accommodated," he said. "I don't like that."
Trump is also "thinking about" indexing capital gains to inflation, believes the EU proposal to eliminate auto tariffs is "not good enough," and said he is not considering firing Attorney General Jeff Sessions - at least not until after the November midterm elections.
"
I just would love to have him do a great job," Trump said about Sessions., according to Bloomberg.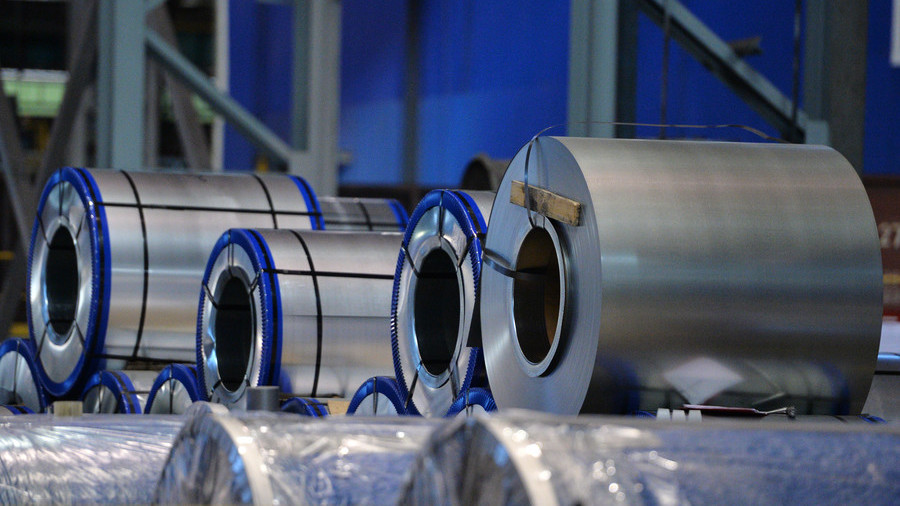 Washington has filed a complaint with the World Trade Organization (WTO) against tariffs imposed by Moscow on some US imports, the trade body confirmed on Wednesday.
According to Russia's economy ministry, Washington has misinterpreted the measures taken by Moscow, explaining that Russia complies with the WTO regulations.
"

The United States misinterprets the nature of the measures taken by the Russian side. We are acting within the framework of the WTO Agreement on Safeguards, which allows compensating for damage from special protective measures taken by another country," the ministry said.
In July, Russia raised tariffs from 25 to 40 percent on a number of US products in response to Washington's levies on Russian steel and aluminum. Moscow appealed to the WTO to resolve the metal tariffs dispute.
Russia's retaliatory measures, targeting $87.6 million worth of US goods, covers just a minimal part of Russia's estimated losses of $450 million due to US metal tariffs. They include certain types of road construction machinery, oil and gas equipment, metalworking and rock drilling tools as well as optical fiber.
Moscow will reportedly impose further tariffs on $450 million worth of US imports if the WTO rules the US tariffs are illegal. Under the current rules, the $87.6 million in tariffs is the maximum amount a country can levy without the WTO decision.
Earlier this year, the White House slapped a number of trading partners with tariffs of 25 percent on imported steel and 10 percent on imported aluminum. They include Russia, China, India, the European Union, Canada, Mexico, South Africa, Turkey and South Korea. Washington explained the move was due to national security concerns. However, several countries affected by the levies have launched WTO complaints, accusing the US of protectionism.
Apart from the trade dispute, Moscow and Washington are involved in the worst diplomatic crisis since the Cold War. Over recent years, the US has imposed several rounds of sanctions against Russia over a number of accusations. They include involvement in the conflict in eastern Ukraine, reunification with Crimea, alleged US election meddling, a purported violation of sanctions against North Korea and alleged nefarious activity in cyberspace.
Moreover, the US State Department has recently banned the issuing of loans to Moscow, and US exports of weapons and dual-use products to Russia. The measure reportedly came amid Russia's alleged involvement in the poisoning of former double-agent Sergei Skripal in the UK back in March.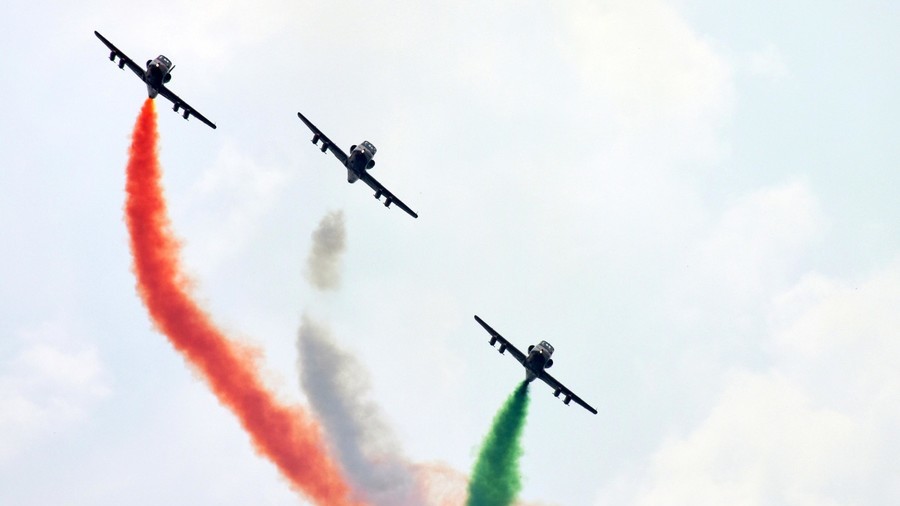 A top US defense official has renewed warnings to India against purchasing Russian-made arms and defense systems like the S-400, ahead of a historic first meeting next month between both nations' defense and foreign affairs heads.
"
We would still have very significant concerns if India pursued major new platforms and systems (from Russia),"
Randall Schriver, the US assistant secretary of defense for Asian and Pacific security affairs,
told
an audience at the Carnegie Endowment For International Peace in Washington on Wednesday.
"
If they choose to go down that route, like I said, I can't sit here and tell you today that the waiver will necessarily be used,"
Schriver continued, referencing a congressional loophole that allows US allies to protect themselves from current sanctions imposed against Russia by Washington.
Under current US rules against Russia, third-party governments could face sanctions for dealing with the Russian defense or intelligence sectors.
However, due to recent lobbying by Defense Secretary Jim Mattis, Congress has granted the US president and the secretary of state an ability to grant waivers, such as when an ally nation transitions from legacy Russian gear to Western arms.
India, a long-time buyer of Russian defense gear since the Soviet era, has in recent years turned towards Western defense firms in the US and
France
for new equipment. But it still relies on Russian expertise and equipment to maintain its existing arsenal and fleets.
In the recent past, this stockpile has proven useful for US foreign policy objectives in the region, particularly in Afghanistan. Last month, India delivered three Russian-origin attack helicopters to the Afghan Air Force (AAF), with three more expected to be on the way.
It has also provided spare parts and maintenance expertise to the AAF's grounded Soviet-era fleet as part of Washington's multi-billion modernization of the Afghan Armed Forces.
A sticking point in the relationship, however, stems from the purchase of big-ticket items like the S-400 air-defense system, which has also
plagued
Washington's relationship with Turkey.
India is
poised
to ink contracts on the S-400 deal later this year, with deliveries scheduled to start as early as 2020.
The sale is expected to be discussed during talks next week when Mattis and Secretary of State Mike Pompeo visit their counterparts in New Delhi, after which Schriver noted the administration will decide whether concerns over India's S-400 purchase outweigh the desire to strengthen strategic ties.
"
Our strong preference,"
Schriver concluded,
"is (for India) to seek alternatives and see if we could be a partner to India in addressing those defense needs."
Thursday, August 30, 2018 12:29 PM
(Bloomberg) --China warned a bipartisan group of U.S. lawmakers not to interfere in its internal affairs Thursday after they sought sanctions against Chinese officials over allegations the country was holding as many as 1 million Muslims in "reeducation" camps.
The 17 legislators -- led by Senator Marco Rubio of Florida and Representative Chris Smith of New Jersey -- requested the penalties Wednesday in a letter addressed to Secretary of State Michael Pompeo and Treasury Secretary Steven Mnuchin. They want to unleash the Global Magnitsky Act of 2016, which has been employed to punish Russian oligarchs and Turkish officials, to restrict the travel and freeze the assets of top Communist Party officials.
"
The policies and equal rights that Chinese minorities enjoy are far better than in the U.S., which has lot issues with racism and human rights protection," Chinese Foreign Ministry spokeswoman Hua Chunying told a briefing in Beijing. The lawmakers should focus on issues at home "instead of interfering in other countries' internal politics, playing judges on human rights and casting blame, or even threatening to impose unreasonable sanctions," she said.
The proposal, which had been previously floated by at least one State Department official, represents the most serious response yet to reports of the camps in its western region of Xinjiang. The bid underscores the potential for ties to deteriorate further as Trump pressures Chinese counterpart Xi Jinping over trade and blames the dispute for derailing nuclear talks with North Korea.
"
There have been recent reports of deaths in custody, including suicides, in Xinjiang, and the Chinese government shows no signs of halting these rights violations," the lawmakers said. "At a time when the Chinese government is seeking to expand its influence through the Belt and Road Initiative, the last thing China's leaders want is international condemnation of their poor and abusive treatment of ethnic and religious minorities."
The lawmakers specifically called for sanctions against Xinjiang's regional party secretary Chen Quanguo, a member of China's 25-member Politburo who has helped create one of the world's most restrictive security regimes after a series of attacks in 2013 and 2014. The Alaska-sized area has become a land of checkpoints, police stations and security cameras, where residents must install satellite tracking systems in their cars and submit to facial scans to enter markets, buy fuel or visit bus terminals.
Scrutiny of China's practices in the region has increased since a United Nations official earlier this month described as "credible" reports that Xinjiang authorities had jailed roughly 10 percent of its ethnic Uighur minority. China has dismissed the allegations, saying "anti-China forces have made unwarranted charges against China for political purposes."
The Magnitsky Act, which imposes sanctions on officials accused of human rights violations, is named for the Russian lawyer and whistleblower Sergei Magnitsky who died in a Moscow prison in 2009. While it's unclear what effect such measures would have against Chinese officials whose overseas movement and wealth transfers already face internal restrictions, sanctions would represent an embarrassing diplomatic blow to Xi.
State Department spokeswoman Heather Nauert declined to comment on the letter at a briefing Wednesday, saying she had not seen it. "It's certainly something that we would -- we would take a look at and consider, however," Nauert said.
The Trump administration has recently shown an willingness to use the legislation against Turkish officials in his dispute over the detention of an American pastor. Acting Deputy Assistant Secretary of State Laura Stone told reporters in April that China's actions against the Uighur minority made it a potential target for Magnitsky Act sanctions.
Earlier today, EU trade chief Cecilia Malmström surprised pundits and sent shares of European automakers higher when she said that Brussels was willing to scrap tariffs on autos, among all other industrial products, if the US would reciprocate.
"We said that we are ready from the EU side to go to zero tariffs on all industrial goods, of course if the U.S. does the same, so it would be on a reciprocal basis," Malmström told the European Parliament's trade committee. Sending the ball in the Trump's court, she said that "we are willing to bring down even our car tariffs down to zero … if the U.S. does the same," adding that "it would be good for us economically, and for them."
As a reminder, while the EU's car tariff of 10% is higher than the general U.S. auto tariff of 2.5%, America imposes a 25% duty on light trucks and pick-ups.
So with Europe offering a trade olive branch to Trump, what was the US president's response?
Simple: "It's not good enough," Trump told Bloomberg News during his extended interview, in response to the EU proposal. The reason: "their consumer habits are to buy their cars, not to buy our cars."
Trump then said that the "the European Union is almost as bad as China, just smaller."
Trump had previously ordered his Commerce Department to investigate whether car imports imperil national security, under the same provision he invoked to impose global tariffs on steel and aluminum earlier this year. The president has indicated he could impose tariffs of as much as 25 percent on the foreign-made autos. The findings of the auto study are due by February, though the president could decide to act before then. This week, Trump threatened Canada with auto tariffs if the country failed to join his trade deal with Mexico to replace Nafta.
As Bloomberg notes, eliminating tariffs on U.S. auto imports "would do little for General Motors Co. and Ford Motor Co., but would lend a major boost to Germany's BMW AG and Daimler AG." SUVs assembled by the German carmakers in the American South dominate the models exported to Europe from the U.S.
BMW for example is projected to sell nearly 70,000 X3 SUVs in Europe made in its South Carolina factory this year, according to data from LMC Automotive. Compare that to roughly 15,000 units of Tesla Inc.'s Model S sedan, which LMC, an industry data consultancy, projects will be the top-selling model in Europe assembled in the U.S. by an American automaker.
What is odd is that it was Trump who originally proposed a trade policy without tariffs, barriers or subsidies on either side.
The European Union is coming to Washington tomorrow to negotiate a deal on Trade. I have an idea for them. Both the U.S. and the E.U. drop all Tariffs, Barriers and Subsidies! That would finally be called Free Market and Fair Trade! Hope they do it, we are ready - but they won't!
On the other hand, as Politico reported earlier, Trump's rejection is probably not a big surprise, as during a first meeting in Washington last week, an EU proposal for including cars in the discussions was rejected by the U.S.
With Trump's rejection it is now unclear if there is any de-escalation path available to Europe; furthermore with Trump set to enact $200BN in additional Chinese tariffs, the president may feel especially empowered to press Europe harder, a gambit which has a high probability of failing. Then again, until something in the market "cracks", there is no reason to expect Trump to change his negotiating tactic which so far - looking at the S&P at all time highs - has given him the impression that he is winning.