8/25/2018 -- Large Earthquakes strike Mideast Iran + Alaska -- Global seismic unrest underway

2 killed, 240+ injured in 6.1 quake in western Iran's border with Iraq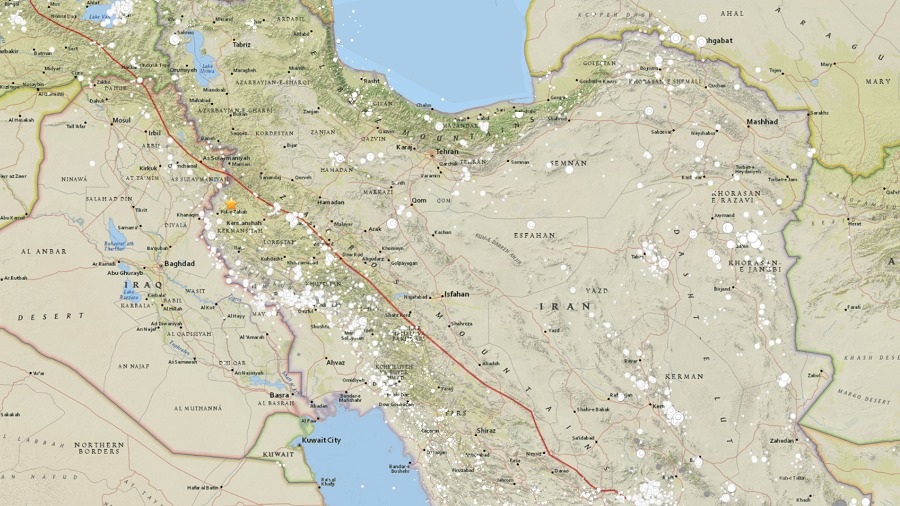 Hundreds of people have been injured and at least two have died after a powerful 6.1 earthquake struck western Iran, near the border with Iraq.
The quake struck some 31 kilometers from Javanrud, Kermanshah province, at a depth of 10 kilometers, USGS reports. There were no immediate reports of major damage, but the powerful jolt was reportedly felt as far as the Iraqi capital Baghdad.
At least two people have died and another 241 people have been injured in the earthquake, the Emergency Department said, according to Fars news agency.
A number of people suffered injuries in the quake and were rushed to hospital in Javanrud, Press TV reports.
Unverified photos of the aftermath have been circulated on social media, although witnesses have warned that some of them might have been taken during last year's deadly quake.
The same border area was rocked by a devastating earthquake last November, in which more than 600 people were killed and hundreds suffered injuries across Iran and Iraq.
People in Javanrud near the epicenter of tonight's quake in Kermanshah province western Iran. Last November quake was in the same area, the epicenter was in Ezgeleh (see map) this area is near Halabja in Iraq


Refresh this list
SRC
Location
UTC Date/time
M
D
INFO

ER

I Felt A (not Listed) Earthquake
Aug 25 23:59
4.6
0
MAP I Felt It


İzmir, Çeşme - Light shaking
Warszawa, Poland - Przez około 20 sekund odczuwałam wyraźne, lecz nie silne drgania łóżka. Wybudziły mnie że snu, byłam w pozycji leżącej.
México - Very weak shaking
kirkuk - Very weak shaking

GEOFON

Gulf Of Alaska
Aug 25 22:33
4.8
10
MAP

USGS

Gulf Of Alaska
Aug 25 22:33
4.9
8
MAP I Felt It INFO

EMSC

Gulf Of Alaska
Aug 25 22:33
4.9
10
MAP

USGS

Javanrud, Iran
Aug 25 22:13
6.0
10
MAP

GEOFON

Western Iran
Aug 25 22:13
6.0
10
MAP I Felt It INFO


Kermanshah - Moderate shaking
kermanshah - Strong shaking
Fintas, Kuwait - Very weak shaking
Kermanshah - احساس ترس و وحشتلوستر و وسایل آویزان تکان های شدیدی داشتن
Kalar, Iraq - Strong shake lasted about 10 seconds (via emsc)
sulaimaniah - Light shaking

EMSC

Lombok Region, Indonesia
Aug 25 18:33
5.4
45
MAP

GEOFON

Sumbawa Region, Indonesia
Aug 25 18:33
5.4
10
MAP I Felt It INFO


Lombok Timur - lombok shake lastday
nusa tenggara barat - Very weak shaking
ketapang - Very weak shaking
Ubud - La secousse m\'a réveillé vers 6h du matin. Elle n\'était pas très forte et il n\'y a eu aucun dégât, elle a duré entre 5 et 10 secondes. N\'ayant jamais vécu de séisme j\'ai pris peur,mais pas assé pour m\'inquièter du reste de mon séjour à Bali.
Bali - 2-4 sec

USGS

Labuhanmapin, Indonesia
Aug 25 18:33
5.5
9
MAP

GEOFON

East Of Kuril Islands
Aug 25 18:25
4.9
42
MAP

EMSC

East Of Kuril Islands
Aug 25 18:25
4.7
10
MAP I Felt It INFO

USGS

Kuril'sk, Russia
Aug 25 18:25
4.7
23
MAP I Felt It INFO

USGS

Amukta Island, Alaska
Aug 25 16:50
6.0
35
MAP

USGS

Fox Islands, Aleutian Islands, Alaska
Aug 25 16:50
5.6
39
MAP I Felt It INFO

GEOFON

Fox Islands, Aleutian Islands
Aug 25 16:49
5.9
35
MAP

EMSC

South Of Fiji Islands
Aug 25 16:23
4.6
559
MAP

USGS

South Of The Fiji Islands
Aug 25 16:23
4.6
570
MAP I Felt It INFO

GEOFON

Sulawesi, Indonesia
Aug 25 12:58
4.7
40
MAP I Felt It INFO

USGS

Kasiguncu, Indonesia
Aug 25 12:58
4.6
38
MAP

EMSC

Sulawesi, Indonesia
Aug 25 12:58
4.6
34
MAP I Felt It INFO

GEOFON

Bonin Islands, Japan Region
Aug 25 10:31
4.6
477
MAP

EMSC

Bonin Islands, Japan Region
Aug 25 10:31
5.0
505
MAP I Felt It INFO

EMSC

Offshore Valparaiso, Chile
Aug 25 02:20
4.6
15
MAP

GEOFON

Off Coast Of Central Chile
Aug 25 02:20
4.8
10
MAP I Felt It INFO
Data sources courtesy :
USGS
-
EMSC
-
GFZ
-
GEONET
(New Zealand only)


Refresh this list
SRC
Location
UTC Date/time
M
D
INFO

ER

I Felt A (not Listed) Earthquake
Aug 26 23:59
4.6
0
MAP I Felt It


Sulaimanyah - Very weak shaking

USGS

Labuhanmapin, Indonesia
Aug 26 03:54
4.9
10
MAP

GEOFON

Sumbawa Region, Indonesia
Aug 26 03:54
5.0
10
MAP

EMSC

Lombok Region, Indonesia
Aug 26 03:54
4.9
30
MAP I Felt It INFO