Three volcanoes around Pacific Rim on brink of major eruptions
Volcanoes in Mexico, Indonesia and Vanuatu are at varying levels of imminent eruptions having belched smoke, ash and red-hot rocks, covering villages in ash and forcing hundreds of thousands to evacuate.
Popocatepetl volcano near Mexico City was the latest to show life on Wednesday (Thursday NZ Time), heightening the anxieties of Mexicans still shaken by last week's powerful earthquake that killed hundreds and severely damaged thousands of buildings.
Meanwhile, the exodus from a menacing volcano on the Indonesian tourist island of Bali is nearing 100,000 people, a disaster official said on Wednesday, as hundreds of tremors from the mountain were recorded daily.
A cloud of smoke from Manaro Voui volcano is seen on Vanuatu's northern island Ambae.
In the Pacific island of Vanuatu, a rumbling, belching volcano that's threatening to blow has forced more than 7000 people to flee their homes by Wednesday.
Municipal workers sweep a floor covered with ash after an early eruption of Popocatepetl volcano in Puebla, Mexico.
Municipal workers sweep a floor covered with ash after an early eruption of Popocatepetl volcano in Puebla, Mexico.
Popocatepetl, whose name means "Smoking Mountain" in the native Nahuatl language, showered a village at its base with ash, shook with the force of a 1.8 magnitude earthquake and spewed flaming rocks to distances of up to 1km, the National Disaster Prevention Center (Cenapred) said.
Eruptions and exhalations take place on average about twice a year since the volcano reactivated 23 years ago and are not seen by disaster officials as a major threat, but the activity has worried Mexicans following the 7.1 magnitude earthquake eight days ago and a series of aftershocks since.
The earthquake had its epicentre just a few kilometres from the volcano and "probably pushed" the volcanic activity, Carlos Valdez, director of Cenapred, told Reuters. He said the explosions had calmed since dawn.
On a clear day, Popocatepetl looms on the horizon of Mexico City 71km away, and volcanic ash occasionally blows into the city.
Cenapred recommended people living near the volcano prepare for a possible evacuation order under a phase two yellow alert, two stages from a maximum red alert.
Winds blew the ash towards Ecatzingo, a village under the volcano that suffered damage to its church and dozens of houses in last week's quake.
The epicentre of the quake was just to the southeast of Ecatzingo in the state of Puebla.
The death toll from the earthquake has reached 337, with dozens more victims still believed to be beneath the rubble of one collapsed building in Mexico City.
At least 190,000 buildings have been seriously damaged by a series of earthquakes and storms in recent weeks, Mexico's President Enrique Pena Nieto said, with another senior official saying there was a collapse risk at 1500 buildings in the capital.
VOLCANO EXODUS NEARS 100,000
In Bali, the National Disaster Mitigation Agency said more than 96,000 people have now fled the area around Mount Agung in the northeast of the island.
Villagers began leaving in the middle of last week and the number of evacuees has swelled daily since Friday, when the volcano's alert status was raised to the highest level.
Fears that a volcano could erupt imminently in Bali has prompted several countries to issue travel warnings, while Indonesian authorities race to evacuate tens of thousands of people living in the danger zone.
The agency said a monitoring centre had recorded more than 800 earthquakes so far and thin smoke was observed rising 50 metres above the crater.
The volcano last erupted in 1963, killing more than 1100 people, and remained active for about a year.
Agency spokesman Sutopo Purwo Nugroho said the chances of an eruption are "quite big."
Although experts can't predict when with certainty.
The people who have fled the volcano are scattered across Bali in more than 400 different locations including temporary camps, sports centres and other public buildings.
In Karangasem district, volunteers were helping with classes for some of the thousands of children whose schools within the exclusion zone around the volcano are now closed.
A view of Mount Agung, a volcano on the highest alert level, from Karangasem Regency, on the resort island of Bali, ...
A view of Mount Agung, a volcano on the highest alert level, from Karangasem Regency, on the resort island of Bali, Indonesia.
"So far the children look happy and are enjoying themselves," said volunteer Yenni Ariyanti.
"They do not look worried or sad. Hopefully we can continue to maintain their excitement and keep them in good spirits."
The Ministry of Transport says it's ready to deploy 100 buses to take stranded tourists off Bali if an eruption forces the closure of its international airport.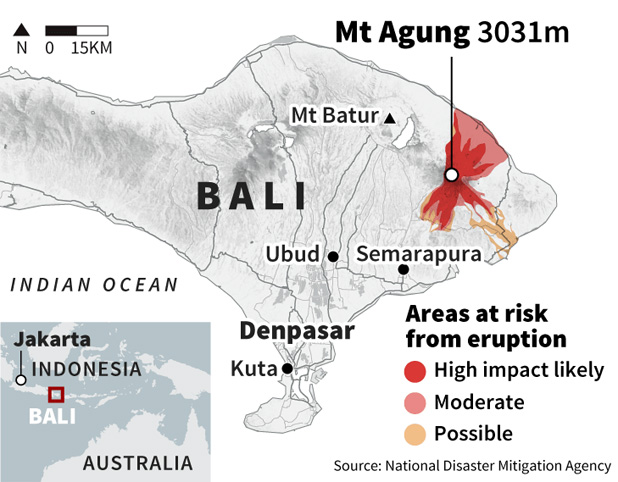 The mountain, about 70km to the northeast of the tourist hotspot of Kuta, is among more than 120 active volcanoes in Indonesia.
Another volcano, Mount Sinabung, has been erupting sporadically since 2010, sometimes blasting volcanic ash several kilometres into the air and forcing more than 30,000 to evacuate their villages.
Indonesia, an archipelago of thousands of islands, is prone to seismic upheaval due to its location on the Pacific 'Ring of Fire', an arc of volcanoes and fault lines encircling the Pacific Basin.
Balinese children play on the beach near Mount Agung, a volcano on the highest alert level, outside the current danger zone in Amed, on the resort island of Bali, Indonesia.
BELCHING VOLCANO MAY BLOW
Also on the 'Ring of Fire', authorities have declared an emergency on Ambae island in Vanuatu, where activity at the Manaro volcano has increased recently, raising fears of a major eruption.
About 10,000 people live on the island, and villagers close to the volcano have been moved to schools and community halls on the island's less vulnerable eastern and western regions.
There is growing fear among evacuees on the Vanuatu island of Ambae with shelter starting to run out as thousands more flee the erupting Manaro Voui volcano.
For those displaced villagers, it's now a waiting game to see whether the volcano erupts or returns to normal activity that's not a threat to them.
Shadrack Welegtabit, the director of Vanuatu's National Disaster Management Office, said a ship had arrived on Wednesday carrying food, water and other essential supplies. He said a second ship was due to arrive on Friday.
New Zealand's military flew over the volcano on Tuesday, and said they noticed huge columns of smoke, ash and volcanic rocks billowing from the crater.
A cloud of smoke from Manaro Voui volcano is seen on Vanuatu's northern island Ambae.
Group captain Nick Olney said they had already planned the aerial survey in an Orion aircraft before the recent activity, but were happy to help provide Vanuatu authorities with images and information.
He said the military "always stands ready to support our Pacific neighbours, especially in times like this."
Vanuatu's Meteorology and Geohazards Department said in an alert that villagers within 6.5km of the volcano face the biggest risk from airborne rocks and volcanic gas.
A cloud of smoke from Monaro volcano is seen on Vanuatu's northern island Amba.
The department warned that acid rain could damage crops across a broader area.
Vanuatu is about one-quarter of the way from Australia to Hawaii. It's made up of 80 islands, about 65 of which are inhabited, and is home to around 280,000 people.
The nation is considered one of the world's most prone to natural disasters, with a half-dozen active volcanoes as well as regular cyclones and earthquakes.