Personally, given what the U.S has unleashed on other parts of the world I find it quite just that Americans feel some of the fear others have.



North Korea: Hawaii residents told to prepare for nuclear attack as tensions reach new high
A siren warning system would give residents 12 to 15 minutes to reach a safe location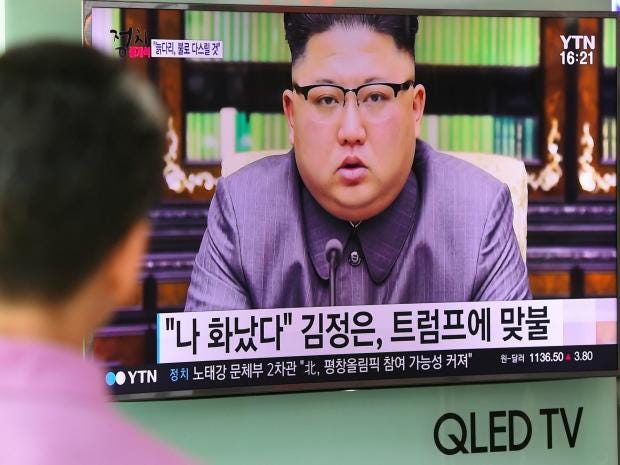 Hawaii residents have been told to prepare for a nuclear attack in light of increasing tensions with North Korea.
State authorities have advised residents to prepare for an attack as they would if a tsunami or hurricane were about to hit the chain of islands.
Gene Ward, a State Representative, said that he did not want to be an "alarmist" but wanted people to be prepared.
North Korea propaganda video shows missiles blowing up US targets
But as a local paper reported, a closed door, secret meeting of state officials to look at possible effects of a nuclear attack may have scared the public more than preparing them.
Mr Ward said younger Hawaiians were likely worried because talk of fallout shelters and drills are not issues they grew up with; it's "probably more surreal to younger generations," he said.
However, the Washington Post reported that residents are not panicking.
Tsunami and hurricane preparation is nothing new for Hawaiians and instead of seven days of food, water, and emergency medical supplies on hand, they have been told to keep double that.
However, officials are not downplaying the seriousness of a potential nuclear attack.
The Honolulu Civil Beat newspaper obtained a copy of the document circulated at the closed-door meeting.
It includes chapters titled "Enhance missile launch notification process between U.S. Pacific Command and the State Warning Point" and "Publish a new 'Ballistic Missile Threat Annex' to the State Emergency Operations Plan (underway)."
The state will begin testing a siren warning system, a wailing sound, in November.
It would give people about 12 to 15 minutes to get to safety, after which they would be required to stay indoors for 48 to 72 hours.
Hawaii does not have any public fallout shelters at the moment.
But in a darkly positive note the Frequently Asked Questions portion of the document said "current estimates of human casualties based on the size (yield) of North Korean nuclear weapon technology suggests an explosion less than 8 miles in diameter" which would mean about 90 per cent of the state's population would survive in the event of an attack.
Donald Trump addressed the United Nations General Assembly last week and was warned by Secretary-General Antonio Guterres not to "sleepwalk our way into nuclear war."
Mr Guterres said extreme language - such as the type Mr Trump has been using like saying he would rain down "fire and fury" - on Pyongyang could lead to "fatal misunderstandings".
During his speech, Mr Trump did not hold back on the isolated Asian nation and its mercurial leader Kim Jong-un, saying he would "totally destroy" it should North Korea threaten and attack the US or an ally.
"

The whole world should clearly remember it was the US who first declared war on our country," North Korean foreign minister Ri Yong-ho said from New York.
The Pentagon and Defence Secretary James Mattis have briefed Mr Trump on all available military options.
HAWAII RESIDENTS WARNED TO PREPARE FOR NUCLEAR ATTACK
AMTV
EXCLUSIVE
California Is Already Preparing for a North Korean Nuclear Attack
Beware of radioactive pets, and don't expect the feds to show up anytime soon.
With U.S. President Donald Trump and North Korean leader Kim Jong Un trading insults and threatening war, California officials are taking the threat of nuclear exchange seriously.
Noting the heightened North Korean threat, the Los Angeles-area Joint Regional Intelligence Center issued a bulletin last month warning that a nuclear attack on Southern California would be "catastrophic" and urged officials in the region to shore up their nuclear attack response plans.
The report cites North Korea's late July test of an intercontinental ballistic missile that could, in theory, reach the West Coast of the United States. "North Korea's propaganda videos feature ruins of San Francisco and Washington," the document says."North Korea's propaganda videos feature ruins of San Francisco and Washington," the document says.
The 16-page "Nuclear Attack Response Considerations" bulletin is dated Aug. 16 and marked for "official use only." It was circulated last month to Los Angeles-area local, state, and federal agency personnel and also throughout the Department of Homeland Security and other federal agencies across the country.
The idea behind the unclassified report was to share planning and guidance with as wide a distribution as possible, according to two officials involved in responding to a nuclear strike and who received the bulletin. Many agencies are involved in responding to an attack and are often staffed with personnel without access to classified information.
DHS did not respond to requests for comment.
Much of the information in the report is based on well-known facts about the effects of a nuclear blast, including the effects of radiation, the possibly of an electromagnetic pulse disabling communications, and the destructive effects of the initial blast on human life and infrastructure.
Citing figures from the Rand Corp., the report says a nuclear blast at the Long Beach Port could cause more than $1 trillion in damage, including loss of life and destruction of homes and infrastructure.
In a section on "radiation protection basics," the report offers a primer on what to do during a nuclear attack. "Lie face down and place hands under the body to protect exposed skin," it recommends. "Remain flat until the heat and shock waves have passed."
There are also sections explaining the basic mechanisms of a nuclear blast as it occurs and discussion of specific things expected to happen in the event of a nuclear attack that should be considered and prepared for in advance.
It also warns of the difficulties government authorities would likely encounter in dealing with the aftermath of a blast. The public will need to evacuate, the report says, but with "limited understanding of radiation risks, they will experience high anxiety and may be non-compliant."
Challenges with contamination spread by pets and through clothing are among the many public health and logistical coordination issues spelled out for potential emergency responders.
"

The consequences of a nuclear attack in Southern California would be catastrophic," the report says. "Nonetheless, government entities and first responders are expected to remain operational to preserve human life, maintain order, and aid in the recovery process."
The report, which is largely directed at local, state, and federal agencies and first responders located in the Los Angeles region, notes that the federal government will likely be of limited help immediately after a nuclear blast.
"

[T]here will be no significant federal assistance at the scene for 24-72 hours following the attack," the bulletin says.