Russian plane with military band crashes en route to Syria
FILE PHOTO Tu-154 © Michael Gurenkov / Flick
r
Rescue helicopters have discovered debris in the Black Sea from a Russian military transport plane which went off radar en route to Syria. Most of the passengers on the Tu-154 were members of the famous Alexandrov Ensemble army choir.
According to preliminary reports, the Tupolev transport plane had 92 people on board, including 84 passengers and eight crew members. It went missing over the Black Sea at 2:40 GMT shortly after refueling at an airport near Sochi.
Most of the passengers on board were members of the Alexandrov Ensemble, the official choir of the Russian Armed Forces, the Russian Defense Ministry said. They were travelling from Moscow to the Russian military base Khmeimim near Latakia, Syria, to take part in Christmas celebration with the troops deployed there.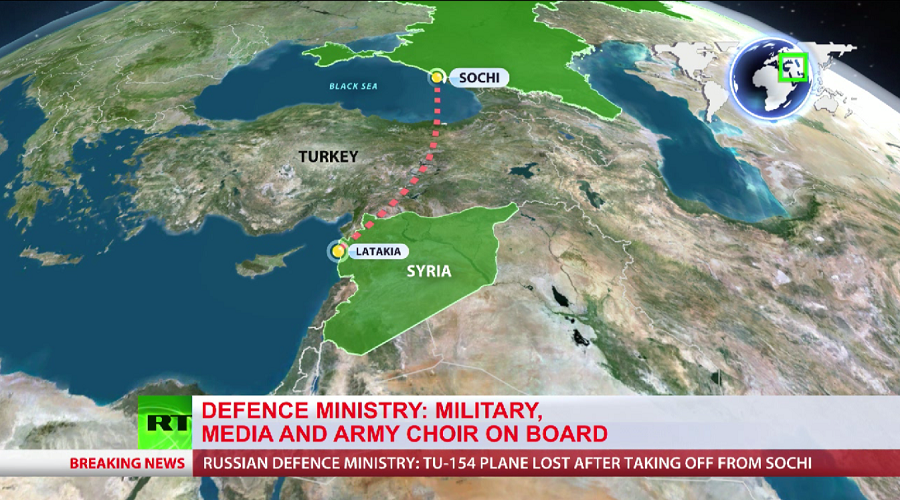 Crews from Channel One Russia, NTV, and Zvezda (the official media outlet of the Russian Defense Ministry), each with three members, were on board as well, the outlets confirmed.
Helicopters dispatched from Sochi to search for the aircraft have discovered the crash site, the ministry reported.
"

Hull fragments of the Tu-154 plane operated by the Defense Ministry have been found about 1.5 km off the Black Sea coast of Sochi at a depth of 50-70 meters,"
the ministry said in a statement.
So far, no survivors have been found in the sea, local rescue services told Interfax.
Russian President Vladimir Putin has been informed of the plane's crash, the Kremlin said.
TASS reports that weather conditions in the regions were "favorable" to aviation. No civilian flights have been cancelled yet.
The Tupolev Tu-154 is a three-engine medium-range transport plane designed in the 1960s. It is capable of carrying up to 180 passengers, depending on the version. There are about 50 aircraft of this type remaining in operation throughout the world, with the Russian Air Force having the biggest fleet.
Over the decades, there have been around four dozen fatal incidents involving the aircraft, most of which were due to pilot error or improper maintenance. One of the most widely publicized crashes happened in 2010 near Smolensk, Russia, when a Tu-154M of the Polish Air Force carrying Polish President Lech Kaczynski and his entourage crashed in foggy weather, killing all 96 people on board.
This is who was lost on the plane