'
Smuggling fuel': Iran state TV shows VIDEO of seized tanker days after UAE-based vessel vanishes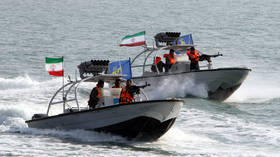 Iran's Islamic Revolutionary Guard Corps has released footage showing the seizure of a ship "smuggling fuel" in the Persian Gulf. The vessel bears the name of the UAE-owned tanker that recently vanished in the Gulf.
The footage shows several Iranian boats circling the tanker, apparently forcing it to stop. Another video was captured from the ship's deck, showing details of the vessel.
The ship in the video is apparently the MT Riah – a Panamanian-flagged tanker that went missing on Sunday. Tehran initially said that the ship experienced technical issues and was towed into Iranian water for repair.
According to the IRGC, the incident took place to the south of Iran's Larak Island, which is located in the northern part of the Strait of Hormuz. The vessel had 12 crewmembers on board when it was detained, the IRGC said, giving no further information on their names or nationalities.
The ship has allegedly been engaging into repeated trips between different emirates of the UAE – presumably carrying oil or fuel. But an Emirati security official earlier denied that the UAE owns or operates the vessel, adding that 'Riah' did not send a distress call during the incident.
The incident with the MT Riah came shortly after another Panamanian-flagged vessel, Grace 1, was seized by the UK in the Strait of Gibraltar. The British claimed the vessel was carrying Iranian crude to fuel-strapped Syria and therefore was violating EU sanctions. Tehran reacted angrily to the arrest of the ship, comparing it to an act of piracy and berating London for kowtowing to the US.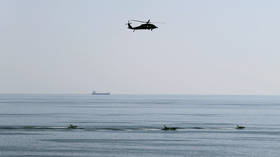 From the warmongering western media