'Why was warning ignored?' Sri Lankan minister tweets intel letter from 10 days before bombings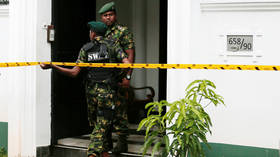 A letter warning of imminent terrorist attacks and sent to security forces 10 days prior to the Easter Sunday bombing spree in Sri Lanka has been made public, raising questions as to whether law enforcement failed to act on it.
On April 11, Sri Lanka's intelligence had issued a nationwide alert of possible suicide attacks being planned against Catholic Churches and potentially the Indian High Commission in Colombo by an extremist Islamist organization called the National Thowheed Jamath.
"Some intelligence officers were aware of this incidence. Therefore there was a delay in action," cabinet member and Minister of Telecommunication, Digital Infrastructure Facilities, Foreign Employment and Sports, Harin Fernando said, showing the warning letter on Twitter.
Serious action needs to be taken as to why this warning was ignored.
At least 207 people were killed, including dozens of foreigners, and over 450 are injured in a series of coordinated suicide attacks on churches and hotels in the country. No group has yet claimed responsibility for the atrocities.