Puerto Rico Is Burning Its Dead, And We May Never Know How Many People The Hurricane Really Killed
People whose bodies are cremated are largely not being counted in the official death toll.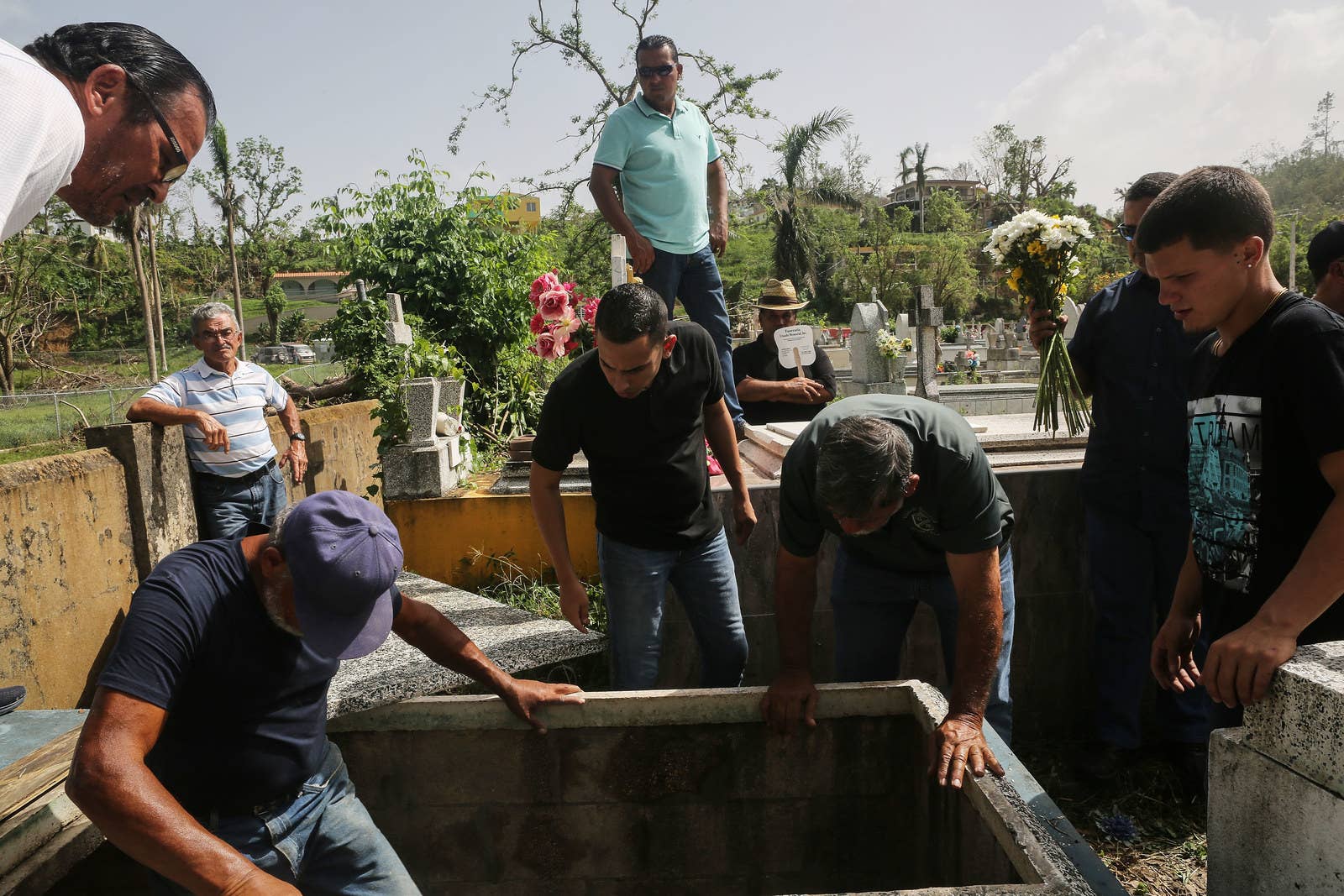 AGUADILLA, Puerto Rico — Funeral directors and crematoriums are being permitted by the Puerto Rican government to burn the bodies of people who died as a result of Hurricane Maria — without those people being counted in the official death toll.
The result is a massive loophole likely suppressing the official death count, which has become a major indicator of how the federal government's relief efforts are going because President Trump himself made it one.
During Trump's photo-op visit to the US territory — whose residents are US citizens — three weeks ago, he boasted that the death toll was just 16. It doubled by the time he returned to Washington that same day. The death toll is now at 51, a figure widely contradicted by what funeral homes, crematoriums, and hospitals on the ground tell BuzzFeed News.
Then, last week, when asked how he would rate the White House's response to the crisis, Trump said, "I'd say it was a 10." More than a month after the storm made landfall on Sept. 20, 2.6 million people are without power, at least 875,000 people don't have access to running water, and 66% of the island still doesn't have cell service.
Trump added, "I'd say it was probably the most difficult when you talk about relief, when you talk about search, when you talk about all of the different levels, and even when you talk about lives saved." Meanwhile, two US representatives and 13 senators recently wrote letters to the acting head of homeland security requesting investigations into the death toll.
Last week, BuzzFeed News visited 10 funeral homes and crematoriums in two Puerto Rican municipalities on the territory's western coast, Aguadilla and Mayagüez, at least two hours away from the bustling San Juan. The findings include:
Communication between the central institute certifying official hurricane deaths, called the Institute of Forensic Sciences, and funeral homes or crematoriums appears to be fully broken, with each side waiting for the other to take action.
The central institute is also giving crematoriums permission to burn bodies of potential hurricane victims — which is happening more because it is cheaper and logistically easier as families rebuild their lives — without examining them first, which means they are not being counted in the official death toll.
Disaster experts say this lack of a transparent and consistent approach to counting deaths means the toll is likely inaccurate.
And experts also say an inaccurate official death toll potentially cheats families out of FEMA relief funds and could hurt how future disasters are handled.
The funeral home and crematorium directors told BuzzFeed News that they had received dozens of bodies of people who died of hurricane-related causes — just the cases from these two municipalities would potentially more than double the death toll if they were included. The Forensic Institute permitted the bodies of at least 42 potential hurricane victims to be burned, according to one crematorium director.
Puerto Rico's safety department says the funeral and crematorium directors should send any potential hurricane-related victims to the institute before they're burned — but admit they haven't actually officially communicated that to them.
John Mutter, a professor of earth sciences and public affairs at Columbia University who studied how the death count was handled after Hurricane Katrina, said Puerto Rico's procedures seem to be "deliberately trying to keep the numbers low," which he called "unconscionable." Other experts called it a failure of bureaucracy.
The White House and the office of the Governor of Puerto Rico, Ricardo Rosselló, didn't respond to a request for comment.
Asked directly if the number of hurricane-related deaths in Puerto Rico is being undercounted, a spokesperson for the Puerto Rico Department of Public Safety dodged, saying, "We can't infer or reach any assumptions or inferences. If there really are cases like this, they have to present them to the authorities."
But, at this point, many of those bodies have been burned to ash.

"I never expected all of this"
In Aguadilla, a municipality of around 60,000, the official death toll currently counts three fatalities from the hurricane: one person who drowned in flooding, one person who fell off his roof while trying to repair hurricane damage, and one person who died of a bone infection.
But staff at the only crematorium in the municipality, Crem del Caribe, said they were given permission by the forensic institute to cremate at least 42 bodies of other people who had died as a result of the hurricane. That included people who died due to a lack of oxygen supply, failure of dialysis and oxygen machines because of the lack of electricity, and people who died of heart attacks. (Seventy-five percent of the island still has no power, and
questions are being raised
about the firm contracted to fix it.)
"

A lot of people have died as an indirect result of the hurricane," said Jaime Domenech, crematorium director at Crem del Caribe. "Especially older people, who because of their health conditions many of them depended on electricity."
The majority of those cases came from funeral homes in the area, like Vitin Alvarez, 68, who died a week after the hurricane made landfall.
Alvarez had Alzheimer's disease, and his death certificate states his primary cause of death was respiratory failure. His wife, Blanca Alvarez, 63, told BuzzFeed News he died because she couldn't get gasoline to power the generator he needed for his oxygen machine. There's no mention of the lack of electricity on his certificate.
"

It's so difficult to get gasoline. And there wasn't a way to communicate with anyone," Alvarez told BuzzFeed News outside her home in Aguadilla.
Alvarez cremated her husband because of financial concerns and because she was overwhelmed handling basic things like finding food and water after the hurricane. He was the first person in the Alvarez family ever to be cremated instead of buried.
"

We were always together. I'm still trying to adjust to life without him," said Alvarez. "I never expected all of this to be happening at the same time."
Several funeral directors told BuzzFeed News they're seeing an increase in cremations over burials after the hurricane, in part because it's less expensive and requires less planning as people rebuild. They had already seen an uptick in the number of cremations as a result of the financial crisis in Puerto Rico, they said, but said the numbers have increased even more in Maria's aftermath.
The cremation cost Alvarez $1,300, she said. One funeral home director said burial services cost between $4,000 and $12,000 in Aguadilla.
She said her husband had life insurance but she's still waiting for the payout. Alvarez wasn't aware that FEMA
has a disaster funeral assistanc
e program
"to help with the cost of unexpected and uninsured expenses associated with the death of an immediate family member when attributed to an event that is declared to be a major disaster or emergency." FEMA did not respond to multiple requests for comment.


A confusing process
The Puerto Rican government has said that the island's Institute of Forensic Sciences, in San Juan, must examine and certify the bodies of any hurricane-related deaths before they are counted in the official death toll. When the region isn't dealing with a disaster, the bodies of people who killed themselves, suffered a suspicious death, or were possible victims of a crime are sent to the institute for investigation.
The spokesperson for the Puerto Rico Department of Public Safety, Karixia Ortiz Serrano, acting as spokesperson for the institute, told BuzzFeed News that the institute does not have guidelines for which hurricane-related deaths to add to the official death toll and which to keep off, and said they're making decisions on a "case-by-case" basis.
"

There are no specific categories, but they look at the situation," interview family members, "analyze it, and come to their decision — and everything has to be scientifically-based," she said.
Here's where things go awry.
The public safety department says it's the responsibility of funeral homes, crematoriums, and hospitals to notify and send or bring bodies to the forensic institute if they're possible hurricane-related deaths.
But all 10 funeral homes and crematorium directors BuzzFeed News spoke to said they haven't received any specific guidance on what they're supposed to do with the bodies of people who died as a result of the hurricane. Ortiz confirmed to BuzzFeed News that no official guidance was sent to funeral homes and crematoriums, many of which take in bodies that don't need to go to the hospital first.
Ortiz says the directors of the facilities should know better. "They know that the place that they do all the scientific investigations is at the institute," she said. "The funeral homes are in constant communication with the institute because they're the ones that bring the bodies and take them back."
Still, cremating a body requires written approval from the forensic institute — which has the option to ask for the bodies to be sent to San Juan for examination before they're burned. But the funeral and crematorium directors who spoke to BuzzFeed News said the institute has given them permission to cremate dozens of bodies of people who died of hurricane-related causes, and were not asked to send them to the institute.
Asked specifically about this, Ortiz reiterated it's on crematoriums and funeral homes to communicate with the forensic institute if they think a death should be examined for inclusion on the death toll.
"

We have heard," that possible hurricane victims were being cremated without examination, Ortiz said. "We aren't saying that they're totally true or totally false. But what we are saying is, if you have a case like that, send us all the information to be able to look at it" before cremation.


"Natural causes"
Many funeral directors have conflicting definitions of what counts as a hurricane-related death and what doesn't.
Some funeral directors classified cardiac and respiratory failure after the hurricane as death by "natural causes" only. Others said they consider those hurricane-related because they happened as a result of the conditions created by the Maria: a lack of food, water, electricity, and fuel. (The official death toll does include people who had heart attacks, took their own life, and who died for lack of oxygen and electricity for dialysis machines.)
Experts said this goes back to a lack of guidance from the public safety department.
"

If you wanted to make the count as small as possible that's the way to go about it," Mutter, the Columbia professor, said about lack of uniform procedure and communication about certifying hurricane-related deaths. "Because somebody's sitting there saying, this is a disaster death, this one is not."
Mutter said that based on Puerto Rico's poverty level and the strength of the storm, he would have expected the death toll to be in the hundreds by now.
"

In fact there's a lot of deaths that come from the exacerbation of preexisting conditions by the trauma of the disaster event. And they are normally counted. They ended up being counted in Katrina. They are considered disaster deaths. If you take them out you get a small number," he said.
A review of the funeral homes and crematoriums BuzzFeed News visited shows the discrepancies.
Monica Rodriguez, of Funeraria Soto Rodriguez, said her funeral home has received six bodies since the hurricane. Of those, four came from senior homes — their death certificates say they died of cardiac arrests. Another was a quadriplegic man who died of an infection after arriving at a hospital too late to be treated effectively, and another was a dialysis patient who died in their home when their machine failed. Two of the six were cremated, Rodriguez said.
Here's her definition of a hurricane-related death: "You can't exactly say these people died because of the hurricane, because they were old people or they already had health conditions," she said, adding that in general, death certificates don't necessarily account for the conditions in which someone died.
But she also said she believed the conditions created by the hurricane lead to these deaths.
"

I can tell you that we had four deaths of elderly people who were in senior homes. They didn't have air-conditioning. It's possible they didn't have enough oxygen. I'm telling you about the conditions that were caused by the hurricane, not causes of death as they're written" by doctors on death certificates, Rodriguez said.
At the Javariz funeral home in Aguadilla, 19 bodies have come in since the hurricane. Of those, most died during the hurricane or because of conditions created by the hurricane, said director Tomas Javariz. Thirteen were cremated.
Javariz considers two who died by suicide, five due to a lack of oxygen, one from an organ failure, and 11 attributed to cardiac or respiratory arrest as hurricane-related deaths.
He sent the two who died by suicide to the forensic institute — standard practice for suicide cases — but he said he didn't send the others because the institute never asked for hurricane-related deaths. The institute gave him permission to cremate them.
Another funeral home in Aguadilla, Funeraria San Antonio, received six bodies since the hurricane. Those included one of the three counted in Aguadilla's official death toll — a man who fell off his roof while trying to repair it — whose body was examined by the forensic institute in San Juan. Another died of cancer and the rest died of "natural causes," an employee at the funeral home said, which included cardiac and respiratory arrests.
Funeraria Hernandez-Rivera, the fourth funeral home in the region, received 15 bodies since the hurricane, including five or six heart attacks, according to funeral director Raul Hernandez-Rivera. He also said that he didn't believe those cases could be counted as hurricane-related because they didn't involve people drowning or dying while trying to repair hurricane damage.
The institute gave him permission to cremate 8 of the 15 bodies. He sent one to the institute — the body of a woman who was bedridden and drowned during the hurricane — and she is counted in the official death toll.
In the nearby municipality of Mayagüez, there were no hurricane-related deaths, according to the official toll. That's at odds with the number of cases received by local funeral homes.
Funeraria Fernandez received 13 bodies since the hurricane. They said at least six of those people died because of a lack of oxygen supply, and one died because of a dialysis machine not working, in addition to several heart attacks. Nine of those were cremated. Five were sent to the forensic institute for examination. None have been included in the death toll.
Another, Mayagüez Memorial, received 42 bodies since the hurricane, 10 of which were cremated with the forensic institute's permission without an examination, according to a staff member there.
"

There were some that had to be the result of the hurricane," said the staff member, who asked not to be named.
Funeraria Martell received 39 bodies since the hurricane — 16 were cremated with permission from the institute without examination.
"

I would say that almost all of them were [related to the hurricane],"said Germarie Hernandez, the funeral director. She said she received 10 cases from Hospital Perrea and three from the Centro Medico Mayagüez, all from the intensive care units. The other 26 cases came from private homes or senior homes.
"That is a failure of government"
The lack of guidelines for creating an official death toll is a recurring problem after large-scale disasters in the US, according to experts, who say there is no federal standard because local coroners and governments have jurisdiction over counting and certifying deaths.
After Hurricane Katrina, FEMA
organized teams of mortuary experts
through the Department of Health and Human Services (HHS) — known as Disaster Mortuary Operational Response Teams or DMORT — to assist the state of Louisiana in counting storm-related deaths. (Puerto Rico's safety department said they have 40 DMORT personnel assisting the Institute of Forensic Sciences in San Juan.)
During Katrina, FEMA also contracted Kenyon International, a private company that specializes in recovering and identifying remains after disasters. The company has not been contacted by federal agencies or the Puerto Rican government for relief on the island, they told BuzzFeed News. FEMA did not respond to a request for comment.
"

One of the things I advise governments to do is … come up with and put out guidance on what is the time period, the definition, the cause, manner, and mechanism [for counting deaths]," said Robert Jensen, CEO of Kenyon International, which also assisted authorities after 9/11, the Oklahoma City bombing, and the Grenfell Tower fire in London.
He said instructions should be clear for funeral homes on what the actions and reporting requirements are in cases like Maria.
"

What we want to be able to do is clearly identify what was the human cost in this event and make it easier," he said. "In the absences of leadership or guidance, people are going to take action. The dead can't just sit."
He said the current lack of transparency and communication with those handling burials and cremations across the island means the count is less likely to be accurate.
"

That is a failure of government. That is part of the responsibility," he said, adding that having accurate death toll data can be used to help governments prepare better for future disasters. For example, "We have one generator— it needs to go to location A and not location B."
"

Short of having really clear guidance issued then you leave the decision up to each individual funeral director, doctor," he said. "I'd love to say that it's an intentional cover-up but it's just bureaucracy at its worst."
The forensic institute has heard from some funeral directors who said they had cases of hurricane deaths that had not been examined by the institute before burial or cremation, Ortiz said.
"

There were a few situations like this, and when [the director of the forensic institute] asked for information and specific data, and when she looked at the cases … it turned out that they were just rumors, or that they couldn't be substantiated."
Ortiz could not provide details about how many funeral directors had raised such concerns with the institute, or the details about the investigations that lead the institute to believe that they were "just rumors." But the institute is open to investigating any case that's specifically brought to them, she said.
"

If it's a rumor they don't register them," she said.
Jensen said the Puerto Rican government's process is not consistent with a scientific approach.
"

Scientifically based is great but the thing about science is it has to be repeated given the same conditions and everyone has to be able to repeat it given the same parameters," he said.
Puerto Rico Governor Ricardo Rossello said three weeks ago that he had conducted a survey of the island's hospitals and medical centers to update the death toll. The Department of Public Safety, when asked about the survey, said they will do them "periodically" but couldn't say when. They said the government is in contact with hospitals but that there are communication difficulties that make it hard to do another survey.
Jensen said that after six months or a year, families will begin to think about the deaths of their loved ones in the context of this crisis — and whether they could have been eligible for more financial support through insurance policies if their loved ones' deaths had been classified differently. One clear area they could have lost financial resources, he said, was in receiving federal grants through FEMA to assist with emergency funeral costs.
"

Here's where it has an impact. It has an impact for different insurance policies, it has an impact on families," he said, adding that in at least one other large-scale disaster Kenyon has worked on, families hired forensic experts months later to determine whether they had a legal case that first responders were at fault in their family members' deaths.
"

In a national disaster you're one of however many and everyone is focused on food, water, life support," he said, "and that makes it just a little bit harder for the families of the dead because it feels like their life didn't matter." ●
CORRECTION
Karixia Ortiz Serrano, who is acting as the spokeswoman for the Institute of Forensic Sciences, works at the Puerto Rico Department of Public Safety. An earlier version of this article said she worked for the Puerto Rico Department of Public Health.