Russian news report reveals thousands of Africans held in Libyan slave camps awaiting shipment to Europe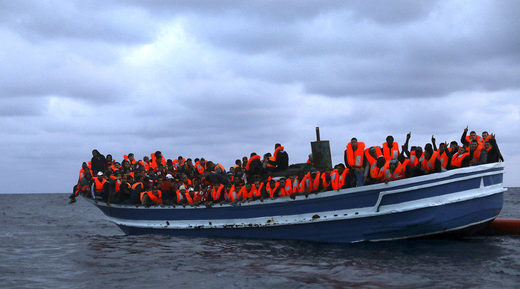 This is a very well done report about the immigration crisis from the Russian evening news. You'll find a full transcript of the video below.
Hundreds of thousands of Africans are being held in what are essentially slave camps under brutal conditions, awaiting shipment to Europe via a network of pro-immigration NGOs and human traffickers. It is an eye-opener.
The EU only has itself to blame for this next tsunami of refugees about to storm their shores. The refugees are merely riding the blood red tidal wave NATO-backed wars.
While Italy didn't plan the Libyan War, they were compliant as their NATO masters leveled a stable country - formally one of the richest in Africa.
Lately, they have taken cynical clandestine steps to prevent refugees from arriving for a better life; apparently not bombing their countries into the stone age in the first place has not yet been realized as the most logical solution.
If Italy wanted a one hundred percent effective method to prevent refugees from flooding their shores, they should have simply not get involved in foreign wars.
This latest report by Russian evening news delves into what the long-term consequences of the Libyan War will mean for Italy:
"They that sow the wind, shall reap the whirlwind"
(Video Transcript)
Kiselyov (Russia's top Anchor):


In any case, it's clear that the immigration crisis in Europe is far from being resolved. The flow of refugees from the Middle East and Africa isn't decreasing and is even growing.

During 2016, 180,000 immigrants arrived by ships, and in the first 7 months of this year more than 110,000 people have landed on the European shores. Italy is taking the main blow. And the chief supplier of illegal immigrants from Africa is Libya.


Europe is trying to cynically bribe the militants in Libya, so they would leave the refugees there, even if it's in a concentration camp.
Asya Emelyanova reporting:


The Pope called on people to open their hearts and doors to the immigrants during the high season. While the prefectures in a panic housed the arrived anywhere they had to, at closed hotels, military barracks, the priests of the Order of Christ's Heart remembered about their abandoned villa. This, of course, is not very pleasant to the police curators, but for additional pocket money of 2 euros a day, guests of the Santa Maria Center plant fennel and salad, prune olives, uproot stumps.

Now there are 25 people in the center, but the priests have another free floor and big plans to open a stall selling food, poultry, pork, build a stable, and run children's groups for hippotherapy. There are also bees, a soccer field. 9 hectares of untilled land. So this is work therapy? This is more a therapy of staying busy, at least there is something to do here, to use one's energy, and get to know Italy, the country to which they arrived.

Migrants from the Holy Mary Center are unbelievably lucky. Not because of pocket money and a sea view. They jumped into the last boat.

The Coast Guard caught this party in the waters of Libya and unloaded in Lampedusa in early August, after which the exodus from Africa suddenly stopped. The Mediterranean Sea is calm. Silence and peace for the second month.

But this does not mean that no one is going along the "hell" road through the Tenere desert. This is 2-3 days of travel? The scariest. You have to manage to get alive to Libya, to the city of Sabha. Three years "Physicians for Human Rights" made this map.

During medical examinations in the Italian refugee centers, they questioned refugees how they got there, how much they paid. There are four routes to Europe through Libya, Algeria, and Egypt. And nobody blocked them.


Hundreds of thousands of those who didn't manage to swim across were found in the Libyan camps. Behind barbed wire, in old cars, in metal containers crammed full, without toilets, without food. These are the most presentable shots, journalists were allowed into some official deportation centers. What happens in thousands of camps under militant control, those who have miraculously escaped have told the doctors, and are now being treated.


This Nigerian refugee was tortured for four months. We were tortured with electricity. Or the story of Marie, she's afraid to say where she was from: for 3 months she was raped in a camp near Sabratha. Because there was little food, we were forced to eat food mixed with children's feces.

Alberto Barbieri, Physicians for Human Rights coordinator:
"Libya has turned into one huge camp, worse than the Nazis, except there are no gas chambers yet. But the most interesting, is that the Osama death camp, for example, is regularly visited. Various official European delegations come to visit."
Slavery. Violence. Torture, because nothing else to do. There is no work not only for the Italian Coast Guard, but also for the Libyan traffickers. All because Italy and Libya have agreed formally on paper in February. And there is even a ceremonial video from Palazzo Chigi, the Italian Prime Minister shakes hands with the Libyan Prime Minister, Al-Sarraj. It came into effect in the beginning of August.
In the Hamarat hotel in Tunisia, the Italian secret services gave 5 million Euro to Ahmad Dabbashi, nicknamed "Uncle," who paid the clans and ordered to close the ports. After Gaddafi's death, every meter of Libyan coast is controlled by its own gang.
Are you sure that there was a deal between Libya and Italy? So there's no more boats. Of course. That they paid.
Mussie Zerai, Roman Catholic priest:
"Of course they paid, the deal was to exchange money for a quiet sea. Because the government elected by Europe does not control anything. Libya is tribes. Gaddafi, no matter who he was, was real government."
We found Father Zerai, a candidate for Nobel Peace Prize, an angel of refugees, in a suburb of Bern.
Of course, he knows everything about the agreement, and about the calm in the sea. Not only because his number is written on Libyan camp walls, and is dialed from boats instead of SOS, now his phone is silent for the second month.
But now he is regularly called from the prosecutor's office of Italian Trapani, where a criminal case has been brought against the Eritrean priest. He is suspected of having connections with traffickers. According to the investigation, Father Zerai received calls from Libya and knew exactly where the boats came and where they needed to be picked up.
This is hardly a coincidence, but the case against Zerai also surfaced in August, like the case against humanitarian ships, which are also accused of deals with militants. The first to anchor was Iuventa, a German ship. Disguised as a volunteer, a Secret Service agent sailed on this humanitarian ship for several months. Listened to how Iuventa received calls not from the operational center of the Italian Coast Guard, but directly from Libya, he recorded and took pictures.
Here the boat driver unloads a fresh batch of refugees. He warmly welcomes the team, and here the team returns the boat to the Libyans, and even tows it back to the port for the next trip. Are you now under investigation, did the prosecutors clarify everything?
Mussie Zerai, Roman Catholic priest:
"They said that the investigation started a year ago, why did everything come up just now, when this campaign against humanitarian organizations has begun? I answered all their questions, that I have nothing to do with immigrant trafficking. Only those who got into trouble called me, and I gave all the information to the Coast Guard."
5 million turned out to be a sufficient sum to reduce the flow of migrants by 87%, that is, almost completely. But if someone really needs to get to Italy, at a different rate, on reliable, new and fast boats.

This September's phenomenon are ghost boats on Sikamulia beaches. They are found already empty. The Coast Guard states that in 3 years no boat with migrants has reached Italy by itself. Then what is this? Nothing, a deception, ghost-boats.

Also invisible to the Italian authorities are their passengers, who they are, how many, and where do they dissolve to, after barely coming ashore. Jihadists, terrorists, anyone could be on this boat.

In the Baobab illegal transshipment center near Rome it was also noticed how the people have changed during the last months.

A group from the south of Italy came tonight. They quietly landed near Agrigento and brought the latest not very good news for Italy.

According to unconfirmed reports, the 48th brigade led by Ahmad Dabbashi lost control of the coast.

This means that the investment is lost, and new boats can appear on the horizon very soon. 500,000 people are gathered at the Libyan camps, and are ready to leave.