Two dead as typhoon Lan's heavy rains & wind hit Japan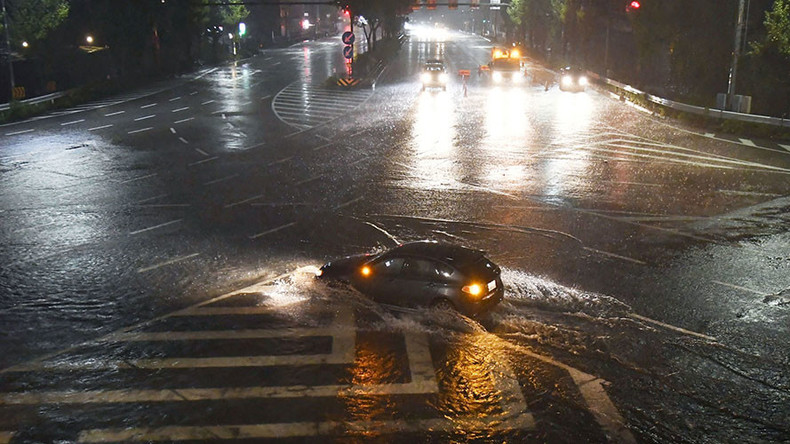 At least two people died as typhoon Lan struck the southern regions of Honshu, the largest and most populous island of Japan.
Lan, a "very large" storm with an eye 50 nautical miles wide and winds reaching speeds of 216 kilometers per hour, has passed through the southernmost point of Honshu and is moving north-east at a speed of 50 kilometers per hour, the Japan Meteorological Agency (JMA) said.
Jaw dropping view of Super Typhoon
#Lan
's eye with detailed mesovortices swirling about the inner wall. Winds are 150mph gusting to 184mph.
The typhoon brought more than 400mm of rainfall in the 48 hours between Friday and Sunday in Wakayama, Mie and Kagoshima prefectures, while the city of Shingu located in the Wakamaya prefecture witnessed over 700 mm of rainfall over the same period, the Japan Times reports.
In the south-western city of Fukuoka, a man died as scaffolding collapsed at a construction site due to intense winds, according to the Japanese police. Another man, 70, died in western Japan after his boat's engine failed and he dived into the sea in an attempt to grab the rope from another vessel in the view of the approaching storm.
In the areas affected by the typhoon, several small landslides occurred and rivers came close to bursting their banks. More than 70,000 households across Japan were advised to evacuate and more than 5,000 were ordered to do so, according to the Japanese NHK broadcaster.
The JMA also issued warnings for heavy rains and floods on the Pacific side of Japan, including the Tokyo metropolitan area. "The wind and rain will grow stronger as the night goes on, so take measures as needed as early as possible, preferably before it gets dark," a JMA official told residents, as reported by Reuters.
The storm is expected to make landfall somewhere near Tokyo early on Monday. Train services are expected to be suspended early on Monday in several Japanese regions, including the Tokyo metropolitan area and central Japan, because of the storm.
The typhoon also led to cancellation of as many as 350 flights across Japan by the Japan Airlines Co. and All Nippon Airways Co. only, a move that affected some 43,000 passengers, according to the Japan Times.
Toyota Motor Corporation also decided to suspend its operations at the car assembly plants located in the prefectures of Iwate, Miyagi, Gifu, Shizuoka, Aichi, Mie and Fukuoka from Monday morning to evening, company officials said, as reported by the Japan Times.