Senator Admits The FBI Is "About To Ask Putin For His Copies Of Hillary's Emails"
It is well known that
the FBI still does not have roughly
30,000 emails
that Hillary Clinton deleted from her private server due to Clinton categorizing them as personal and not work related.
We have also
reported
that Russia may be in possession of those emails, and according to Judge Andrew Napolitano, there is a debate going on in the Kremlin about whether or not to release them.
Given that the FBI still doesn't have the emails,
Arkansas Republican Senator Tom Cotton (of the US is "
under-incarcerated
" fame)
, who is a Trump supporter and also
serves
on the Senate Intelligence Committee, has become so frustrated that Cotton suggests the FBI is about to ask Putin for his copies. Cotton
also took a jab at Bill Clinton's
meeting with Loretta Lynch
, saying that his plane was also on the tarmac, and he thought Bill Clinton may be waiting to climb on board to talk with him as well.









A combat veteran of Iraq and Afghanistan, Sen. Thomas Cotton (R.-Ark.) said he was glad to make it on time for his speech after a series of travel delays.
"We were on the tarmac, I thought Bill Clinton might be boarding my plane to talk to me

," said the former Army Airborne Ranger officer.
Cotton said it was shocking, but not shocking to him, that the former president would meet with Attorney General Loretta Lynch — whose department is investigating both his wife and himself for his handling of the Clinton Foundation.
Clinton's decision to conduct all her official business on her own private email account on her own private server and the way she has handled official and media inquires about it was just teaser of how her administration will approach transparency and national security, Cotton said.
The FBI still does not have 30,000 emails the expected Democratic nominee for president claimed to have deleted.
"It has gotten so bad, the FBI is on the verge of asking Vladimir Putin for his copies of Hillary's emails,"

Cotton said.
In addition to the criminal nature of the former first lady scheme, he said, conducting official and classified business on an unsecured server exposed American national security to our enemies.
Americans should not be surprised that the former secretary of state would put America at risk, he said. Working with President Barack Obama, Clinton oversaw a foreign policy that treated allies as troublemakers and our enemies as victims with legitimate complaints about the United States. Chief among the enemies is the Islamic Republic of Iran, which Obama-Clinton empowered by lifting sanctions, thawing frozen assets, and ignoring Iran's support of violent terrorism.
Truth be told, it may not be a bad idea.
U.N. Official 'Accidentally' Crushes Own Throat Right Before Testifying Against Hillary Clinton
Call it conspiracy theory, coincidence or just bad luck, but any time someone is in a position to bring down Hillary Clinton by testifying they wind up dead.
In fact, there's a long history of
Clinton-related body counts
, with scores of people dying under mysterious circumstances.
Perhaps the most notable is Vince Foster. Foster was a partner at Clinton's law firm and knew the inner workings of the Clinton Machine. Police ruled that death a suicide, though it is often noted that Foster
may have been suicided
.
Now, another official has found himself on the wrong end of the Clintons.
That John Ashe was a former President of the United Nations General Assembly highlights the fact that
no one is safe once in their sights
.
And as you might have guessed, there are major inconsistencies with Ashe's death. It was not only conveniently timed because
Ashe died just a few days before being set to testify against Clinton
in a corruption case, but official reports indicated he died of a heart attack.
The problem, however, is that police on the scene reported Ashe died when his throat was crushed during a work-out
accident






The New York Post's

Page Six

reported that after

Ashe was found dead Wednesday, the U.N. claimed that he had died from a heart attack.

Local police officers in Dobbs Ferry, New York, later disputed that claim, saying instead that he died from a workout accident that crushed his throat.
Adding to the mysterious nature of Ashe's death was the fact that he

had been slated to be in court Monday

with his Chinese businessman co-defendant Ng Lap Seng, from whom he reportedly received over $1 billion in donations during his term as president of the U.N. General Assembly.
And then there was this: During the presidency of Bill Clinton, Seng illegally funneled several hundred thousand dollars to the Democrat National Committee.
Source: The Conservative Tribune via The Daily Sheeple
It must be coincidence, right?
If former Secret Service agent Gary Byrne is to be believed, this is business as usual for the Clintons.



BYRNE:

I feel so strongly that people need to know the real Hillary Clinton and how dangerous she is in her behavior. She is not a leader. She is not a leader
SEAN: She does not have the temperament?
BYRNE: She doesn't have the temperament.

She didn't have the temperament to handle the social office when she was First Lady, she does not have the temperament.
SEAN: She's dishonest.
BYRNE:

She's dishonest, she habitually lies, anybody that can separate themselves from their politics and review her behavior over the past 15 years…


Byrne is the author of the newly published book Crisis Of Character – a first-hand Clinton exposé.
After FBI grilling, Hillary Clinton calls husband's chat with Attorney General 'chance meeting'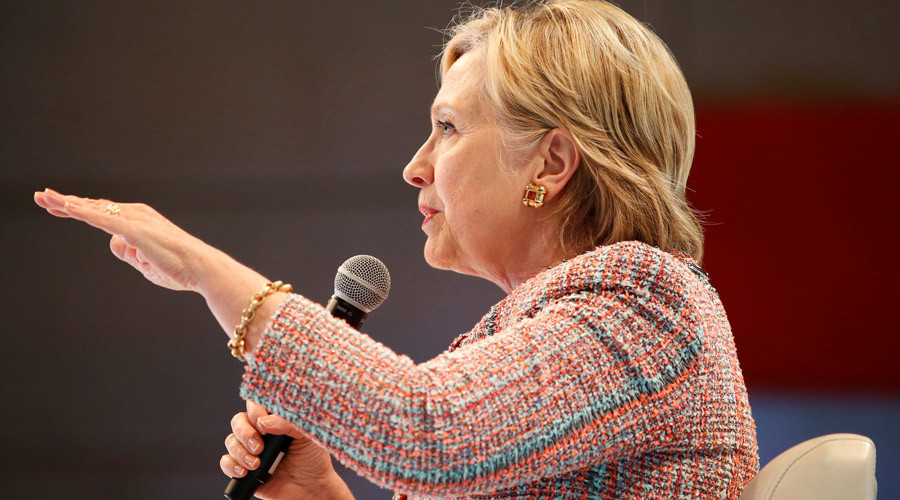 Democratic presidential candidate Hillary Clinton said her husband Bill's meeting with US Attorney General Loretta Lynch at Phoenix, Arizona's Sky Harbor Airport was not related to the Federal Bureau of Investigation's email probe and was nothing more than a "chance meeting at an airport tarmac."
Clinton made the comments during her first media interview since being interrogated by the FBI for more than three hours on Saturday.
The former secretary of state spoke with NBC's Chuck Todd on Meet the Press over the phone, telling him firstly she had been "eager" for the FBI interrogation and was "pleased to have the opportunity to assist the department in bringing its review to a conclusion."
The FBI grilling came more than a year after Clinton admitted using a private email server for official emails, hundreds of which were classified, during her time as America's top diplomat.
Clinton refused to comment, however, on news reports that a decision not to file charges against her would be announced in the coming weeks: "I am not going to comment… I have no knowledge of any timeline – this is entirely up to the department."
Lynch, who was nominated to her current position by President Barack Obama in 2014, declared earlier this week she would accept recommendations from career prosecutors and the bureau she oversees in response to backlash for her 'Sky Harbor summit' with the former president on Monday.
Lynch said the meeting was purely "social" with grandchildren as the main topic. The two go way back after 'Grandpa Bill' appointed her as a US attorney in 1999 during his presidency.
Shady~Don't forget that
@billclinton
is not above lying under oath~ nothing about this 'chance' mtg can be believed.
Hillary Clinton echoed Lynch's words during her Meet the Press interview, telling Todd she first heard about the incident from the news and described it as "a short, chance meeting at an airport tarmac."
She laughed off the idea that her husband and the Attorney General discussed the Department of Justice's review of her email probe.
"

Both of their planes, as I understand it, were landing on the same tarmac at about the same time, and the Attorney General's husband was there, they said hello, they talked about grandkids, which is very much on our minds these days, golf, their mutual friend, former Attorney General Janet Reno, it was purely social," the former New York Senator said.
Loretta Lynch: "Let's just talk about our grandchildren." Bill Clinton: "It would great if my grandchild's grandmother didn't get indicted."
When asked if she thought her husband should have known better, she replied, "Well, I think hindsight's 20/20. Both the attorney general and my husband have said that they wouldn't do it again even though it was, from all accounts that I have heard and seen, an exchange of pleasantries. But obviously, no one wants to see any untoward conclusions drawn, and they said they would not do it again."
#HindsightIs2020
mass incarceration welfare walmart nafta lgbt rights iraq honduras libya wall st fracking tpp email
An all-white, all-female panel of political commentators speaking with Todd after he aired his Clinton interview slammed the Phoenix meeting.
Does anybody really believe that Bill Clinton and the U.S.A.G. talked only about "grandkids" and golf for 37 minutes in plane on tarmac?
Green Party presidential candidate Jill Stein appeared on CNN's Sunday talk show "Reliable Sources," but was not asked about the email probe, instead talking about her Green New Deal, which would "create millions of jobs by transitioning to 100% clean renewable energy by 2030."
Brian Stelter ✔ @brianstelter
Libertarian candidate Gary Johnson weighed in on the controversy over Trump's controversial tweet about Clinton.
The former New Mexico governor told CNN's program "State of the Union" that Trump "has said 100 things that would disqualify anyone else from running for president but it doesn't seem to affect him. The stuff he's saying is just incendiary. It's racist."