Once again I cannot emphasise strongly enough the significance of these events
Peter Lavelle: With Turkey Now Closed To The West Will Ankara Realign Itself?
Erdogan's political future is far from certain, but Turkey now has the possibility to re-define its geopolitical posture.
Peter Lavelle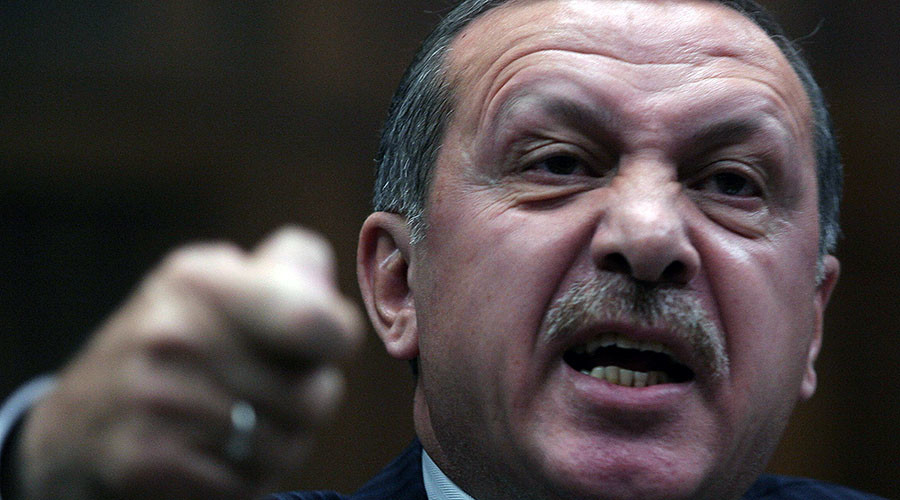 the Duran,
16 July, 2016
More thoughts on the failed coup attempt in Turkey: what are the geopolitical implications? At least rhetorically, Erdogan is probably forever branded himself as a liability in the eyes of the west. His authoritarian addictions are plain to see but will be tolerated as long as he works constructively on the issues of refugees (which he probably won't) and as a member of NATO (which is clearly open to question as Erdogan indirectly blames Washington for being behind the coup attempt).
At this point, he is the bad and distant relation in the family the west will tolerate. The west tolerates Israel's apartheid and Saudi's medievalism. Nonetheless, Erdogan may start to seriously re-think Turkey's strategic trajectory. With the west essentially closed to him, will he explore more beneficial strategic relations? Will he starting looking at Russia, Iran, and even Syria differently? This is possible. I do not in any way defend Erdogan's domestic and foreign policies.
As things stand, he only brings Turkey closer to civil war and the prospect of a failed state. Turkey should turn its back on NATO and EU membership. Erdogan's political future is far from certain, but Turkey now has the possibility to re-define its geopolitical posture.
Peter Lavelle is host of RT's political debate program CrossTalk. His views may or may not reflect those of his employer.
Failed Military Coup Could Help Erdogan Get What He Wants
Sputnik,
17 July, 2016
President Recep Tayyip Erdogan could well benefit from the unsuccessful military coup that rocked Turkey on Friday night because the insurrection has most likely opened up the path for a broad constitutional reform that will allow him to become a president for life, Doctor of Turkish studies Nikos Christofis told Radio Sputnik.
This is something that Erdogan has been pushing for months. The Turkish strongman has advocated rewriting the constitution so that he would get significantly more powers, but the ruling party did not have enough votes to kick start the process. The authoritarian trend has also divided the Turkish society.
The failed coup attempt might tip the scales in Erdogan's favor.
The ideal path forward, according to Christofis, would be for Erdogan to make his agenda more democratic. Instead, there will be "more authoritarianism" since now Erdogan "has fewer obstacles to become president for life" and concentrate power in his own hands.
For the analyst, Erdogan's "authoritarian shift" is the main reason behind the coup that took place on Friday night when a group of military officers took key sites in Ankara and Istanbul under control in order to remove the Turkish president from power. The authorities largely overturned the insurrection by Saturday morning.
At least 265 people were killed and hundreds were injured in the overnight chaos. More than 2,830 people have been arrested.
A tank is seen in front of the gate of the General Staff headquarters during an attempted coup in Ankara, Turkey July 16, 2016.
Policemen stand on a military vehicle after troops involved in the coup surrendered on the Bosphorus Bridge in Istanbul, Turkey July 16, 2016.People Demonstrate
Outside Ataturk International Airport During An Attempted Coup In IstanbulTurkey Coup With FlagTurkish Soldiers Surrender Their Weapons To Policemen During An Attempted Coup In Istanbul's Taksim Square
Friday night's events caught people in Turkey and elsewhere by surprise, but Christofis maintained that the Turkish government could have been aware that something was brewing.
For the last couple of weeks rumors circulated that a large group of officers "will be forced to retire by the end of the summer," he said. The coup might have been "an organized attempt" by this group of mostly middle rank officers.
Even if Turkish authorities were aware that something was coming up, it does not mean that they were behind the coup, Christofis added, saying that he preferred to refrain from turning to conspiracy theories to explain the coup's "lack of organization and inefficiency."
The analyst mentioned two key theories that have gained traction following Friday night's events. First one pins the blame for the violence on US-based Islamic cleric Fethullah Gülen and his movement. Erdogan indirectly accused his former ally as the events unfolded, but Gülen denied the allegations.
The second theory says that the military coup was staged by the government itself in a bid "to increase its popularity."
Turkish
Officials Block Access to Air Base that Houses US Tactical Nukes
The completion of the operation aimed at preventing the military coup in Turkey has been confirmed by Turkish Defense Minister Fikri Isik, who said that no areas remain out of the government's control, as reported by Reuters. However, he also warned that it is too early to say that the threat of the coup has been completely eliminated – and once again urged the people to take to the streets to show their support for the government.
operations were still continuing, but added that they also would be finished "in a few hours."
Meanwhile, Turkish security forces arrested the suspected leader and mastermind of the failed coup, General Akin Ozturk, the former commander of the Turkish Air Force, who was also a member of the country's Supreme Military Council.
At least five other Turkish senior commanders were arrested in connection with the coup, including General Adem Huduti, who is the most senior officer detained so far. Huduti commanded the Second Army Corps based in Malatya, which protects Turkey's borders with Syria, Iraq and Iran.
The Malatya Garrison Commander Avni Angun, and the Third Army Corps commander, General Erdal Ozturk, were also detained, Hurriyet reported.
Turkish Prime Minister Binali Yildirim reported that, in total, 2,839 soldiers and officers implicated in the overnight coup attempt have been arrested. Arrest warrants have also been issued for 140 Constitutional Court members and 48 members of the Council of State.
Ten members of the Council of State, Turkey's top administrative court, have already been detained, NTV broadcaster reported. Turkish police also reportedly arrested two members of the Constitutional Court, the most senior judicial body.
President Erdogan also called on his US counterpart, Barack Obama, to

"either arrest Fethullah Gulen or return him to Turkey."In the meantime, Turkish President Recep Tayyip Erdogan addressed the people in Istanbul's Uskudar district, accusing "foreign forces" and particularly the Gulen movement, led by the US-based Turkish preacher and former imam, Fethullah Gulen, of staging the attempted coup.
At the same time, all parliamentary parties issued a joint statement decrying the coup attempt as they gathered in an emergency session of the Turkish National Assembly.
The session, which started with a moment of silence to honor those killed in the clashes in Istanbul and Ankara overnight, was attended by almost a hundred ambassadors, excluding those from the US and the UK, that expressed their solidarity with the Turkish government, as reported by the Turkish media.
Prime Minister Binali Yıldırım, who also attended the session, once again stated that those who staged the coup, will "receive the necessary punishment," Daily Sabah reported.
"Those who tried to topple the government elected by the people, have been toppled by the people,''Yıldırım said, adding at the same time, that cooperation with the parliament will mark a new start for Turkey.
Outside the parliament building in Ankara, thousands of people took to the streets once again to denounce the attempted coup and to show their solidarity with the government. The demonstrators were waving Turkish national flags and chanting slogans in favor of democracy.
The crowd can also be heard chanting "Allahu Akbar!"
A group within the Turkish military attempted to stage a coup on Friday night, using tanks and attack helicopters. The conspiracy failed, as they didn't manage to capture any senior government officials and couldn't win wide support from the Turkish military.
At least 265 people were killed, including 104 pro-coup participants, while 1,440 people were injured in military action in the capital, Ankara, and the country's largest city, Istanbul.
"There is a possibility that it could be a staged coup, by Mr Erdogan's AKP Party, and it could be meant for further accusations, against the Gulenists and the military," Fathullah Gulen, who is in exile in Pennsylvania, told the media Saturday.
At least 265 people were killed after an abortive attempt to seize power in Turkey by a large group of army officers on Friday night. Over 2,800 army personnel have been arrested, and 2,700 relieved of their duties.
Hours earlier, Erdogan – who has habitually accused Gulen, and his popular Hizmet movement, of trying to overthrow him, ever since the two former allies fell out in 2013 – called on the US to extradite Gulen.

Gulen, who holds a US Green Card but is not an American citizen, said he was "unconcerned" by the prospect of deportation. The cleric has been living in Pennsylvania in what is said to be a self-imposed exile.

"I don't believe that the world takes the accusations made by President Erdogan against me seriously," said the 75-year-old, before condemning the use of violence to depose Erdogan.
Gulen said that reprisals likely await those alleged to have plotted the coup, comparing Erdogan's tactics to those used by Adolf Hitler to clear the political field in Germany in the 1930s, which turned it into a police state.
"It is very clear that there is intolerance among the leadership of the ruling party and the president. They have confiscated properties and media organizations, broken doors and harassed people in a fashion similar to Hitler's SS forces," said Gulen, speaking through an interpreter.
READ MORE: EU leaders fear repression, strained relations after Turkey's attempted coupIn the first years after Erdogan was elected in 2003, he relied on the support of Hizmet, which could count on as much as 10 percent of Turkey's population as allies. But the two powerful men had a dramatic falling out, in which supposed Gulenists wiretapped top officials, revealing evidence of corruption. For his part, Erdogan ordered the closure of multiple Gulenist schools and institutes, which form the backbone of the Hizmet movement, which is both social and religious.

Since then, newspapers and TV channels have been shut down, and officials and businessmen arrested and tried for supposedly trying to create a "parallel state" that would usher in the rule of Gulen's allies.

Friday night's attempted coup has also led to a diplomatic spat between Ankara and Washington, even though the White House has spoken out in support of Erdogan. The Turkish government has accused the US of shielding Gulen from prosecution, even suggesting that represents a "hostile" act toward Turkey.

"I do not see any country that would stand behind this man, this leader of the terrorist gang, especially after last night. The country that would stand behind this man is no friend to Turkey. It would even be a hostile act against Turkey," Prime Minister Binali Yıldırım told reporters on Saturday.
In response, US Secretary of State John Kerry told Turkish Foreign Minister Mevlut Cavosoglu that such public accusations "are utterly false and harmful to our bilateral relations."
"I do not see any country that would stand behind this man, this leader of the terrorist gang, especially after last night. The country that would stand behind this man is no friend to Turkey. It would even be a hostile act against Turkey," Prime Minister Binali Yıldırım told reporters on Saturday, as Turkey was recovering from overnight violence.
"We fully anticipate that there will be questions raised about Mr Gulen, and obviously we invite the government of Turkey to present us with any legitimate evidence that withstands scrutiny and the United States will accept that and look at it and make judgments appropriately and I am confident there will be some discussion about that,"

Kerry told reporters during his trip to Luxembourg.

Commenting on Turkey's hostility towards the 75-year-old preacher, US Secretary of State John Kerry said Ankara hadn't requested the cleric's extradition. The US official said that Washington will be "completely supportive of efforts to assist the government of Turkey," but insisted that any decision on Gulen will be taken on the basis of legal, and not political considerations.
Following Kerry's statement, Turkey's President Recep Tayyip Erdogan publicly demanded Gulen's extradition during a televised government meeting in Ankara.
Speaking to media inside the extensive complex in Saylorsburg Pennsylvania, where he lives and preaches, Gulen rejected Turkey's accusations, and countenanced the possibility that the coup was a false flag operation.
"There is a possibility that it could be a staged coup (by Mr Erdogan's AKP) and it could be meant for further accusations (against the Gulenist and the military)," said Gulen.
Gülen was a political ally of Erdogan when he was Turkey's Prime Minister, but the two fell out and became bitter rivals. Ankara accuses Gülen of creating a "parallel state" in the form of a network of supporters among Turkish officials. Erdogan accused Gülen of masterminding a corruption scandal involving senior government figures in 2013, and launched a crackdown against his organization.
A faction of the Turkish military attempted to topple the government overnight, but failed in its bid. The attempted power grab involved tanks and helicopters, as government buildings were attacked and violent clashes erupted between government loyalists and rebels in Istanbul and Ankara.
Binoy Kampmark of the RMIT University told RT that while willful and erratic Erdogan has been increasingly unpopular in the White House, the coup put the US in a tight spot.

The hostilities left over 260 people killed and many others injured. The government has responded to the coup by initiating a massive purge in the military.
"The US doesn't want an overly belligerent Turkish government, but, by the same token they don't want an unstable one. Turkey, with the largest standing army in NATO, is definitely a source of concern," he said via an online uplink.
"If the coup had been successful, the US would have protested, but they can deal with the Turkish military, probably better than with Erdogan. They could deal with him before, but with his crackdown on democracy, and the Kurds, who are fighting ISIS, he has become an embarrassment, and after the coup it will get worse," defense analyst Ivan Eland told RT.
*Turkey Coup* Erdogan calls on US to extradite Gulen
Turkey begins crackdown on those linked to coup
Diplomatic rift: Erdogan urges US to extradite Muslim cleric Gulen blamed for coup attempt
President Recep Tayyip Erdogan accused Islamic cleric - Muhammed Fethullah Gulen - of being behind the coup attempt. Gulen, who holds a US Green Card but is not an American citizen, accused Turkish President of conducting a deadly false flag operation, and compared him to Hitler.