'Shocked and disgusted':


Hate crime reports jump


500% since Brexit vote – UK


police chief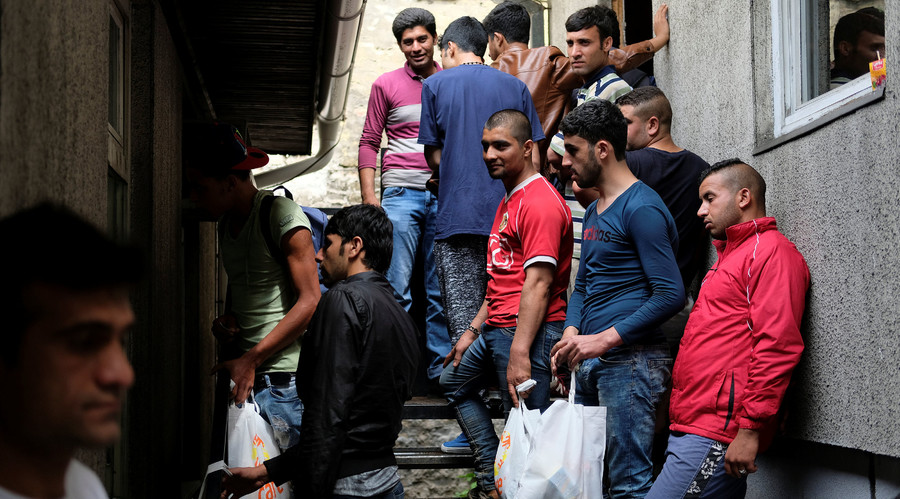 © Marko Djurica / Reuters
A week after Brexit referendum, UK police have registered a staggering fivefold increase in hate crime incidents reported to the national online site. Local officials have also noted a surge in both physical and verbal attacks against migrants.
"
Since last Thursday, 331 hate crime incidents have been reported to the national online reporting site True Vision compared to the weekly average of 63 reports,"
Sara Thornton, head of the NPCC,
wrote
, adding that, although
"many people are reporting hate crime than ever before,"
it remains
"significantly underreported."
While Thornton has stressed that it is hard to tell how many of those cases are directly linked to the referendum, the national community tensions team has also noted a surge in anti-immigrant abuse. In just one week, migrants have been reporting
"verbal abuse, negative social media commentary including xenophobic language, anti-migrant leafleting and, in very limited numbers, physical assaults."
Expressing her own frustration, Thornton said she was
"shocked and disgusted"
by the upsurge. She has urging those who are suffering abuse not to
"suffer in silence"
and stop feeding into the atmosphere of fear by giving in to bullies.
The police report goes in line with the multiple cases of online abuse documented on social media in the wake of the vote. Under hashtag #PostRefRacism coined straight after the victory by the Leave camp was official announced, dozens of people posted evidence of hatred and racism towards migrants from Eastern Europe, in particular, Poland and Romania, and the Muslim world.
Just recently, Jordanian-born British artist Yasmeen Sabri has shared her story of being verbally attacked by a visitor to her London exhibition for
displaying a burqa
on a stand for everybody to try on. She was approached by an apparently disgruntled woman who started hurling insults at her and attempted to tear the veil down until she was apprehended by security.
"
She told me to go back to Saudi Arabia, even though I'm Jordanian,"
said Sabri, commenting on the incident, as cited by The Evening Standard.
"
A couple of people tried to calm her down and she started telling them 'Arabs don't belong here, Arabs should leave the city,"
she recalled, adding that that was the first time she was subjected to such kind of racially-motivated abuse in the six years she has been residing in London.
The unprecedented hike in ethnically motivated violence, including a reported attack on an eight-year-old Polish girl by fellow classmates and leaflets reading "No more Polish vermin" thrown into letter boxes and being distributed in the streets, prompted British PM David Cameron to pledge extra funding to police to provide security at the
"vulnerable institution"
and give new guidelines to prosecutors related to hate crimes.
"
These attacks are appalling and they need to stop and it's right everyone in this House and everyone on all sides of the referendum debate utterly condemns them,"
he said, addressing parliament on Wednesday, stressing that the government must make utmost efforts to
"drive these appalling hate crimes out of our country."
Anti-migrant sentiment has been riding high in the UK already before the vote with anti-immigrant and anti-refugee rhetoric often employed by the right-wing forces such as UK Independence Party (UKIP).
The brutal murder of British Labour MP Jo Cox, an adamant advocate against Islamophobia, who was shot and stabbed to death by an alleged far-right supporter a week before the vote, even brought the campaign to a brief halt.