Maduro orders 'total revision' of diplomatic ties with US over support for Venezuela's opposition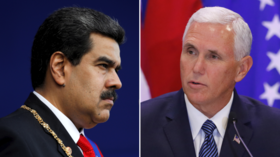 Venezuelan President Nicolas Maduro has ordered a revision of diplomatic relations with the US after the White House has openly urged the opposition to unite and overthrow the "dictator with no legitimate claim to power."
Ahead of the mass street protests against Maduro on Wednesday, called by the opposition-led National Assembly, US Vice President Mike Pence released a video message reaffirming unwavering support for a regime change in Venezuela. Denouncing Maduro as "a dictator with no legitimate claim to power" who has "never won the presidency in a free and fair election," Pence declared that time has come for the Venezuelan people to take the matters into their own hands, in a speech peppered with Spanish phrases.
"

The United States supports the courageous decision by Juan Guaidó, the president of National Assembly, to assert that body's constitutional powers, declare Maduro a usurper and call for the establishment of a transitional government," Pence said.
Slamming the speech as shameless US meddling in his country's internal affairs, Maduro in response promised his supporters to announce specific measures against Washington in the coming hours.
"

Enough of aggressions and conspiracies, enough is enough!" said Maduro, rejecting the "imperialist interventionism" and open calls for coup d'état that he called unprecedented in the 200-year history of US-Venezuela relations.
Pence Urges Venezuelans To Rise Up Against "Dictator" Maduro After Failed Military Revolt
Dahboo 777
On Tuesday US Vice President Mike Pence urged the Venezuelan people to "make your voices heard" in follow-up to Guaido's risky appeal, which appears a continuation of Secretary of State Mike Pompeo's comments throwing the United States' full weight behind Venezuela's opposition seeking to depose President Nicolás Maduro, which he made over a week ago while in the Middle East after Maduro was sworn in to a widely contested six-year second term.
MAJOR: Venezuela Defeats US-Backed Coup Attempt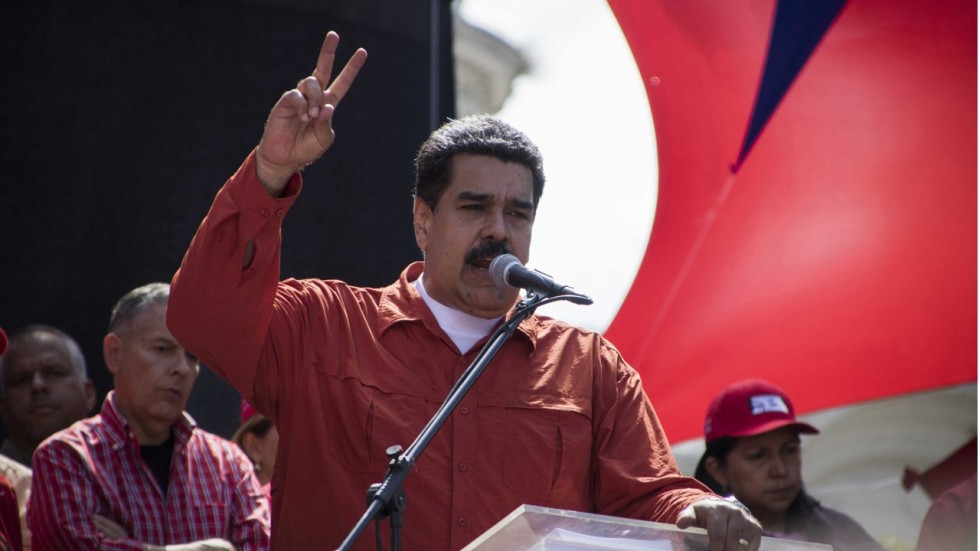 CARACAS, Venezuela – A group of 27 rebel soldiers rehearsed a riot against Venezuelan President Nicolás Maduro in Caracas on Monday. The uprising, however, was quickly restrained after the rebels posted a video on the internet asking for support.
"

We are the professional National Guard troops against the regime, which we completely repudiate. I need your help, go on the streets," said a man who identified himself as group sergeant in a video posted on social networks.
Defense Minister Vladimir Padrino López issued a statement shortly after saying the soldiers were arrested.
Before they attacked a National Guard command center in northern Caracas, where they were captured, they attacked two other security posts, taking four prisoners and fleeing with "weapons of war," according to the statement.
"

During the arrest, stolen weapons have been recovered and [the mutineers] are providing useful information to the intelligence services and the military justice system," Padrino said, adding that the rebels "will face the full force of the law."
Maduro's right-hand man and head of the Constituent Assembly, Diosdado Cabello, said 25 soldiers were arrested and two others were detained elsewhere.
The Supreme Court, which is dominated by supporters of the government, later targeted the National Assembly, controlled by the opposition to Maduro. The Supreme Court said that the organ is illegitimate and its decisions are invalid.
Last week, the National Assembly said Maduro was a "usurper" of power and offered amnesty to members of the military and government if they broke with the president.
"

They are already confessing details and the first thing they said was that they received offers of houses and castles but were left alone, they were deceived, we will win," added Cabello about the rebels without specifying who allegedly made the offer.
The military fired tear gas to disperse protesters who gathered outside the command post where soldiers were detained. Protesters beat pots and blocked streets.
"

If they join our country, we are with them, we will stay in the streets," shouted a woman. "We want Maduro to leave, we're tired," added one man.
The US, along with their Colombian and Brazilian puppets, have desperately tried to destroy the Bolivarian Revolution in Venezuela that began with Hugo Chavez. However, all efforts have only failed.
The rebel group invaded the command center at 5 am local time.
"

Venezuela is here united to reestablish the constitutional link, you wanted that, so do we, enough!" said one official, through a video posted on Twitter, that identified himself as Major Sergeant Figueroa.
Government says 27 national guardsmen have been arrested and accuses 'shadowy interests' of launching insurrection
Amid tensions between Venezuela and the United States, there are analyzes about the defense that the South American country has and how it could be won

.
Military Watch magazine analyzed this situation and pointed out that Venezuela has advanced military equipment. The country has the latest version of the Russian Su-30 fighters, called MK2, which combine more modern radio-electronic systems, as well as powerful weapons and unparalleled maneuverability.
It is noteworthy that the US has never faced enemy owners of Su-30MK2, generation 4+ fighters, which have considerable advantages over US Air Force bases, consisting of F-15 Eagle and F-18E Super Hornet fighters.
Someone who has been following this in some detail is Florida Maquis on his You Tube channel