Developing: Syrian Army begins massive attack on Daraa city
BEIRUT, LEBANON (4:30 A.M.) – At approximately 2:00 A.M. (local time), the Syrian Arab Army's 4th Mechanized Division began a massive attack on the provincial capital of Daraa.
Using their newly manufactured Golan-1000 MRLS launchers, the Syrian Arab Army's 4th Division fired a large number of missiles into the Daraa Al-Balad District of the provincial capital.
According to a military source from the 4th Division, the Syrian Army fired more than 40 missiles into southern Daraa city from their Golan-1000 launchers.
Furthermore, the source told Al-Masdar News this morning that the Syrian Army is preparing to launch their long-awaited offensive to retake the entire southern half of the provincial capital.
With the Tiger Forces being redirected to the northeastern countryside of Daraa, the 4th Division and their allies from the Republican Guard have been tasked with expelling the Free Syrian Army (FSA) and Hay'at Tahrir Al-Sham from the provincial capital.
Airstrikes target areas near Daraa as regime looks to retake strategic region bordering Israel and Jordan, ending ceasefire brokered between Moscow, Washington and Amman
BEIRUT, Lebanon — Russia bombed rebel-held parts of southern Syria late Saturday for the first time since brokering a ceasefire there nearly a year ago, a monitor group said, as allied regime troops prepare a ground assault.
Southern Syria is a strategic prize for local and global players involved in the country's convoluted seven-year war.
After securing the capital Damascus, Syrian President Bashar Assad appears keen to recapture the southern provinces of Daraa and Sweida, still mostly held by rebels.
There's been a significant and unexpected development in southern Syria, where the Syrian Army and allied forces are engaged in a major offensive to take back Daraa and Al-Quneitra provinces from long entrenched FSA, al-Qaeda, and ISIS groups (the ISIS branch is known as Jaish Khaled Bin al-Waleed).
Though we and others have noted that this massive final battle to solidify Assad's hold over key areas bordering Jordan and the Israeli occupied Golan Heights could trigger US-Israeli intervention, consistent with recent threats from the US State Department, it now appears Washington has changed its tune.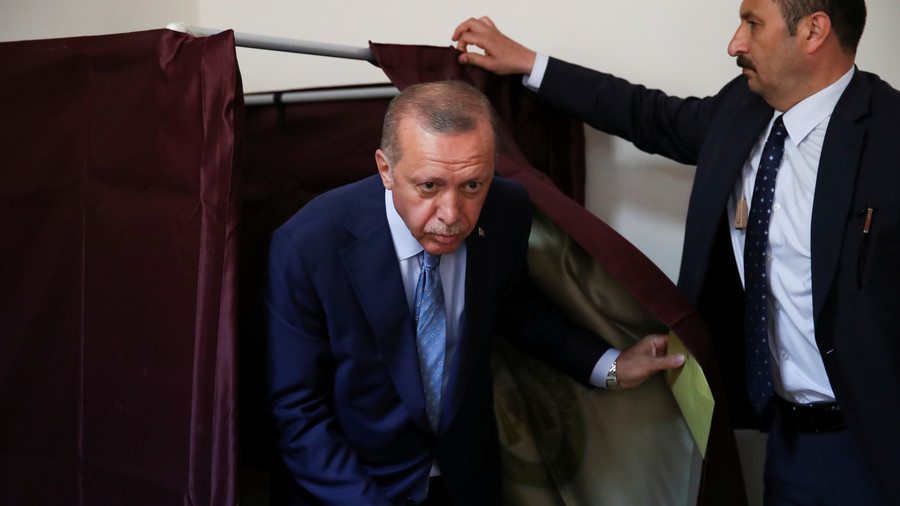 Incumbent Turkish President Recep Tayyip Erdogan has won the majority of votes, the head of the electoral board said. This would mark the second consecutive term for Erdogan, but the first one under "a new system."
With over 97.2 percent of votes counted, the head of Turkey's High Electoral Board (YSK) says Erdogan has secured more than 50 percent of the votes needed for the victory.
In the parliamentary election, his AK Party is also in first place with over 45 percent. The pro-Kurdish People's Democratic Party (HDP) will also enter the parliament after passing the 10 percent threshold, according the board's head, Sadi Guven. Turnout was at 87 percent for both polls, preliminary data shows.
Erdogan's closest competitor, Muharrem Ince, has secured over 29 percent of the vote. His Republican People's Party (CHP) placed second with nearly 21 percent.
It almost sounds too insane to be believed, but Saudi Arabia's move to further isolate neighboring Arab rival Qatar
by literally turning it into an island
is but the latest in an intense year long feud between the two countries that has already produced its fair share of bizarre headlines.
Tiny but ultra-wealthy Qatar is a peninsula which shares a 37.5 mile border (60km) with Saudi Arabia on the kingdom's northeast side and juts out from the Arabian peninsula about 100 miles into the Persian Gulf.
Saudi media revealed this week the kingdom is quickly moving forward with ambitious plans to dig a 200 meter wide and 15-10 meter deep canal the entire length of the land border, effectively creating 'Qatar island'
—
as some Mideast news sources are already calling it.
Of course, the Qataris don't appear to have a say in their own country's geographic fate, and
the Saudis and Emirates further plan to locate nuclear waste sites and a military base along the proposed canal to boot.
The aerial photos of ISIS' territory north of

#

Deir_ez_Zor

where

#

USA

special operation troops are seen

s.mil.ru/2jUyo2p
The Russian Defense Ministry has released aerial images allegedly showing ISIS, the SDF, and US special forces working side-by-side on the battlefield against Syrian and Russian forces in Deir el-Zour, Syria.
The Russian Defense Ministry has released aerial images allegedly showing ISIS, the SDF, and US special forces working side-by-side on the battlefield against Syrian and Russian forces in Deir el-Zour, Syria.
As Adam Garrie reports, via The Duran, it has long been thought that the US proxy militia SDF is operating in collusion with ISIS in various parts of Syria. This has especially been the case in respect of Deir el-Zour. In Deir el-Zour, the Russian Defense Ministry has previously stated that the Syrian Arab Army and their allies are fired on most intensely from positions known to be held by the SDF.
Furthermore, Russian Defense Ministry Spokesman Major General Igor Konashenkov recently stated,
SDF militants work to the same objectives as Daesh terrorists. Russian drones and intelligence have not recorded any confrontations between Daesh and the 'third force', SDF".
Indian refineries bought a record 27.2 million tons of Iranian crude oil in the past financial year, which wrapped up in March 2018.
India plans to make some oil payments to Iran in rupees in a bid to avoid US economic pressure on Tehran, according to several Indian government sources quoted by Reuters.
"
We are looking at reviving a rupee mechanism… we have to prepare ourselves," one of the sources told Reuters.
Senator Rob Portman (R-OH) and Rep. Ed Royce (R-CA) have penned a letter to Treasury Secretary Stephen Mnuchin urging him to pressure world leaders to ban Iran from accessing international financial systems, after it was revealed that the Obama administration covertly helped Tehran sidestep international sanctions and potentially tap into billions in hard currency
Another source said that India's Central Bank is yet to make a final decision on returning to the rupee payments for Iranian oiдю
Italian officials are digging their heels in over EU migration after League leader and Interior Minister Matteo Salvini branded French President Emmanuel Macron "arrogant" for trying to downplay Europe's migration crisis, while Italian Deputy Prime Minister Luigi Di Maio said that Macron risks making France Italy's "number one enemy on this emergency" in a Saturday Facebook post.
In our preview of Sunday's now-concluded emergency EU meeting on refugee policy which the FT dubbed "The summit to save Merkel", we said that the German chancellor fate could be decided as soon as today should a newly populist Italy present a set of insurmountable demands on how to deal with Europe's migrant problem. And judging by the opening salvo, the odds of Merkel's political career just slumped after Italy's prime minister Giuseppe Conti demanded the EU rip up its system for dealing with migrants, laying bare seemingly insurmountable divisions in the bloc over migration policy.
The hastily-gathered meeting, a segue to the formal EU summit scheduled for June 28 in which migration will be the key topic, was requested by Berlin as a chance for Ms Merkel to press for stronger powers for countries to send back asylum seekers already registered in another EU country: a key condition in an ultimatum that was handed to Merkel last week and which threatens her tenure as chancellor.
In other words, Merkel was testing the water to see how much of a political case she can formally make at the international level on Thursday, one that supposedly saves her career domestically.
She was, however, stunned after the Italian prime instead called for "radical change" in the EU's so-called Dublin principle that makes frontline countries such as Italy responsible for dealing with asylum claims and allows for registered asylum seekers that move on to another country to be sent back to the state they landed in.