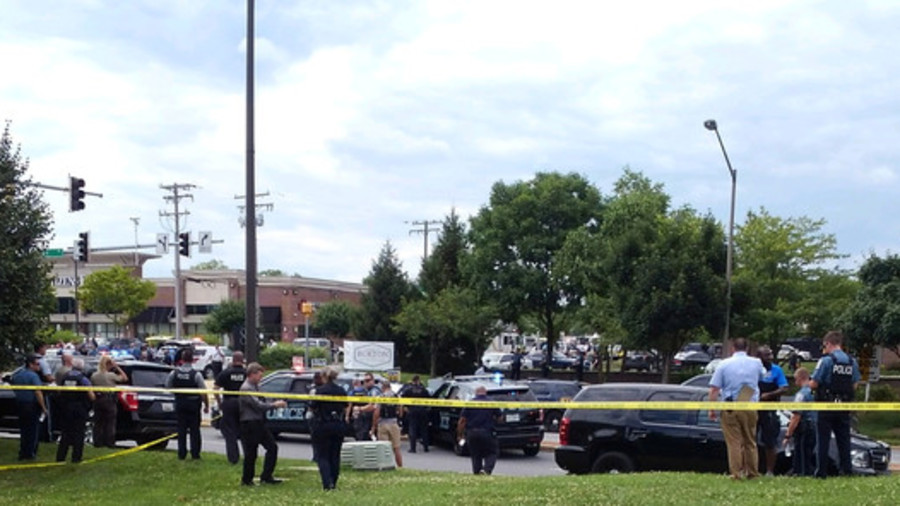 Five people have been shot dead and several more injured by a gunman at the offices of Capital Gazette, a newspaper in the Maryland capital of Annapolis. The attacker seemed to have targeted the paper deliberately, police said.
"
There are several people who have died," Anne Arundel County executive Steven Schuh told reporters on Thursday afternoon. "The shooter is in custody and being interrogated."
"
We do have fatalities and we do have serious injuries," acting police chief Bill Krampf said. He confirmed later that five people have died, and three were injured.
The shooting was a "targeted attack" and the suspect's "intent was to cause harm," Krampf said at a press conference Thursday evening. He said that threats that "indicated violence" were sent to the Gazette this morning via social media, and that the newspaper itself seemed to be the target rather than a specific employee.
Active Shooter Drill in Annapolis
The City of Annapolis Police and Fire Departments held an active shooter drill Friday morning at St. Mary's High School
Powerful "swing vote" Justice announces his imminent departure, clearing way for President Trump to add conservative Justice to the Court
Supreme Court Justice Anthony Kennedy will retire from the highest U.S. court, giving President Donald Trump another chance to fundamentally reshape the top of the judiciary.
In a letter to Trump dated Wednesday, Kennedy said he would step down.
"
For a member of the legal profession, it is the highest of honors to serve on this Court," he wrote. "Please permit me by this letter to express my profound gratitude for having had the privilege to seek in each case how best to know, interpret and defend the Constitution and the laws that must always conform to its mandates and promises.
The president's first nominee to the court, conservative Justice Neil Gorsuch, has already had an enormous effect on U.S. policy in rulings this week related to Trump's ban on travel from certain countries, abortion and labor unions.
Rep. Maxine Waters (D-Calif.) has canceled weekend events in Alabama and Texas due to a "very serious death threat," according to a statement reported by CNN Thursday.
The threat follows Waters' controversial call to protesters to confront members of the Trump administration in public over their support for the president's zero tolerance policy against immigrants.
Waters' statement says she received an increased number of hate calls and death threats after President Donald Trump attacked her on Twitter Monday and in a series of other comments
Facing a grilling during the House Committee on the Judiciary hearing this morning, Deputy Attorney General Rod
Rosenstein refused to say whether or not any member of the Obama administration tried to undermine President Donald Trump's campaign
leading up to the 2016 presidential election.
A visibly frustrated Rep. Trey Gowdy (R-SC) unleashed on Deputy Attorney General Rod Rosenstein and FBI Director Chris Wray during Congressional testimony on Thursday, lashing out at FBI agent Peter Strzok's bias against Donald Trump while investigating him - before telling Rosenstein that the ongoing Russia investigation is tearing the country apart.
The Capitol Police charged approximately 575 people with unlawfully demonstrating in the atrium of the Hart Senate Building. They are being processed on the scene and then released.
More than a thousand female protesters, joined by Democratic senators, marched two miles down Pennsylvania Avenue to protest the Trump Administration's family detention and separation policies, and demanded the abolishment of Immigration and Customs Enforcement, ABC reports. The walk ended in the Hart Senate building, where Capitol Police arrested many of them in response to an act of civil disobedience.
Chanting "WE CARE" and "ABOLISH ICE," the protesters are demanding Congress act to end Trump's policies that criminalize and detain undocumented immigrants and separate detained families. ICE is a common acronym for the U.S. Immigration and Customs Enforcement agency.
Day 1 did not go according to plan...
The EU Council has cancelled the press conference
at the end of Day 1 of the summit and in
a very diplomatic statement
, make it clear, it's Italy's fault...
The European Council this afternoon

had an exchange of views

with EP President Tajani and NATO Secretary-General as well as discussions on security and defence, jobs, growth and competitiveness, innovation and digital and other issues such as enlargement, MH-17 and MFF.
As one Member reserved their position on the entire conclusions, no conclusions have been agreed at this stage.
For this reason, the press conference by the EU institutional representatives has been cancelled and will instead take place tomorrow after the end of the Euro Summit.
They've even got video equipment on hand to record the incident so that it can be spread as part of their propaganda
The White Helmets are preparing a provocation with the use of chemical substances in Syria's Idlib Governorate, Major-General Alexey Tsygankov, Chief of the Russian Center for Reconciliation of the Opposing Sides, said on Wednesday.
"
The Russian Center for Reconciliation of the Opposing sides in Syria has received a telephone call from residents of Idlib province, who said the White Helmets organization is preparing a provocation. They said a convoy of six cars bearing the White Helmets logo had arrived in the city of Idlib on Sunday, along with a truck loaded with personal protective equipment, containers with liquid, video equipment and seven missiles. After their arrival, four persons unknown to local residents wearing special clothes and protective gear began equipping the missiles' heads with the liquid and powder they brought along with them," he said.
The senator from Hawaii said that his state aims to have "the most powerful combination of missile interceptors and radar systems anywhere."
A billion dollar antiballistic radar system is being planned for development in Hawaii in order to counter nuclear ICBM threats from somewhere. Even though, at the present moment, there aren't any threatening postures from nations with ICBM tech, the need to spend 1$ billion on detecting and combatting those ICBMs is apparently greater than ever before, at least according to some congressmen.
The oil market is on fire once again. On Thursday, crude spiked above $74 a barrel for the first time since late 2014.
The 13% surge over the past week has been driven by a confluence of bullish factors that will make American drivers cringe when they fill up their gas tanks.
•

Saudi Arabia agreed last week to go all in with production. Investors are betting the OPEC leader has little room to respond to a future crisis.
•

A major oil producer in Canada suffered a power outage, disrupting the flow of crude to the United States.
•

And President Trump stepped up his crackdown on Iran, the world's fifth biggest oil producer. The State Department is now insisting that other countries stop importing Iranian oil -- or face sanctions from Washington.
The end result: US crude jumped another 1.5% on Thursday and topped $74 a barrel.
All hell broke out on the otherwise sleepy downtown area of Lexington, Virginia, on Tuesday, thanks to the firestorm surrounding the owner of the Red Hen restaurant turning away Sarah Huckabee Sanders and her family on Saturday night. The restaurant is closed on Sunday and Monday, so Tuesday dinner service was the first time the restaurant would have normally been open since the controversy broke.
The Red Hen had planned to open at 5:00 p.m. as scheduled, however after both protesters and supporters of the business began showing up hours earlier in the afternoon, the restaurant remained dark throughout the evening. Initially, the Washington Post reports that it was just two men holding Trump banners and a confederate flag, but eventually the crowd grew so thick that police were forced to actually close off the street.