Secret Service on alert after actor calls for Trump's son to be put 'in a cage with pedophiles'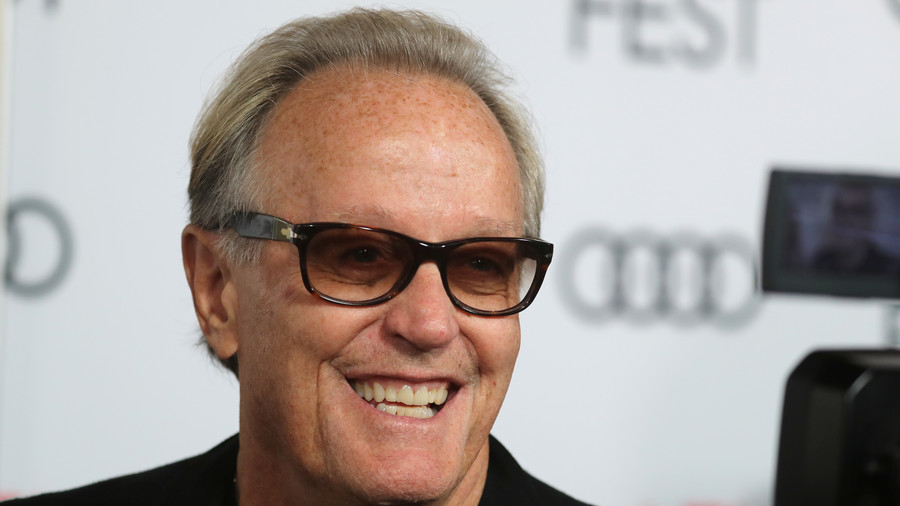 First Lady Melania Trump has notified the Secret Service, after actor and activist Peter Fonda called for her son Barron to be kidnapped and imprisoned with pedophiles in an unhinged Twitter rant.
"
The tweet is sick and irresponsible and [Secret Service] has been notified," t
he First Lady's spokeswoman Stephanie Grisham told the Daily Caller.
Fonda let loose on Twitter in protest over the Trump administration's
"zero tolerance"
immigration enforcement practices, which have seen 2,000 children separated from parents at the US-Mexico border.
During the multiple-tweet rant, Fonda suggested that Trump's 12-year-old son Barron should be ripped away from his mother Melania and put
"in a cage with pedophiles"
to see if she will
"stand up against"
her husband then.
WE SHOULD RIP BARRON TRUMP FROM HIS MOTHER'S ARMS AND PUT HIM IN A CAGE WITH PEDOPHILES AND SEE IF MOTHER WILL WILL STAND UP AGAINST THE GIANT ASSHOLE SHE IS MARRIED TO. 90 MILLION PEOPLE IN THE STREETS ON THE SAME WEEKEND IN THE COUNTRY. FUCK
—

Peter Henry Fonda (@iamfonda)

June 20, 2018
Fonda appears to be referencing allegations that migrant children are
being held
in what the American Immigration Lawyers Association (AILA) has said are
"highly inappropriate and even unsafe"
circumstances with adults they do not know and
"without the proper privacy"
that they need.
But Fonda didn't stop there. Next he directed his ire at the Department of Homeland Security Secretary Kristjen Nielsen, calling her a
"lying gash"
that should be
"put in a cage and poked at"
by people walking past.
"The gash should be pilloried in Lafayette Square naked and whipped by passersby while being filmed for posterity,"
the actor wrote.
In his next tweet, Fonda took aim at White House Press Secretary Sarah Sanders, also calling her a
"lying gash"
and clarifying that the word
"gash"
is
"much worse than c**t"
and suggesting that her children should be taken away from her.
Kristjen Nielsen is a lying gash that should be put in a cage and poked at by passersby. The gash should be pilloried in Lafayette Square naked and whipped by passersby while being filmed for posterity.
—

Peter Henry Fonda (@iamfonda)

June 19, 2018
SS (Sarah Sanders) is a lying gash, too. And "gash" is much worse than cunt. Maybe we should take her children away and deport her to Arkansas, and giving her children to Stephen Goebbels Miller for safe keeping.
—

Peter Henry Fonda (@iamfonda)

June 19, 2018
In another tweet, Fonda attacked White House senior advisor Stephen Miller, adding
"Goebbels"
into the middle of his name, a reference to Nazi Germany's infamous propaganda minister Joseph Goebbels.
Fonda urged his followers to find the addresses of Immigration and Customs Enforcement officers and
"surround their homes"
in protest. He then suggested that people should go to the schools of the ICE official's children to
"scare the s**t out of them."
WE SHOULD HACK THIS SYSTEM, GET THE ADDRESSES OF THE ICE AGENTS CBP AGENTS AND SURROUND THEIR HOMES IN PROTEST. WE SHOULD FIND OUT WHAT SCHOOLS THEIR CHILDREN GO TO AND SURROUND THE SCHOOLS IN PROTEST. THESE AGENTS ARE DOING THIS CUZ THEY WANT TO DO IT. THEY LIKE DOING THIS. FUCK
—

Peter Henry Fonda (@iamfonda)

June 20, 2018
Sounds great. We don't have to take the agents kids, we only need to surround their schools and scare the shit out of them and worry the fuck out of the agents frm CBE ICE & REGULAR BORDER PATROL AGENTS. WE NEED TO SCARE THE FUCK OUT OF THEM! NEED TO MAKE THEIR CHILDREN WORRY NOW

https://t.co/z3YqCtVI0I
—

Peter Henry Fonda (@iamfonda)

June 20, 2018
While Fonda saw some support for his rant and engaged with his followers about how to start a huge countrywide protest against the Trump administration's policies, others were not so happy about his approach.
TV presenter Piers Morgan tweeted that, while he too found the child-separation policy
"abhorrent"
, Fonda's response to it was
"disgusting too"
.
A number of conservative commentators criticized Fonda for his "deranged" meltdown, calling him"unhinged" and "unstable".
Fonda apparently didn't notice that Melania Trump had in fact spoken up for keeping families together, along with Trump's daughter Ivanka, who works as an adviser at the White House.
"
Mrs. Trump hates to see children separated from their families and hopes both sides of the aisle can finally come together to achieve successful immigration reform,"
Grisham told CNN on Sunday.
"She believes we need to be a country that follows all laws, but also a country that governs with heart."
Some reprehensible behaviour from the liberal "Left". But then there is this from the Right.
Be sure to tune-in tonight at 9:00 PM eastern U.S. time (GMT -0400) to her the latest edition of "The Hal Turner Radio Show" on WBCQ 7490-AM and WRMI 9455-AM worldwide shortwave. …..
On tonight's show: The radical leftists in America are now protesting Trump Administration Officials as they eat dinner, driving them OUT of restaurants! Worse, they are arranging to engage in protests at the HOMES of folks too!
Soooooo, on tonight's show I will talk about:
REVEALING THE HOME ADDRESSES OF LEFTISTS - ACTORS, ACTRESSES, TV SHOW HOSTS, NEWS PEOPLE, POLITICOS, ANTIFA AND MORE, TO ALLOW PRO-AMERICAN TRUMP SUPPORTERS TO GO PROTEST LEFTISTS AT THEIR HOMES!
Some of these lefties have had more than 18 months to get over losing the election, but they just keep right on whining. In fact, they're getting worse.
They get on TV, on radio, take to the streets in a seemingly never-ending crying jag. I wonder if it's time to bring a response directly to them, where they live?
Maybe this could be a weekly feature on my show
http://halturnerradioshow.com/index.php/news/world-news/2724-tonight-wed-at-9-00-pm-eastern-time-the-hal-turner-radio-show