North Korea Launches New (Unidentified) Missile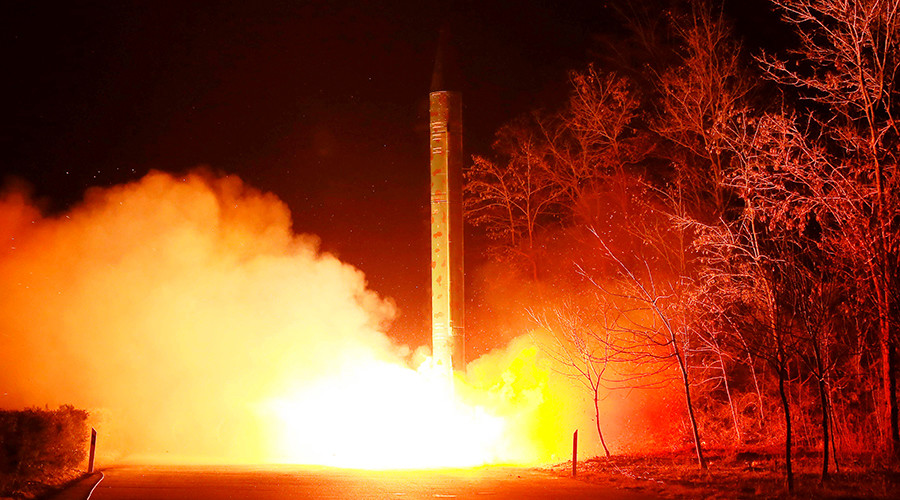 On Sunday North Korea fired an unidentified projectile from a region near its west coast, South Korea's military said, a development that was confirmed by U.S. officials. (North Korea is 12 1/2 hours ahead of US east coast.)
The nature of the projectile is not immediately clear, a South Korean military official said by telephone.
Yonhap news agency reported the projectile launched appeared to be a ballistic missile. Three U.S. officials also confirmed to SuperStation95 the country launched a projectile.
The launch took place at a region named Kusong located northwest of the capital, Pyongyang, where the North previously test-launched its intermediate-range missile it is believed to be developing.
The launch, if it is confirmed to be test-firing of a ballistic missile, is the first in two weeks since the last attempt to fire a missile ended in a failure just minutes into flight.
The North attempted but failed to test-launch ballistic missiles four consecutive times in the past two months but has conducted a variety of missile testing since the beginning of last year at an unprecedented pace.
Weapons experts and government officials believe the North has accomplished some technical progress with those tests.
The missile trajectory has not yet been released, but it is believed the launch remained exclusively over North Korea territory.
Pyongyang fires 'unidentified projectile' – South Korea's military
North Korea has launched an "unidentified projectile" that is believed to be a ballistic missile which flew around 700 kilometers, South Korea's Joint Chiefs of Staff has said.
"North Korea launched a ballistic missile at 5:27am this morning in Pyongan Province,"
South Korea's Joint Chiefs of Staff said, adding, that it is now analyzing the launch.
Chief Japanese Cabinet Secretary, Yoshihide Suga, called the latest test a violation of UN resolutions as he and Prime Minister Shinzo Abe condemned the move and issued a strong protest over North Korea's actions.
Japan's Chief Cabinet Secretary
said
North Korea launched the ballistic missile which flew for about 30 minutes before crashing into to the Sea of Japan. Suga added that the missile appears to have fallen outside of Japan's exclusive economic zone (EEZ). Pyongyang's ballistic missile flew around 700 kilometers, South Korea's military said,
according
to Yonhap.
North Korea's alleged ballistic missile test is the country's first since South Korea elected Moon Jae-in as their new president. Saturday's launch follows two previous failed attempts last month.
Japan may host Tomahawk-compatible launchers to counter N. Korea missile threat – report
T
he reported launch comes amid rising tensions in the region and a US military buildup in response to the North Korean nuclear and ballistic threat. In an attempt to deter Pyongyang from more nuclear and missile tests, the US has sent a group of American warships, led by an aircraft carrier, to the region while conducting war games with their regional allies. Last month, Washington also positioned elements of the THAAD anti-missile system on the Peninsula.
While military option against North Korea remains on the table, Washington is also pursuing diplomatic channels to address the issue. In particular, the US has persuaded China to apply more pressure on its communist neighbor.
China and Russia have condemned North Korea's missile and nuclear tests, but both countries insist on resuming the stalled six-party talks initiative to solve Pyongyang's nuclear issue.
The US meanwhile, has been threatening the North Korea with additional sanctions. On Friday, Pyongyang appealed to the United Nations to reconsider implementing any new measures, accusing Washington of "openly threatening [other] member nations" to implement economic pressure on North Korea.
"
It will be only a laughing stock of the international community that with hysteria about sanctions, the US has mistaken even ordinary restaurants run by the DPRK abroad for nuke or ballistic rocket manufacturers,"
the statement from the North Korean UN mission carried by KCNA said, ridiculing Washington's push for further sanctions.