It feels like 60C (140F) Indian temperatures hits deadly limit as high humidity increases danger

Photo hindustantimes.com

The maximum temperature recorded on Sunday was 44 degrees Celsius, breaking all records - and the coming days will offer no relief to locals.

According to the MeT department, the temperature is going to stay at a sweltering 44 degrees till Wednesday.

"The heat waves will continue to haunt the residents for few more days.
The mercury might drop a little by the end of this weekend," a senior official from the MeT department said.

With the rise in humidity levels, cases of viral fever, diarrhoea, heat stroke and chicken pox have also increased.
Graph Wikipedia Click on image

For example, if the air temperature is 96 °F / 36 °C and the relative humidity is 65%, the heat index is 121 °F / 49 °C.

Various hospitals in the city are witnessing a sudden spike in the number of patients.

Acute diarrhoea is usually caused by a bacterial, viral, or parasitic infection.
Diarrhoea can cause dehydration, which is harmful to many key bodily functions including muscle activity.

Dr AK Shukla, senior consultant, internal medicine, Kailash Hospital, Sector 27, Noida, said of the increase in patients:

"Most of them are diagnosed with serious conditions.

Low blood pressure, watery stool, severe vomiting and dehydrations are some of the symptoms.

In one of the cases, a patient also suffered from kidney dehydration.

Doctors are advising people to avoid eating stale food and maintain proper hygiene in order to stay protected from water-borne diseчase.

"Around two-three patients diagnosed with diarrhoea require admission daily.
It is advisable not to consume any food from outside, people should eat homemade food and drink only boiled water in this season," said Dr Ajay Aggarwal, head of department, internal medicine, Fortis hospital, Sector 62, Noida.

Doctors have warned that this weather will continue for at least a month, so people should not take any symptoms lightly.

The onset of the monsoon over Kerala is likely to be delayed by six days beyond its scheduled date of June 1, the Indian Meteorological Department (IMD) said on Sunday.

This is expected to delay monsoon in other parts of the country as well.
"Forecast suggests that monsoon onset over Kerala this year is likely to be slightly delayed.

The Southwest monsoon is likely to set over Kerala on June 7 with a model error of plus or minus four days," the IMD said in its onset forecast for monsoon, released on Sunday. June 1 is the official onset date of the monsoon in India, when it is expected to hit Kerala.

The forecast of the monsoon's onset has proved to be correct during the past 11 years (from 2005-2015), except in 2015.

This includes the error margin of plus or minus 4 days.

IMD director general Laxman Singh Rathore said the delay in the monsoon was not an unusual phenomenon.

However, he said there would be some relief to South Indian states from the intense heat as there could be some rainfall in the coming days.

"Currently there is a low pressure area in the Bay of Bengal which will become a depression and hit Tamil Nadu coast by tonight.

This will bring good amount of rainfall to the state, parts of South Interior Karnataka and parts of Kerala," Rathore said.

Skymet, a private forecasting agency,had forecast that the monsoon would hit Kerala between May 28 and 30.

The IMD has already made a forecast that the monsoon will be above normal this year.

The monsoon season delivers 70 per cent of India's annual rainfall, which is crucial for agriculture and economic growth that has been hampered by back-to-back droughts.

The meteorological department in April had forecast an above-average monsoon for the year.
Wet Bulb Temperature and the threat it poses in a time of Abrupt Climate Change
In a recent study with Matt Huber, we showed that it doesn't take that many degrees of global warming to permit peak heat summertime heat stress to (occasionally) become unsurvivable, in many parts of the world that are currently highly populated.
We came to this conclusion by considering a meteorological quantity called the
wet-bulb temperature
. You measure this quantity with a normal thermometer that has a damp cloth covering the bulb. It is always lower than the usual or "dry-bulb" temperature; how much lower depends on the humidity. At 100% humidity (in a cloud or fog) they match. In Sydney and Melbourne, even during the hottest weather, the wet-bulb usually peaks in the low 20's C. The highest values in the world are about 30-31C, during the worst heat/humidity events in India, the Amazon, and a few other very humid places.
Sri Lanka landslide buries three villages; death toll unknown
A landslide in Sri Lanka, triggered by more than three days of rain, buried three villages in a central district and the death toll is yet to be determined, government officials and area residents said on Tuesday.
Torrential rains have forced more than 137,000 people from their homes so far and killed at least 11.
Rohan Dias, a deputy police inspector, said rescue operations at the villages in the central district of Kegalle was continuing in the night.
"There were about 150 families in those villages and we don't know how many survived," Dias told Reuters.
"There are about 800 people gathered in the nearby temples including the people from the neighboring villages fearing their villages could also be affected. There are another 400 people in the roads who have come to see their relatives."
W.M. Abeywickrema, Kegalle district secretary, told a local private channel that around 400 people had been rescued so far.
"I saw a whole rock came down and buried many houses. There are people inside," one middle-aged woman told the channel.
Military Spokesman Jayanath Jayaweera said 174 service personnel and 8 army officers had been deployed to the rescue area in Aranayaka in Kegalle district.
Troops also have launched rescue operations in inundated areas of the Indian Ocean island, with boats and helicopters pulling more than 200 people trapped in the northwestern coastal district of Puttalam to safety, officials said.
"This is the worst torrential rain we have seen since 2010," said Pradeep Kodippili, a spokesman for the disaster management center. Nineteen of Sri Lanka's 25 districts have been hit.
Heavy rains have also struck the neighboring Indian states of Tamil Nadu and Kerala. More than 100 houses were damaged in coastal Kerala and about 50 families had been shifted to a relief camp in the state capital, Thiruvananthapuram, a state official said.
The weather department has forecast heavy rains across Tamil Nadu over the next two days and warned fishermen not to go out to sea.
Flooded roads and fallen trees led to traffic jams in the Sri Lankan capital, Colombo. Trains were halted as water submerged railway tracks, officials said.
Flooding and drought are cyclical in Sri Lanka, which is battered by a southern monsoon between May and September, while a northeastern monsoon runs from December to February
17 People Killed, 4 Missing in Western Indonesia Floods
Rescuers on Monday found the bodies of 17 people who were among 20 university students and two guides who went missing in rain-triggered floods and landslides at a popular waterfall in western Indonesia, an official said.
One student was found alive and was being treated at a hospital, said Darwin Surbakti, an official from the local Disaster Management Agency. The search for the four people still missing was to be resumed Tuesday.
"Rescuers have discovered 17 bodies, of which 14 have been recovered while three others are still under the rubble," Surbakti said.
The disaster occurred Sunday as more than 70 students were visiting the Dua Warna waterfall in Sibolangit in North Sumatra province.
Six bodies were found about 3 kilometers (2 miles) downstream from the waterfall, Surbakti said.
In Jakarta, Sutopo Purwo Nugroho, spokesman for the National Disaster Management Agency, said 300 rescuers including soldiers, police and teams from the National Search and Rescue Agency had been mobilized to search for the victims.
Seasonal rains often cause flooding and landslides in Indonesia, a chain of 17,000 islands where millions of people live in mountainous areas or flood-prone plains close to rivers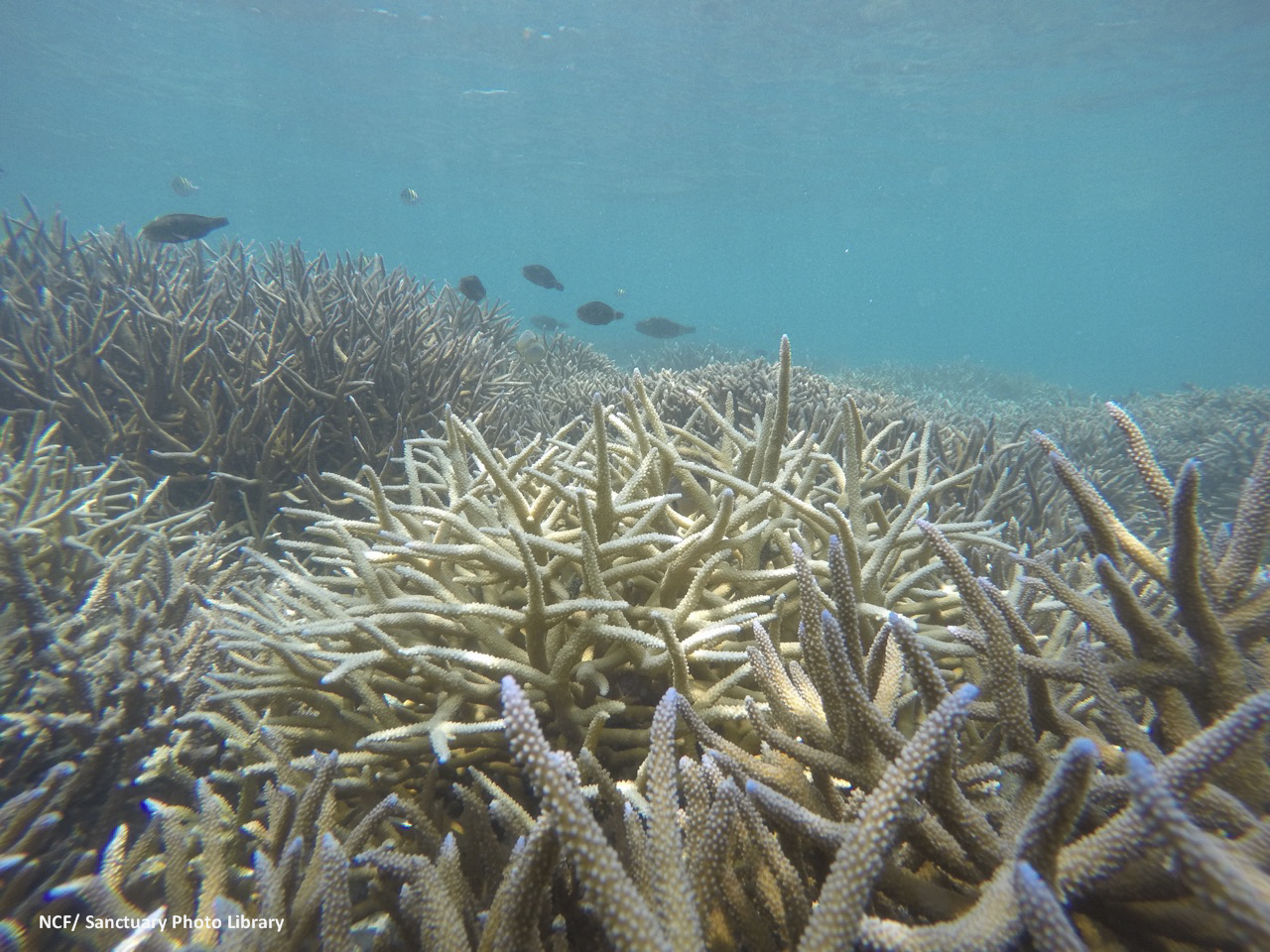 Last month, scientists reported that Australia's Great Barrier Reef corals were experiencing "the worst mass bleaching event in its history". Of the 500 coral reefs they observed while flying over 4,000 kilometers (~2,485 miles) of the Great Barrier Reef, only four reefs did not show any sign of bleaching. Terry Hughes, convenor of Australia's National Coral Bleaching Taskforce, called it the "saddest research trip" of his life.
Other scientists have called the underwater sight of widespread bleaching "catastrophic".
In other parts of the world too, similar "catastrophic" scenes are playing out. Off the south-western coast of India, the lesser-known coral reefs of the Lakshadweep Archipelago in northern Indian Ocean are struggling to survive.
A small team of six field biologists from the Nature Conservation Foundation in India, have observed soaring sea surface temperatures and widespread coral bleaching this year. In every reef that the team has surveyed in 2016 so far, corals are turning white or pale. Moreover, the heat stress has already killed many corals in the region, the team said in a statement.
Lakshadweep's corals are not new to bleaching. In 1998 and 2010, similar El Niño events have had calamitous impacts on the reefs. While the Lakshadweep reefs recovered from the 1998 event, recovery following the 2010 event has been slower. And with the ongoing El Niño event, scientists are seriously concerned.
"

We are currently halfway through a mixed recovery from the 2010 El Niño event, and we were only now beginning to see the first signs of regrowth in some areas," Rohan Arthur, who heads NCF's reef program, told Mongabay. "This makes the present El Niño even more heart wrenching since it has hit the Lakshadweep before these reefs have had the ability to recover completely from the last catastrophic disturbance."
But Arthur is also hopeful. He said that Lakshadweep's reefs have recovered in the past (following the 1998 El Niño event), and the reefs could show resilience once again.
Mongabay spoke with Arthur about the state of coral reefs in the Lakshadweep Archipelago and their ability to bounce back.
Beyond India: There's drought on five continents and it's breaking records
As 2016 continues to break all temperature records, taps and wells around the world are running dry
Sctoll,in
India is in the grip of a drought that in some parts of the country has been going on for five consecutive years. Scientists attribute the successively weaker monsoons to the El Niño effect, a warming of temperatures in the Pacific Ocean, off the coast of South America, that skews wind and pressure systems around the world.
With the El Niño finally on the wane since January, researchers now suggest that it will be followed by a La Nina phenomenon, characterised instead by cooling Pacific temperatures and for India, more rain.
But the weather formation's impact has not been limited just to the Indian monsoon. It is also among the reasons that every month since May 2015 has broken temperature record highs and why severe floods and droughts have been recorded around the world.
Acute water distress of any kind triggers migrations. The longer the drought, as the example of Syria shows, the worse the exodus and resulting violence. As this daily drought risk map by El Dorado Weather shows, pretty much every single continent apart from the poles has regions facing crippling droughts.
World Wide Daily Drought Risk Map. Photo credit: El Dorado Weather
Africa
On Wednesday, Kenya announced that it would shut down refugee camps in Dadaab, near its Somalia border. A severe drought in Somalia has left close to one million people, or nearly one in 12 people, struggling to meet their food needs, according to a United Nations reports. Tens of thousands have fled the country to the Dadaab

camp

.
Lesotho, Malawi, Mozambique, Swaziland and Zimbabwe in southern Africa are so near the brink that they have declared national drought disasters. Ethiopia, further north and the worst affected in terms of food, also happens to be in the middle of deep political turmoil. More than 36 million people are threatened by hunger across that part of the continent.
Namibia, on Africa's south western coast has also been suffering from a huge rainfall deficit. On Thursday, Coca Cola announced that it would stop all canned drink production in the country. Instead, to meet Namibia's demand, it will import these from neighbouring South Africa. Many parts of South Africa have not had rain for three consecutive years.
Asia
The heat waves that swept across India in March and April also affected South East Asia. Cambodia, Laos and Thailand, which all recorded temperatures up to 44.6 degrees centigrade. All countries have suffered agricultural losses, citizens are struggling to find water, and wild animals are dying of dehydration.
The situation there is so bad that China released water from one of six dams on the upper Mekong river in April. These dams are thought to have caused a water shortage in the downstream region in the first place. China itself has not been immune to droughts, with at least 110 cities reportedly facing severe water shortages.
Australia
The worst recorded drought in Australia's living memory finally broke after rain in January eased water stress in parts of Queensland. In May, rain finally brought relief to the country's northern region.
Researchers, however are concerned that Australia has underestimated just how bad its weather extremes can get. A recent study of an ice core in New South Wales has revealed that in the last millennium, the region had droughts lasting up to 12 years and periods of wet weather for 10. The longest drought recorded by humans in Australia was only eight years, during World War II, and the rest of the century too had seen milder extremes than there had been in the long term.
North America
Scientists found similar results by examining tree ring data in British Columbia in Canada as well. They found 16 droughts worse than the standards scientists use today to declare droughts in Canada. While current standards are based on around 50 years of meteorological information, the tree ring study went back 350 years.
A massive forest fire that caused more than 80,000 residents of Fort McMurray to flee their homes early in May is still raging in Alberta, Canada. The cause of the fire was unusually dry and warm conditions triggered by the El Niño.
Temperatures were almost 100% above normal. In 2015, Canada got only 65% of its long-term average rainfall. Contrast that with India's southwest monsoon, which ended in October at 86% of the long-term average.
The worst drought in the history of California in the United States has only just about broken its grip, with snow finally falling in its Sierra Nevada mountains. State administration, however, has no plans of easing water restrictions and instead made some of its emergency water cuts permanent in an announcement on May 9.
South America
A two-year drought in south east Brazil just ended after heavy rain in January finally replenished reservoirs there. The drought, which was Brazil's worst in 80 years, led to severe water shortages in São Paulo and Rio de Janeiro, two of the largest cities of the southern hemisphere.
Like India, large parts of Venezuela have been drought-hit for three consecutive years. As it happens, Venezuela is also one of the worst affected by the Zika virus in its surroundings, as an article in
The Atlantic
points out. How does the virus spread? Through mosquitoes that breed in stored water – being used to slake thirst.
In January, Venezuelan water minister Ernesto Paiva announced an "extraordinary plan" to tackle the water shortage. These "extraordinary" measures include rationing water, preventing pipeline leaks and ending illegal water use. There is no indication of how well they have worked