Record Heat hits Central Queensland
Records have been shattered through Central QLD amongst sizzling May heat
Temperatures have scorched through Central QLD (Capricornia / Central Coast and Whitsunday's), where some locations not only were up to 8ºc above average but also obliterated long standing May records.
The heat has come about from a surface trough which has been located from the Wide Bay, stretching North-Westwards to the back of the Ranges through Central QLD. This has allowed strong North to North-West winds to feed in over the Capricornia and Whitsunday region, and with minimal change in a seabreeze… temperatures were allowed to soar and continue soaring to unprecedented levels for this time of year.
So you might be wondering exactly how hot it got?
St Lawrence (half way between Mackay and Rockhampton) took home top prize for heat with a sizzling 35.5ºc, this obliterated their May record of 32.0ºc and was 8.8ºc above the May average. Rockhampton recorded a baking 34.4ºc shortly after 1:30pm this breaks their previous record of 32.6ºc and is also about 8ºc above average.
Mackay Airport with 31.4ºc, Mackay township with 29.9ºc, Gladstone Airport 33.4ºc, Gladstone township 32.5ºc and Yeppoon 33.0ºc also all broke May records and were in the vicinity of 6+ degrees above average.
The Central Highlands were also given a taste of the heat with Emerald nearing 34ºc and Moranbah nearing 35ºc earlier this afternoon.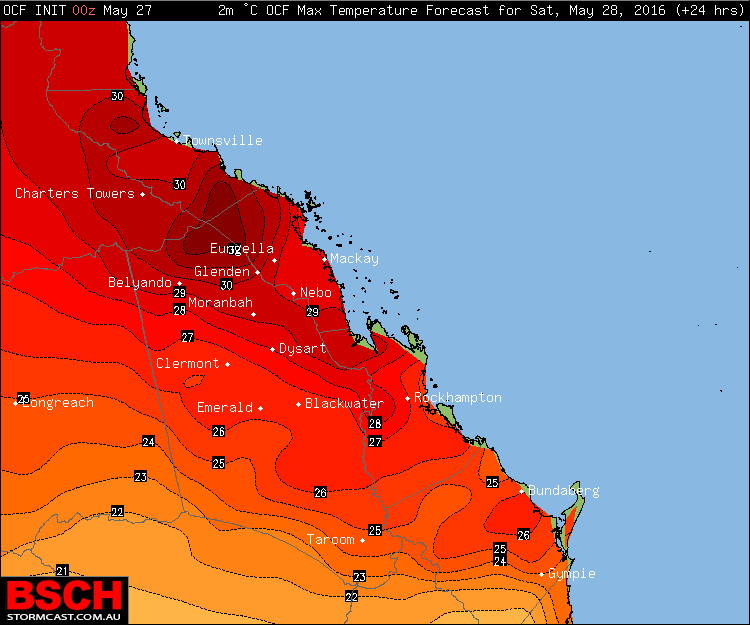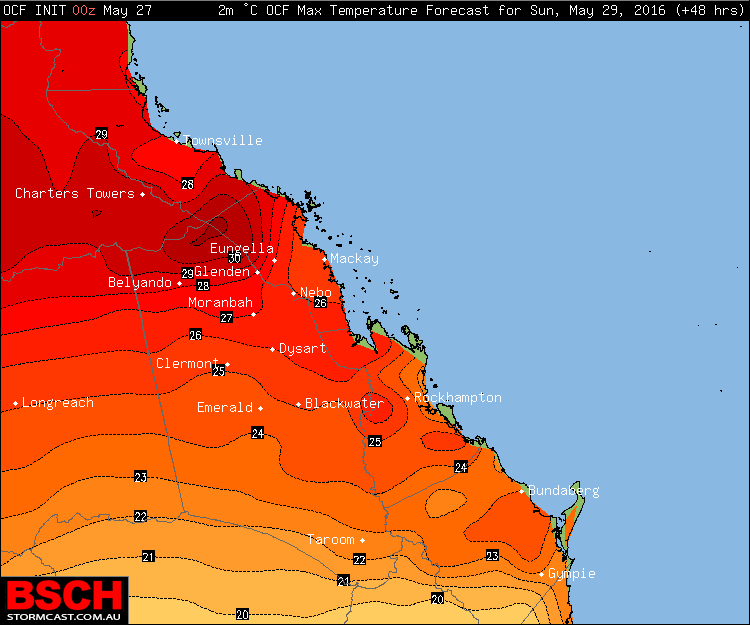 When its the cooling coming then? smashing 33-36ºc during May is unprecedented for these regions, let along smashing it at the end of the Month and only a few days out from the official start to Winter.
The trough responsible for today's record breaking heat should continue to move North very slowly. So temperatures are likely to remain elevated tonight (as of 8pm its still 28ºc in Rockhampton). Areas North of Mackay should experience up to 34ºc heat on Saturday which will no doubt challenge if not break more records (just to add to a record breaking month for QLD in general) and these areas should cool back to 31ºc on Sunday. Areas South of Mackay however are expected to return back to average with temperatures in the mid 20's.
This may not seem like a whole lot, but the effects of the cool change should be felt more overnight rather than during the day. Overnight minimums through the Central Highlands and Western parts of the Capricornia are expected to drop into single digits for one of the first times in May (usually these areas can experience multiple nights below 10ºc before Winter). Coastal areas won't be as cold, but should still at least be at average if not slightly below with some possible light frost in and around the Thangool area on Monday morning.