I shall add to this over the course of the day
MH17: Alexander Borodai wanted to hand over remains, black boxes to Malaysia only : PM
PEKAN: Malaysia's strong principle on truth has made the country well respected not only by the super powers but also among the non-state actors such as the separatists in Ukraine, said Prime Minister Datuk Seri Najib Razak
For that reason, Najib said the Ukrainian separatist leader Alexander Borodai had agreed to hand over the bodies of the victims on the downed Malaysia Airlines flight MH17 and its two black boxes to Malaysia.
"He was only willing to give them to Malaysia (and not other countries)," he said at his Pekan parliamentary constituency's Aidilfitri open house at Taman Tasik Sultan Abu Bakar here today.
Najib said he took the risk to deal with the separatists in eastern Ukraine as he wanted to bring home the remains of Malaysian victims.
He said the inter-connected world has made countries like Malaysia exposed to conflicts that it was not involved.
Najib also said that he was touched when people of various backgrounds observe a minute of silence in respect of the MH17 victims yesterday.
The nationwide mourning, he said showed that Malaysians can unite during tragedy.
At the function, Najib and his guests also recited prayers and observe a minute of silence as a mark of respect for the MH17 victims.
This is from London's Financial Times
Trust in Kiev evaporates as fighting causes refugee exodus to swell
By Courtney Weaver in Kamensk-Shakhtinsky and Roman Olearchyk in Kiev
Last September Olga Laskireva dropped off her 20-year-old son in Kiev for his obligatory military service in the Ukrainian army. Nine months later she returned to the capital to pick him up and bring him home.
As residents of Krasnodon, an eastern Ukrainian town less than 20km from the Russian border, the Laskirev family has tried to stay neutral as the Ukrainian army and Russian-backed separatists battle for the Lugansk region. But over the course of four months of heavy fighting, they have begun to blame Ukraine's new president and the government in Kiev for the conflict.
"

Who gives a son a weapon so that he can go and shoot his own mother?" Ms Laskireva says. "That is not right."
When the artillery fire got so close to Krasnodon that the impact of a mortar shot sent Ms Laskireva's four-year-old daughter flying to the earth in the playground, she packed their bags and had a neighbour drive them to the first Russian hospital across the border.
Her husband and son have been forbidden to leave Ukrainian territory by the rebels, who are refusing to let any man between the ages of 18 and 60 leave the country. But, as far as Ms Laskireva is concerned, Kiev bears the greater blame.
"

I remember the hunger we had in the 1990s [after the collapse of the Soviet Union] – it was terrible," she says. "But at least the government wasn't shooting its own people."
As the Ukrainian army closes in on the rebel strongholds of Donetsk and Lugansk, it faces an enormous challenge winning back not just territory but the trust of the people who once lived there. Many say they have no desire to return once the conflict is over.
Four months of fighting have sent tens of thousands of civilians fleeing from the region. They have headed either towards central and western Ukraine or across the border to Russia. They have been living with relatives and friends or staying in tents or converted buildings and factories in makeshift refugee camps, sometimes with hundreds of others.
According to the Ukrainian military some 123,000 civilians have left eastern Ukraine and Crimea over the past few months to move other regions within the country. If those who have fled to Russia are included, the number is significantly higher.
The UN reports that 285,000 people have fled their homes in Ukraine because of the conflict, with 114,000 staying in Ukraine and 168,000 going across over the border.
Irina Ivakhnyuk, deputy director of the department of population at Lomonosov Moscow State University, said she believed the numbers are even greater. This is because many Ukrainians are unlikely to officially register their refugee status in Russia as all those doing so are required to stay on Russian territory for at least a year.
"

I know dozens of cases when Ukrainian citizens have come to their relatives or friends in Russia just to run away from the risks of the war for a while and did not register their refugee-like situation with the Russian authorities," Ms Ivakhnyuk said.
In depth
The exodus has raised questions over what the landscape of east Ukraine will look like after the fighting is over.
Coalmines, steel mills and other factories in the broader Donbass region are grinding to a halt as the fighting and exchanges of artillery cause sporadic power outages. Donetsk, the largest separatist stronghold, has become a ghost town by dusk. Even by 1pm most shops and restaurants have shut for fear of being hit by artillery shells.
In Lugansk, street battles have been waged all week in the downtown area as Ukrainian forces confront rebels. The city's electricity and water were cut off two weeks ago. Close to half of Lugansk's 400,000 residents are estimated to have fled.
While many residents of Donetsk and Lugansk began the conflict as impartial bystanders, the intensifying violence has put them in the way of shellfire in their residential neighbourhoods.
"

People are dying every day as each side accuses the other of shelling innocent civilians," said Olga, 32, who was fleeing the city of Lugansk this week by train. She said she had been unable to convince her pensioner mother to come with her. "She refused to leave. I don't know what will happen to her now," she said, fighting back tears.
Elena Antamonova, who fled Lugansk for the Russian border town of Kamensk-Shakhtinsky with her husband Sergei and young son, said their civilian neighbours had become casualties of the fighting. "They have killed a nine-year-old girl, her mother and father. These people are lying in a morgue now," Ms Antomonova said angrily.
Sitting in the hospital on the Russian side of the border where her daughter is receiving treatment for wounds sustained from her fall, Ms Laskireva says she loses sleep worrying about her son and husband. They must pass dangerously close to the fighting to commute to their jobs at the coal mine where they work.
Sometimes the shelling prevents them from getting to work. Sometimes it stops them leaving.
"

Everything was fine. There was some stability," Ms Laskireva says. "And now we have to run from our homes?"
She and her daughter have been sleeping side by side in twin hospital beds in a room occupied by other refugees. But this week they are due to be released.
"

Now," she says, "we do not know what to do."
Ukraine Crisis | Childrens Hospital Bombed by Ukr. Army
Angela Merkel - sociopathic
Just did a VoR interview where I openly called Angela Merkel and her government sociopathic as well as complicit and culpable for the mass murder and ethnic cleansing that the Kiev regime is doing in the Donbass. She has shown her full support with her visit and Triumph in Kiev today and her promise of a (paltry) 500m euros to "help rebuild the infrastructure (w some going to the refugees) in the Eastern Ukraine".
This shows clearly that 1) she knows full well the WW-2 level of destruction that is going on 2) signals a "green light" for the regime to continue what it is doing and 3) she even says she will fund the butchery by contributing to help clean up the mess and mop up the blood afterwards.
---Mark Sleboda
Merkel supports Ukraine power decentralization
German Chancellor Angela Merkel upholds the idea of the decentralization of power in Ukraine as a path to resolving the ongoing conflict in the east of the country, she said while on a visit to Kiev Saturday.
Merkel said that Berlin backs the Kiev-proposed plan on decentralization as an important step needed to let Ukraine's Russian speaking population feel more involved in the country's affairs.
"
What we [in Germany] mean by federalism is called decentralization in Ukraine. And that is what President [Petro Poroshenko] wants
," she told a joint media conference following the meeting with the Ukrainian leader. "
It's an important step to make the Russian population feel part of Ukraine and stay within Ukraine,
" she said, as cited by RIA Novosti.
In Merkel's view, Ukraine should proceed with the decentralization plan. However, she noted, appealing to Germany's experience would be wrong as there are certain difficulties.
What Germans understood by federalism was seen very differently in Ukraine where it was linked to a greater degree of independence "
that we don't want at all
," she said, according to Reuters.
Merkel's comments came shortly after her Vice Chancellor, Social Democrat Sigmar Gabriel, spoke out for federalization to be introduced in Ukraine once the conflict in the east of the country is settled.
"
The territorial integrity of Ukraine can only be maintained if an offer is made to the areas with a Russian majority,
" Gabriel said in an interview with the Welt am Sonntag newspaper which coincided with Merkel's visit to Kiev. "
A clever concept of federalization seems to be the only practicable way,
" the politician said. However, he added, a ceasefire should first be agreed.
Gabriel, who is also the Economy Minister, was one of the first German top-ranking politicians to suggest federalization as a solution to the Ukraine crisis. His comments came as surprise to many in Kiev as Poroshenko earlier ruled out such an option for his country.
According to Merkel, however, he meant what Ukrainians understand as decentralization.
Ukraine's Prime Minister Arseny Yatseniuk (R) meets with Germany's Chancellor Angela Merkel in Kiev August 23, 2014 (Reuters / Gleb Garanich)
The Chancellor's visit to Ukraine comes on the heels of a fresh round of tensions between Kiev and Moscow over the Russian humanitarian aid convoy which delivered food and other necessities to residents of the Lugansk region devastated by ongoing violent fighting.
Moscow's decision to order its convoy to cross into Ukraine Friday without Kiev's final approval triggered fierce criticism and accusations from the Ukrainian government and its western supporters, including the EU, the US, NATO, and Germany.Russia hit back accusing opponents of "hypocrisy" and maintaining it acted strictly within the frameworks of international law.
Merkel's plane landed in the Ukrainian capital Saturday as shelling in the east of the country continued, bringing new casualties among civilians, destruction and the worsening of the humanitarian disaster in the south east.
Opening the meeting with the German leader, Poroshenko called her Ukraine's "
good friend
" and "
strong advocate.
" He said they've spoken over 20 times within past two months, which helped Kiev "
protect its interests
," the presidential website reported.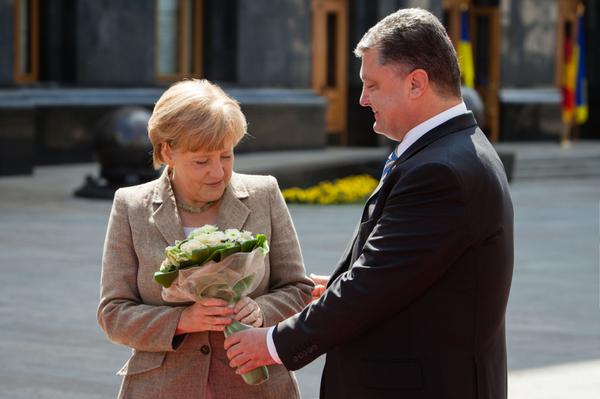 On the results of the talks, Merkel pledged that Ukraine will get 500 million euro (about $660 million) credit guarantee to restore infrastructure in the war-torn eastern regions. An additional 25 million will be allocated to help refugees from the regions hit by the violence.
Poroshenko said that he is set to submit to parliament for ratification a Ukraine-EU Association agreement signed in late June. The pact has played a central role in the conflict that led to months of violence in Ukraine. Protests, that later resulted in the ouster of President Viktor Yanukovich, began after he refused to sign the agreement fearing that Ukraine was not ready and the association could harm national interests.
Both Merkel and Poroshenko said they had high expectations for the upcoming talks between representatives of Ukraine, the EU, and the Customs Union (Russia, Belarus, Kazakhstan) on August 26 in Minsk. Merkel and Poroshenko said they hope the meeting will yield positive results.
Mission completed: Moscow confirms delivery of aid to E. Ukraine, trucks return to Russia
Russia's Foreign Ministry has confirmed humanitarian aid has been delivered to the besieged city of Lugansk in eastern Ukraine. Meanwhile all trucks that delivered aid had returned to Russia.
"We express our satisfaction that the Russian humanitarian aid for those in need in southeastern Ukraine has been delivered as intended. We were motivated only by the goal of helping civilian citizens in need,"

the statement read.
All trucks have returned empty, Ukrainian and Russian border guards confirmed, Russian Deputy Emergency Minister Eduard Chizhikov said.
"There were 227 trucks in the humanitarian operation participating in the operation, and they have all returned. All those vehicles have been searched by the representatives of the customs and border control, both on the Ukrainian and Russian side. No issues have been pointed out. All vehicles were empty upon returning, and the media representatives checked that, too, while they were filming the search,"

Chizhikov stated.
The Organisation for Security and Cooperation in Europe (OSCE) also confirmed that all 227 vehicles that entered Ukraine as part of a Russian aid convoy have now returned home.
The Russian Foreign Ministry also said that they were
"getting a lot of feedback from the residents of Lugansk, who were thankful for such a good attitude from the Russian part."
It also underlined that the Russian representatives of the Red Cross were in close cooperation with the leadership and employees of the International Committee of Red Cross (ICRC), and the ICRC has proved to be
"a responsible partner."
The Ministry has also reacted to the comment of NATO General Secretary Anders Fogh Rasmussen that the humanitarian convoy entered Ukraine without consent from the authorities in Kiev and ICRC involvement, describing his words as "another lie."
Russia's Defense Ministry has denied
"another portion of accusations"
by representatives of NATO against Russia. The latest claims include allegations that Russia directly involved its military and heavy weaponry in fighting on the Ukrainian territory.
"We've stopped paying attention to Mr. Rasmussen's empty talk and his press secretary. There is no point commenting on them. There is no proof there except Twitter,"

official representative of Russia's Defense Ministry Igor Konashenkov stated.
"I would like to remind you that the official powers of Mr. Rasmussen ended on July 31, and today he's acting not so much for the alliance, but as the organizer of the September 4 NATO summit in Wales. We understand that his prospects will depend on the promotion of that event,"

the statement also said.
The Russian Foreign Ministry confirmed
"the intention to continue cooperation with the ICRC in the efforts to provide the humanitarian aid for the residents of southeastern Ukraine."
The International Committee of the Red Cross (ICRC) has announced it's planning to expand its operations in eastern Ukraine.
"We are planning to expand our activities in Lugansk and eastern Ukraine as a whole. The ICRC team has begun assessing the needs,"

Anastasia Isyuk, the aid organization's spokeswoman, told Itar-Tass news agency.
Red Cross activities in the war-torn areas will be boosted as soon as the ICRC advance group, working in Lugansk since August 20, concludes its negotiations with the sides involved in the conflict, she said.
"They meet constantly with representatives of the warring sides despite continuous shelling, evaluate performance and assess the regions' needs,"

the spokeswoman explained.
Lugansk residents have already expressed hope that Russia will provide more humanitarian aid in the future, first vice premier of the Lugansk People's Republic Vasily Nikitin told RIA Novosti.
"We don't have any food left, and we hope that Russia won't leave us in this situation and these humanitarian convoys containing food will become commonplace. We hope for the help, and we need it,"

Nikitin stated.
It comes as all trucks have already returned to Russia after delivering the aid.
The convoy approached the Russian-Ukrainian border on August 14, and only entered Ukraine a week later, as Kiev had been postponing its final approval for the trucks to go ahead.