Victory for Brexit In EU


Referendum: Working Class


Brits Stick Two Fingers Up At


the Political and Financial


Elites
The vote to exit the EU has shocked the financial and political elites and led to massive turmoil on global stock markets. The corporate media is full of shocked pundits lamenting the democratic decision of British people for Brexit. Brexit voters are being blamed for everything from the rise in racism against immigrant families to the increased dangers of terrorist attacks.
The corporate media both in Britain and internationally are furious with the British electorate for voting for Brexit. They never saw it coming and still don't understand why ordinary people voted for Brexit. More than this, they still don't understand how the Brexit vote reveals how completely out of touch the corporate media and the political/financial elites are with the millions of working class people who voted for Brexit.
Let's be very clear about this: the vote for Brexit was a working class rebellion against the financial and political elites of Britain who have presided over a massive redistribution of wealth in favour of the super rich leaving a fifth of the population in poverty. Analysis of the referendum vote shows how the poorer an area was the higher the vote was for Brexit.
The working class stood up to massive pressure from the Bremain camp that included: all of the mainstream political parties, the Bank of England, CBI, IMF, ECB, Obama, the World Bank and the trade union bureaucrats.
The vote for Brexit shows how out of touch the establishment advocates of the EU are with working class people. Millions of working class people are struggling to get by with declining wages, incessant benefit cuts, zero hour contracts, mass unemployment, food banks and poor housing that are putting their families and communities under intense strain. On top of this, working class people suffer the most from the cuts to the welfare state and the incessant cuts to local council services.
Working class people are not stupid they can how the EU is a fundamentally undemocratic organisation that is completely unaccountable to them. The secret negotiations between the EU and the Obama administration over TTIP, which members of the European Parliament have no say over, proves conclusively how this is an organisation run for the benefit of the too big to fail banks and the multi-national corporations.
They can see how the undemocratic EU has bludgeoned the people of Greece into living in permanent austerity and mass poverty despite a referendum last year that decisively rejected austerity measures. Obama's favourite economist Paul Krugman called the EU's intervention into Greece last year a 'coup d'etat'.
The advocates of Bremain such as Mark Carney (ex-Goldman Sachs), Prime Minister Cameron (from a tax avoiding banker family) George Osborne (son of a Baronet) warned working class people that Brexit would lower their living standards more than any other group in UK society.
However, millions of working class people were not taken in by the crocodile tears coming from those responsible for creating a massively unequal society. Quantitative easing and ZIRP have made the super rich fabulously richer as they have benefited from the massive bubbles on the stock market and in property. The top 10% of society own 45% of all wealth totalling over £5 trillion while the bottom 50% of society own a pathetic 9% of the wealth.
Prime Minister Cameron's government has presided over a savage attack upon welfare benefits which have led to one and half million benefit sanctions leaving people totally destitute and leading to hundreds of people committing suicide. The attack on welfare benefits for disabled people have been so severe that it has prompted the UN to launch an investigation into the human rights violations of disabled people.
The political and financial elites who advocated that Britain should stay in the EU are puzzled as to why so many working class people stubbornly support Brexit. They are incapable of comprehending the anger, pain and suffering of millions of working class people who feel increasing contempt towards a political and financial elite that has no understanding of their daily lives. Over 13 million live in poverty (1 in 5 of the population) while 15 million live in inadequate housing conditions.
This inchoate anger at the daily reality that confronts them has few outlets in life. The EU referendum provided working class people with a means of sticking two fingers up at the political and financial establishment which now presides over a very divided country along lines of class and geography.
The Brexit vote has led to unprecedented turmoil in both of the main political parties in Britain.
A weak, divided Conservative government now faces a further period of infighting as it selects a replacement for David Cameron. The raw wounds within the Conservative Party will not be able to heal as Brexiteers such as Justice Secretary Michael Gove and former Defence Secretary Liam Fox go head to head with those who backed staying in the EU such as Home Secretary Theresa May and Pensions Secretary Stephen Crabb.
The financial and political elites have suffered a major defeat. The Conservative Party is one of the oldest and most successful political parties in history and has served the British ruling class well for over two hundred years. Now it faces an unprecedented crisis and is unable to effectively govern. It will face huge challenges as the world economy slides into another recession.
This situation presents the opposition Labour Party with a golden opportunity to deal a knock out blow to the Conservative government's programme of endless austerity and huge public spending cuts. However, the right wing of the Labour Party known as the Blairites, after former Prime Minster Tony Blair, have seen fit to launch their long awaited coup against its socialist leader Jeremy Corbyn.
The 'Red Tories' within the Parliamentary Labour Party have let the Conservative government off the hook and are going to launch a leadership challenge to Corbyn. They have remorselessly attacked Corbyn in the corporate media and effectively acted as agents of the ruling class in the Labour movement.
This has provoked a furious backlash from thousands of trade unionists and socialists all over Britain who see Corbyn as offering an opportunity to defeat the austerity agenda of the Conservatives that has inflicted hardship and suffering upon millions of people. If Corbyn can harness the huge mood of discontent revealed by the Brexit vote he has the opportunity to not only defeat the right wing of the Labour Party, but to go on to defeat the Conservatives in the next general election. An election that may be months away.
Blairite PR firm tied to Labour coup knew of "mass resignation pact" six months ago
Nafeez Ahmed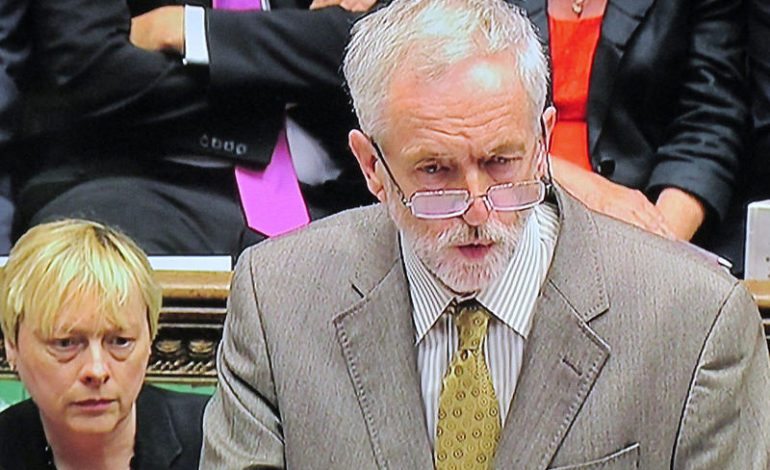 A powerful British public relations firm with close ties to former Prime Minister Tony Blair and key Labour officials behind the coup to oust Jeremy Corbyn knew of "mass resignation" plans half a year ago.
"
Portland Communications is a political consultancy and public relations agency set up in 2001 by Tim Allan, a former adviser to Tony Blair and director of communications at BSkyB," reported
The Canary's
Steve Topple, who also noted the PR agency's wide-ranging connections to British media, including Sky News, ITN and the BBC:
To spell it out in layman's terms, Portland Communications is a company organised, fronted and controlled by a plethora of apparatchiks of Tony Blair and the centre-right of Labour.
Topple also revealed that numerous employees, partners and associates of Portland Communications have ties to the London-based Labour think-tank, the Fabian Society.
On Monday,
The Canary
confirmed that the self-styled Blairite Labour MP, Conor McGinn, who coordinated the mass resignations in the party over the weekend with former Shadow Foreign Secretary Hilary Benn, was part of a Blairite network surrounding the Fabians.
Under the deputy leadership of Marcus Roberts, from 2011 onwards the Fabian Society had been tasked to help 're-found' the Labour Party under the direction of former Blair minister Peter Hain. The process had been criticised internally at the time for bypassing the wider party.
"

Mass resignations" pact
Yet new evidence obtained by
The Canary
confirms that Portland Communications was aware of a "pact" between Jeremy Corbyn's Shadow Cabinet members to trigger "mass resignations" as long as six months ago.
In January 2016, a Portland Communications analysis posted on the agency's website refers to the first reshuffle of Corbyn's Shadow Cabinet.
The post reveals that the Blairite PR agency was well-acquainted with the informal internal networks of organising between anti-Corbyn Labour politicians. It also confirms that the firm has long been aware that "mass resignations" were viewed by the Shadow Cabinet as a political option to sideline Corbyn – six months before the EU referendum was to take place.
Point 4 of the Portland Communications analysis reads as follows:
The 'Anyone But Corbyn' MPs are getting organised. Almost as soon as Dugher was removed texts went out to MPs and prominent Labour figures with the lines to take in support of him. The ensuing outpouring of dismay on social media from MPs would have helped to close down Corbyn's options. Whilst these texts/WhatsApp groups are standard practice now, what is more interesting is the rumoured NATO-style pact amongst moderate members of the Shadow Cabinet which would mean mass resignations if key moderates are removed from posts.
The passage refers to Jeremy Corbyn's sacking of Shadow Culture Secretary Michael Dugher, for spending too much time publicly attacking his own party.
Conor McGinn and Michael Dugher, sitting in a tree, plotting mutiny
The day after the re-shuffle, Labour MP Conor McGinn, who reportedly orchestrated the mass resignations "for maximum impact" according to
a censored
Sky News report, released a statement on Twitter implicitly snubbing Corbyn's decision:
Dugher, like McGinn – who has praised Tony Blair's "transformative" government and characterised himself as pro-interventionist – is very much part of the New Labour 'old guard.' He previously served as a senior advisor to Gordon Brown in No. 10.
Shortly after his sacking, Dugher made no secret of his hopes to oust Corbyn from his leadership of the party.
At the end of January, Dugher
told
the
Mail on Sunday
that if the Labour Party failed to achieve a sufficiently high success rate in the May elections, including in English town halls, Wales and the Scottish Parliament, Corbyn would "face a leadership challenge."
If Labour flops, Dugher warned, "Mr Corbyn will have to abandon his Left-wing policies – or be forced out."
dominated by
Portland Communications
– played a pivotal role in organising the uprising in the party after the EU referendum result.
The press knew the coup was coming
In March, the
Mail
predicted
that Corbyn "will face a leadership challenge after the EU referendum this summer."
If Labour's Sadiq Khan fails to be elected Mayor of London in May, it will almost certainly trigger a move from moderates in the party to oust Mr Corbyn.
The
Mail
report indicated that Blairite 'moderates' in the party were preparing for any opportunity to challenge Corbyn's leadership – from the Mayoral elections in May, to the EU referendum in July. The paper named a number of Labour politicians whom sources in the party had said were "tipped to run as figures who will be able to unite the party after a year of damaging infighting."
The simmering plans – and the reality that they have nothing to do with the EU referendum – have been corroborated elsewhere.
Reporting from the Labour Party conference in September 2015, no less, George Eaton, political editor of the
New Statesman
,
noted
that: "Corbyn's opponents acknowledge that their task next time will be to unite around one candidate and to back him or her unreservedly."
Once again, the elections in May came up as a key test date for Corbyn's future for a number of rebel MPs whom the
New Statesman
did not identify. In Eaton's words:
Some MPs have earmarked this date as the first possible moment to strike. Others warn that this strategy could founder if Corbyn exceeds the low expectations.
Tony Blair's PR front group
The Portland Communications six month old analysis of the "mass resignation" pact among Shadow Cabinet members was authored by Tom Mauchline, a Senior Account Manager at the firm.
Mauchline recorded himself heckling Corbyn at the Pride march on Saturday, where he demanded the Labour leader's resignation after the EU referendum results. The videos, posted to Mauchline's Twitter feeds, were almost immediately picked up and broadcast across the British media.
Mauchline told
The Canary
that he had no knowledge that mass resignations were impending within the party, and that he had no formal affiliations with its 'moderate' Blairite faction. He conceded, however, that he had "mutual friends" with senior campaign officials for Labour politicians who had stood against Corbyn in the leadership elections.
According to Steve Topple, Mauchline is only
one of several
Portland employees publicly campaigning against Corbyn's leadership.
Portland Communications' senior leadership team has direct ties to the instigators of the coup. For instance, Kitty Usher – who is on Portland's Advisory Board – is a former Parliamentary Private Secretary to Margaret Hodge – the ex-Blairite Minister and Labour MP who first tabled the motion for a vote of no confidence against Corbyn.
In other words, the Blairite PR firm that had anticipated the Labour "mass resignation" coup to oust Corbyn half a year ago has ties to the very organisers of the coup.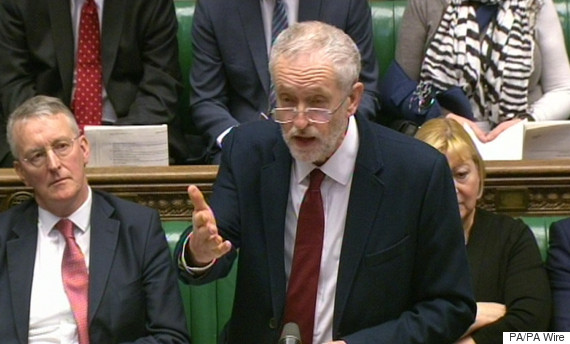 Jeremy Corbyn would win an even bigger landslide if Labour MPs forced him to undergo a fresh leadership election, a new poll has revealed.
The ElectionData/YouGov poll of party members found that 62% would re-elect Mr Corbyn, up from the 59.5% of first preferences he received when he swept to victory last September.
According to the new survey for pollster Ian Warren, he would easily beat his nearest rivals Hilary Benn (15%) and Dan Jarvis (12%) in a fresh contest.....
Nearly three quarters of members (72%) currently approve of Mr Corbyn as leader, and more than half (53%) think he should lead the party into the 2020 general election - even if Labour does badly in this May's local, London, Welsh and Scottish elections.
Guardian sinks into gutter on Corbyn – again


by Jonathan Cook
This is way beyond a face-palm moment.
Jeremy Corbyn today launched a review into the Labour party's supposed "anti-semitism crisis" – in fact, a crisis entirely confected by a toxic mix of the right, Israel supporters and the media. I have repeatedly pointed out that misleading claims of anti-semitism (along with much else) are being thrown at Corbyn to discredit him. You can read my criticisms of this campaign and Labour's reponse
here
,
here
and
here
.
In his speech, Corbyn made an entirely fair point that Jews should not be blamed for the behaviour of Israel any more than Muslims should be for the behaviour of states that are Islamic. He said:
Our Jewish friends are no more responsible for the actions of Israel or the Netanyahu government than our Muslim friends are for those of various self-styled Islamic states or organisations.
But no matter what he said, the usual suspects are now accusing him of comparing Israel with Islamic State, even though that is clearly not what he said – not even close.
First, even if he had said "Islamic State", which he didn't, that would not have meant he made a comparison with Israel. He was comparing the assumptions some people make that Jews and Muslims have tribal allegiances based on their religious or ethnic background. He was saying it was unfair to make such assumptions of either Jews or Muslims.
In fact, such an assumption (which Corbyn does not share) would be more unfair to Muslims than to Jews. It would suggest that some Muslims easily feel an affinity with a terror organisation, while some Jews feel an affinity with a recognised state (which may or may not include their support for the occupation). That assumption is far uglier towards Muslims than it is towards Jews.
But, of course, all of this is irrelevant because Corbyn did not make any such comparison. He clearly referred to "various self-styled Islamic states or organisations". A spokesman later clarified that he meant "Saudi Arabia, Pakistan, Iran or Hamas in Gaza". In other words, "various self-styled Islamic states and organisations" – just as he said in the speech.
Surprise, surprise, the supposedly liberal
Guardian
's coverage of this incident is as appalling as
that
found in the rightwing
Telegraph
.
The Guardian
has an
article
, quoting rabbis and others, pointing out the irony that Corbyn made an anti-semitic comment at the launch of an anti-semitism review – except, of course, that he did't.
In fact, contrary to all normal journalism, you have to read the Guardian story from bottom-up. The last paragraph states:
This story was amended on 30 June to correct the quotation in the second paragraph. An earlier version quoted Corbyn as saying: "Our Jewish friends are no more responsible for the actions for the actions of Israel or the Netanyahu government than our Islamic friends are responsible for Islamic State."
Or in other words, the Guardian reporter did not even bother to listen to the video of the speech posted alongside her report on the Guardian's own website. Instead she and her editors jumped on the same bandwagon as everyone else, spreading the same malicious rumours and misinformation.
When it later emerged that the story was a complete fabrication – one they could have proved for themselves had they listened to what Corbyn really said – they simply appended at the bottom a one-par mea culpa that almost no one will read.
The Guardian
has continued to publish the same defamatory article, one based on a deception from start to finish.
This is the very definition of gutter journalism. And it comes as the
Guardian
editor, Kath Viner, asks (begs?) readers to dig deep in their pockets to support the
Guardian
. She
writes
:
The Guardian's role in producing fast, well-sourced, calm, accessible and intelligent journalism is more important than ever.
Well, it would be if that is what they were doing. Instead, this story confirms that the paper is producing the same shop-soiled disinformation as everyone else.
Save your money and invest it in supporting real independent journalism.