No more 'Rambo' raids - Nicky Hager
There will be no further "Rambo" police raids on the media for a long time, the journalist Nicky Hager says.
Nicky Hager

Photo: RNZ/ Kim Baker Wilson
The search came after blogger Cameron Slater laid a complaint when information from his own computer, obtained by a hacker known as Rawshark, was published in Mr Hager's book Dirty Politics.
A High Court judge later ruled the warrant used for it was fundamentally unlawful and that police failed to disclose relevant information to the judge that issued it.
For almost 18 months Mr Hager's belongings have been inside sealed containers in the High Court in Auckland, and today he came to get them back while warning the matter was far from over.
Nicky Hager outside court with his box of property.

Photo: RNZ/ Kim Baker Wilson
"In a job like mine I've got running into the hundreds of thousands of files from different projects, and they took down to the very last ancient CD of family photos.
"They took everything and it's been fairly inconvenient not to have it, but it's all coming back now," he said outside court with his box of property.
Also included was a 2TB police hard drive that officers copied Mr Hager's data onto, purposefully rendered usхeless.
"We went down the the basement of the building into this little narrow room without lights on.
"The police held torches around while the detective who was in charge of removing stuff from my house... destroyed the materials which they had copied from the house.
"The detective took an orange-handled hammer and he hit this hard drive 213 times and then he took out bolt cutters and cut holes in it, and I'm obviously very pleased about this," he said.
Mr Hager said the police will now never be able to have his data.
Some of Nicky Hager's returned belongings.

Photo: RNZ/ Kim Baker Wilson
"I felt emotional about it but I felt that I was watching history going on.
"Because what we saw down there with each blow of that hammer was hitting home the fact that there are better legal protections for the media and I hope everyone will benefit from this."
Mr Hager said he is still pursuing the case in the courts regarding what the police did in his home, and whether they should have had access to his bank accounts.
"I'm still gobsmacked that the police thought that it was reasonable to arrive like Rambo and spend 11 hours doing over my house where they found nothing they wanted.
"It was completely and utterly over the top and it would've been depressing for everyone who works in this field if they'd got away with it."
Mr Hager thanked his lawyers, other media, and the public who have helped fund his case which he said had cost "a tremendous amount".
"I hope what this means is that people won't be more scared to be whistleblowers and more scared to be sources in the media.
"They'll realise that there are actually proven legal protections and they'll do the right thing, they'll serve the public, they'll inform the public from wherever they are inside the government or outside - people who want to be sources will realise it's actually okay and they'll keep doing it," he said.
Photo: RNZ/ Kim Baker Wilson
Unleashing GCSB To Spy On Kiwis One More Step On Road To Police State
The Anti-Bases Campaign is appalled by the recommendations made in the newly-released Intelligence Agencies review.
The authors have proposed overthrowing a basic tenet of spy operations in this country and paved the way for a massive expansion in surveillance of NZ citizens.
This is just another retrograde step on the road to a police state.
Previous restrictions on domestic spying by the Government Communications Security Bureau (GCSB) are to be removed; the basic democratic protection against the spies turning their cutting edge mass surveillance machinery on domestic life is to be eliminated.
The report justifies the increasing power of the agencies by proposing more transparency and oversight.
Ironically, Sir Michael Cullen, the key author of the report, is the man who exemplifies the inadequacy of trying to monitor these organisations as he was the person who, when he was in Government, continually gave false assurances denying illegal activity in the past.
The glaring deficiency in the review is the complete lack of consideration of the activities of the Five Eyes system which are the major part of the GCSB activities.
The super-secret group carries out operations designed to give Washington the means to manipulate political, economic and diplomatic activities around the world.
NZ's part in this is despicable and reprehensible.
Any suggestion that oversight by a handful of Kiwi commissioners will reveal the truth about the operations being carried out by Five Eyes is laughable.
New Zealand, instead, needs to follow the example of Canada, one of our four Big Brothers in Five Eyes. Canada has suspended sharing Canadians' metadata with its Five Eyes partners until it is satisfied about safeguards.
NZ can only restore its reputation in the world by closing down the Waihopai spy base and pulling out of the Five Eyes system.
Plus it needs to close down the SIS and transfer its functions to the Police who (theoretically at least) have to justify their actions in a court of law.
Key wasn't just scare mongering with Jihadi Brides – he used it to distract from Tim Groser GCSB spying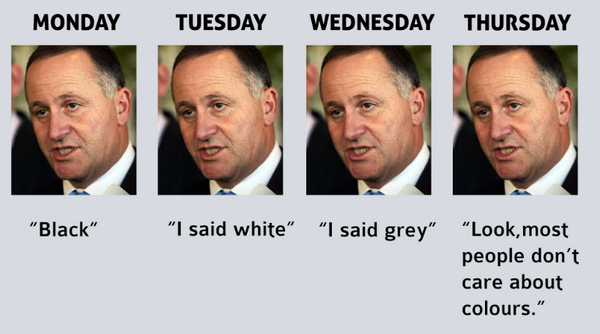 Let's just remind everyone what actually happened here.
Late last year, The GCSB and SIS had to front for the Intelligence and Security Committee. Questions were being asked about what the bloody hell the GCSB thought they were doing spying on our trade partners to try and get Tim Groser a job. Instead of answering those questions, the mouth pieces for the GCSB and SIS said they couldn't answer that but they could talk about 'Jihadi Brides' – John Key immediately then seized upon this – as if this had been planned all along – and in front of the media played up the domestic threat posed by 'Jihadi brides' which justified expanding spy powers.
So instead of being forced to explain how they are currently misusing their spy powers, Key and the Intelligence Agencies managed to distract and spook everyone while demonising Muslims.
NZers have been conned. Once again. And instead of focus on this outright lie and blatant attempt to manipulate the public, we get media attention false focused on Andrew Little for supposed racism based on questions the media put to him and we have another distraction with Key tweeting some inane crap to Jack Black about bloody pandas!
The Left are angry because of the out right lies and distractions that pass as mainstream media coverage. The Left are angry at the ease with which Key can deceive. The Left are angry at how gullible the rest of the electorate are.
That anger then gets portrayed by a right wing political mercenary like Matthew Hooton as some type of mental illness.
Meanwhile 300 000 kids live in poverty, the economy is being held up by lazy immigration and a housing bubble while dairy intensification falls over under an ocean of debt. We have private prisons bulging and public hospitals squeezed and we have entire generations unable to conceive of ever owning a home.
But don't worry, the fucking Batchelor is on so it can't be too bad eh?
John Key knew NZ 'jihadi brides' claim to be false
Thursday, 17 March 2016, 3:05 pm
Press Release: Green Party
John Key knew NZ 'jihadi brides' claim to be false
The Prime Minister deliberately misled the New Zealand public into believing women had left New Zealand to join terrorist groups and become what he described as "jihadi Brides", the Green Party says.
In Parliament today, Government Minister Gerry Brownlee confirmed the Prime Minister knew, before the Intelligence and Security Committee hearing in December 2015, that no Kiwi women had left New Zealand to become "jihadi brides".
At the hearing, SIS director Rebecca Kitteridge described young New Zealand women leaving to live with terrorist groups in Iraq and Syria, at which point the Prime Minister asked her: "Whereas they are now going as jihadi brides?"
"

John Key's comments after the hearing created the distinct impression that the women had been living in New Zealand, and that there had been terrorists, or terrorist sympathisers living among us," said Green Party Co-leader Metiria Turei.
"

The Prime Minster used his idea of 'jihadi brides' to whip up fear and suspicion among New Zealanders, at the same time the spy agencies were seeking more powers. He had plenty of opportunities to clarify that none of the women had been living in New Zealand before they left for Syria and to correct the media that any impression that terrorist sympathisers had been living here was wrong.
"

The Prime Minister lied by omission and he hurt innocent New Zealanders in the process.
"

This is another example of John Key not telling the full truth, in order to get his own way. We saw the same thing when he tried to hide the fact he had been childhood friends with former GCSB director Ian Fletcher, at the time he appointed Mr Fletcher to the job.
"

The Islamic Women's Council asked the Prime Minister for evidence to back his claims about 'jihadi brides'. He refused. Today, Gerry Brownlee told Parliament that was because the country that the women were living in before they left for the Middle East was "irrelevant".
"

The Islamic Women's Council didn't think it was irrelevant, that's why they asked for proof. The women deserve an apology from the Prime Minister for his arrogant and hurtful response to their concerns," Mrs Turei said.
US spy boss James Robert Clapper Jr makes secretive visit to Australia
America's top spy, the US Director of National Intelligence, is on a secret visit to Australia, the ABC has learnt.
James Robert Clapper Jr directs the US National Intelligence Program and reports directly to President Barack Obama.
So far the Federal Government is refusing to give any details of his activities and meetings while in Australia, but the United States embassy in Canberra has confirmed Mr Clapper's visit.
"As allies, the United States and Australia cooperate closely on a wide range of issues," an embassy spokeswoman told the ABC.
"It is not uncommon that senior US Government officials visit Australia and engage in high-level consultations."
Before flying to Australia Mr Clapper stopped over in New Zealand where he met with Prime Minister John Key.
"I've met General Clapper on a couple of occasions. He's obviously got great insight into intelligence and what's happening around the world," Mr Key said.
The US intelligence chief is believed to be travelling onboard a US military C-17 Globemaster.
Last week the Australian Federal Police hosted the Director of the Federal Bureau of Investigation James B Comey on a two-day visit to Australia.
Mr Comey also met with Attorney-General George Brandis and Justice Minister Michael Keenan.