Russian ships used weapons
to stop & seize Ukrainian
vessels violating territorial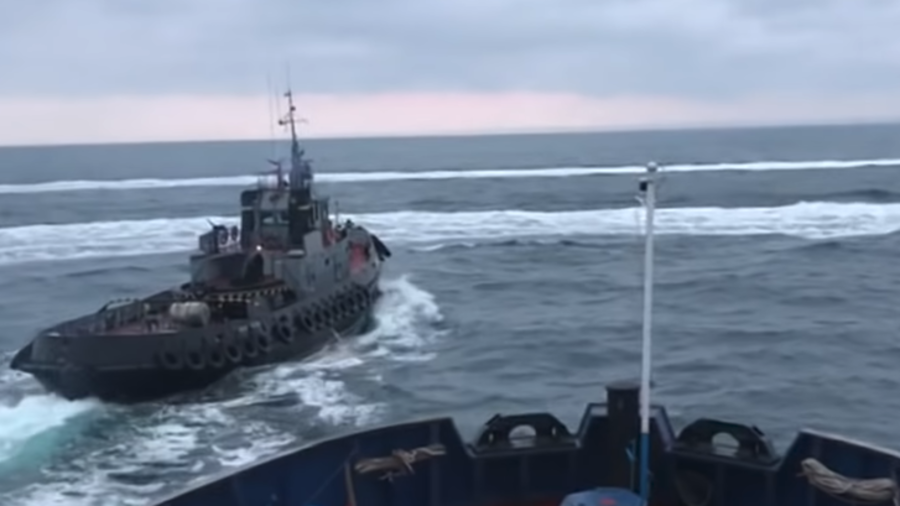 Russia has confirmed its vessels have used weapons to stop Ukrainian vessels that had entered Russian waters in the Black Sea illegally. Three Ukrainian sailors were wounded and have been given medical assistance.
Russia has fired at a group of three Ukrainian vessels that entered its territorial waters near Crimea, the Russian Security Service (FSB) has confirmed. The ships have been now been seized.
Three Ukrainian sailors, injured in the altercation, were given medical assistance by Russian servicemen. Their lives are out of danger.
Ukrainian Navy ships the 'Berdiansk', the 'Nikopol' and the 'Yany Kapu' with their crews have been detained for violating Russian territorial waters, the FSB said in a statement Sunday. They were ignoring
"legal demands to stop"
and
"performing dangerous maneuvers,"
and the Russian warships had to open fire to force them to stop.
A criminal investigation has been launched into the suspected violation of the Russian state border.
The FSB is pointing out that Ukrainian authorities are aware of the procedure that regulates the passage of the military ships through Russian territorial waters.
Both sides have been accusing each other of violating the UN Convention on the Law of the Sea. Kiev argues that it had notified the Russian side in advance of its plan to sail from the Ukrainian Black Sea resort of Odessa to Mariupol, a port on the north coast of the Sea of Azov, a claim that the Russian coastguard denies.
The route goes through the Kerch strait, which separates Crimea from mainland Russia.
Kiev has called a meeting of the National Security and Defense Council [NSDC] to discuss imposing martial law, chairman Oleksandr Turchynov told media.
NATO has urged both parties to show restraint. NATO spokesperson Oana Lungescu said in a statement that NATO has been
"closely monitoring developments in the Azov Sea and the Kerch Strait,"
while voicing support to Ukraine.
"

NATO fully supports Ukraine's sovereignty and its territorial integrity, including its navigation rights in its territorial waters,"
the statement read.
#NATO
is closely monitoring developments in the
#AzovSea
&
#KerchStrait
, & we are in contact with the
#Ukrainian
authorities. We call for restraint & de-escalation. Read my full statement: