Here goes my best effort to cover today's events with cmuh thanks to Hal Turner who is covering this very well.
15 November, 2018
1:46 PM EST --
*** BULLETIN ***
Russia has opened fire upon Ukraine Vessels
Flash Traffic is hitting Intel Circuits right now that a significant naval battle is shaping-up between Ukraine and Russia at the Kerch Straight Bridge between the Black Sea and the Sea of Azov.
Reporting is sketchy right now, but here is what we know:
Both Ukraine and Russia border the Sea of Azov, which is basically a gigantic bay (see map above) off the Black Sea between the two countries. Ukraine needs access to the Sea of Azov to reach its eastern sea ports. Russia also needs access to the Sea of Azov to reach some of its western sea ports and to reach Crimea.
The Kerch Straight is a narrow opening in the landmass which separates the Black Sea from the Sea of Azov.
After Russia absorbed Crimea, the Russians built an enormous bridge across the Kerch Straight, to facilitate import/export of goods, services and utilities (Gas, Oil, & Electric) between Russia and Crimea.
Here's what we THINK we know:
A Russian Coast Guard vessel allegedly RAMMED a Ukrainian vessel at or near the Kerch Straight Bridge.
In response, Russia positioned a large freighter/tanker across the opening beneath the Kerch Straight Bridge to block all transit between the Black Sea and the Sea of Azov. Here is a photo of the bridge as of minutes ago: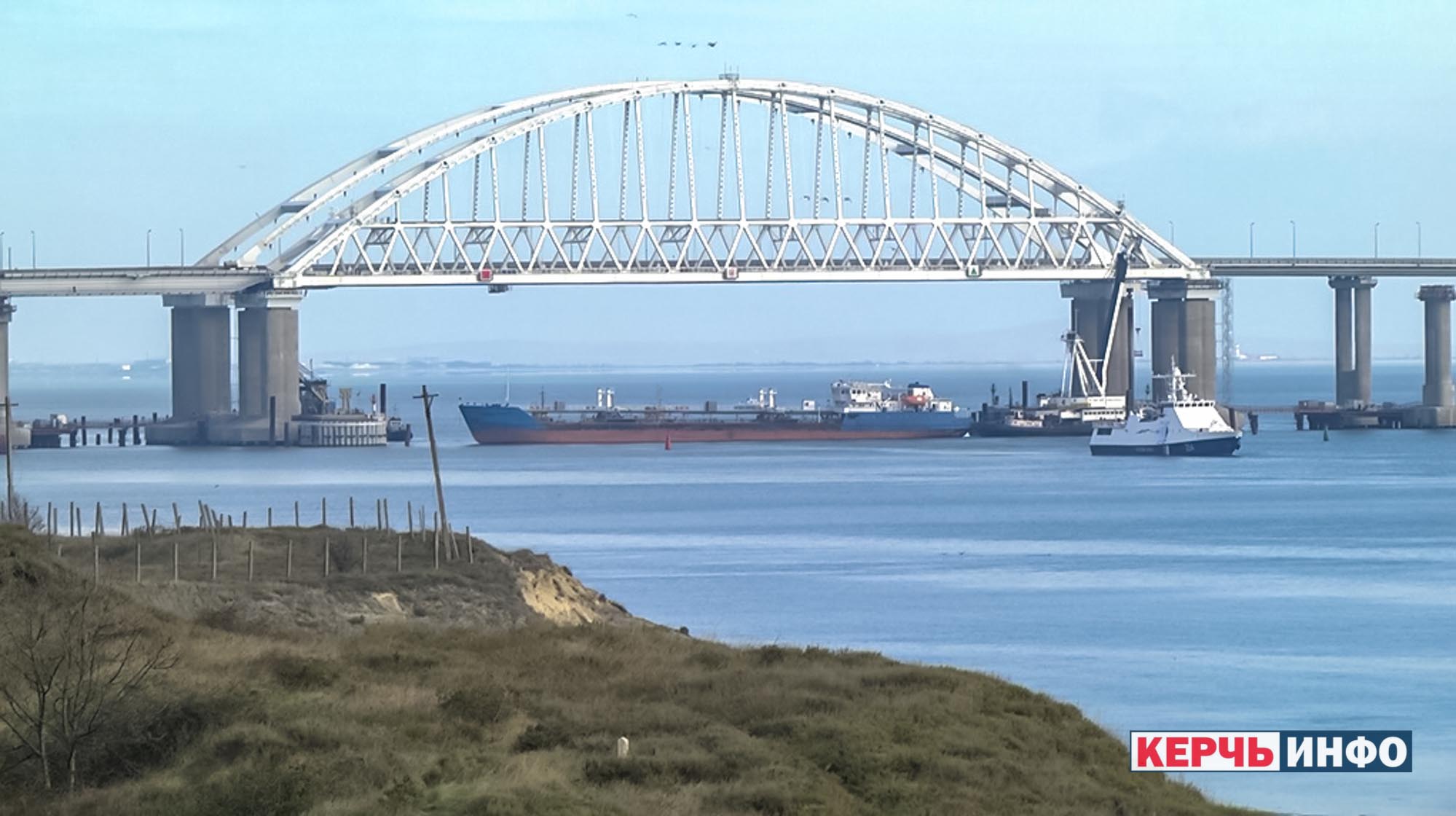 The Ukrainians sent naval warships. The Russians sent naval warships, attack helicopters and war planes.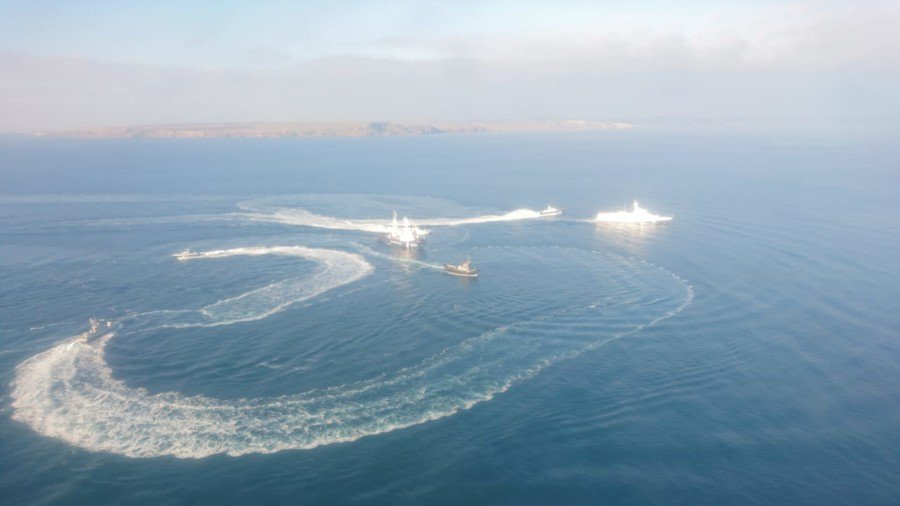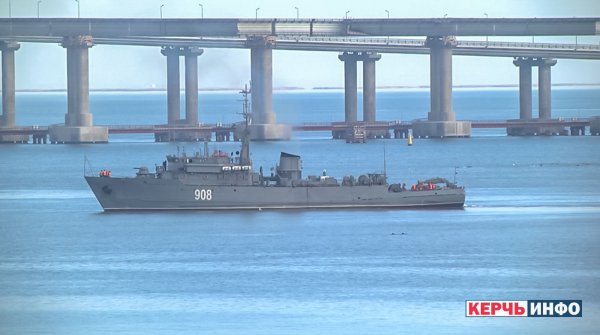 Ukraine is calling the closure of the Kerch Straight a "Blockade" and saying it is "an act of war." Ukraine is sending additional warships, "at full speed" to the area. Russia is now also sending additional military assets to the area.
Whatever is going to happen, is likely to happen within hours. We could see a full scale naval battle between Ukraine and Russia today.
Additional updates to appear below as information develops.
UPDATE 11:45 AM EST --
5 Russian Su-30 and 2 Su-25 fighter jets, low flight over Mariupol
UPDATE 11:50 AM EST --
Spokesman of the Naval Forces of Ukraine, Oleg Chalik, has just confirmed that the three Ukrainian Naval Force vessels are still waiting to cross at the Kerch strait. They're still blocked from entering the Sea of Azov. Their orders remain ---Reach Mariupol---.
UPDATE 12:00 NOON EST --
*** BULLETIN ***
Ukrainian Navy moves to combat alert in response to today's Russian "attacks" on shipping and closure of Kerch Straits. By closing access to the Azov Sea, Russia is imposing a de facto blockade of Ukraine's southeastern ports, which is defined in international law as an act of war.
UKRAINE AND RUSSIAN VESSELS UNDERTAKE NAVIGATIONAL "SKIRMISH"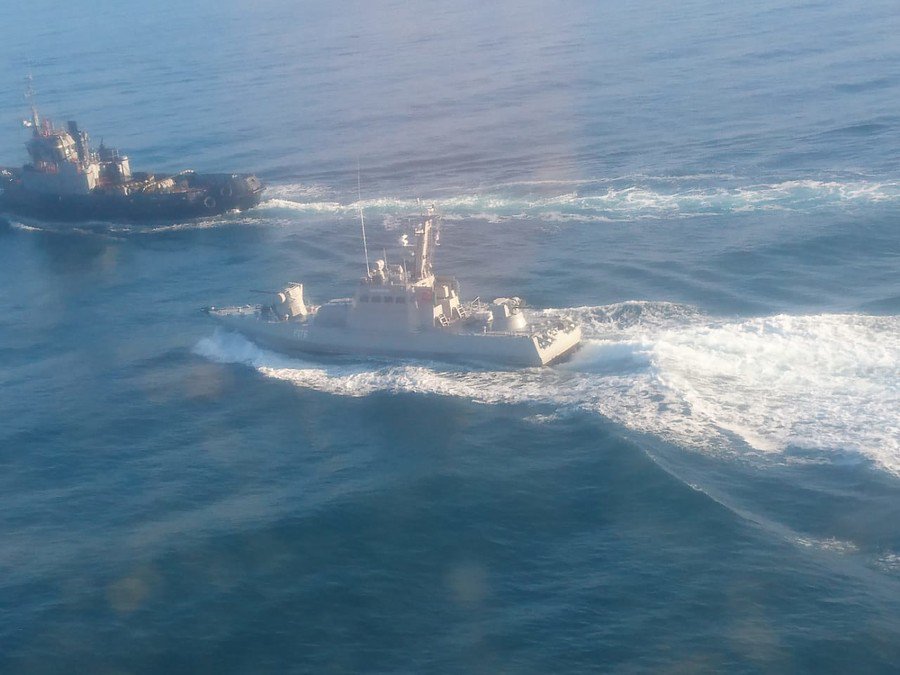 Russian War planes in the air over Kerch Straight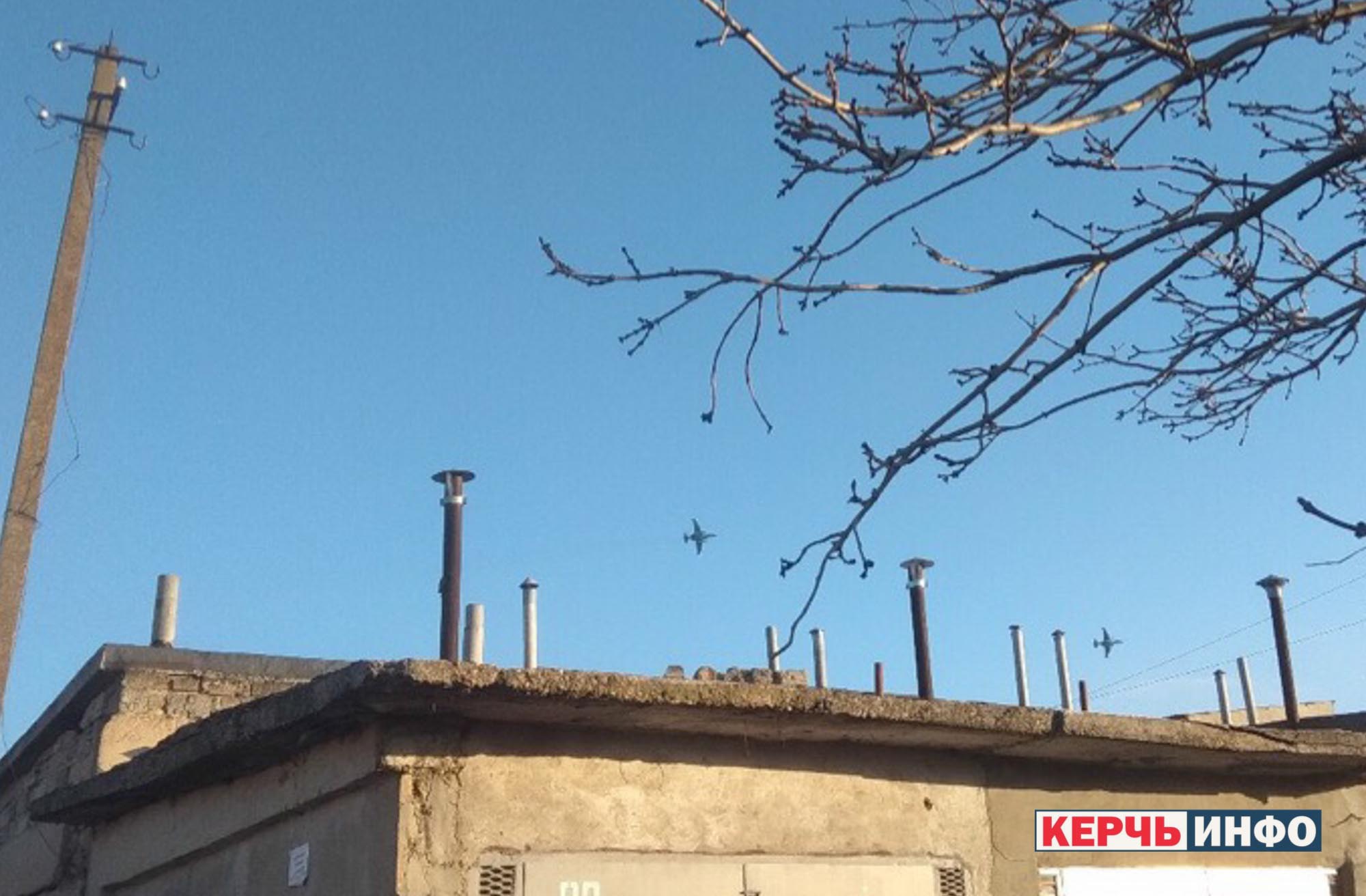 VIDEO
Russian KA-52 attack helicopters now on-station at Kerch Straight Bridge:


Ukraine has accused Russia of ramming one of its boats off the coast of the annexed Crimea, amid rising tensions.
The "openly aggressive actions" occurred as three of its vessels sailed from the Black Sea port of Odessa to Mariupol in the Sea of Azov, Kiev said.
Ukraine's Yana Kapu tug suffered damage to its engine, guard rail and outer shell, the Ukrainian navy said.
But Russia said the ships were in its waters, and accused the Ukrainians of "provocative actions."
Russia has now blocked access to the Sea of Azov with a tanker under the bridge that spans the Kerch Strait.
Tensions have risen in the seas off the Crimean peninsula - annexed by Russia in 2014 - in recent months.
UPDATE 12:21 PM EST --
Ukrainian ships start to move from Kerch strait, but Russians threaten to use weapons if ships won't stop.
UPDATE 12:34 PM EST --
border checkpoints between Ukraine and Russia have been closed. It is unknown if this is related to the Azov incident currently unfolding, however that is not outside the realm of possibility. Not a good sign.


*** BULLETIN ***
Russia has opened fire upon Ukraine Vessels
1: 54 PM EST -- UKRAINIAN Gyurza-M class artillery boat U175 Berdyansk is damaged, lost engine, one wounded. Ukrainian Navy responding with deadly fire to protect itself.
1:56 PM EST -- Ukranian forces aboard the disabled Ukrainian naval vessel are firing back heavily at Russian forces, boat is now a sitting duck
1:59 PM EST -- Full on battle between Ukrainian ship and Russian navy.
2:00 PM EST -- Spokesman of the Ukrainian Navy, Oleg Chalik, said that Ukrainian ships are currently firing back at Russian Navy Forces.
UPDATE 2:34 PM EST --
RUSSIAN SPECIAL FORCES HAVE NOW CAPTURED 3 UKRAINIAN NAVAL VESSELS
Reports on social media that Ukrainian naval vessels are leaving their base in Odessa now WITH ORDERS TO ATTACK AND DESTROY ANY RUSSIAN NAVAL VESSEL THEY ENCOUNTER.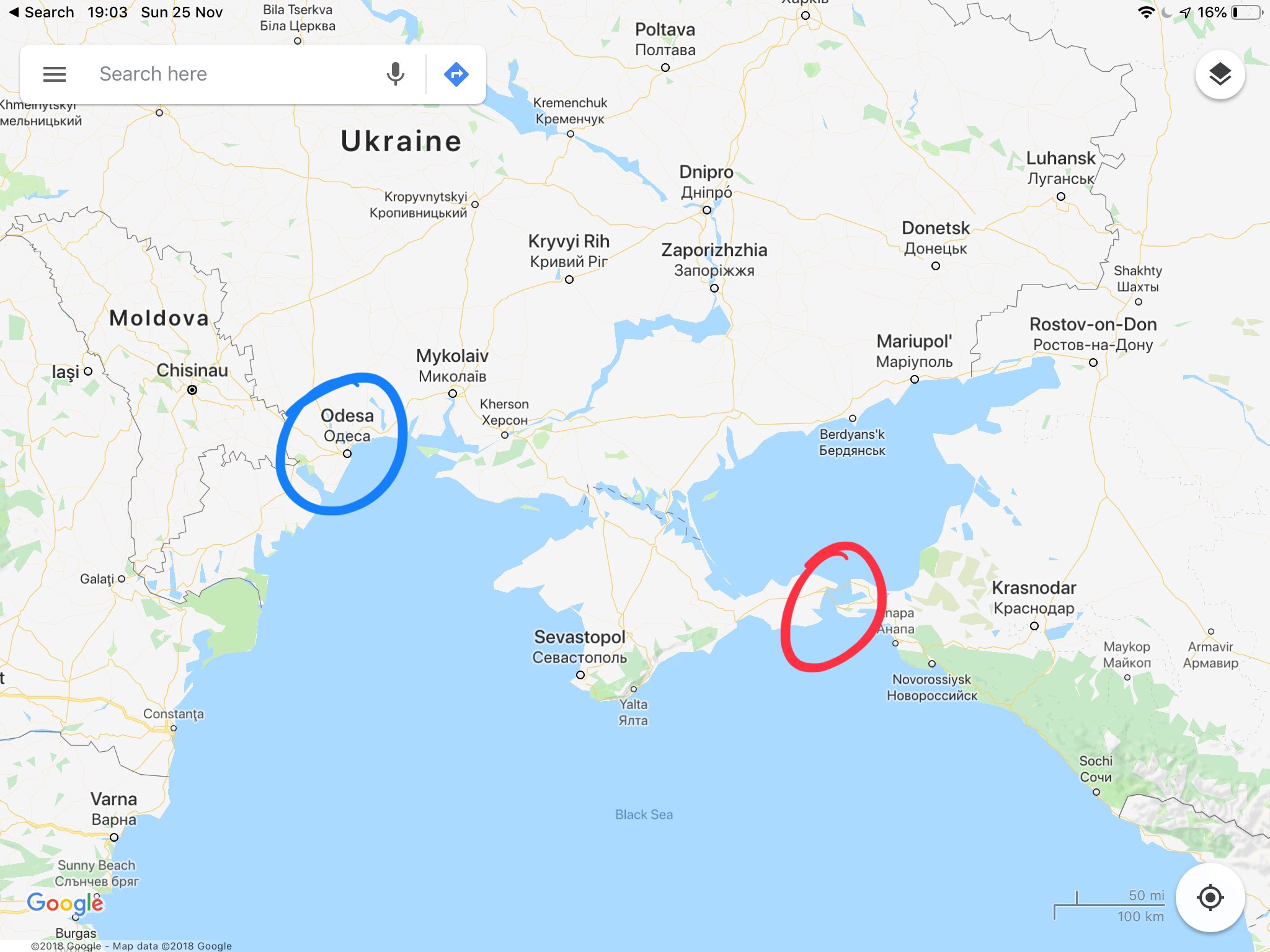 Blue: Odessa
Red: Kerch Strait
Social media outlets Twitter and Facebook are now PULLING any and all postings about this conflict. They have apparently been told the public is NOT TO KNOW a full scale war is breaking out in Europe.
UPDATE 3:13 PM EST --
Russia used special forces from helicopters backed up with helicopter gunships for covering fire to capture Ukrainian naval vessels.
Russia has started blocking land borders with Ukraine. No "civilians."
UPDATE 3:15 PM --
JAMMING OF MILITARY COMMUNICATIONS IN EUROPE HAS BEGUN.
MASSIVE and I mean MASSIVE Jamming of EVERYTHING from USB 8990 to 9010....Nothing coming through...Been a Long time since I have seen this!
PRESIDENT TRUMP RETURNING TO WHITE HOUSE EARLY . . . DEPARTS MAR-A-LAGO AT 4:00 PM EST.
U.S. PENTAGON CALLING-IN ALL SORTS OF PEOPLE FOR URGENT MEETINGS. NOT SOMETHING YOU SEE ON A SUNDAY UNLESS THINGS ARE HUGELY BAD. . .
Ukraine have asked for urgent military support and calling for UN intervention.
Ukrainian President is calling an emergency session of his war cabinet in response to the Kerch Strait
UKRAINE ARTILLERY BOATS BERDYANSK AND NIKOPOL HIT BY ENEMY FIRE, SEIZED BY RUSSIAN SPECIAL FORCES -- UKRAINIAN NAVY STATEMENT
3:23 PM EST -- Ukrainians are briefing that they are now launching counter fire at OTHER Russian vessels.
3:27 pm est -- The Ukrainian Navy says one of its small armored artillery ships has been hit after Russia opened fire
in the Black Se
Ukrainian air force and land forces on full combat alert. Possible reserve call-ups.
CONFIRMED:
all Ukrainian naval vessels have departed bases and put out to sea.
3:35 PM EST -- All military and security services in Ukraine have been mobilized tonight.
See the moment of collision HERE
Shipping has come to a halt between the Black Sea and the Sea of Azov. The image below is a screen shot of online ship RADAR TRANSPONDERS showing their location. Traffic jams at both sides of the Kerch Strait. Nothing is moving.
Ukraine Leader Poroshenko meeting with military cabinet still ongoing, it's one hour now.
UPDATE 4:14 PM EST --
RUSSIA WARNS THE WORLD:
Ukrainian naval ships ignored calls to stop, violated Russian state border-
"Any attack on Russia from Ukraine or it/s allies will result in a dangerous situation...Russia warns Western allies to not interfere in crimes committed by Ukraine or there will be consequences."
4:18 PM EST -- Secretary of the National Security and Defense Council of Ukraine:
Ukraine to declare martial law
5:10 PM EST --
4540 kHz active Ukrainian military communications. Units testing reception with each other FOR DEPLOYMENT
Turchynov: we are convening Ukrainian NSDC
to declare "state of war"
5:15 PM EST -- Word from contact in Ukraine:
"This is the most dangerous moment I've seen in Ukraine in years.

Tonight, a war that many people in America can only imagine thanks to Hollywood movies, teeters on the razor thin edge of becoming real.

Tonight in Ukraine we go to sleep not knowing what tomorrow will bring."
5:18 PM EST --
Ukraine Air Command Center fwd-deployed four Su-27Ps of 831st BrTA from Myrhorod to Kulbakino, Mykolaiv. They, together with MiG-29s
of 204th BrTA are now protecting south of Ukraine.
5:26 PM EST -- Ukrainian protesters gather in front of Russia Embassy in Ukraine capital of Kiev, throwing fire bombs at Russian Embassy; photo below:
5:33 PM EST --
More than 20 Ukrainian Navy sailors have been taken prisoner by Russian forces after 3 Ukrainian naval vessels captured.
UPDATE 5:36 PM EST --
Emergency Action Message(s) (EAM's) being transmitted to US military forces worldwide via Global High Frequency Radio System on 8992 KHz (USB).
"Doomsday" Planes "Nightwatch" and "Looking Glass" both airborne over Continental United States as of NOW.
UPDATE 5:48 PM EST --
Ukrainian President #Poroshenko supports the decision to impose Martial Law in Ukraine. Has called for an emergency Rada (Their Parliament/Congress) session today to vote on the imposition of MartialLaw and State of War in Ukraine.
Martial law proposed for 60 days, and only for areas of Ukraine near the sea. Ukrainian Deputies are now ordered to get to the Rada. It is 00:50 in Ukraine. The Session will be in closed mode and the vote will be immediate.
Ukraine to declare martial law after sea clash with Russia

Ukrainian President Petro Poroshenko has said that he will propose declaring martial law in the wake of the altercation in the Black Sea that saw Russian military seize Ukrainian vessels for breaching Russian territorial waters.
The Ukrainian National Security and Defense Council of Ukraine (NSDC) has supported declaring martial law for 60 days. The motion will now go before the Ukrainian parliament, the Verkhovna Rada, for final approval.
The Ukrainian leader says Kiev does not plan to carry out any offensive operations if martial law is imposed.
Ukraine Rada (Parliament) approves 60 days of Martial Law for the country.
The US and UK promised to defend Ukraine if they gave up their nuclear weapons. Obama turned his back, and the UK backed down when the Crimea issue arose. Now that there is likely a Declaration of War, Ukraine is likely to INSIST on the US/UK making good on their written promise. This could go bad for everyone very fast.
Porochenko is four months away from an election that every assessment already says he will LOSE, and lose badly. So it is interesting that the first thing out of Ukraine tonight is a Declaration of Martial Law. Here's why:
Did you see those final items? Presidential and Rada Elections are prohibited. The Constitution is prohibited. Protests (Mass gatherings) are prohibited. Very convenient for Porochenko.
US Ambassador to the UN Nikki Haley has called an emergency security council meeting for tomorrow at 11:00 AM.
Russia ALSO requested an urgent meeting of UN Security Council members at 11 a.m. on Monday (16.00 GMT) to discuss the situation in the Sea of Azov, Russia's First Deputy Envoy to UN, Dmitry Polyanskiy, said.
"In connection with the dangerous development of the situation in the Sea of Azov and the events that followed them, Russia requested an urgent convocation of an open meeting of the Security Council on the morning of November 26 under the agenda item 'Maintenance of international peace and security,'" Polyanskiy said. The meeting is tentatively scheduled for 11 a.m. (19.00 Moscow time, 16.00 GMT), he added.
Russia brings 3 seized Ukraine Navy ships and 23 captured sailors to its port in Kerch.
VIA THE RUSSIAN EMBASSY TO THE USA:
"Russia is warning everyone that the responsibility for possible further aggravation of the situation in the Azov Sea-Kerch water area, lies with Ukraine and the states that support its provocative actions."
"There is irrefutable evidence proving that Kiev was preparing and staged a provocation involving the Ukrainian Navy in the Black Sea. All three vessels of the Ukrainian Navy, which violated the Russian state border, have been detained in the Black Sea."
People have forgotten that right after that coup in the Ukraine that toppled their government and replaced it with a western (USA) friendly government, the Crimea region VOTED to break away from Ukraine and join Russia.
Russia did NOT "steal" Crimea, which has been reported in the western media for the last 3 years.
By the way, when the Ukraine government was toppled, many sources at that time dug up info that pointed fingers at our CIA (surprise-surprise) for doing this. The purpose was that the USA wanted the vast mineral and gas reserves in, and just off, the coast of the Ukraine.
The first Ukraine government was allied with Russia and the US just could not have that!
In eastern Ukraine, the Ukrainian Armed Forces opened a massive artillery barrage on villages and towns controlled by the Donetsk People's Republic (DPR) at 21:48 local time. That "Republic" is a breakaway region of Ukraine, seeking autonomy from Kiev which they view as a west-installed, puppet government.
The suburbs of the DPR capital of Donetsk is also under fire.
This could indicate that the Ukraine President Poroshenko regime is intentionally fueling military tensions in the region in order to start a new conflict.
Russia stopped delivering gas to Ukraine because Ukraine never paid their bills. Now, in order to heat the country, the Ukrainians are paying with $ to buy gas from the EU. Very costly!
Ukraine want new sanctions against Russia and the cancellation of the TurkStream gas project which will see a gas pipeline run from Turkey to Europe to supply natural gas in-place of Russia. If Turkstream is completed, no European gas will transit thru Ukraine, meaning no revenue to Ukraine from the existing Russia pipelines . . . and no gas from anyone because Ukraine won't have any money.
Timoshenko will win the upcoming elections. Poroshenko will lose!
If there is a war - no elections! Got it now?!
With elections due in March, and with his own party far behind in most opinion polls,
@
poroshenko
now uses
#
AzovSea
clash to propose
#
Ukraine
martial law, giving his military the power to control media, stifle protest, and potentially cancel 2019 elections
Cars belonging to Russian Federation Diplomats are being set on fire in Kiev, Ukraine tonight. Video below: