Warfare trumps trade : Donald discusses North Korea, media, politics & Russia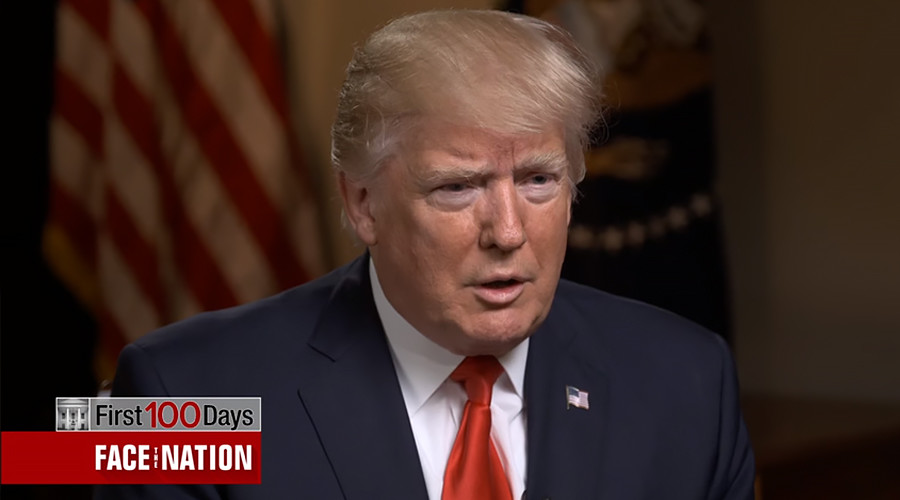 Donald Trump has discussed his first 100 days in an interview aired on CBS Sunday. The wide-ranging interview saw the president give his opinions on North Korea, Democrats, his tax returns and of course, Russia.
North Korea
Trump described North Korean leader Kim Jong-un as a
"smart cookie,"
and dismissed the suggestions that his efforts to pressure North Korea had failed in light of Pyongyang's recent missile test.
Trump said he and Chinese President Xi Jinping would not be happy should North Korea carry out a nuclear test.
"

The relationship I have with China, it's been already acclaimed as being something very special, something very different than we've ever had."
Trump said.
He denied the suggestion that by working with China on North Korea he was sending a message that the US would turn a blind eye to its human rights record and trade issues.
"North Korea is maybe more important than trade. Trade is very important. But massive warfare with millions, potentially millions of people being killed? That, as we would say, trumps trade."
Media
When asked what he has learned since taking office, Trump said
"how dishonest the media is."
Trump told interviewer John Dickerson that he referred to Dickerson's
Face the Nation
show as
"Deface the Nation,"
and accused it of being
"not exactly correct."
Democrats
Trump accused Democrats of being
"totally obstructionist"
and called Senate minority leader Chuck Schumer a
"bad leader."
"

All they do is obstruct. All they do is delay,"
he said.
"Even our Supreme Court justice, as you know, who I think is going to be outstanding, Justice Gorsuch. I think that it was disgraceful the way they handled that."
Trump was referring to delays in voting to confirm Gorsuch, who was confirmed nine weeks after being nominated. President Barack Obama's Supreme Court nomination, Merrick Garland, was delayed for a year following the death of Supreme Court Justice Antonin Scalia in February 2016.
Republicans refused to even hold confirmation hearings for Garland, leaving the Supreme Court with one less judge for close to 14 months.
Healthcare
Trump said,
"Obamacare is dead,"
but dodged Dickerson's requests for specifics on how his healthcare bill has been fixed.
"

This bill has evolved,"
he said.
"And we didn't have a failure on the bill. You know, it was reported like a failure."
When pressed, Trump said pre-existing conditions would be covered and promised
"such competition"
with insurers to drive down premiums.
Tax Returns
When asked about his intention to release his tax returns, Trump said he was still under audit, and that his tax return was
"very big."
"

I think it's a very unfair thing because I have been under audit almost, like, since I became famous, okay?"
he added.

Russia
Trump described stories about ties between Russia and the Trump campaign as
"phoney,"
and that he doesn't know if Russia meddled in the US elections.
"

You have Podesta
[Hillary Clinton's campaign chair whose emails were hacked]
who, by the way, I understand has a company with his brother in Russia. Hillary's husband makes speeches in Russia. Hillary did a uranium deal with Russia. Nobody ever talks about that. But I don't know because the F.B.I. was not allowed by Podesta to go in and check all of the records on their servers and everything else that you would normally have to check. That's number one."
"

Number two, knowing something about hacking, if you don't catch a hacker, okay, in the act, it's very hard to say who did the hacking. With that being said, I'll go along with Russia. Could've been China, could've been a lot of different groups."
"It's important, I think, for all of us to confront this regime..."
Trump Says "We'll See" To Nuclear Conflict With North Korea
President Trump has told CBS that he is considering using nuclear force against North Korea in response to their latest missile test.
In an interview with CBS' John Dickerson on 'Face the Nation' on Sunday, the President said he was deeply disturbed by Kim Jong-un's continued provocations against the US and hinted that he is preparing a military strike against the country.
When asked asked if the pressure Trump has applied to Pyongyang has worked, Trump stressed the importance of his relationship with China's President Xi JinPing.
"

This was a small missile. This was not a big missile. This was not a nuclear test, which he was expected to do three days ago. We'll see what happens," he said, referring to the launch of aKN-17 ballistic missile on Friday.
The test did not take place, but North Korea has continued with other actions the U.S. and its regional allies regard as provocations, including a failed test on Saturday of a mid-range ballistic missile. Kim's government is known to be working to develop an intercontinental ballistic missile capable of striking the United States.
Asked in the CBS interview if a North Korea nuclear test would prompt U.S. military action, Trump replied: "I don't know. I mean, we'll see."
Trump appeared to offer grudging praise for Kim, noting that he took over North Korea when he was 26 or 27 after his father died and has consolidated power despite challenges from the military and members of his family.
"

A lot of people, I'm sure, tried to take that power away, whether it was his uncle or anybody else," he said. "And he was able to do it. So obviously, he's a pretty smart cookie."
In a separate interview on CNN's "State of the Union," Sen. John McCain (R-Ariz.) was asked if Trump was considering a pre-emptive strike against North Korea, especially if there were indications that it had developed a delivery system capable of carrying a nuclear weapon. "I don't think so," he said.
"

I think we have to consider that option as the very last option," said McCain, who chairs the Senate Armed Services Committee. He cited an array of dangers associated with any outbreak of hostilities on the Korean peninsula, including North Korea's ability to strike Seoul with conventional artillery.
"

The major lever on North Korea, maybe the only lever, is China," he said.
Amid rising tensions with North Korea, the Trump administration has been sending mixed signals about its dealings with South Korea, long a bedrock regional ally.
Trump rattled many in South Korea last week when he said in at least two interviews that Seoul should pay $1 billion for a sophisticated missile defense system that the U.S. and South Korea have begun installing. The Terminal High-Altitude Area Defense system, or THAAD, is intended to become operational within a matter of days.
South Korea's presidential office said Sunday that Trump's national security advisor, H.R. McMaster, had offered reassurances that Washington would not try to make Seoul bear the cost. In an interview aired Sunday, McMaster confirmed that was the case — for now.
"

What I told our South Korean counterpart is that until any re-negotiation, that the deal's in place, we'll adhere to our word," McMaster said on "Fox News Sunday."
Senior Trump administration officials are often put in the position of walking back Trump's comments, including many on foreign affairs, without seeming to directly contradict the president.
In this instance, McMaster sought to put Trump's comments in the context of looking at "appropriate burden-sharing" across all U.S. alliances.
"

The question of what is the relationship on THAAD, on our defense relationship going forward, will be renegotiated, as it's going to be with all our allies," McMaster said. "Because what the president has said is, he will prioritize American citizens' security and interests."
Washington's war hawk, John McCain, who applauded Trump for bombing an airbase in Syria earlier in April, said the US should rely on China's diplomacy instead of own military might in solving the North Korean crisis.


When asked on CNN's "State of the Union" if Donald Trump is considering a preemptive strike against North Korea over its ongoing nuclear tests, McCain replied: "I don't think so."
The Republican Senator, who dined with the president on Monday, said the key to solving the crisis in the Korean Peninsula is China.
"

The Chinese can put the brakes on this [Pyongyang's nuclear program]. I do not believe that [North Korean leader] Kim Jong-un is going to do that by himself. I don't think he's irrational, but I don't think he's concerned about the welfare of his people to say, the least," he said.
Discussion on CNN
Congressman Duffy Says A Preemptive Strike IS Acceptable If It Stops North Korea's Nuclear Program