Tiny particles suspended in the air, known as aerosols, can darken snow and ice causing it to absorb more of the sun's energy. But until recently, scientists rarely considered the effect of all three major types of light-absorbing aerosols together in climate models.
In a new study, NASA scientists used a climate model to examine the impact of this snow-darkening phenomenon on Northern Hemisphere snowpacks, including how it affects snow amount and heating on the ground in spring.
Wildfires have burned a phenomenal 5.5 million acres across the U.S. so far this year, an area equal to the size of New Jersey.
This is the second-highest total in at least the past 25 years, according to data from the National Interagency Fire Center in Boise. Only 2011, which saw 5.8 million acres charred as of July 23 of that year, had more. On average, at this point in the year, 3.5 million acres would have burned.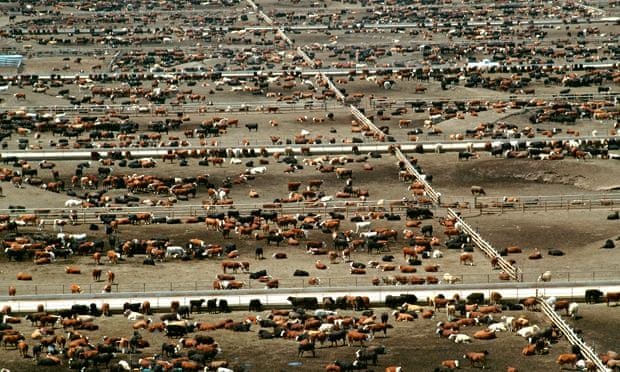 Study shows red meat dwarfs others for environmental impact, using 28 times more land and 11 times water for pork or chicken
Rapidly Growing Wragg Fire Near Napa Consumes 6,000 Acres, Threatens 200 Structures
Um, guys? This winter could be a disaster! But the skiing is probably going to be insane.
Three of the official climate reporting organizations around the world, including the Japan Meteorological Agency, NASA and the National Oceanic and Atmospheric Administration (NOAA), have each found that June was the Earth's warmest such month on record.
At this time of year, the largest colony of nesting birds on Florida's Gulf Coast is usually squawking up a storm on Seahorse Key. Thousands of egrets, ibises, pelicans, cormorants, and other species come to this strip of sand and mangroves to raise their chicks. Or they did, until one day this April when all of a sudden—*Detective Caruso puts on sunglasses*—the birds flew the coop.
"

It's completely empty," says wetland ecologist Peter Frederick, "and silent."
Leaving their nests behind—eggs and all—the birds just up and left like daddy going out for a pack of cigarettes. It's what Andrew Gude, manager of the Cedar Keys National Wildlife Refuge, calls "catastrophic nesting-island abandonment."
A new report says the destruction of the arctic's boreal forests by fire is occurring at a pace not seen in 10,000 years. Fires are currently burning in Montana and the Pacific Northwest, a by-product of extraordinary summer warmth and a lack of rain. But, what's happened farther north in Alaska and Canada during the 2015 fire season is even more horrific and is laid out in a new report from NOAA-the National Oceanic and Atmospheric Administration. More than 5-million acres have been consumed by fire across Alaska this wildfire season, 200,000 acres away from making this the 2nd worst fire season on the books. The situation in western Canada is equally dire. While 8,100 acres have burned by late July on average, this year's tally is more than 15,000 acres–an area greater than the size of Maryland.
Satellite imagery has monitored the global spread of smoke off North America's fires the past few monthster could be a disaster! But the skiing is probably going to be insane.
Record warmth playing a major role; NOAA, NASA and the Japanese Meteorological Agency indicate the opening half of 2015 already one for the books after a record warm June
June 2015 was the warmest globally on record. Maps of both agency's analyses of global temps in June appear immediately below. Climate Progress has issued a quite a report on the year's abnormally warm temp trend which you can examine
by clicking here.
The disconnect is breathtaking! When! not if, the planet heats up over 5C the entire biosphere will have unraveled and their won't be a vertebrate left on the planet. Hard to understand how only $4.2 trillion could be lost when the only species operating in the monetary realm will be extinct!
---Kevin Hester
Investments in fossil fuel companies face serious risk from global warming, research by the Economist Intelligence Unit shows
OUR greenhouse gas emissions are boosting a vortex of winds around Antarctica. As this maelstrom accelerates, it shrinks, dragging rain away from Western Australia.
Earlier studies suggested that the hole in the ozone layer above Antarctica was boosting the winds. Now Nerilie Abram of the Australian National University in Canberra and her colleagues have shown that global warming is just as important.
The team reconstructed Antarctic temperatures over the past 1000 years using an ice core. The temperatures correlate with wind strength, and the team found that the winds are now the strongest they have been in the past millennium. But the gain in strength began in the 1940s, decades before the ozone hole. So the team simulated weather patterns in the last 1000 years using climate models and greenhouse gas levels from ice cores. All the models predicted that the winds would pick up by the 1940s, suggesting that greenhouse gases were playing a role
"

Global coal demand is slowing fast," is the headline in a June Business Insider Australia story. "The global coal renaissance is the most important climate story today," is the headline in a July Vox story.
Which is correct? Mostly the first one. There was a true global coal renaissance starting around the year 2000, a resurgence due primarily to China. But it is now stalling.
On the upside, this boom has helped these countries lift themselves out of poverty. But the growth in coal has also meant a surge in global carbon-dioxide emissions — and if coal continues to be the world's energy source of choice, we'll have little hope avoiding drastic global warming.
So that brings us to the next question: How long will this global coal boom continue?
Professor James Hansen, formerly of NASA and now of Columbia University, and 16 other climate scientists argue in the study that a safe limit to global warming decided by politicians in 2009 may actually lead to disastrous ice melt.
"Abunaina" Brutal Heat Wave Hits Japan
Bangkok could be underwater in two decades: Report
An area of persistent thunderstorms and low pressure are forecast to bubble up and persist across Florida and parts of the Southeast next week, which could provide enough atmospheric gusto to develop into the fourth tropical cyclone of the 2015 hurricane season.
AUSTRALIA: 12:30pm update: Very cold air over Victoria and especially Tasmania today in the wake of the strong cold front ****
The strong front moved through overnight leaving very cold air in its wake the centre of the deep Low is situated about 150-200km south of Tasmania, we have seen wind gusts to 143km/h over Maatsuyker Island, 91km/h in Hobart. In Victoria there has also been 100km/h+ gusts with Hogan island seeing 132km/h gust and Wilson Prom 115km/h. There has also been close to 100km/h wind gusts on the west coast.
Showers, local hail and thunder have also been observed especially in the west and low level snow especially in Tasmania with snow being observed at Cradle mountain
The colder air and strong wind will also push into NSW with strong winds expected south of the Hunter in NSW today including the Sydney region.
In terms of rainfall Parafield saw one of the higher totals in SA with 19mm to 9am, in Tasmania Luncheon hill received 23mm and Scotts Peak 22mm to 9am & Victoria Cape Otway and Mt Buller received 19mm with Port Fairy recording 16mm to 9am.
Conditions will begin to ease tonight and mostly tomorrow as a high pushes in from the west.
WARNINGS: A range of warnings remain in force with this system..
**** SOUTH AUSTRALIA ****
Warning to Sheep Graziers
for the Kangaroo Island, Upper South East, Lower South East, Mount Lofty Ranges, Murraylands, Mid North and Flinders forecast districts.
-------------------------------------------------------------------------------------------
(1) Severe Weather Warning
for people in the King Island, Furneaux Islands, North West Coast, Central North, North East, Western, Central Plateau, Midlands, East Coast, Upper Derwent Valley and South East forecast districts
(2) Warning to Sheep Graziers
for the King Island, North West Coast, Midlands, Central North, Upper Derwent Valley, South East, Furneaux Islands, East Coast and North East forecast districts
(3) Road Weather Alert for Tasmania
for Western, Central Plateau, Upper Derwent Valley and South East forecast districts.
Snow covered roads above 400 metres will make driving conditions dangerous during Sunday and Monday in parts of the Western, Central Plateau, Upper Derwent Valley and South East forecast districts.
(4) Bush Walkers Weather Alert
for the Western and Central Plateau forecast districts.
Bush walkers are advised that snow as low as 400 metres is expected during Sunday and Monday. These hazardous conditions are expected to occur in parts of the Western and Central Plateau forecast districts.
-----------------------------------------------------------------------------------------------
(1) Severe Weather Warning
for people in the North East, Central, West and South Gippsland and East Gippsland forecast districts.
(2) Warning to Sheep Graziers
for the South West, North Central, Northern Country, Wimmera, Mallee, Central, West and South Gippsland, East Gippsland and North East forecast districts.
------------------------------------------------------------------------------------------------
**** NEW SOUTH WALES ****
for people in the Illawarra, Central Tablelands, Southern Tablelands and Snowy Mountains forecast districts.
_________________________________________________________
Image one: Latest satellite photo for Tasmania and most of Victoria showing the low and cold air pushing through.
Image two: Current temps in Tasmania and Victoria looking very chilly for early afternoon. Temps provided by MetEye.
Tropical disturbance forаing near Solomon Islands

Could it be?? Modelling has been suggesting the chance of yet another wintertime tropical disturbance forming near the Solomon Islands area this week.At this stage, it looks like the last system i.e. it could eventually drift towards the far northeast corner of the Coral Sea but with high uncertainty as to whether it'll strengthen to anything more than a tropical low.Here's a short animation of forecast infrared satellite imagery for the next 10 days generated by GFS model data (and displayed via tropicaltidbits). You can see the disturbance taking shape out there.... P.S. hover your mouse over the video and click on the HD option in the lower right (Ken):
Posted by South Brisbane Storms on Saturday, 25 July 2015