Cops At Standing Rock Now Using Missile System?


19 January, 2017


Pictures surfaced on Jan. 16 of a purported police-operated anti-drone missile system in Standing Rock, North Dakota; site of the months-long Native American protest against the construction of the Dakota Access Pipeline.
Jon Ziegler posted pictures of the alleged missile system on Facebook with a caption:
TODAY: Anti-drone missile system confirmed on top of a hill guarding the DAPL drill pad. Many water protectors made it further around the bend to the east closer to the drill site and were met with police and reports of mace used. We climbed up the hill on the west side right up next to the launcher.
ArmyRecognition.com describes the Avenger AN/TWQ-1 Air Defense System:
…
[V]ehicle is a missile mounted system which provides mobile, short-range air defense protection for ground units against cruise missiles, unmanned aerial vehicles, low-flying fixed-wing aircraft, and helicopters. In the early 1980s, the then Defense Systems Division of the Boeing Aerospace Company (now The Boeing Company) developed the Avenger air defense system as a private venture.
The Avenger Air Defense System, built by Boeing, forms an important element in the US Army's Forward Area Air Defense (FAAD) architecture, which includes C2I, radars, platforms and missiles. The first production contract for 325 units was awarded in 1987.
The gyro-stabilized Avenger turret with Stinger missiles is mounted on a 4×4 HMMWV (High Mobility Multipurpose Wheeled Vehicle), but can also operate in a standalone configuration or mounted on a variety of military vehicles.
More than 1,100 Avengers have been produced and delivered to U.S. Army, Army National Guard and foreign customers. The Avenger system can be installed on other types of chassis, tracked and wheeled, and is also fully air-transportable.
North Dakota Pushes Bill to Protect Drivers Who Accidentally Hit Water Protectors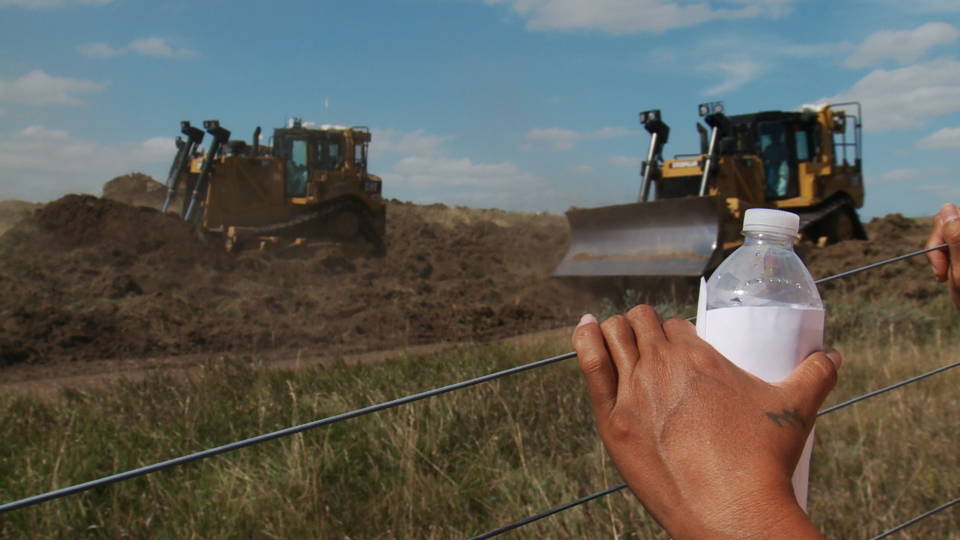 In North Dakota, Republican lawmakers have introduced a bill that would shield drivers from liability if they unintentionally injure or kill a pedestrian obstructing traffic. It's one of several bills aimed at cracking down on the resistance against the $3.8 billion Dakota Access pipeline, which has seen Native American water protectors at times marching on public roads and highways.
REPUBLICAN LAWMAKERS IN FIVE STATES PROPOSE BILLS TO CRIMINALIZE PEACEFUL PROTEST
ON SATURDAY, THE Women's March on Washington will kick off what opponents of the incoming administration hope will be a new era of demonstrations against the Republican agenda. But in some states, nonviolent demonstrating may soon carry increased legal risks — including punishing fines and significant prison terms — for people who participate in protests involving civil disobedience. Over the past few weeks, Republican legislators across the country have quietly introduced a number of proposals to criminalize and discourage peaceful protest.
The proposals, which strengthen or supplement existing laws addressing the blocking or obstructing of traffic, come in response to a string of high-profile highway closures and other actions led by Black Lives Matter activists and opponents of the Dakota Access Pipeline. Republicans reasonably expect an invigorated protest movement during the Trump years.
In North Dakota, for instance, Republicans introduced a bill last week
that would allow motorists
to run over and kill any protester obstructing a highway as long as a driver does so accidentally. In Minnesota, a
bill
introduced by Republicans last week seeks to dramatically stiffen fines for freeway protests and would allow prosecutors to seek a full year of jail time for protesters blocking a highway. Republicans in Washington state have
proposed
a plan to reclassify as a felony civil disobedience protests that are deemed "economic terrorism." Republicans in Michigan introduced and then last month shelved an
anti-picketing
law that would increase penalties against protestors and would make it easier for businesses to sue individual protestors for their actions. And in Iowa a Republican lawmaker has
pledged to
introduce legislation to crack down on highway protests.
Protesters demonstrating against the Dakota Access oil pipeline stand on a burned-out truck near Cannon Ball, N.D., which they removed a day earlier from a long-closed bridge on a state highway near their camp, Nov. 21, 2016.
Photo: James MacPherson/AP
The anti-protesting bills have alarmed civil liberties watchdogs.
"

This trend of anti-protest legislation dressed up as 'obstruction' bills is deeply troubling," said Lee Rowland, a senior staff attorney at the American Civil Liberties Union, who views such bills as violations of the First Amendment. "A law that would allow the state to charge a protester $10,000 for stepping in the wrong place, or encourage a driver to get away with manslaughter because the victim was protesting, is about one thing: chilling protest."
In North Dakota, the author of the bill that would permit the killing of protestors has linked his legislation directly to anti-pipeline activists' successful protests that involved obstructing roadways. Although the bill ostensibly requires drivers to have acted "negligently" or accidentally in killing a protestor, the bill's co-sponsor, Republican state Rep. Keith Kempenich, has said that some accidents might occur if motorists "punched the accelerator rather than the brakes," according to the Bismarck Tribune.
"
If you stay off the roadway, this would never be an issue,"
said
Kempenich. "Those motorists are going about the lawful, legal exercise of their right to drive down the road."
Republican legislators behind the anti-protesting bill in Minnesota have also said that their effort is in response to an increasing number of highway closures by activists. In recent months, Black Lives Matter protests have made national news for shutting down major freeways in Minneapolis, most recently
in July
when a group of protestors blocked a main downtown thoroughfare to protest the police shooting of Philando Castile. The
bill
elevates such protesting to a "gross misdemeanor,"
punishable
by both a year in jail and a fine of $3,000.
In addition to the highway-protesting bill, Minnesota lawmakers also proposed a separate
piece of legislation
that greatly increases penalties for nonviolent cases involving "obstructing the legal process." Under the bill's language, nonviolent obstruction of authorities would carry "imprisonment of not less than 12 months" and a fine of up to $10,000.
Jordan S. Kushner, a Minneapolis civil rights attorney who has represented Black Lives Matter protesters, said this latter bill was "most alarming" because of its dramatic penalty enhancement and its apparent targeting of nonviolent protests.
"

The statute is very heavily abused by police to charge people with crimes in response to minor resistance to police based on good faith disagreements with what they are doing," Kushner told The Intercept in an email. "It is frequently used in response to people who verbally challenge or try to observe/record police at protests."
While other anti-protesting proposals in Washington state and Iowa focus on protesters blocking transit routes, a bill that was floated in Michigan appeared to target labor unions. The legislation, which was passed by the Michigan House of Representatives before being set aside by the state Senate last month, would have enabled the state to fine individual picketers $1,000 per day of picketing and would place a $10,000 daily penalty on a union presiding over such a protest. A companion bill would have made it easier for employers to replace striking workers.
Although it's unclear whether Michigan Republicans will reintroduce the legislation, Democrats are not optimistic. "I think they absolutely will revive it," Democratic state Rep. Leslie Love told The Intercept.
In Washington, a state where Democrats control both houses of the state legislature, there is little chance that the plan to label protestors as "economic terrorists" will advance. Prospects are better for the anti-protesting bills in Iowa, Minnesota, and North Dakota, all of which have Republican-dominated legislatures.
In the case of Minnesota, Kushner says the bills in question are seen as a "serious cause of concern," and he characterized the state's new legislation as being purely political.
"

I think that the motivations for the Republican legislators proposing bills to penalize protests are to cater to the general public hostility towards Black Lives Matter in the overwhelmingly white suburban and rural districts they represent," said Kushner in an email. "The goal is to criminalize protesting to a greater degree and thereby discourage public dissent."
Correction: Jan. 19, 2017
An earlier version of this article referred to Philando Castile as "unarmed." In fact, Castile told the officer who shot him that he was armed and had a license to carry the weapon.