Canadian wildfires update - 05/09/2016
The change of wind that I talked about in my previous report did not result in the fires moving into the tar sands are although it did approach the operations of the Suncor operation.
The feared doubling in size did not eventuate because of a cooling of temperatures and apparently some rain.
The jetstream has done its thing and now the hotter weather has mvoed east to Manitoba while in Alberta the winds are coming from the north.
Temperatures in Alberta have come down from 30C to about 14C (58F)
Here are some of the stories from BC to Manitoba.
Alberta Fire Set to Move Away From Oil-Sands Sites in Wind Shift
Wildfires raging through Alberta are set to move away from the main oil-sands facilities north of Fort McMurray after knocking out an estimated 1 million barrels of production from Canada's energy hub. A cold front scheduled to pass through the area may bring light rain that would help fire fighters battle the inferno.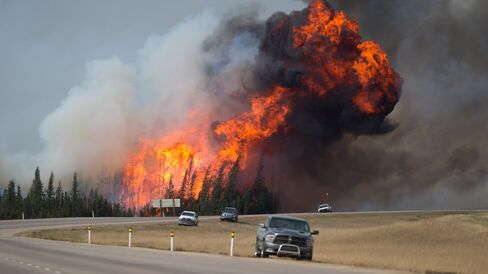 The blaze, which had been forecast to expand to more than 2,500 square kilometers (965 square miles), grew slower than expected and now covers about 1,600 square kilometers, Alberta Premier Rachel Notley said at a news conference on Sunday. While the fire approached operations of Suncor Energy Inc., Canada's biggest energy company, there was no damage as firefighters held the blaze southwest of the area. Current weather conditions and forecasts show the fire moving east, away from the site, Suncor said. Cnooc Ltd.'s Nexen operations to the south of Fort McMurray have suffered "minor" damage, said Chad Morrison, a wildfire manager for the Alberta government.
The average temperature forecast for Sunday was 18 Celsius (64 Fahrenheit), with winds gusting up to 50 kilometers an hour (31 miles an hour) and the potential for showers in the Fort McMurray area, the Alberta government said.
While cooler temperatures present responders with a "great opportunity" over the next three to four days, fires deep into the forest will likely last for months, Morrison said. The blazes are being blown east and are 30 to 40 kilometers from the border with Saskatchewan, Morrison said. The fire that began a week ago probably had a human cause, though that remains unknown, he said.
'

This Beast'
"
This beast is an extraordinarily difficult problem," federal Public Safety Minister Ralph Goodale told reporters Sunday, in a reference to how the fire has been nicknamed. "Because of the weather in the last few hours and the weather forecast going forward, it would appear that the situation is moderating, perhaps a bit."
Disruptions to oil production, the lifeblood of Alberta's economy, add to a human catastrophe as blazes razed entire neighborhoods in Fort McMurray, the gateway to the world's third-largest crude reserves. All of the 25,000 people who had gone north to flee the fire have been evacuated south and the majority of them are in Edmonton, Notley said.
The wildfires covering an area twice the size of New York city have led to productions cuts of about 40 percent of the region's output of 2.5 million barrels, based on IHS Energy estimates. The cuts, and the mass exodus of more than 80,000 people from Fort McMurray, are another blow to an economy already mired in recession from the oil price collapse.
Syncrude Operations
Syncrude Canada, a joint venture controlled by Suncor, shut down its Aurora mine and Mildred Lake operation about 40 kilometers north of the city and has evacuated about 1,200 workers. Syncrude has a capacity for 350,000 barrels of oil a day. Morrison said the oil facilities are highly resistant to fire with their buffer zones.
Smoke reached Syncrude's Mildred Lake site Saturday, company spokesman Leithan Slade said in an e-mailed statement. "We will bring operations back online only when it is safe to do so."
Suncor, Phillips 66 and Statoil ASA have declared force majeure -- a provision protecting companies from liability for contracts that go unfulfilled for reasons beyond their control -- on supplies from the region. As the fires are set to move away from its oil-sands operations, Suncor said it has begun planning the restart of production after moving more than 10,000 employees, families and Fort McMurray residents out of the region. The restart will happen once it's safe and when third-party pipelines are available, the Calgary-based producer said.
Husky Energy Inc., controlled by Hong Kong billionaire Li Ka-Shing, said Sunday
it has completely shut its Sunrise facility, which has a capacity of 60,000 barrels a day and was producing about half that before the blaze began. Nexen's operation, with a capacity of 92,000 barrels a day, was shut. Phone and e-mail messages left for Colleen Brown, a Nexen spokeswoman, seeking comment on damage to the facilities weren't immediately returned.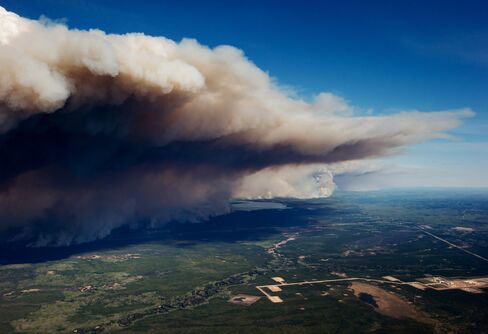 Smoke rises over Fort McMurray on May 6. Photographer: Darryl Dyck/Bloomberg
The inferno around Fort McMurray may become the costliest catastrophe in the country's history with insurance losses potentially reaching C$9.4 billion ($7.3 billion) if all homes in the city are lost. Bank of Montreal cut its second-quarter gross domestic product growth estimate to zero from 1.5 percent, citing "severe disruptions to oil production" due to the fires. BMO said the estimate was a placeholder, dependent on receiving more information on the scope of the disaster.

The head of Suncor Energy is outlining a near-term future without major growth projects as Canada's largest oilsands company focuses on lower costs and reducing its environmental footprint.
CEO Steve Williams told investors at the company's annual general meeting Thursday that Suncor is taking a more disciplined approach to growth, citing the deferral of projects like the MacKay River Expansion, a steam-driven oilsands development in northeastern Alberta, and the White Rose offshore oil extension off Newfoundland.
But he said the company is still pushing ahead with the $13-billion Fort Hills oilsands project that it half owns and the US$14-billion Hebron offshore project on the East Coast, in which it has a 21 per cent stake. Both are expected online by late 2017, but after that, Suncor expects to take a step back.
Another year in the red for oil and gas industry: Conference Board
No jobs: Engineering students face tough market in wake of oil downturn
Suncor snags majority control of Syncrude with $937M Murphy Oil deal
"We've got two major growth projects coming to a conclusion. It is difficult in the current economic environment to see how you would approve those types of projects," said Williams in a conference call prior to the annual meeting.
"You will see us taking a breath around growth projects," he added. "There isn't a go back to how we were."
After the meeting in Calgary, Williams said he doesn't expect to make any big mine announcements for the next five to 10 years or even longer as the company looks to smaller-scale, steam-assisted developments known as in-situ projects.
Williams said Suncor could decide in 2018-19 on proceeding with some of those projects, which use pipes and steam to release oil from below ground. But the market is offering cheaper alternatives, he dded.
"Right now I can buy on the market facilities that are operating for the same or less price than we could build ourselves," said Williams.
The company announced late Wednesday that it was buying a five per cent additional stake in the Syncrude oilsands project for $937 million from Murphy Oil Corp., bringing Suncor's stake to 54 per cent and adding 17,500 barrels a day of oilsands production.
The deal also gives Suncor majority control, but Williams said Suncor is in no rush to take over the operator's role from Imperial Oil Reяources.
Along with outlining its growth strategy at the meeting, Williams also emphasized the company's environmental commitments.
"We at Suncor share the global challenge to tackle climate change head-on by reducing emissions and becoming what we call carbon competitive," he said.
Suncor also endorsed a shareholder motion by NEI Investments that will have the company providing ongoing reports on how it's assessing and ensuring its long-term resilience in a future low-carbon economy. The motion passed with more than 98 per cent in favour.
A second motion, advanced by campaign group Sum Of Us, called for greater disclosure of lobbying efforts and procedures. It failed, with 60 per cent of shareholders voting against it.
Williams said Suncor supported the spirit of the motion, but couldn't back it because of technicality issues on юdisclosure.
Going forward, Williams said Suncor will continue to focus on lowering costs as it ramps up daily production from roughly 691,000 barrels of oil equivalent a day in the first quarter to in excess of 800,000 barrels in 2018 after Fort Hills and Hebron come online.
Overall, Suncor says it is targeting $500 million in savings this year, on top of the $1 billion in operational cost savings it achieved last year. It is also planning to sell off assets of between $1 billion and $1.5 billion in the next year.
A wildfire on the Manitoba-Ontario border forces the evacuation of 50 residents on Caddy Lake Monday morning. (Photo courtesy of Barb Zimmerman)
About 50 cottages and residences on Caddy Lake are being evacuated Monday morning, as a wildfire on the Manitoba-Ontario border continues to burn out of control.
Officials from Manitoba Conservation and the Southeast Whiteshell Fire department began going door-to-door around 8 a.m. Monday, asking people on the east side of Caddy Lake to leave their cottages.
The wildfire now covers about 2,800 hectares and is about six kilometres away from Caddy Lake. On Friday, the fire was about 700 hectares.


The Beaton Airport Road wildfire jumped the Alaska Highway this week. Photo (Paul Walter)
By this time last year, only eight square kilometres of B.C. had been consumed by wildfire.

This year, more than 400 square kilometres have burned as early warm, dry weather leaves the province vulnerable to any source of ignition.

So far, 224 wildfires have been detected in B.C. in 2016, compared to a 10-year average of 146 fires burning about 14 square kilometres at this point in the season.

Compared to the 10 year average, the Prince George Fire Centre has had nearly three times the amount of fires normally seen at this time of year with over seven times the amount of hectares burned.
More wildfires spark evacuation order for dozens of homes, as this time a state of emergency issued is in British Colombia near Fort St. John

Two wildfires in northern B.C. merged over the weekend causing more panic as windy weather fueled the growing wildfires in northeastern B.C. a state of emergency is declared

Two massive wildfires in northeastern B.C., including a large blaze that has crossed into Alberta, grew overnight, as gusts of wind hampered firefighting efforts

By this time last year, only eight square kilometres of B.C. had been consumed by wildfire.

This year, more than 400 square kilometres have burned as early warm, dry weather leaves the province vulnerable to any source of ignition.

Two-thirds of the 78 wildfires burning across the province on Sunday were in the Prince George fire centre, including two major blazes in the Peace region.

So far, 224 wildfires have been detected in B.C. in 2016, compared to a 10-year average of 146 fires burning about 14 square kilometres at this point in the season.
"It's really fair to say we've seen warmer and drier conditions than what would be considered average for this time of year," fire information officer Ryan Turcot told reporters.

BC Wildfire Service Reports....

Recent warm, dry conditions have led to increased fire activity in the Prince George Fire Centre. Scattered showers are forecasted for this weekend which should aid fire suppression efforts.

There are currently seven wildfires of note, which are all located in the Peace Region.

The Beatton Airport Road wildfire, which is located 45 kilometres north of Fort St. John, is estimated at 12,000 hectares in size.

The Siphon Creek wildfire, located 40 kilometres northeast of Fort St. John, is estimated at 24,000 hectares and has crossed the Alberta border.
The BC Wildfire Service is currently responding to 55 wildfires throughout the Prince George Fire Centre; 49 of those wildfires are in the Peace Region.

Compared to the 10 year average, the Prince George Fire Centre has had nearly three times the amount of fires normally seen at this time of year with over seven times the amount of hectares burned.
Smoke plume from Fort McMurray Fire Reaches US East Coast
Here is my discussion with Paul Beckwith from the weekend.
Trudeau has turned down outside help, including from the Russians who have more experience than anyone in fighting fires in boreal forests.
One would have to ask the question why?
Russia, the U.S., Mexico, Australia, Taiwan, Israel and the Palestinian Authority have all offered help in fighting the northern Alberta wildfire, but Prime Minister Justin Trudeau says there's no need for international assistance.
Last week Vladimir Puchkov, the Russian minister of emergency measures, offered to send heavy water bombers and specialized crews to battle the fire that's been raging out of control near Fort McMurray.
John Babcock, a spokesman for Global Affairs Canada, says there have been a series of other offers since the crisis emerged last week and they have been reviewed against requirements.
Trudeau says Canada sincerely appreciates the international support, but it in't necessary
More than 1,500 firefighters, approximately 150 helicopters, 222 pieces of heavy equipment and more than 28 air tankers are fighting the fires across the province, the government said. About 250 employees from Atco Ltd., a Calgary-based utility and logistics company, are working to restore the power grid and assess the gas infrastructure
If you think there is something being kept hidden and are interested in following certain flights of fancy you might be interested in the following from yesterday.
People are being kept from the town of Ft. McMurray