New Zealand Greenpeace protesters scale parliament roof
Four environmental activists on roof of the parliament building in Wellington hold Reddit AMA calling for government action on climate change
25 June, 2015, 12.56 pm NZT
Four environmental protesters have breached security at New Zealand's parliament by scaling the roof and perching themselves on a ledge above the main entrance.
The
Greenpeace
protesters on Thursday hauled up eight solar panels and unfurled a banner to protest what they say is the government's lack of action in promoting renewal energy and dealing with climate change.
The protest began at dawn and continued throughout the morning. Police issued the four with trespass notices, but authorities say they plan to allow the protesters to come down on their own.
The breach will come as an embarrassment to the parliament's security services.
David Stevenson, the general manager of Parliamentary Service, said in a statement he had ordered a full review of security procedures as a result of the breach.
"

Trespassing in or on the buildings is totally inappropriate, regardless of the motivations of those involved," he said. "We are therefore taking this incident very seriously and will be looking for any lessons we can draw from it."
The view outside our window this morning.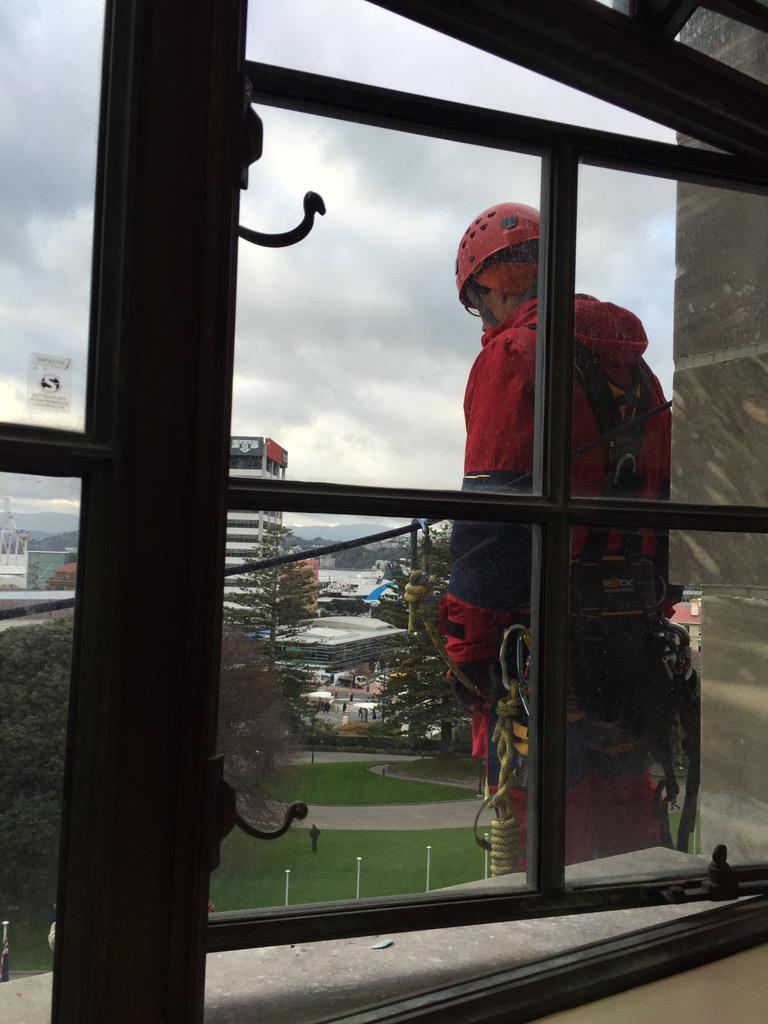 The forecourt in front of the main entrance is frequently used for sanctioned protests.
Speaking from a cellphone, protester Johno Smith told the Associated Press that the four were experienced climbers and that they planned to come down on Thursday afternoon "before it gets too cold."
He said he hoped the protest would inspire people to act. "We need to take clean-energy action," he said. "Our society is based around fossil fuels."
About 77% of New Zealand's electricity generation comes from renewable sources, including hydroelectric, geothermal and wind. The country's vehicle fleet, on the other hand, primarily uses gasoline and diesel.
Bunny McDiarmid, Greenpeace New Zealand's executive director,
tweeted
: "Security breach at parliament security breach of the planet? You choose."
The climbers continued to publicise their protest from the roof, tweeting pictures of themselves and engaging in an "ask me anything" question-and-answer webchat
on Reddit
.
One of the protesters, named only as Jeff, told Reddit users that police officers on the ground were a "friendly bunch", adding: "No signs of them comin [sic] up which is good, much safer for us. Best if we come down ourselves."