Volcano erupts on Indonesian resort island amid mass evacuations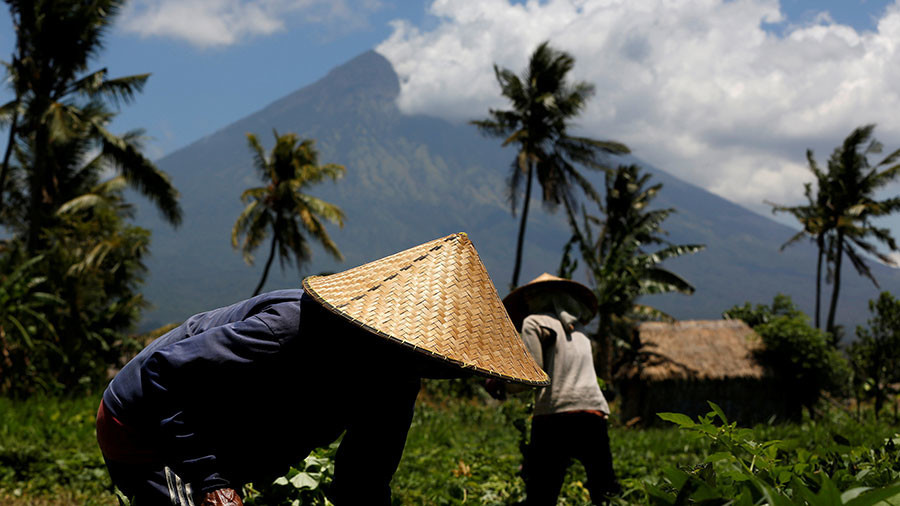 Tens of thousands of people have fled their homes in Bali over the past months, fearing an inevitable Mount Agung volcanic eruption, which on Tuesday, finally spewed ash as high as 700 meters into the Indonesian sky.
The volcano on the Indonesian resort island erupted at 5:05pm Tuesday, the National Disaster Mitigation Agency (BNPB) announced, urging residents to "remain calm" and to stay away from areas within 7.5-kilometer radius of the volcano.
However, despite the high volcanic activity, flights in and out of Bali are continuing as usual. "Tourism in Bali is also still safe," the BNPB said while asking tourists to stay away from Mount Agung.
The Agung Volcano in Bali became active in August 2017, prompting authorities to raise the alert to the highest level and ordering evacuations within a 12 km radius around the volcano. Over 130,000 residents were evacuated in September and October as the volcano showed a high probability of an eruption.
But in recent weeks, volcanic activity on Agung had been slowing, with authorities lowering the volcano's alert status from the highest level to the third highest classification. By the time of Tuesday's eruption, only 29,245 people were being housed in 278 shelters, BNPB said.