World record? 100 inches of snow may have clobbered Italy in 18 hours, review pending
The Italian weather Website MeteoWeb reports that Capracotta, Italy saw 100.8 inches of snow in just 18 hours on Thursday, March 5 — a total that, if verified, would set a new world record for snowfall in a 24-hour period.
However, the reports from Capracotta as this time are not official.
An investigation of the measurement by the World Meteorological Organization would need to be conducted in order for this to go down in the "official" record books, but the WMO does not currently track snowfall for any location. According to Randall Cerveny, WMO's chief rapporteur of
weather and climate extremes
, this is because accurate snowfall measurements are fairly limited, and have been "markedly difficult" to verify.
But there is hope for an investigation of the Italy total. "The WMO is currently evaluating the addition of world snowfall extremes as a new category for the WMO Archive of Weather and Climate Extremes," said Cerveny. "We will likely be adding it to the Archive in the near future. When we do so, we certainly will be investigating this interesting report from Italy as a possible record snowfall extreme."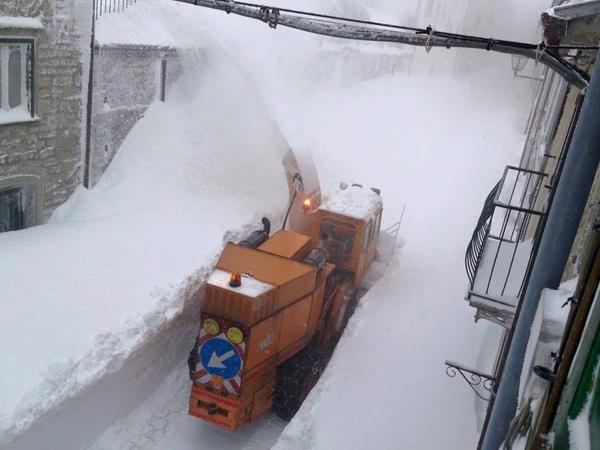 Snowfall records are notoriously difficult to pin down. Official snowfall measurements in the U.S. involve the use of a "snowboard" — typically just a 16 by 16 inch piece of plywood painted white — which is cleared at the time of each measurement. But even if you use the correct tools, you can still mess up a snow total. "Even making snowfall measurements too often can affect the total snowfall value as snow compression is a critical factor in snowfall measurement," says Cerveny.
The U.S., Canada and Japan have strict snowfall measuring procedures, and reports from these countries have widely been accepted as "world records" by meteorologists, if not officially by the WMO. If Capracotta's snow total is eventually verified, it would surpass the currently accepted world record by just over 10 inches – 90.6 inches (about 7.5 feet) in Mount Ibuki, Japan, on Feb. 14, 1927.
On April 14-15, 1921, 75.8 inches of snow fell in Silver Lake, Colo., and that measurement still holds the U.S. record for most snow in a 24-hour period.
Even if the WMO does decide to take up snowfall records, it would be quite a while for the investigation to conclude. Investigations include both internal committees, and climatologist and meteorologists from the observing country (in this case, Italy). "Those committees discuss all aspects of the event (such as equipment, monitoring techniques, site location) and then recommend to the WMO chief Rapporteur … whether or not to accept the event as an official world record weather extreme," said Cerveny. "When that decision is made, we then issue an announcement through the WMO offices in Geneva."
One recent and notable record investigation by the WMO was the overturning of the world's hottest temperature — previously 132.8 degrees in El Azizia, Libya in 1922. The committees found that the measurement was erroneous, which elevated Death Valley's temperature of 129.2 degrees in 1913 to the world record.
Blizzard warning for Hawaii
Here's something you don't see very often: a Blizzard Warning in effect for Hawaii!

Believe it or not, 5-8 inches of snow is forecast for the summits of the Big Island — above 11,500 ft.— through Thursday, along with sustained winds of 45-65 mph and localized gusts over 85 mph! In addition to the snow and wind, ice and freezing fog will make travel to the summits dangerous.

The Blizzard Warning remains in effect until 6 PM HST Thursday.
http://www.prh.noaa.gov/pr/hnl/
The Big Thaw: Record-Breaking Warmth in West, Plains, Southeast; Warmest Since Christmas in Northeast
The spring thaw is underway across much of the nation's mid-section, bringing the warmest weather since October for some areas. And even the winter-suffering Northeast is joining in.
Already seven record highs have been confirmed as tied or broken Wednesday in the Southeast, including 83 in Charlotte and 87 in Savannah, Georgia. Parts of the Plains may also worm their way into the record books, as temperatures reached the upper 70s as far north as central South Dakota.
In the Plains, Norfolk, Nebraska was just three degrees shy of tying its daily record high when the thermometer hit 71 degrees. Sioux City also nearly tied its record high temperature when it hit 68 degrees on Wednesday (just one degree away from tying).
As of 6 p.m. EST Wednesday, the lowest temperature recorded in the contiguous U.S. Wednesday was 9 degrees above zero in Gunnison, Colorado, according to NOAA. If that holds, it will be the first day without any zero or subzero temperatures in the Lower 48 since Dec. 14, 2014.
.
At least 64 record high temperatures were tied or broken Monday and Tuesday, according to National Weather Service record reports. These records spanned locations as far apart as Quillayute, Washington, and Daytona Beach, Florida.
On Tuesday, daily record high temperatures included Duluth, Minnesota (58); Minneapolis/St. Paul (66); Daytona Beach, Florida (85); South Lake Tahoe, California (64) and Spokane, Washington (67).
Impressively, the National Weather Service office in Negaunee Township, Michigan (just outside Marquette) still had 31 inches of snow on the ground Tuesday. Despite that, temperatures still topped out at a record high of 58.
While not a daily record, Des Moines, Iowa and Omaha, Nebraska reached the 70-degree mark Tuesday for the first time since October 27. Tuesday brought the Twin Cities its first high in the 60s since before Halloween (Oct. 27).
New York hit the 50s Monday. In the Big Apple it ended a 63-day streak without reaching 50; that's the eighth-longest streak in 140 years of records there, and the longest such streak since the winter of 1976-77.
However, March is a month notorious for wild swings in temperature.
Don't pack away the winter coats just yet. Let's look at how long this warm spell will last.
Plains/Midwest: How Long Will 50s/60s Last?
Highs in the 50s and 60s will dominate the Upper Midwest and northern Plains through the weekend. This includes 60s as far north as North Dakota and Montana and as far east as
Green Bay, Wisconsin
, at times.
Even the western Great Lakes will see some 50s for highs as the week goes on, including such locations as
Detroit
,
Chicago
, and
Duluth, Minnesota
.
In the Plains, the news is even better. How about 60s and 70s for highs from southern Montana into parts of the Dakotas, Nebraska, Kansas, Missouri and Iowa into the weekend? You'll be tempted to use a vacation day or two from the office.
While a bit breezy, highs could push into the 70s as far north as
Minot, North Dakota
, this weekend! They last saw 70s there on October 21. Yes, North Dakotans wearing shorts. Now that's spring fever.
Not to be outdone, a few spots in western Nebraska may even reach the lower 80s by Sunday.
On the downside, the warm and dry weather has allowed a small wildfire to fester near Custer, South Dakota, and fire danger will remain high in parts of the central Plains on Thursday.
A reality check is in the forecast beginning early next week, as a cold front plunges into the Plains and Great Lakes Monday into Tuesday. This will take the top off the Plains warmth, and should usher in a colder-than-average period generally east of the Mississippi River through the rest of next week.
Departure From Average High Temperature
Eastern Relief, Too!
We can hear you in the winter-weary Northeast. "What about us?"
Wednesday was the warmest day in both
New York City
and
Boston
since Christmas Day, with preliminary highs in the upper 50s in both cities.
On Thursday, a cold front will sag into the Northeast, taking high temperatures back down to or just below mid-March averages. In addition, a storm system coming from the southern U.S. will bring rain and snow to the Northeast this weekend.
Saturday will actually be quite mild in the Mid-Atlantic states, with highs in the upper 50s and 60s from the Delaware Valley to northern Virginia. However, again, there will be periods of rain.
While not as far above average as the Plains, some of this warmer air will extend into the Ohio Valley and Appalachians, as well. While easing of the cold is good news, there, steady melting of the snowpack laid down by
Winter Storm Thor
, plus the aforementioned rain-making storm system, may worsen existing, or trigger new river flooding.
In the Southeast, where it's been a balmy week so far, expect a combination of a nose of colder air plunging southward and the eastern rain-maker to hold temperatures in the 40s and 50s particularly in the piedmont of Virginia, the Carolinas and north Georgia to end the work week.
This comes after high temperatures well into the 80s in parts of Georgia, Alabama and Florida on Tuesday, and from Florida to the Carolinas on Wednesday. The co-operative observer near Orange Springs, Florida, reported a high of 91 on Tuesday.
Don't get too used to this warmth in the East.
Looking into next week, much colder air looks to settle into the Northeast, in particular, starting Tuesday, persisting through much of next week. This, just as the vernal equinox arrives next Friday, March 20.
Meteorologist Chris Dolce and senior meteorologist Nick Wiltgen contributed to this report.