Storm forecast brings fear of
toxic runoff from wine country
burn zones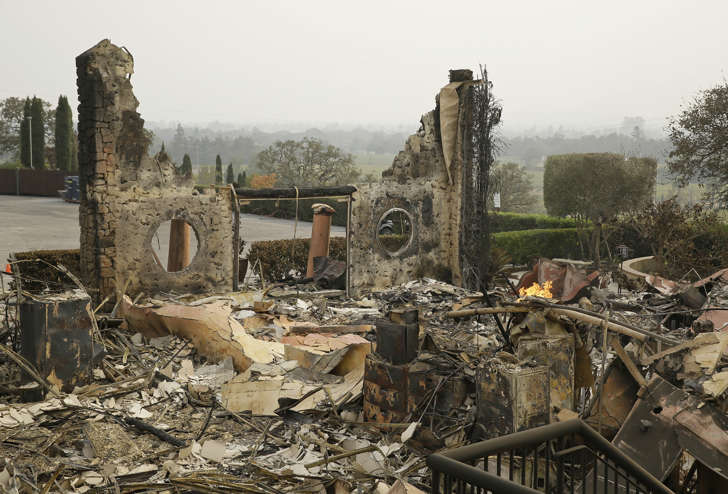 With the first major storm of autumn threatening to dump snow and rain over Northern California this weekend, environmental officials are scrambling to contain potentially toxic runoff from the ash and debris of wine country burn zones.
The storm - a soggy cold front flowing south from Vancouver, British Columbia - will reach the state by Friday and drop up to 4 inches of rain in the northern Sierra Nevada, said Chris Hintz, a meteorologist with the National Weather Service in Sacramento.
In addition to raising concerns about the runoff from neighborhoods devastated by wildfires, heavy rains also could trigger rock slides in Yosemite, officials say.
Up to an inch and a half of rain could fall across Napa and Sonoma valleys, where a month ago, a series of wind-driven wildfires ripped through several communities, killing dozens of people and destroying thousands of homes.
The flames, authorities say, were fueled by an abundance of light, flashy vegetation that sprang up after one of the wettest winters on record and then was dried out by the hottest summer on record.
Residential areas scorched by the wildfires are littered with melted metals and plastics that pose a potential health hazard, authorities say. Several local, county, state and federal agencies have banded together to try to mitigate the threat, they announced Tuesday.
Local agencies have created a model of the possible paths rain runoff will take after soaking hard-hit burn areas like Santa Rosa, while a regional water board is piling sandbags and installing straw wattles to contain debris. The water board also is helping to clean storm drains to prevent flooding.
In rural areas, agencies are installing debris-capture devices in culverts and ditches to block debris and downed trees from clogging waterways. Water control officials and scientists from the U.S. Geological Survey are teaming up to monitor water quality amid the rain.
A second cold front is expected in Northern California on Monday but probably will pack less rain, Hintz said.
As the first storm moves south this weekend, it will dump up to 3 inches of rain in Yosemite Valley, which was hard hit by rain earlier this year and experienced flooding over the summer, said Kevin Durfee of the National Weather Service's Hanford office.
"It's more good than bad. The bad part is we have some wildfire burn scars," Durfee said, referring to the 81,000 acres burned by the Detwiler fire in Mariposa County that destroyed 63 homes over the summer.
El Portal Road, a continuation of Highway 140 through the park, may close because of the danger of rock slides, Durfee warned. A massive slide earlier this year dumped 4,000 tons of rock onto the road, damaging a 100-foot section that was closed for a week in June. More rain could trigger another fall, he said. Park officials had not announced a road closure as of Wednesday.
The rain, or what's left of it, likely will reach Southern California by Sunday and disappear by Monday. It should amount to less than an inch, the National Weather Service said.